Hello friends, Adrienne from @studio80design here! This week, we are celebrating Tombow's birthday!! All the projects are birthday-inspired, so I'll be sharing a tutorial on how to create a birthday card with watercolor candles! I'm going to be using the new CelebrationDual Brush Pen 10-Pack because the colors are so bright and cheerful. They are perfect for celebrating a birthday!
Materials you'll need:
Hot press watercolor paper, cut to 6″ x 9″
Cup of water
Paper towel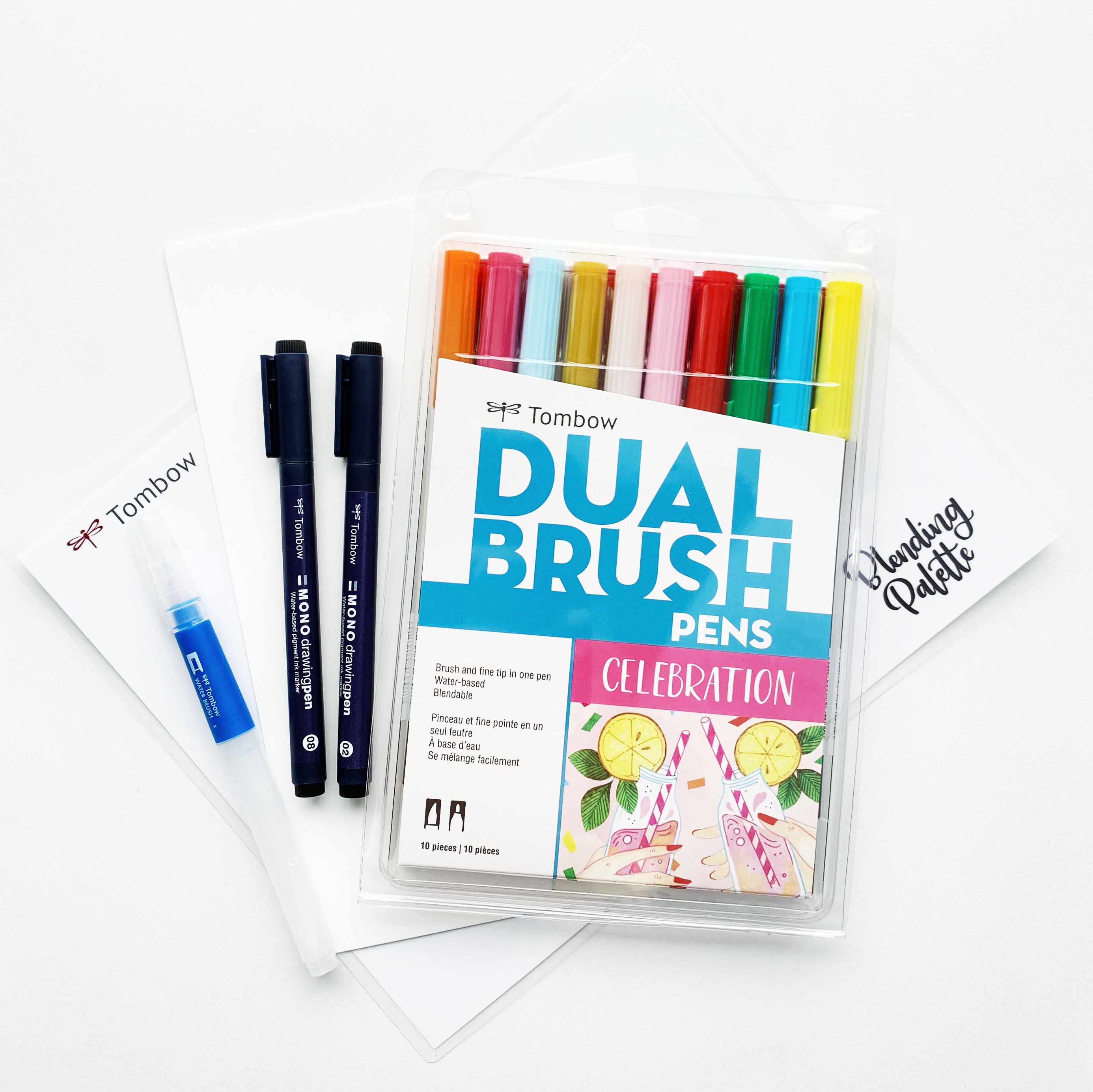 Step 1
The first step is to fold your hot press watercolor paper in half to create the card. I like to use hot press watercolor paper when I am using the Celebration Dual Brush Pen 10-Pack to watercolor. The paper is smoother than cold press. It's also great to use if you want to color directly onto your paper with the Dual Brush Pens.
Next, scribble your Dual Brush Pens onto the Blending Palette to use for the watercolors! I'm excited to use these Dual Brush Pens for the watercolor candles. Since they are water-based, they are perfect to use for watercoloring! It's helpful to swatch them out in the order you will be using them. When determining your order of colors, put colors that will blend well together next to each other. Don't put opposite colors next to each other because they will turn gray when they blend.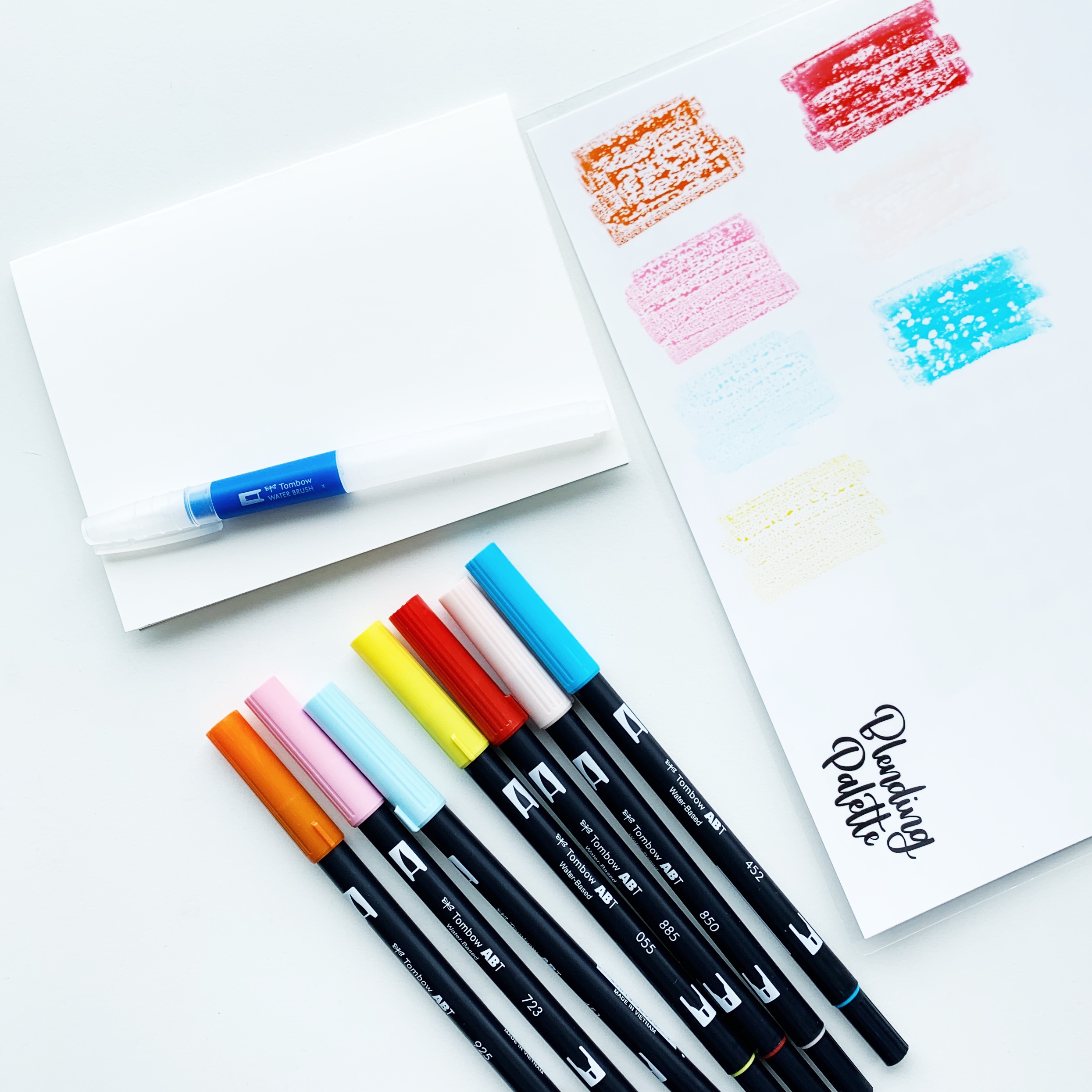 Step 2
Next, add water to your swatches on the Blending Palette. Do so by squeezing 1-2 drops of water onto each color from the Flat Water Brush. Then, mix together to create your watercolor. Make sure to rinse your Water Brush in between each color, so you don't mix colors!
Saturate your Water Brush with the first color and paint a flat line in the center of your card on the left. Paint the line slightly diagonal. We are going to make the candles overlap a bit, so the colors will blend together! Make sure the line is saturated. You can drop in more watercolor on top if you need to by dabbing the Water Brush onto the line. Wash your Water Brush out and grab the next color on your palette. Paint a flat line right next to it with one end of the candle overlapping the first line. When the two lines hit, the colors will blend together. Again, make sure your lines are saturated so the watercolor can move and blend together!
Continue to wash out your Water Brush and paint more watercolor candles on the card. Paint them angled, so they overlap either at the top or the bottom. You can always add breaks and paint them parallel to each other as well so they don't overlap!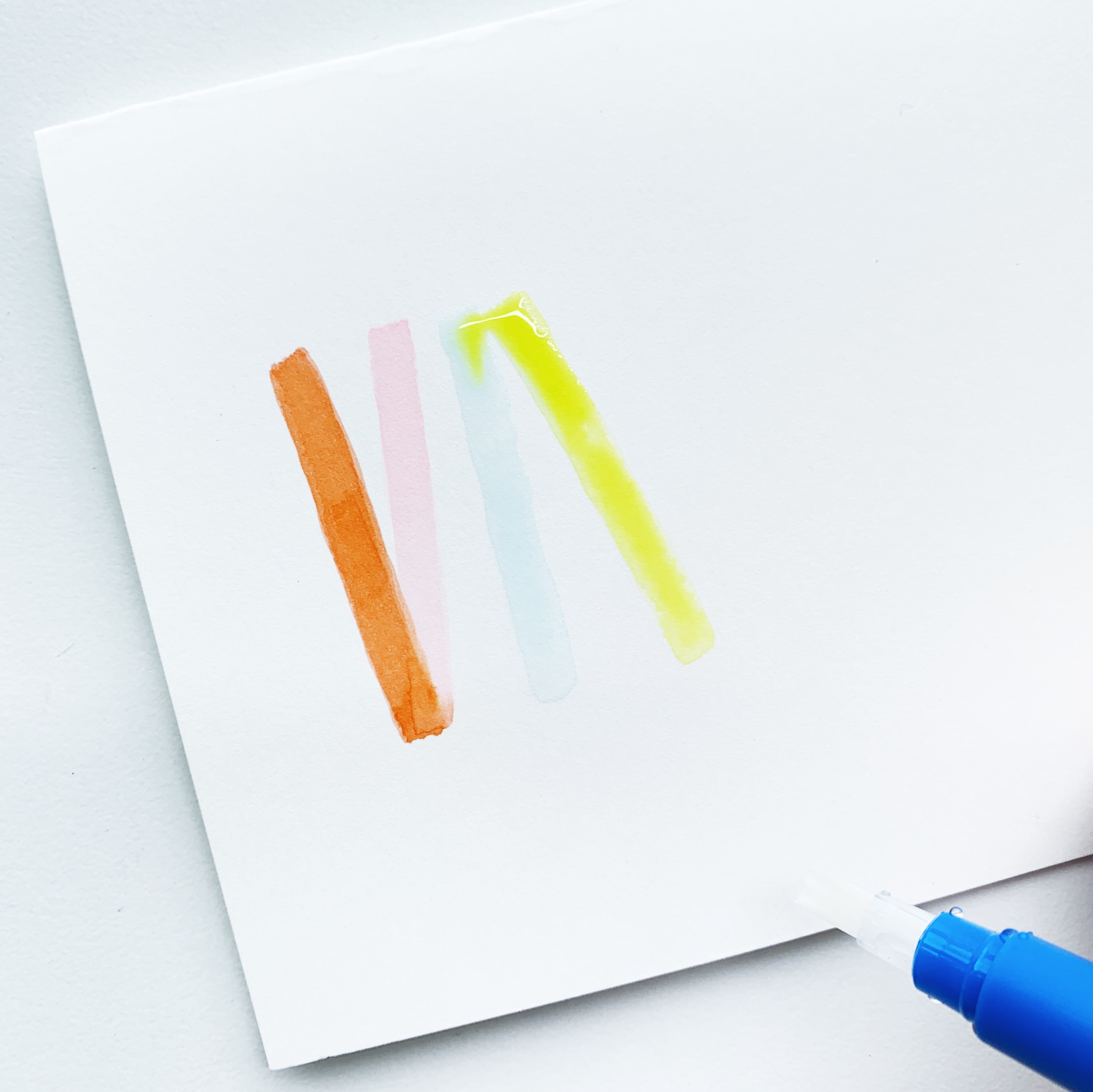 Step 3
Finish drawing the watercolor candles across your card. You can always reuse colors if you have extra room on your card! Once they are painted on, hold your card down so the watercolor doesn't run too much on the paper while it's drying. If you want to decrease drying time, use a corner of a paper towel to dab some of the excess color from the candles. I went back to my first two candles and added more watercolor to each one so I could get a better blend between them. If you need to go back and fix some, that's totally okay! Wait for the watercolor candles to completely dry.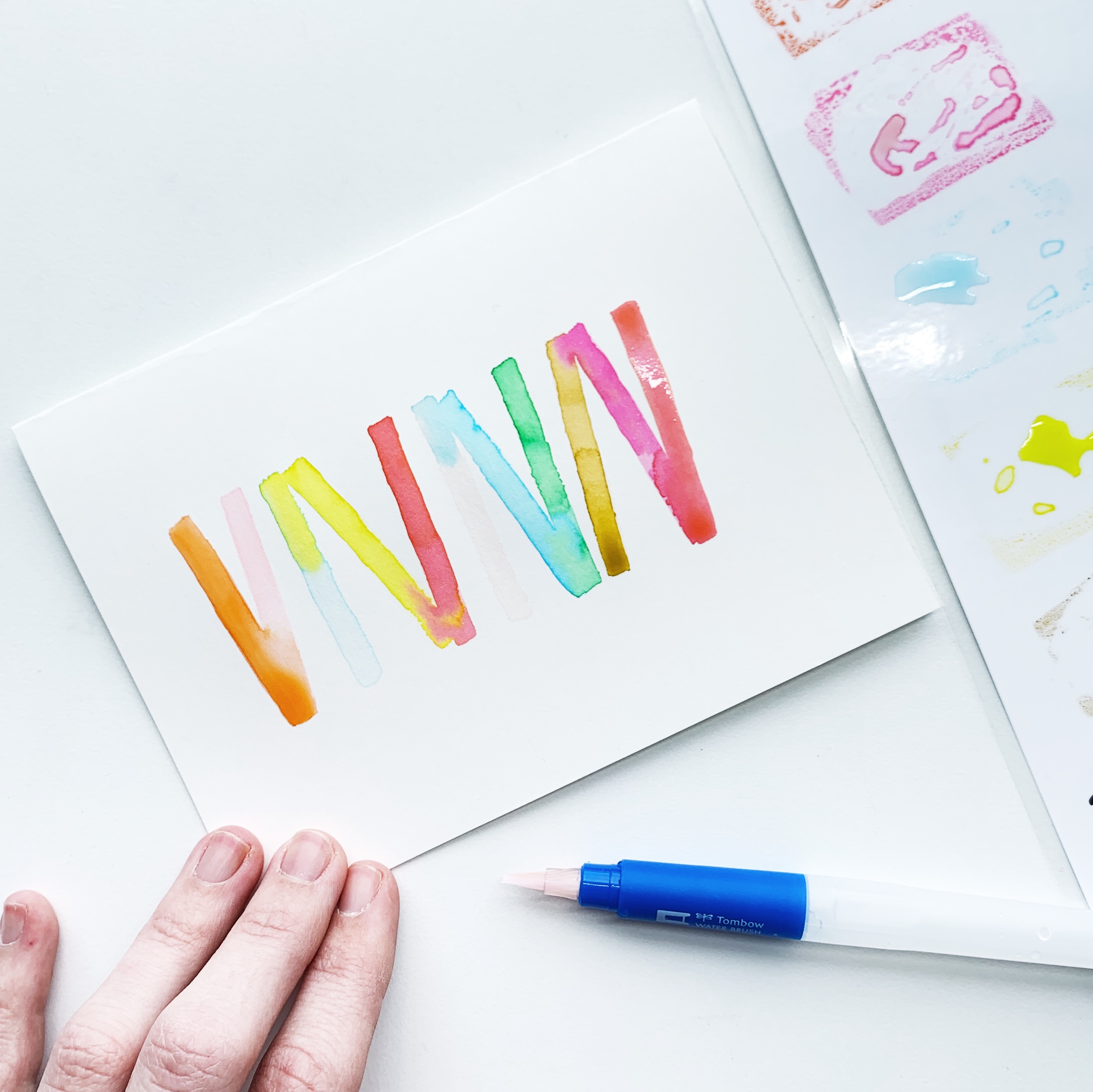 Step 4
The last step is to add some small details with MONO Drawing Pens 02 & 08. I used the 02 tip size to draw small candle wicks at the top of each candle. I used the 08 tip size to write "HAPPY" below the watercolor candles. That's it! I love the feel of this simple and modern birthday card!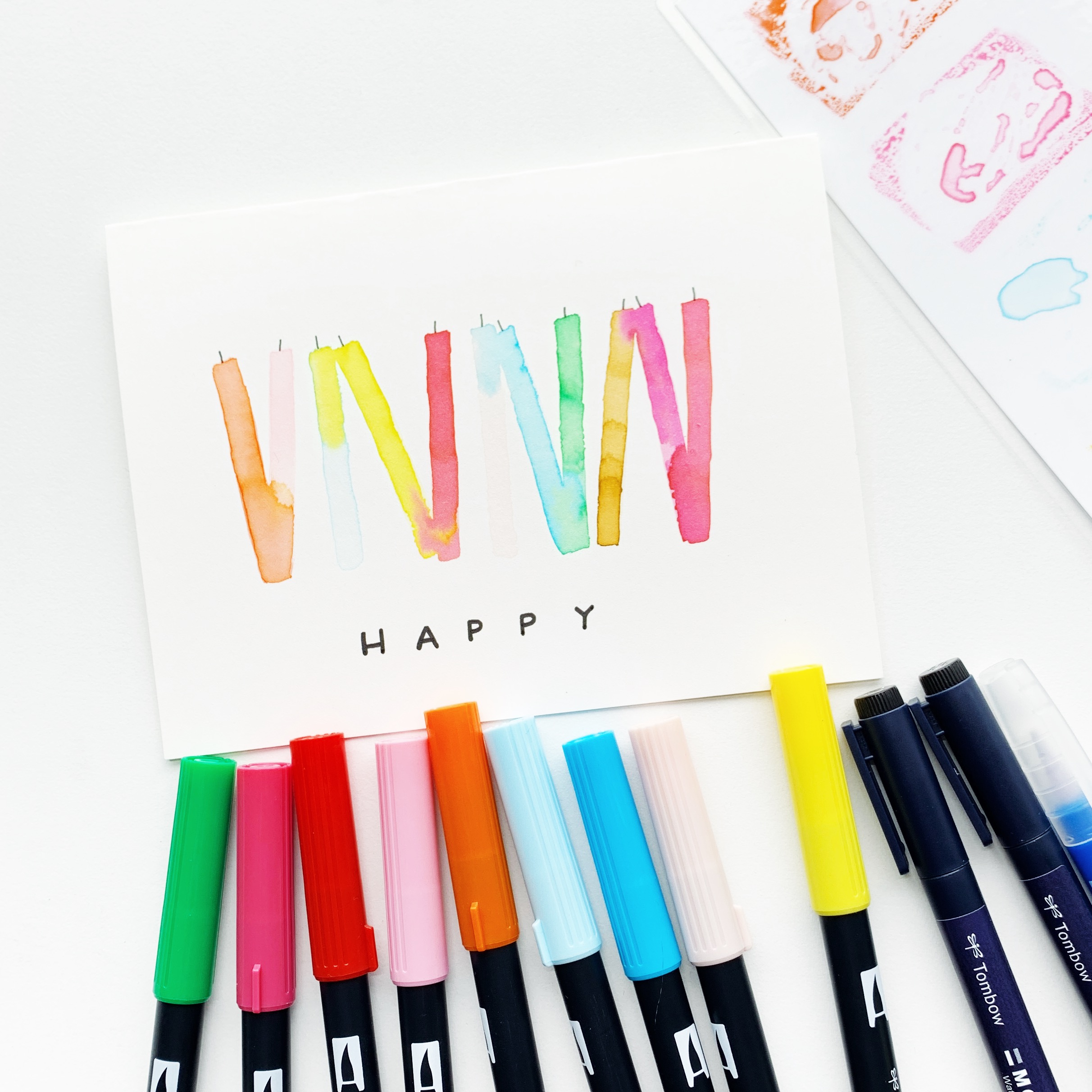 Thank you so much for following along with this tutorial. I hope you found it helpful! For more inspiration like this, make sure to follow @studio80design!
For more birthday-inspired projects, check out these awesome posts: