Are you looking for new ways to use Tombow's Foam Tape? Perhaps, you haven't used it yet and you're not sure how to use it? I've got you covered! Mandy here from @thebrewtifulword and I'm going to show you three fun ways to use one of my favorite Tombow adhesives: Foam Tape!
Foam Tape is a double-sided 3D tape. The two biggest reasons why I love this adhesive is it is mess free and it adds dimension and depth to your art because it's 3D!
Let's get to some fun ways we can use this tape!
MATERIALS
Treat box
Washi tape
Old container
Stamp and ink pad
Glitter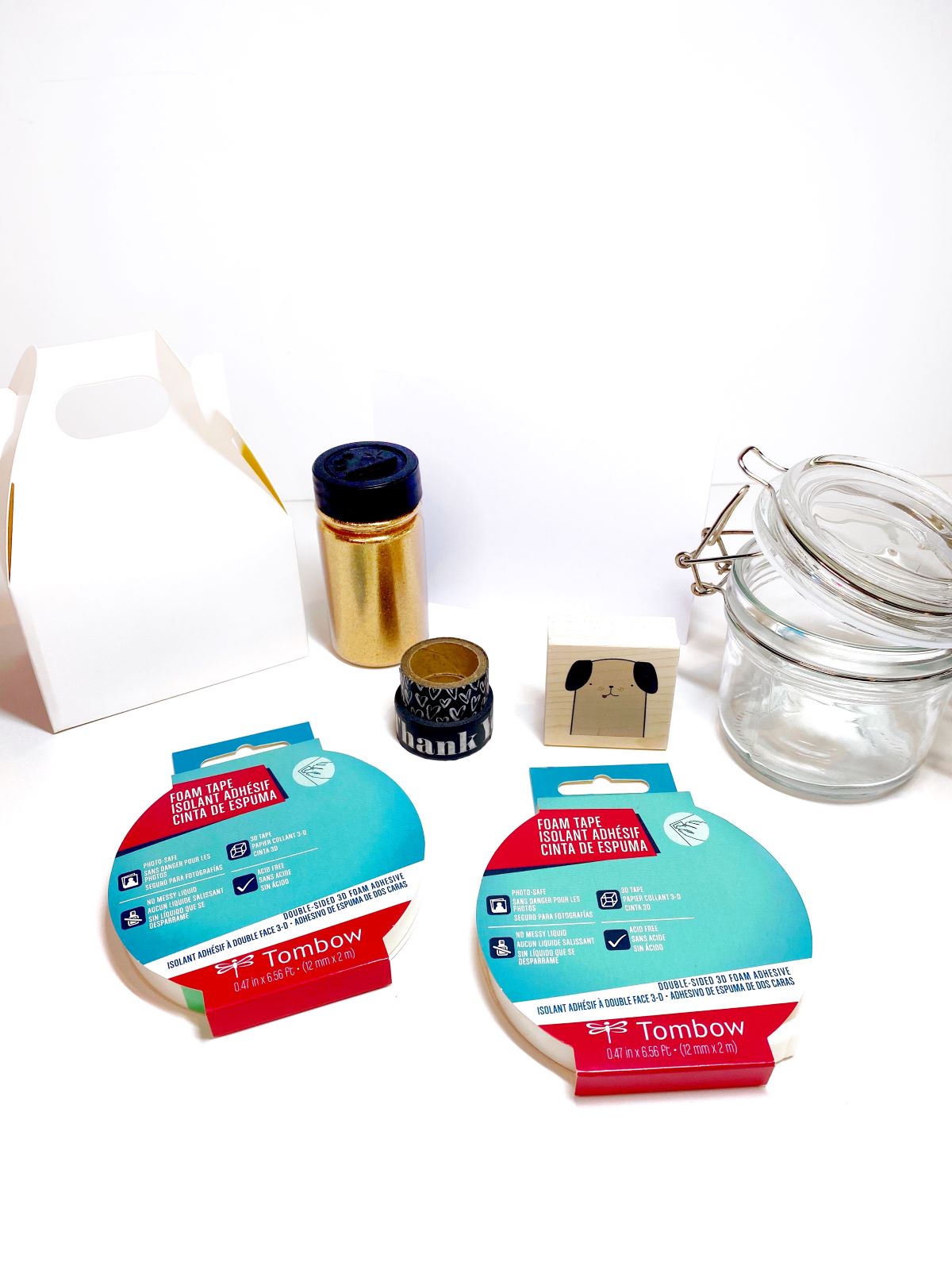 PROJECT #1 – Treat Box
Stamp a pet or birthday image onto a piece of paper and then color the image in with the 1500 Series Colored Pencils. I love using these Colored Pencils to color in stamped images. Ink does not bleed or smudge with them!
Cut the shape out and attach a small strip of Foam Tape to the back. Adhere to the front of the treat box and then letter out a birthday saying or pet phrase with the MONO Twin Permanent Marker. Fill the inside with treats and tissue paper and you have the cutest treat box!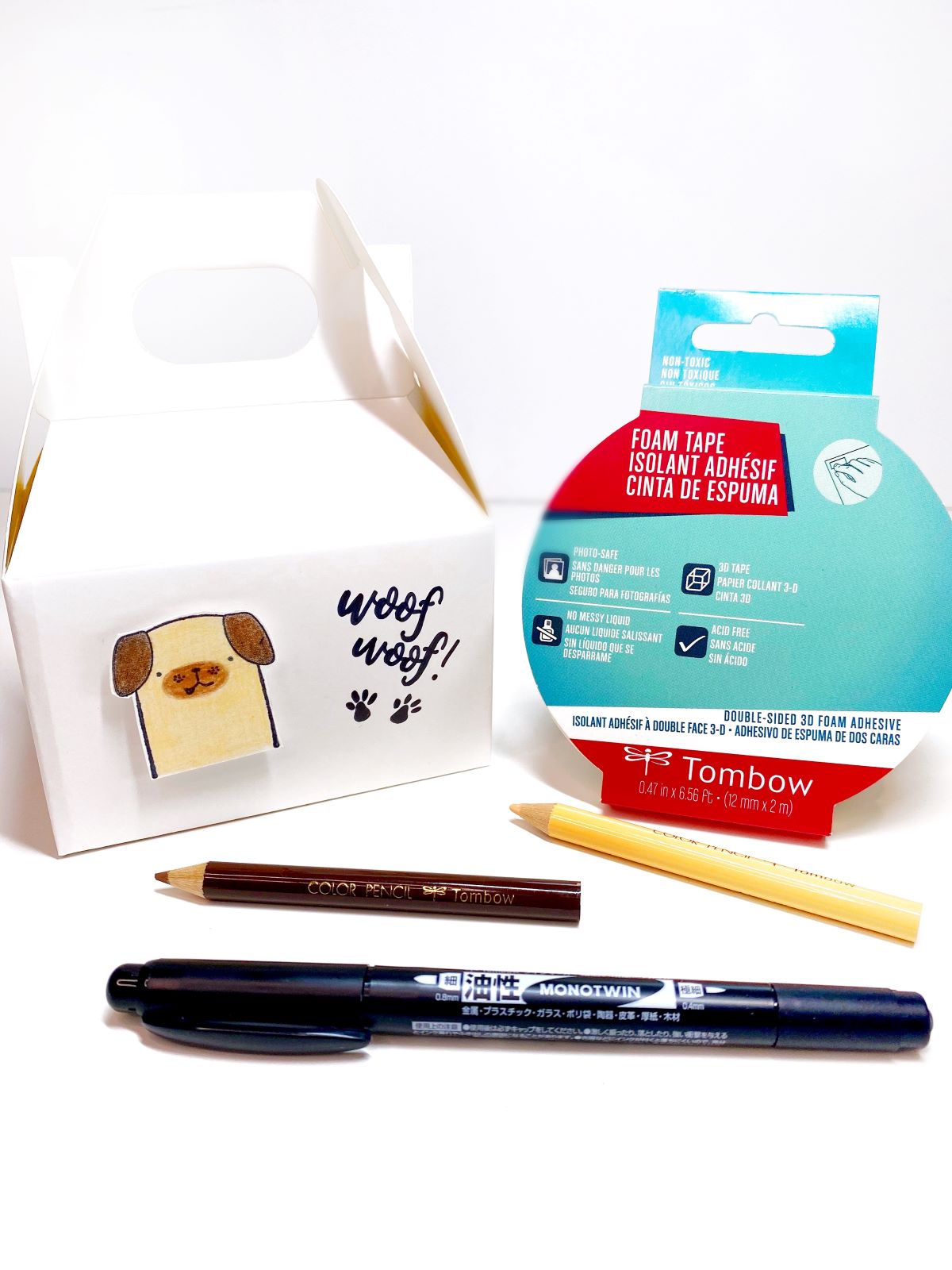 PROJECT #2 – Amp Up Your Washi Tape
Add some dimension to your cards and scrapbooking projects by making your washi tape 3D! Simply run a strip of Foam Tape across your blank card or page and then run a strip of washi tape on top of the foam tape. Instant 3D!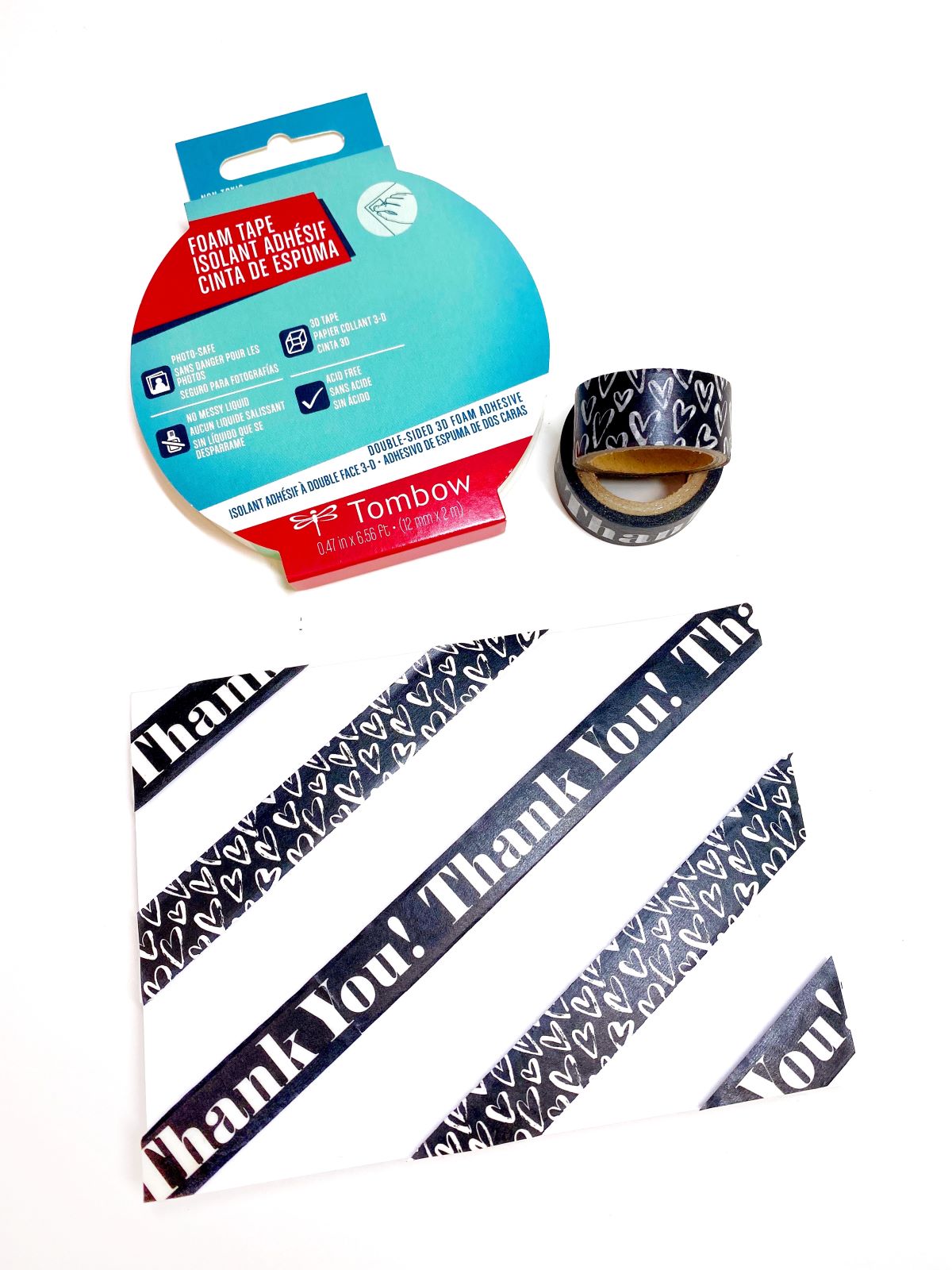 See the dimension it gives?! It's an easy and fun way to make a simple card!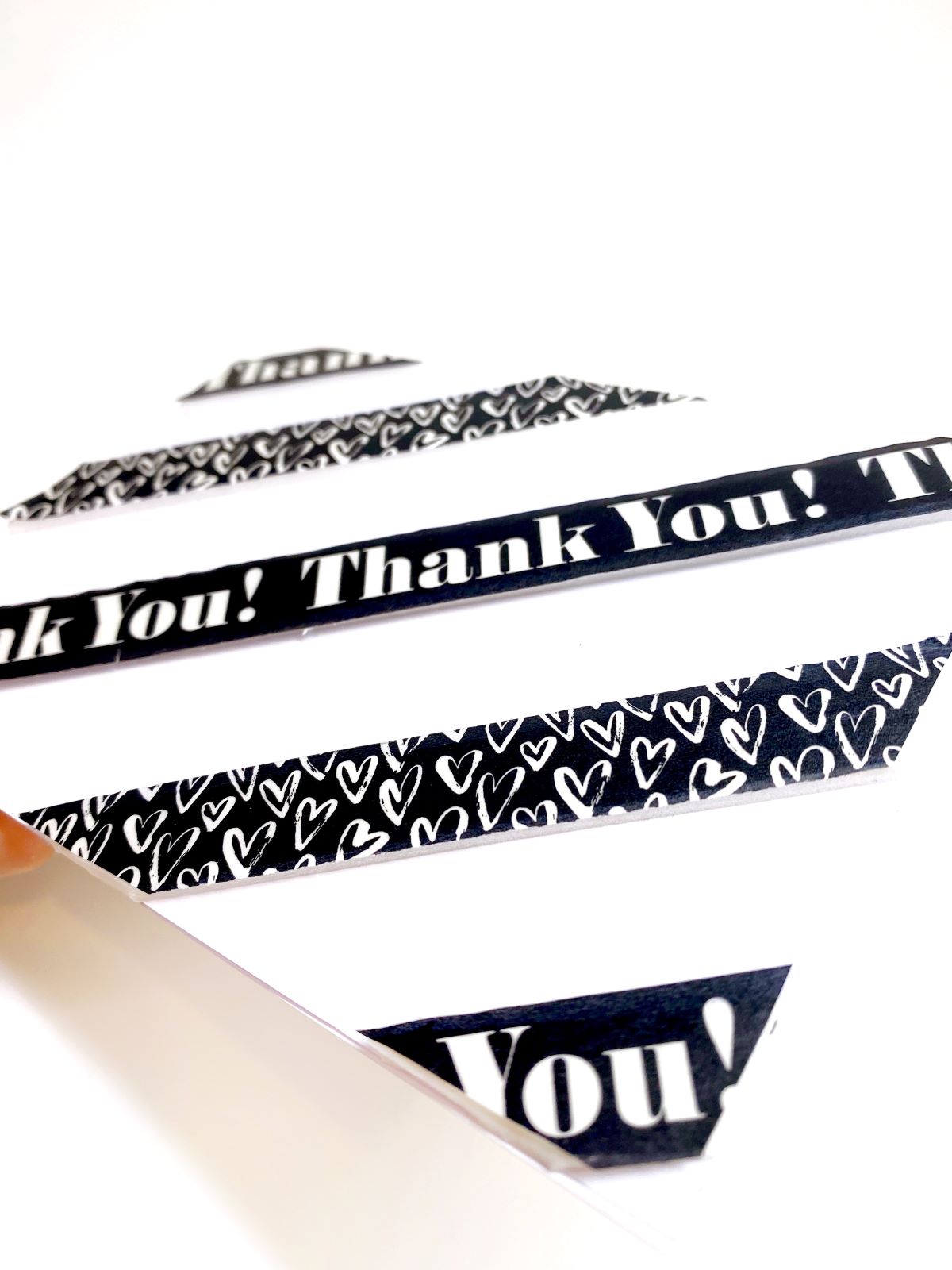 PROJECT #3 – Upcycle a Container
If you have an empty glass jar or empty candle holder, add some sparkle by adding a strip of Foam Tape dipped in glitter!
For this glass jar, I dumped some glitter onto a flat surface then dipped one side of the Foam Tape in the glitter, covering the entire surface. Then, I wrapped the Foam Tape around the container. It's a simple and fun way to dress up a boring container to add a little sparkle to your desk!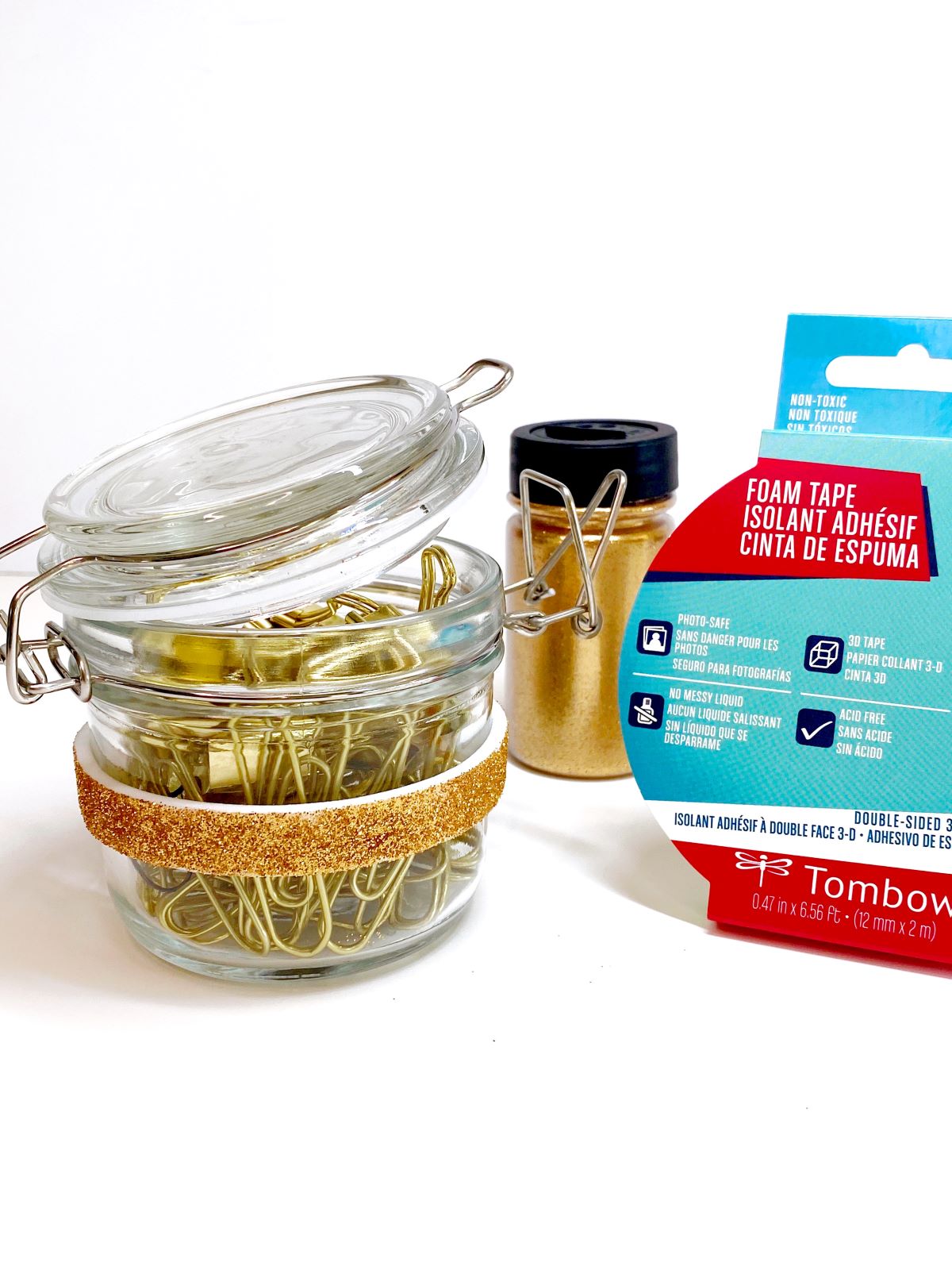 There you have it! Three fun ways to use Tombow's Foam Tape! If you give any of these projects a try or come up with a new way to use the Foam Tape, be sure to tag us at @tombowusa and @thebrewtifulword so we can see your cool projects!
For more adhesive inspiration, be sure to check out these posts:
Thanks for following along today! See you soon!
Mandy