Hey everyone, it's Danielle from sprinklesofzeal! Guess what month it is?! It's National Craft Month! I'm super excited to share this wooden butterfly sign with you. This project is great for crafters that love creating unique signs and lettering on different surfaces. The Tombow Foam Tape is the true star because it helps create a 3D effect that looks super awesome. Alright, are you ready to get crafty? Let's gather the supplies.
Supplies:
Bark edge board 5" X 12″
Fabric butterflies

STEP 1. SKETCH YOUR MESSAGE.
Lightly sketch a short greeting in the center of the board using the MONO Graph Mechanical Pencil. This pencil is great for creating lines and it fits very comfortably in my hand. One of my favorite things about the MONO Graph Mechanical Pencil is that I can hide the eraser or twist the cap up for it to appear.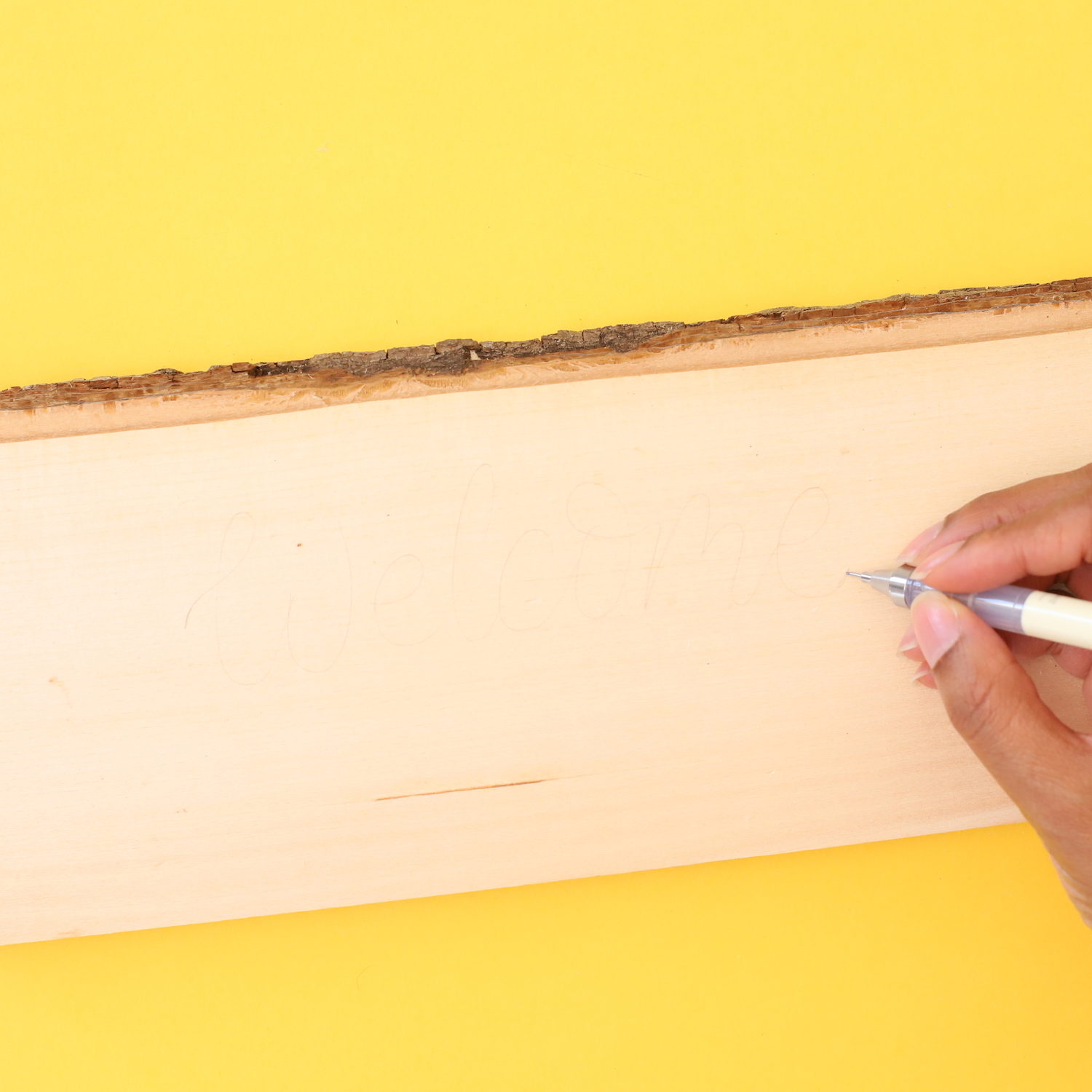 I decided to create a welcome sign for my office, but you can write any message on your board.
STEP 2. INK IT!
Once you're happy with the sketch, it's time to ink it with Tombow's Dual Brush Pen N25. Yes, this pen does work on wood! Amazing, right?!
STEP 3. PLAN THE BUTTERFLIES POSITIONS
Before you adhere the foam tape to the butterflies, it's best to plan where and how you want them to be positioned on the board. Here are a few photos of my planning process.
Style #1. Left side Butterflies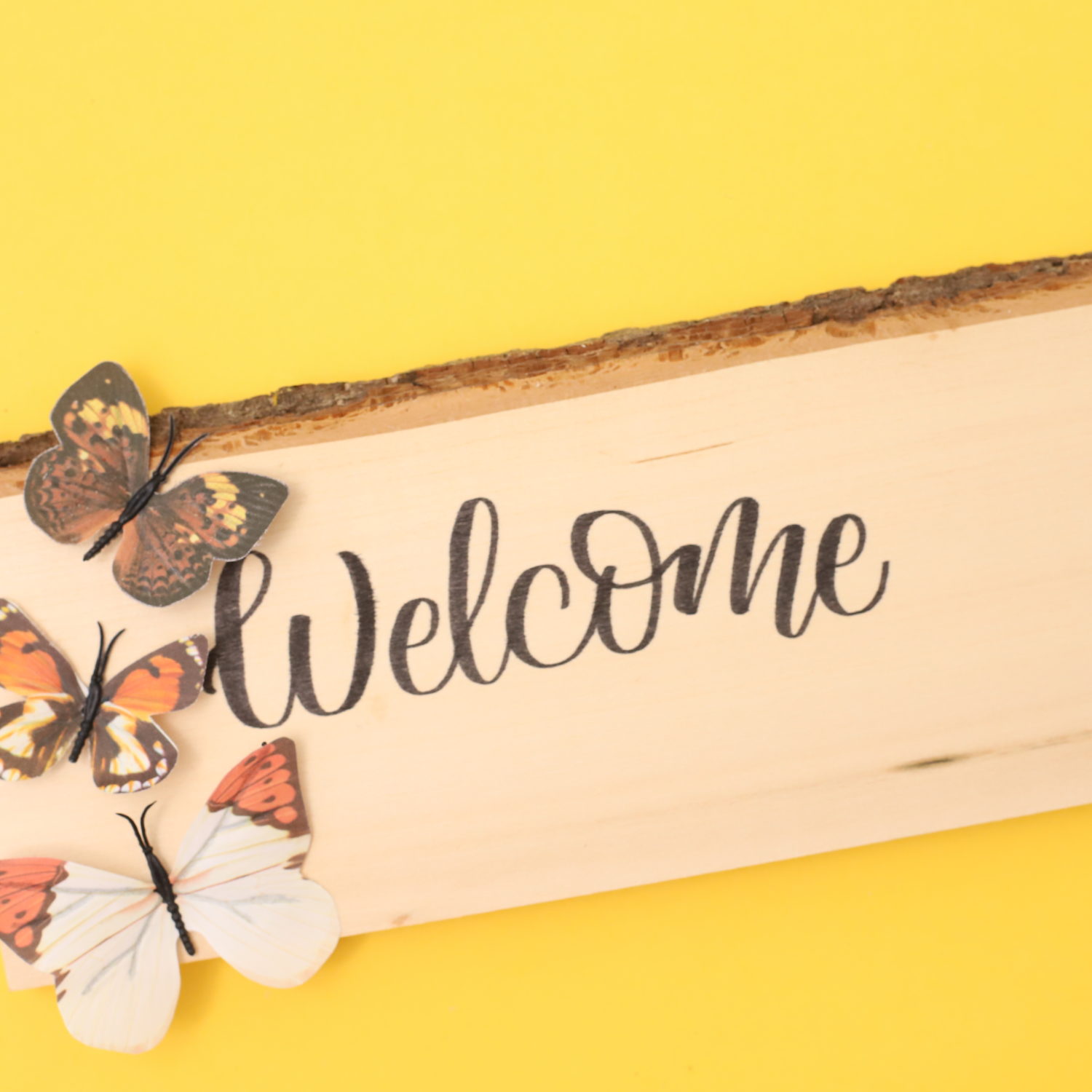 Style #2. Butterflies all over.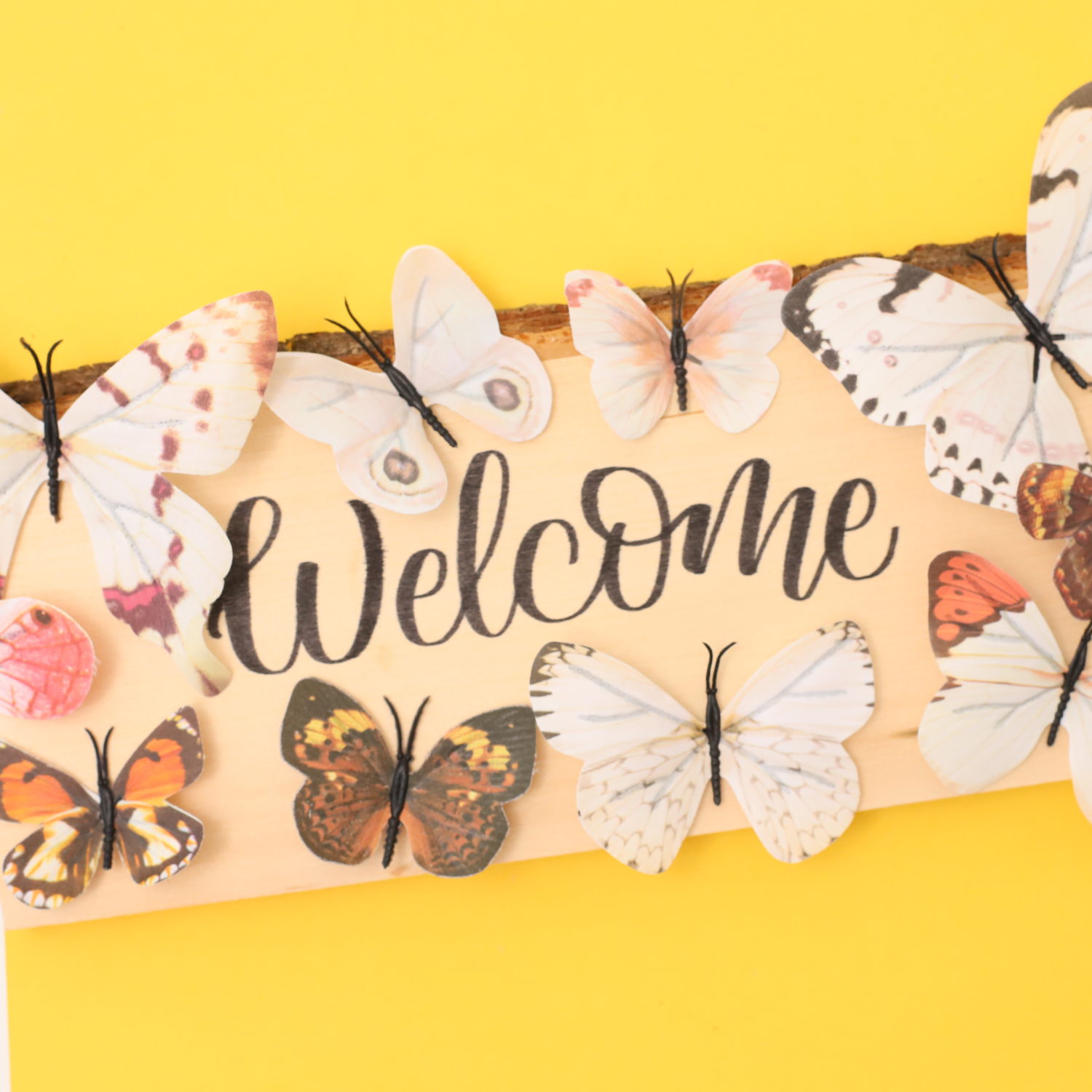 Style #3. Two Large Butterflies on each side.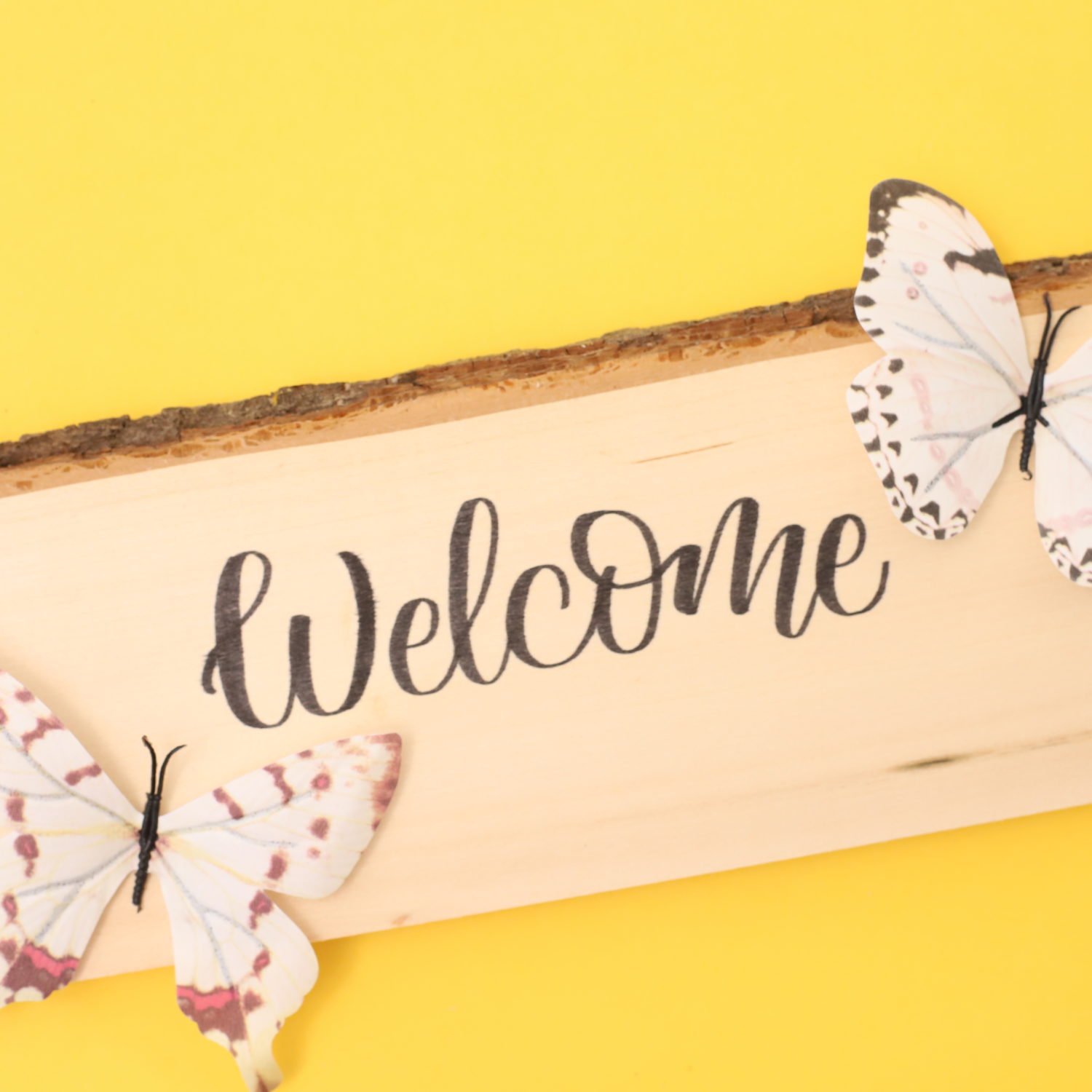 I chose the design with the butterflies all over because it matched my style the most. Feel free to play around with the position. Mixing and matching the butterflies by their wing designs could look cool too, so use your imagination.
STEP 4. CUT THE FOAM TAPE
Grab some scissors and cut a strip of Tombow Foam Tape off the roll.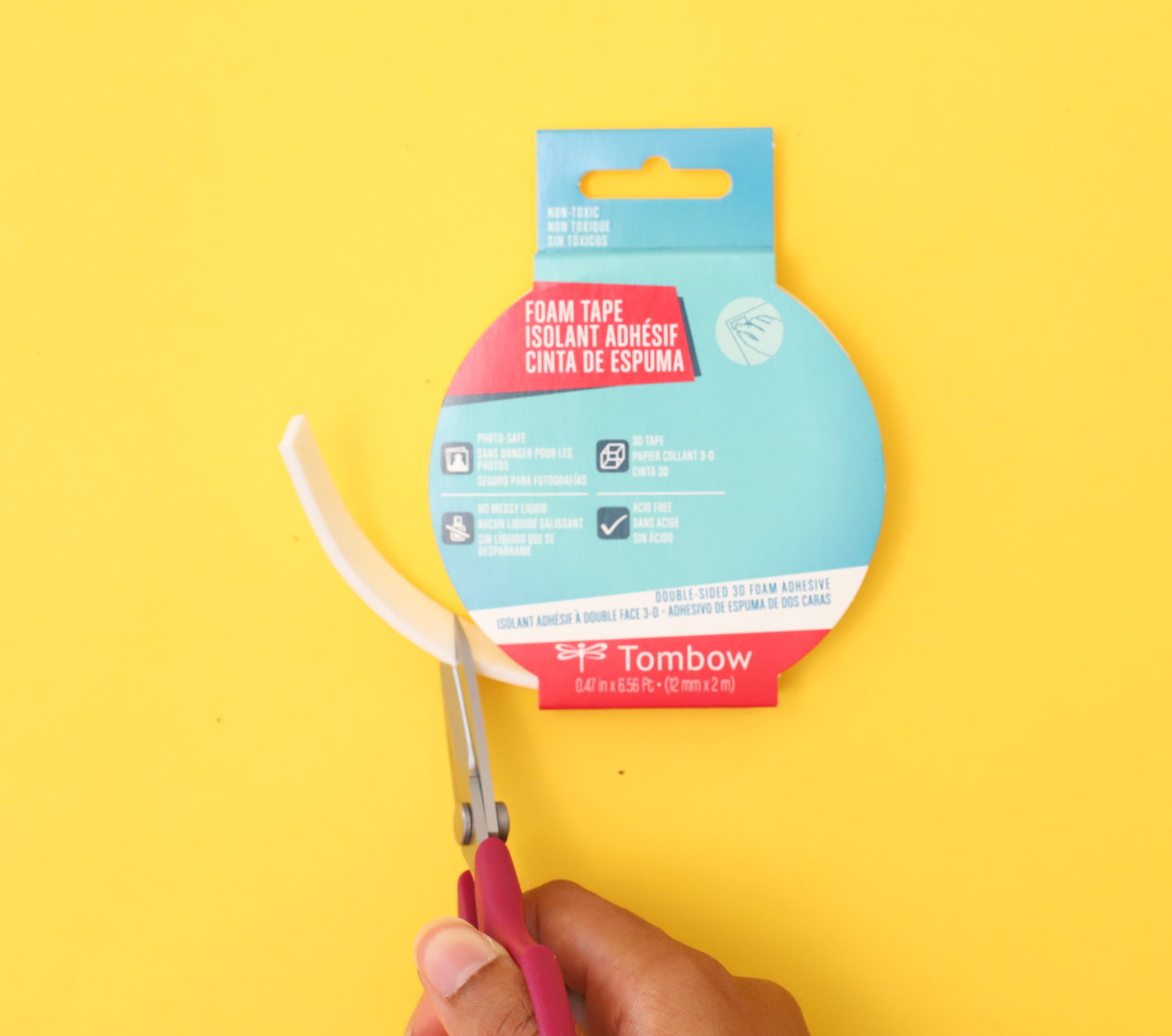 Cut the strip into smaller pieces so it can fit on the backs of the butterflies.

I enjoy working with Tombow's Foam Tape because it's double-sided, sticks to most surfaces, and allows my butterflies to have that 3D look as if they're are about to fly!
STEP 5. ADD FOAM TAPE TO THE BUTTERFLIES
Grab one of the smaller foam tapes and place it on the back of the butterflies. Since the Foam Tape is a little bulky, press it into the butterfly to make sure it's secure.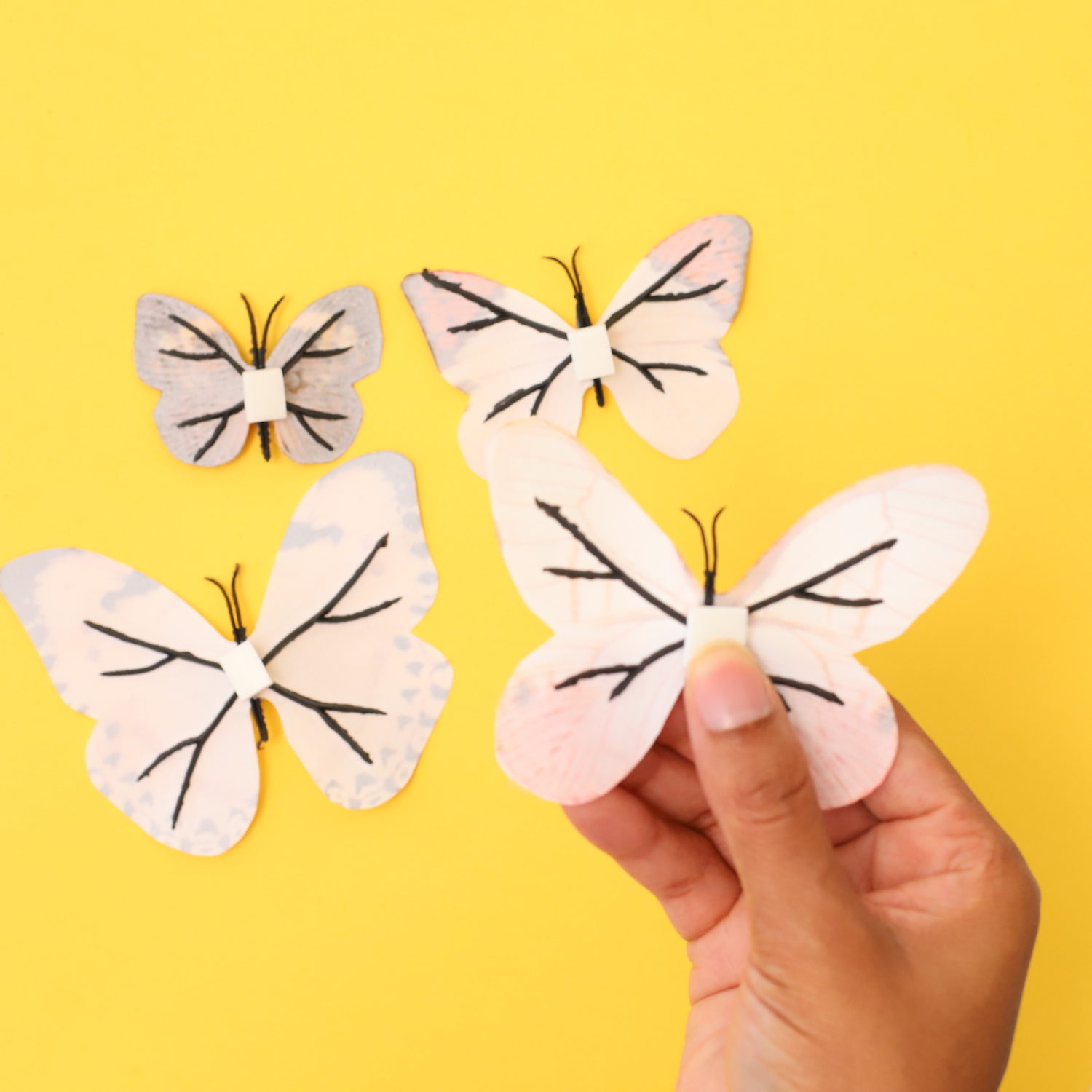 STEP 6. ADD THE BUTTERFLIES TO THE BOARD
Peel off the paper side and begin to place your butterflies how you want them to sit on the board.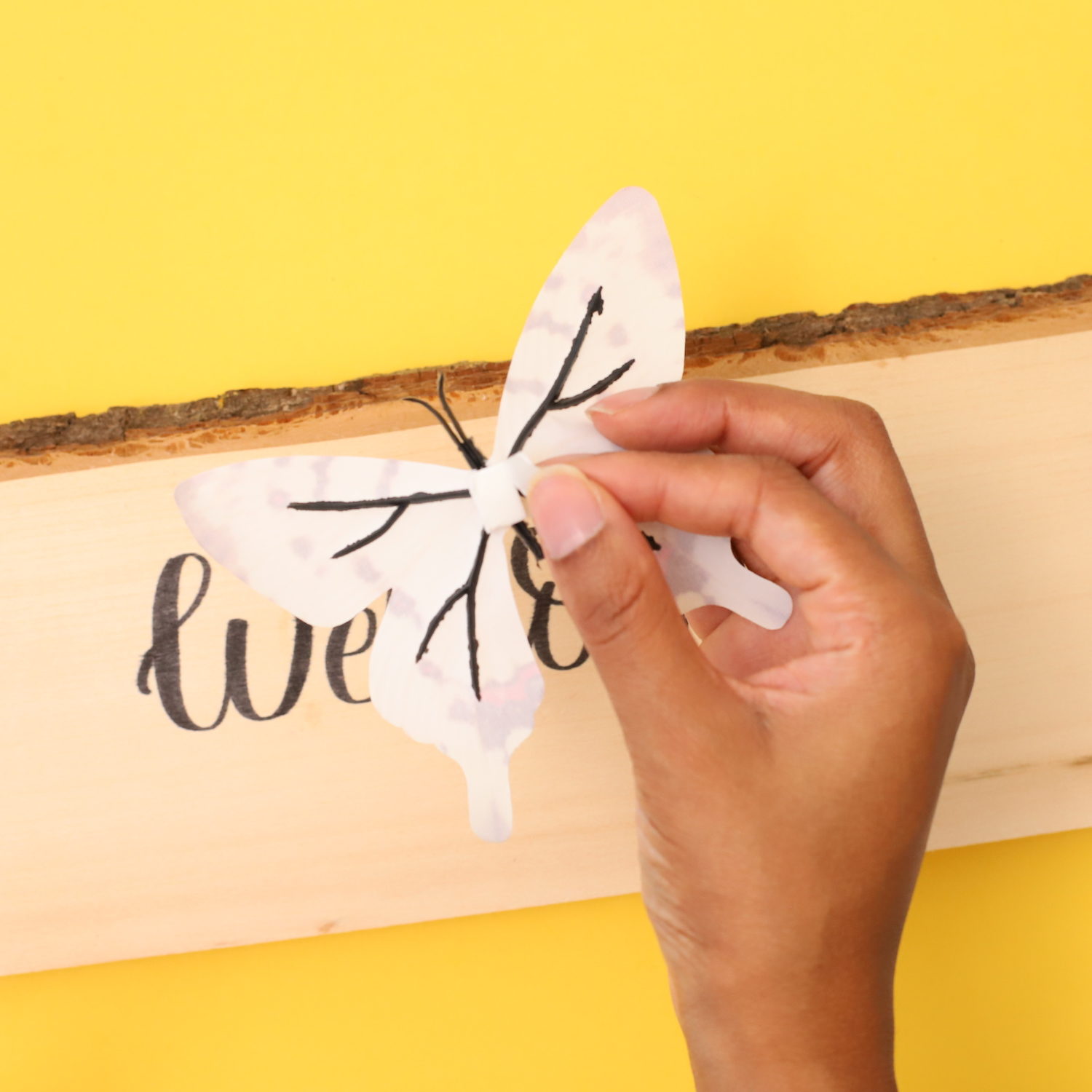 I love how this wooden butterfly sign turned out and the Foam Tape adhered very well to the wood!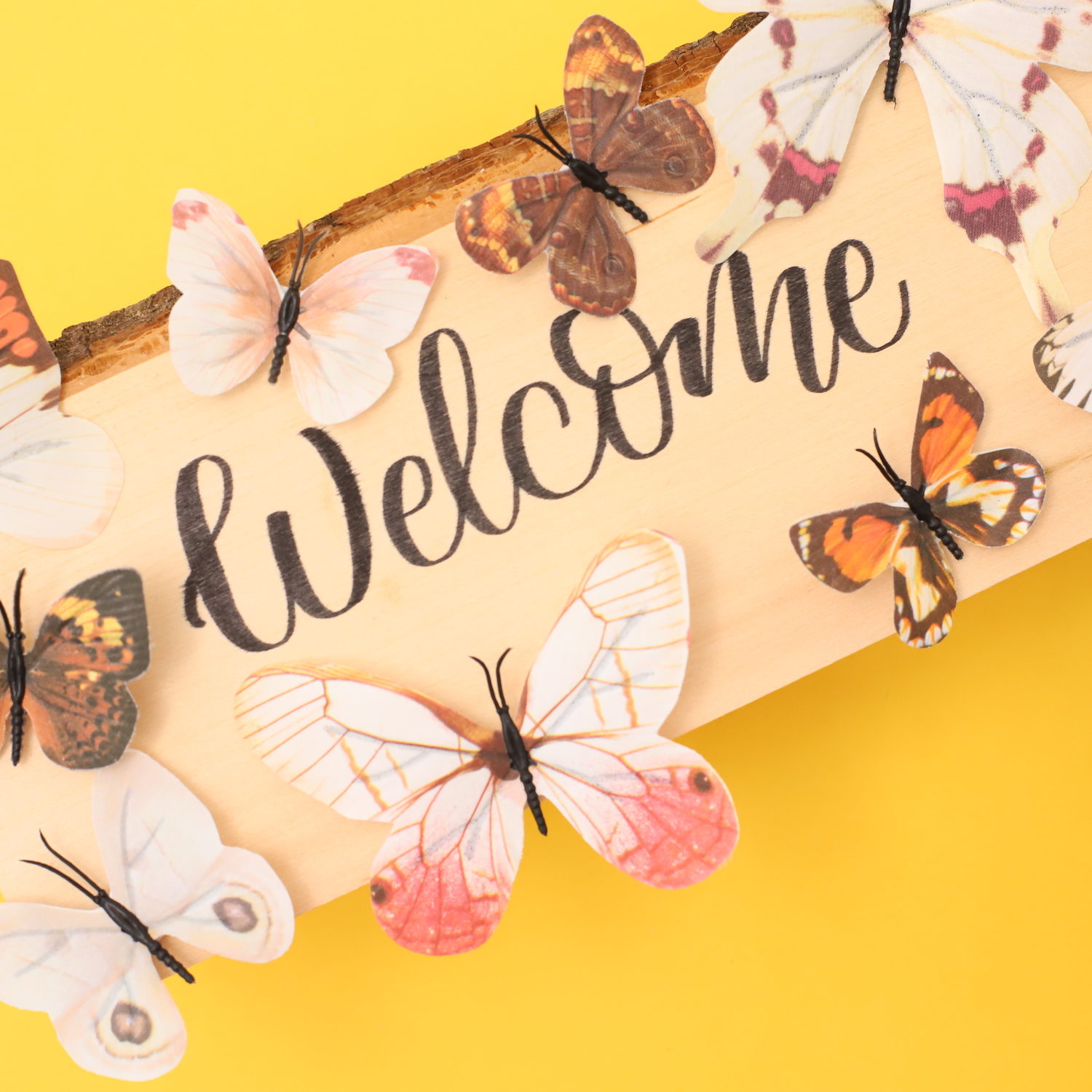 I hope that you enjoyed learning how to create this wooden butterfly sign. It's a great spring project that can brighten up your home. If you're looking for other ways to use Tombow Foam Tape, check out Mandy's Create Among Us Art or Jessica's Make 3D Watercolor Artwork. As always, if you decide to create this project, tag Tombow USA and myself (@sprinklesofzeal) so we can see your creations.
-Danielle