Decorative Wine Bottle: Bridesmaid Gift Idea
Hello Lovelies, Serena Bee here and this week Tombow USA is celebrating wedding month with fun bridesmaid gift ideas! For my gift, I played with the idea of the very popular bridesmaid reveal boxes, where you give a gift and ask a friend if they would like to be your bridesmaid. I thought it would be fun to alter a miniature wine bottle as a unique way to pop the bridesmaid question! Once she says yes, all you do is remove the tag and your friend has a beautiful altered bottle she could use as home decor! This is a perfect DIY idea for brides on a budget. Let's get started!
Step 1: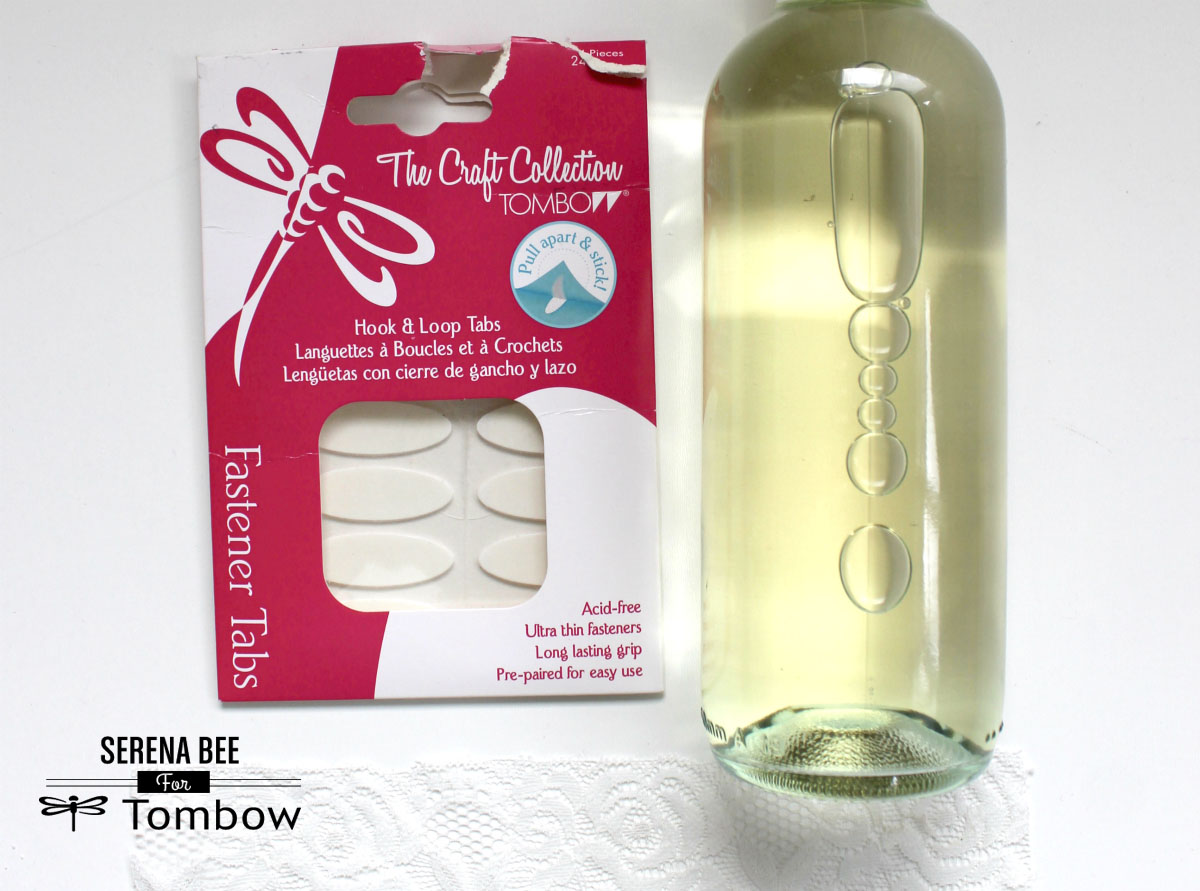 Begin by removing the wine labels using hot soapy water. Then use acetone or nail polish remover to remove all the sticky bits. Next take your lace and add a Tombow Fastener Tab. This will allow you to wrap the decorative piece around the bottle. If your bridesmaids decide to open the bottle of wine, they can just open the fastener tab and remove the decorative piece.
Next wrap your lace around the wine bottle. Make sure you position the fastener tab on the back of the bottle.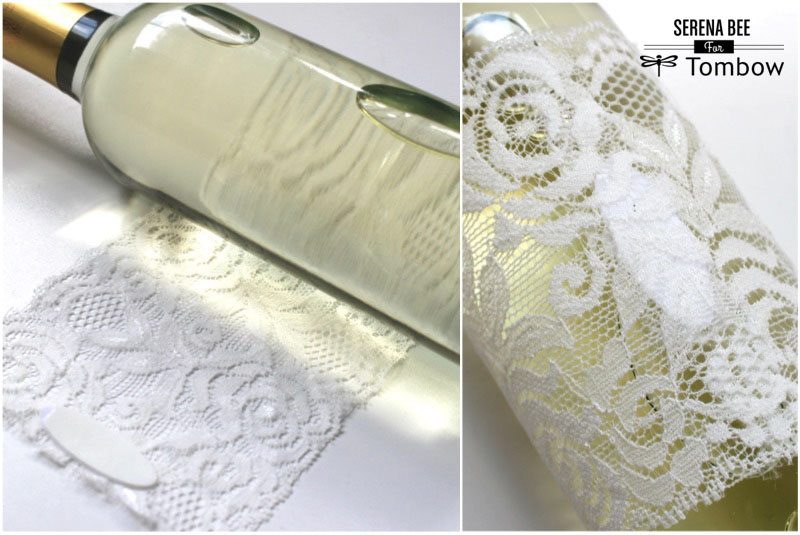 Step 2: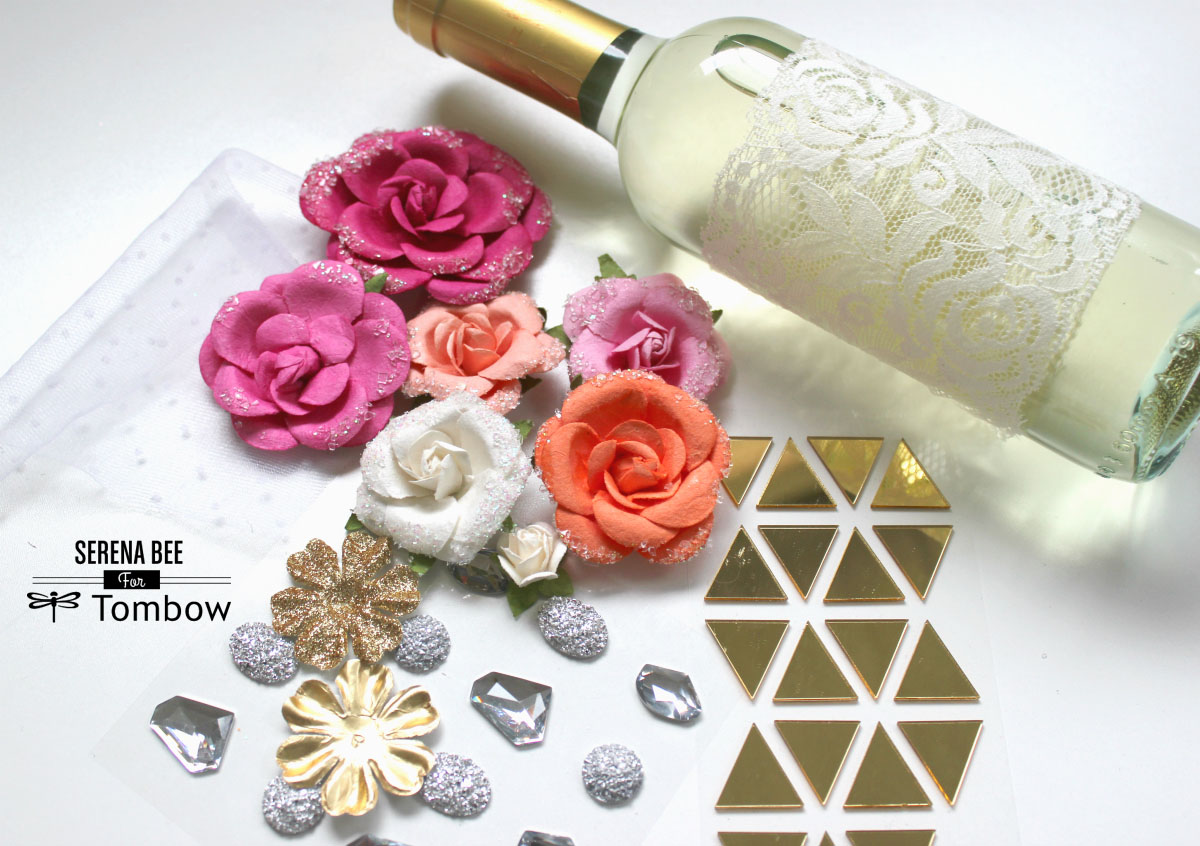 Gather up your decorative pieces (flowers, rhinestones, die cuts) that match your wedding theme and decor. My dream wedding would be a fall/Halloween theme with glittery white pumpkins, rich colors like purple and orange, and of course black and white! So I added a little glitter white pumpkin die cut to my cluster. What's your dream wedding theme?!
Once you have your embellishments, the next step is to start decorating! Use the Tombow Xtreme Adhesive Tabs and the Tombow Xtreme Mounting Putty to adhere you flowers and rhinestones because these are the strongest adhesives to adhere 3D objects to a round surface.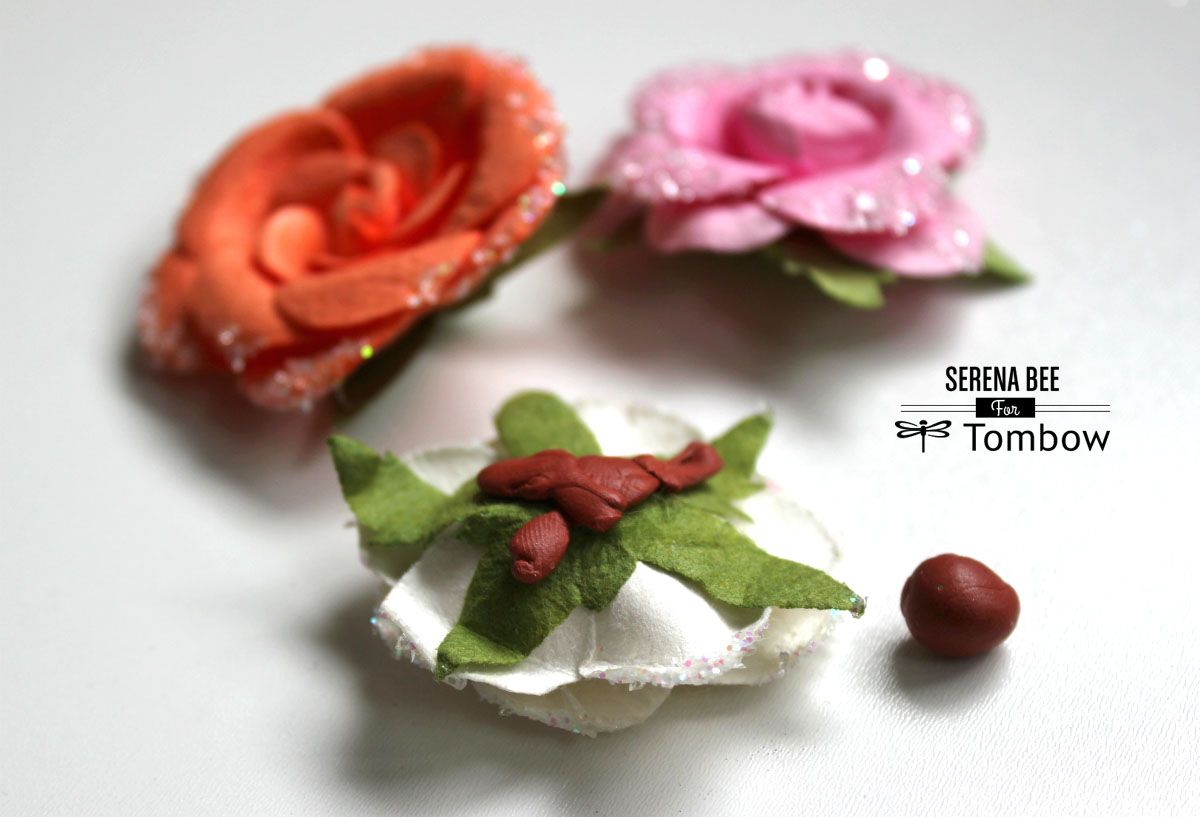 Once I placed my flowers and bling I decided to add white polka dot tulle for an extra touch and I adhered it  with the Tombow Xtreme Adhesive Tabs.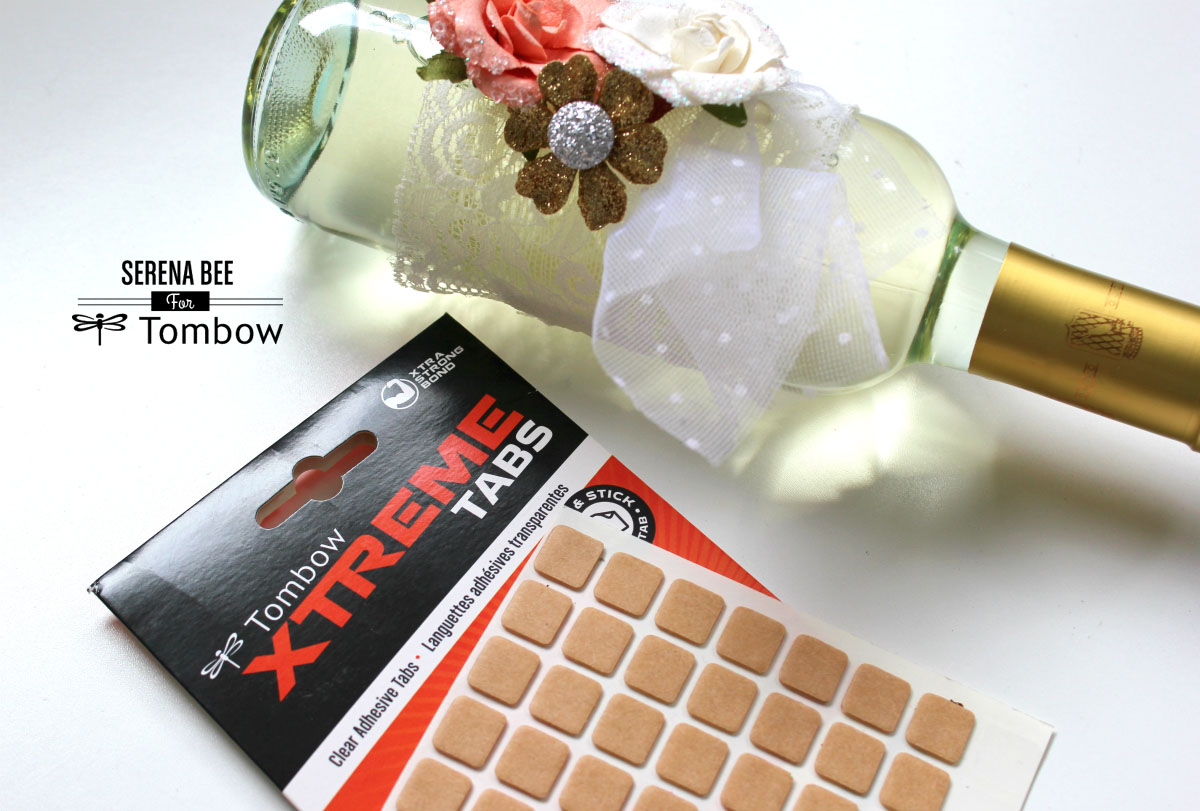 Step 3:
Once you have your decorations in place, the next step is to write you message. I originally wanted to write out "will you be my bridesmaid?" but decided it would be too long. Instead I kept it simple and wrote "bridesmaid".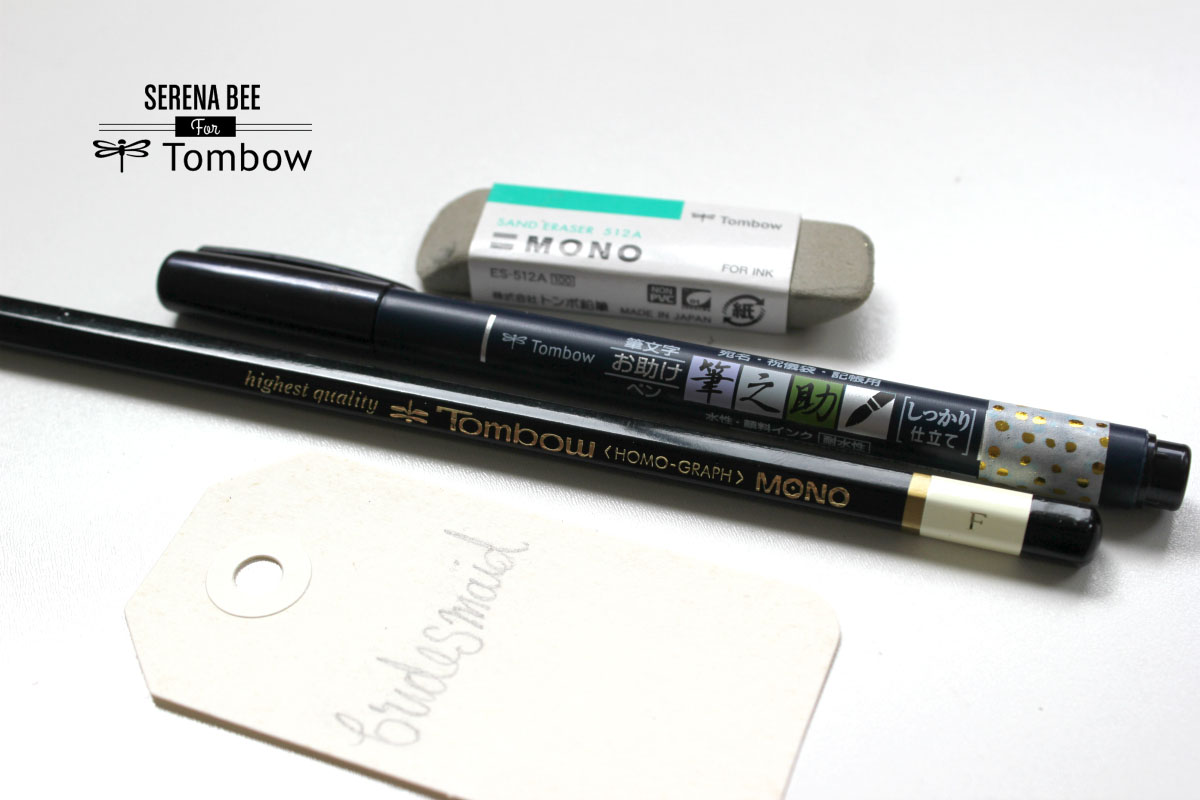 Take a small tag and trace out your sentiment using the Tombow MONO Drawing pencil in "F". This pencil has such a fine tip and is smear proof. I really like tall, messy, skinny fonts so that is what I did on my tag but you can do any lettering of your choice. Check out design team members: Lauren, Smitta, and Jennie for some amazing lettering inspiration!
Next trace your lettering with (my personal favorite) the Tombow Fudenosuke Brush Pen, Hard Tip. This pen makes any lettering look gorgeous!!  Erase the pencil marks with the Tombow MONO Sand Eraser.  I decided to cut my tag to make it smaller and used a corner punch to round the corners. I also added a gold glitter reinforcer to the top of the tag and adhered it with the Tombow MONO Aqua Liquid Glue.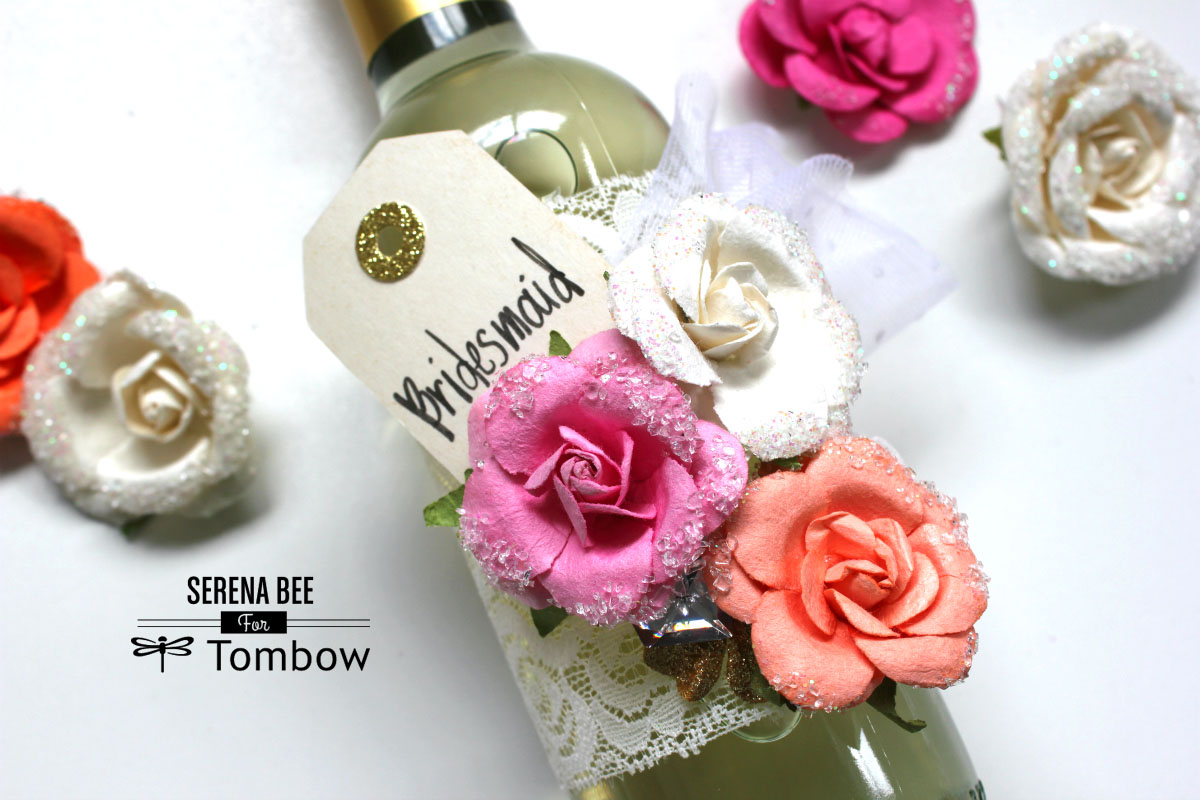 Next add your tag in the cluster of embellishments and you're done! This DIY project is very easy to make and does not take long. It's a perfect personal gift for all your bridesmaids!  This decorative wine bottle makes the perfect wedding souvenir and home decor piece!!
Here are some more close ups!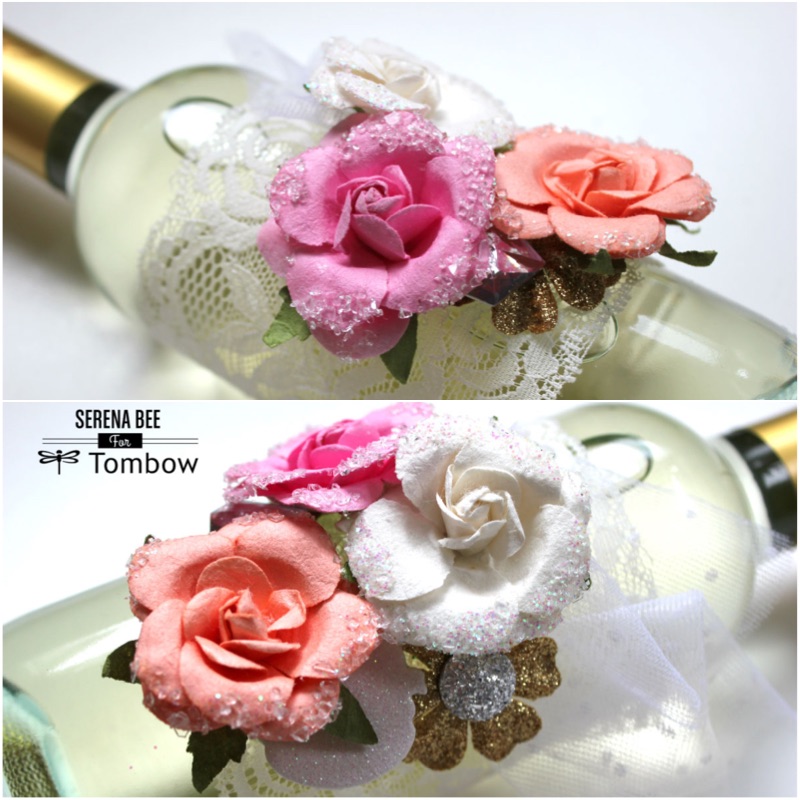 Can you see the little pumpkin?! 😀
I hope this DIY decorative wine bottle tutorial inspired you! Making DIY gifts adds the perfect personal touch to you wedding and your bridesmaids will love it! Perfect for brides on a budget too!!
Now check out this amazing adhesive sale going on from June 6th to June 10th! Perfect for your wedding crafts!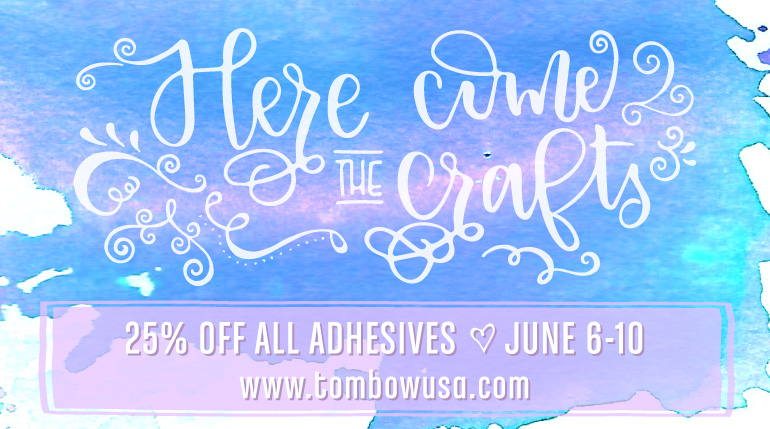 Thanks for stopping by! If you recreate this decorative wine bottle tutorial, for any occasion, please tag me on Instagram @seresbee and use #inspiredbyserenabee
Have a happy day!