Hi y'all, I'm Katie from Studio Katie here today! Do you like monthly art challenges? In May, there is a challenge called "MerMay." You can learn more about it here. As the challenge website says: "MerMay is a month-long celebration of creativity, community and above all… MERMAIDS." (Also, I should note that this post isn't in collaboration with the creators of MerMay. I am just inspired by it!)
So today, I want to show you how I drew this mermaid illustration and how you can too!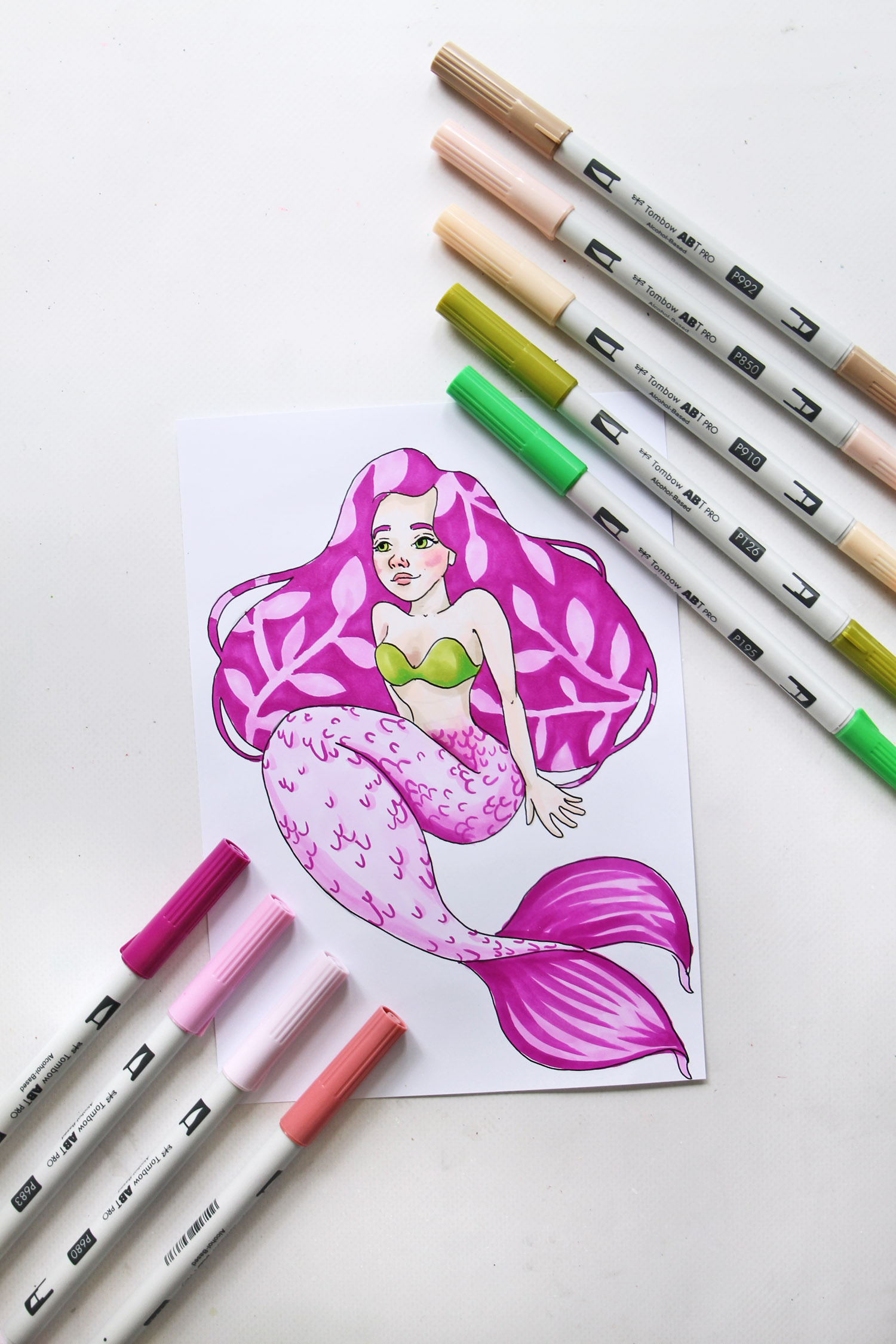 Supplies:
Marker paper (I'm using HP Premium 32. It's a great paper for markers!)
Step one:
Start with the sketch using the MONO Graph Pencil! To draw your mermaid, you first want to sketch out her position and identify the basic shapes of her form. Have fun with her hair and the position of her tail!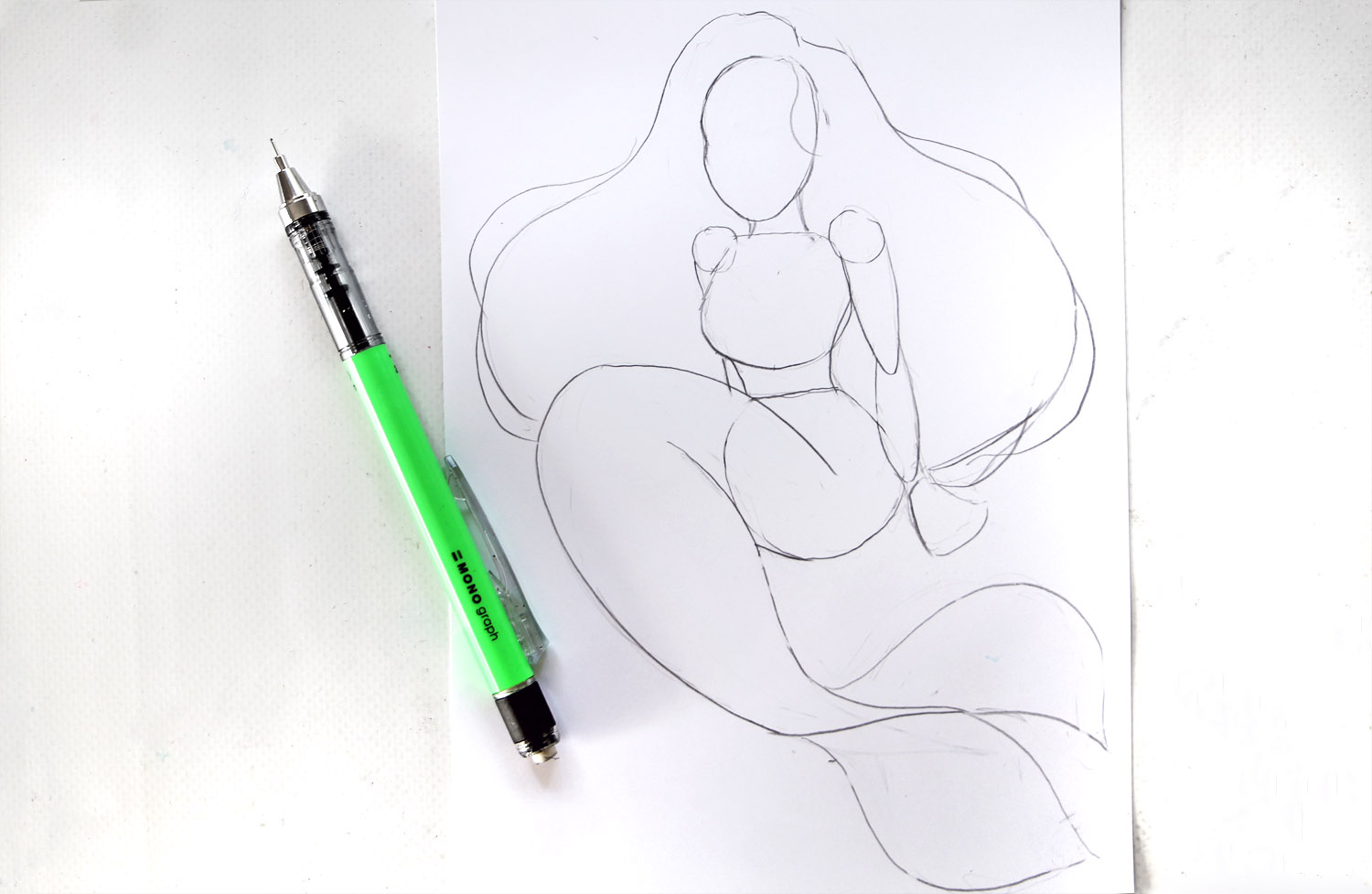 Step two:
Time to ink! Yes, you can use the water-based MONO Drawing Pens with the alcohol-based ABT PRO Markers. That is what I used here to go over my pencil lines and ink my mermaid. The MONO Drawing Pen is available in multiple tip sizes, so you can use a fine tip or a broader tip if you prefer. I wanted something in between, so I used a MONO Drawing Pen 03.
Erase the pencil lines.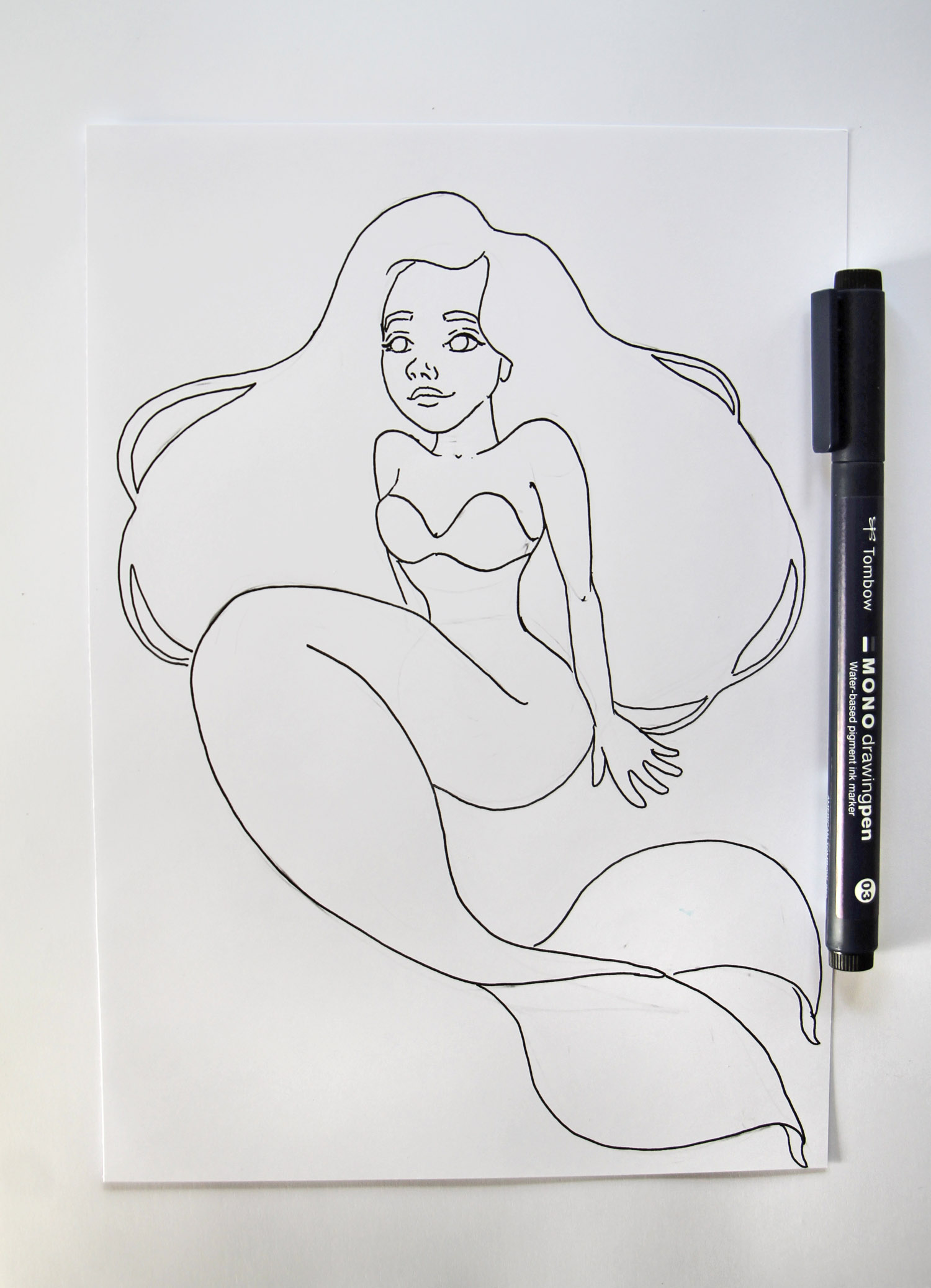 Step three:
Time to color! For her skin you're going to want two or more shades of skin tones. The ABT PRO Alcohol-Based Markers People Palette 12-Pack is a fantastic set if you plan to color a lot of people!
Begin with your lightest shade (P910 for me) and fill in her skin. Next, use a slightly darker tone (like P992) to darken areas that would naturally be shaded. For example, under her hair, behind her nose, etc. Use P850 or a blush colored marker to add a pink tint to her cheeks.
When working with alcohol-based markers, remember to work in layers. You can go back with the lightest tone to blend the shades together! Read this post by Grace for more tips on getting started with the ABT PRO Markers.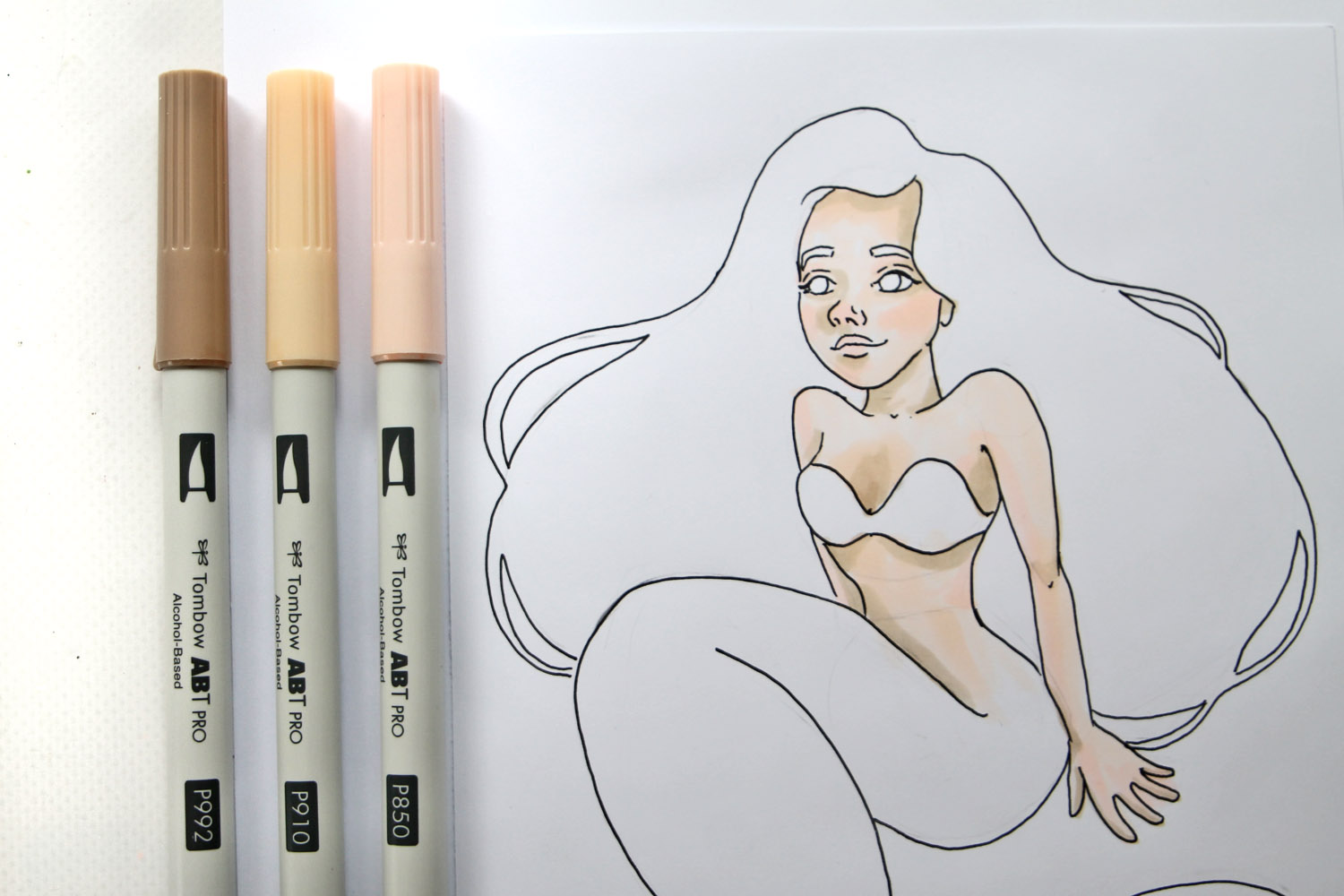 Step four:
If you want to create a monochrome colored mermaid like me, grab three shades of your favorite color ABT PRO Markers. I used P680, P683 and P685. Just like with the skin tones, you want to work light to dark. I used the darkest shade to draw the scales along her tail and I made her fin darker to contrast the lighter tail.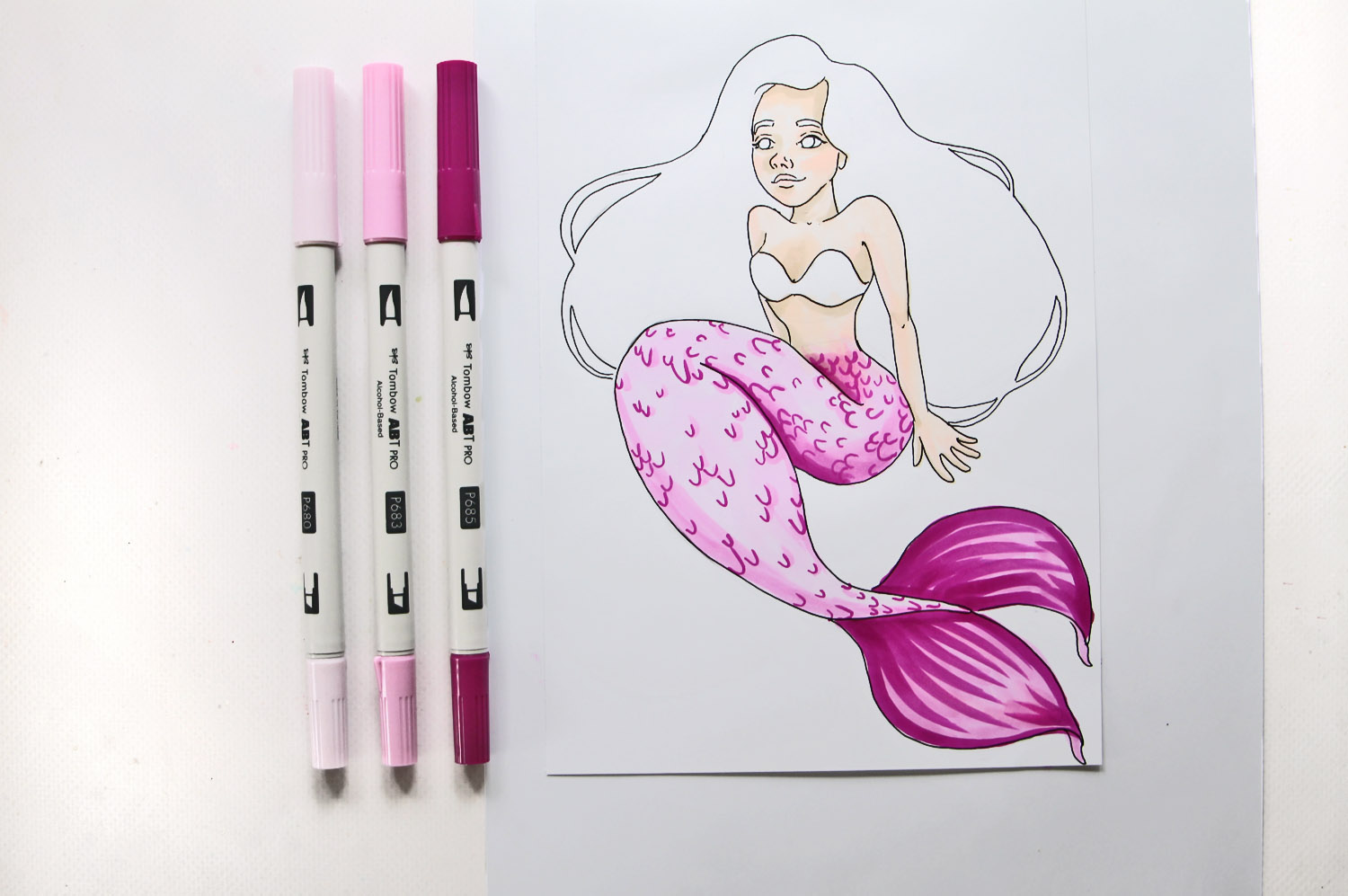 Step five:
To create a pattern in her hair, fill it in completely with ABT PRO Marker P683. Next, use a pencil to lightly draw in a design and then fill in the negative space with ABT PRO Marker P685. By using the same colors as her fin, it creates a nice balance!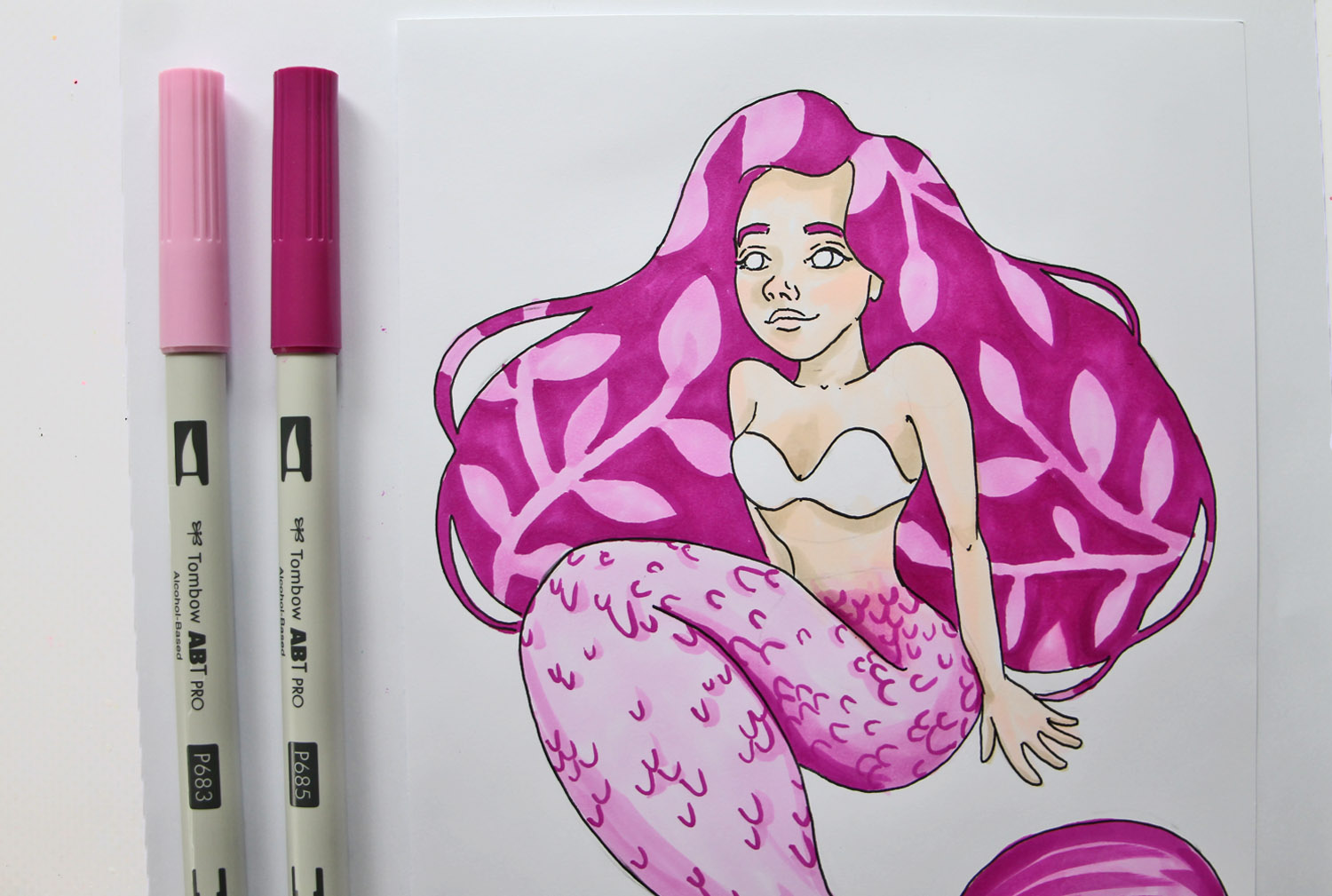 Step six:
Finish coloring her in by adding in another color if you want! I also added a little more color to her lips and cheeks.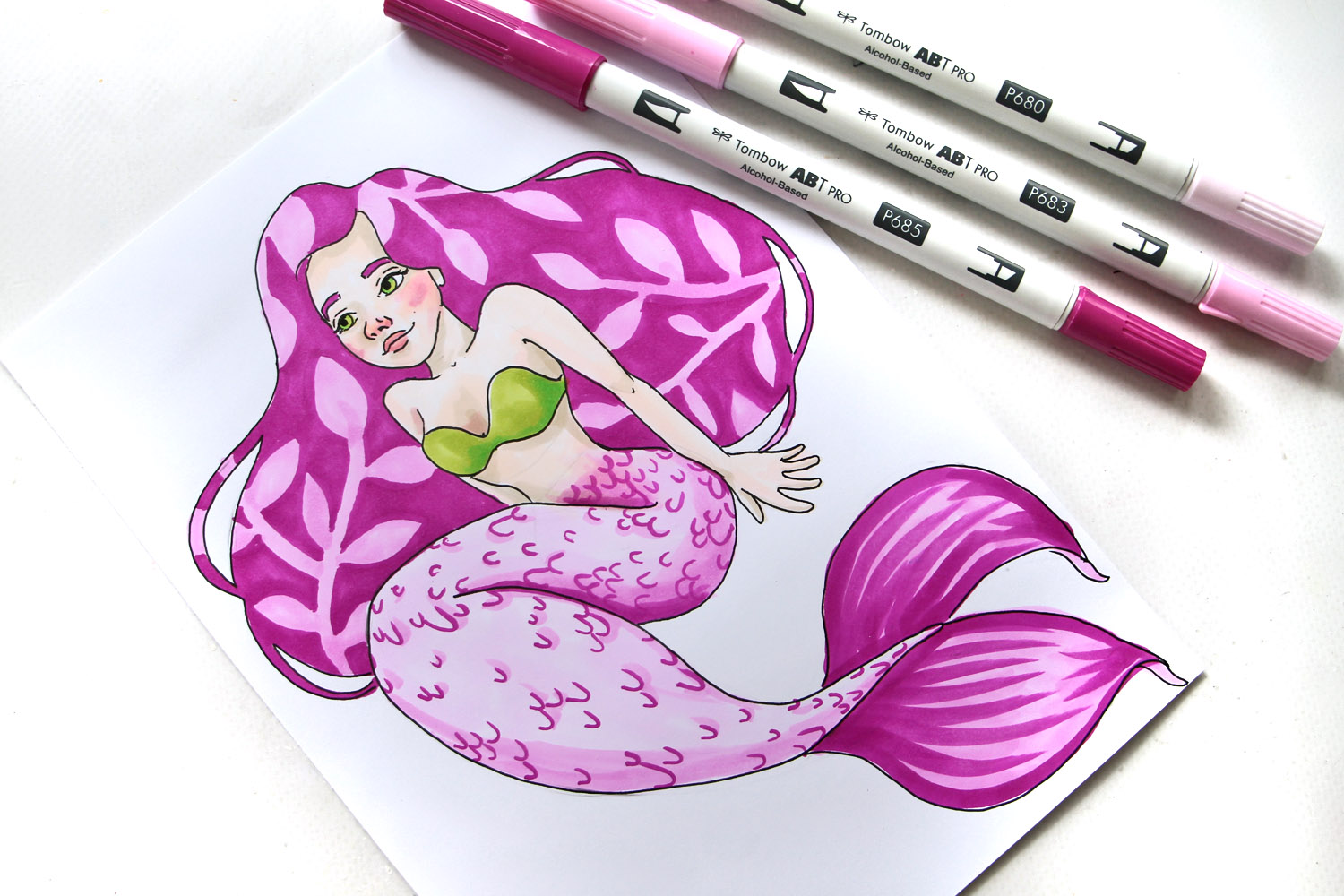 That's it! Thanks for hanging out with me today!  If you use these techniques to draw your own mermaid,  be sure to tag @tombowusa and @studio.katie so we can cheer you on!
Looking for similar posts? Check these out: