Hiya friends, Serena from @SerenaBeeCreative here with a watercolor resist technique!
No masking fluid? No problem! All you need for this technique is….. MONO Adhesive Removable! You heard that right friends. The MONO Adhesive Removable acts as the perfect resist for your watercoloring needs. Since the Design Team is celebrating MerMay this week, let's make a deep underwater mermaid piece!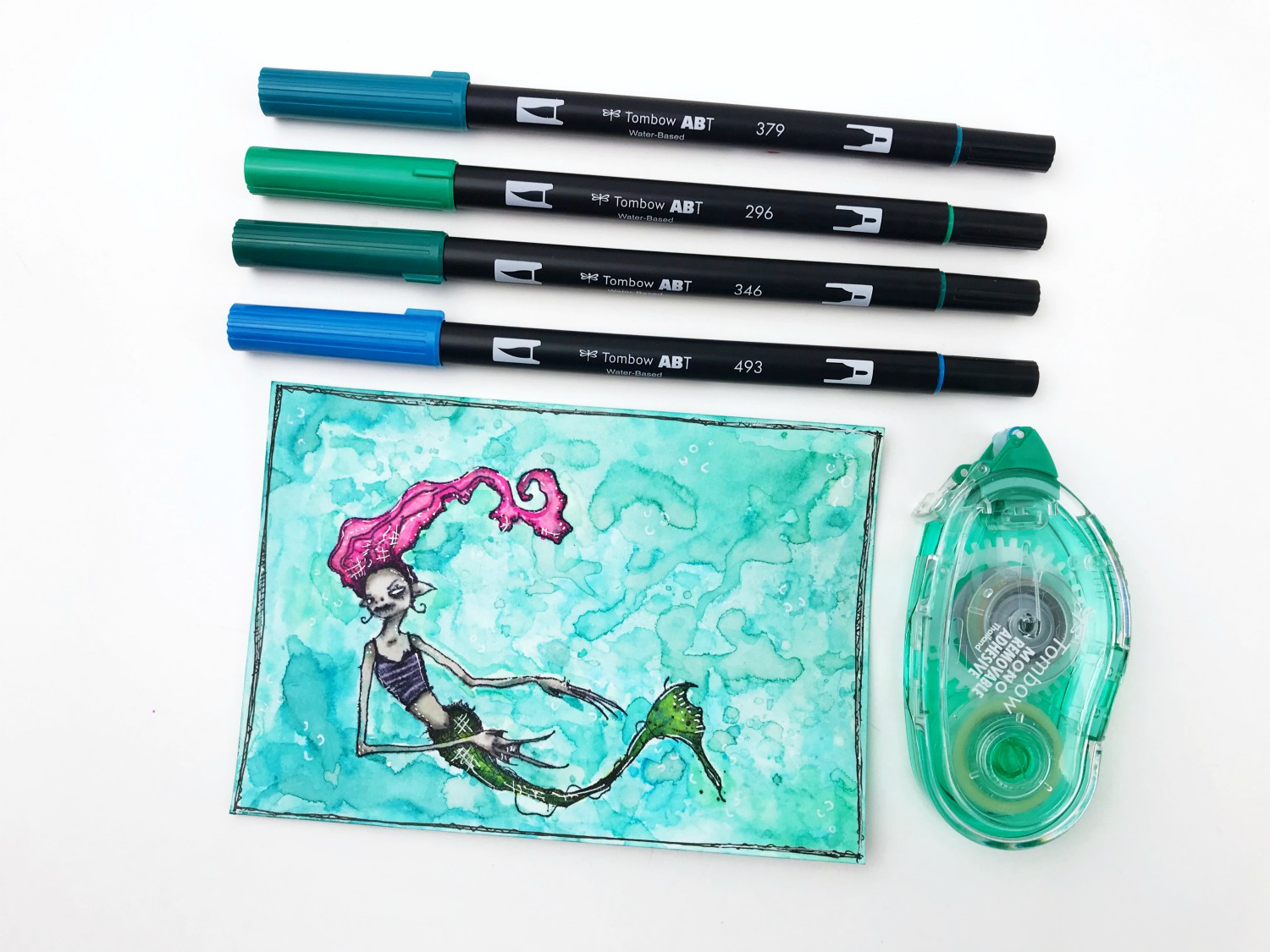 Supplies: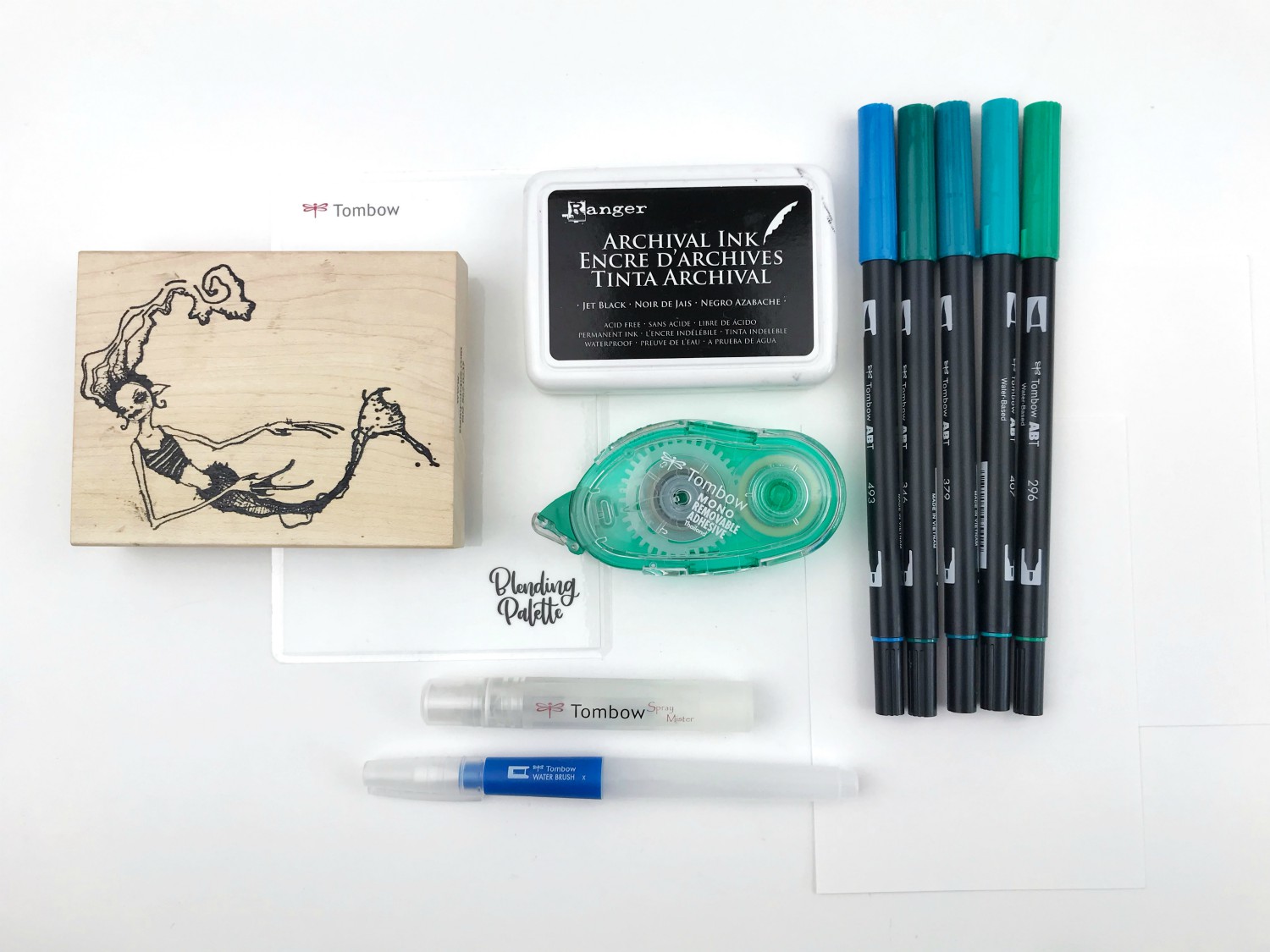 Watercolor Resist Technique
To begin, stamp your mermaid onto your watercolor paper using an archival ink. I cut my paper down to 4×6 inches to create a mixed media postcard.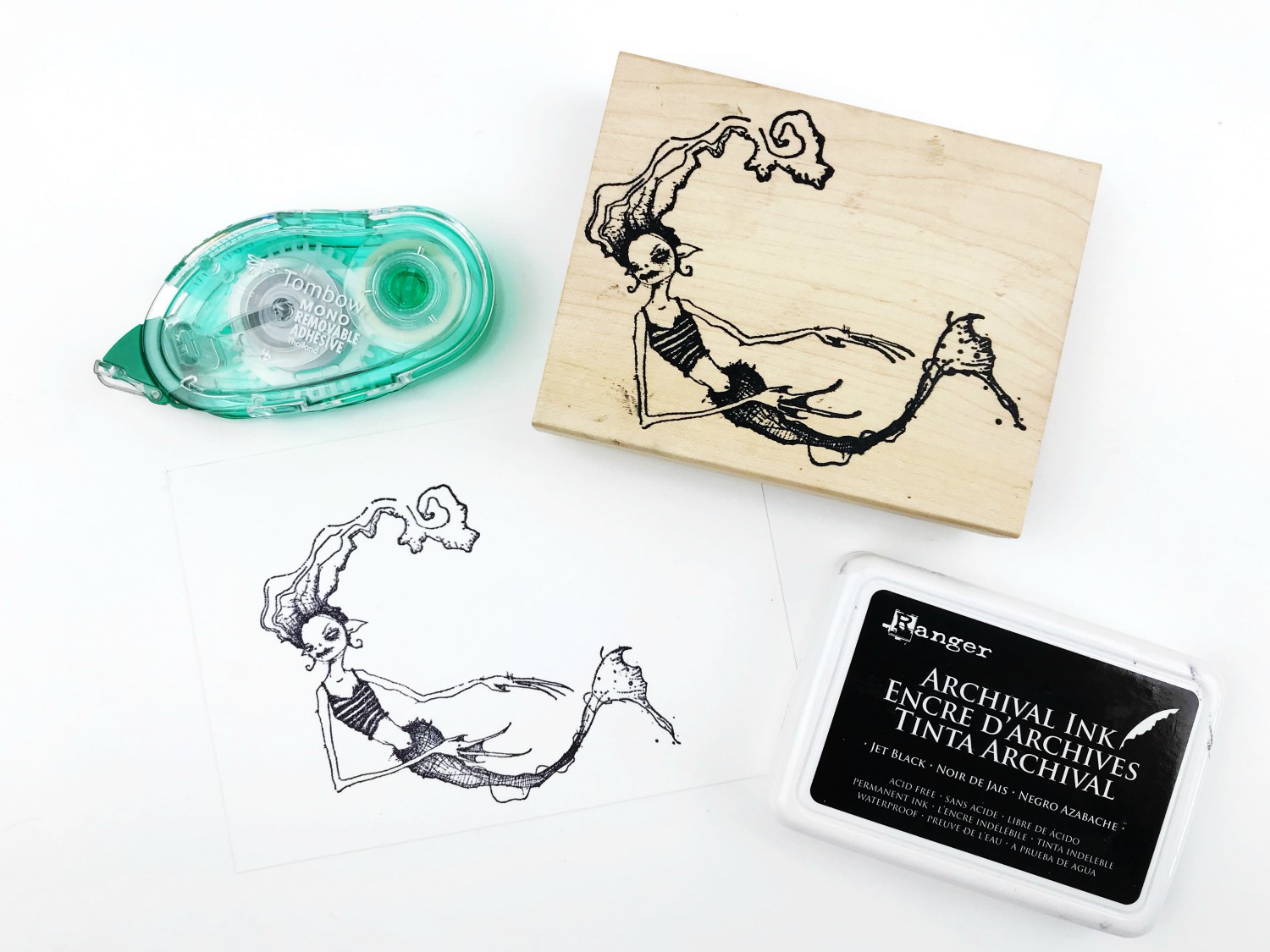 The next step is to cover your image with the MONO Adhesive Removable. It's okay if you get some on your background. Gently roll it back onto your image with your fingers.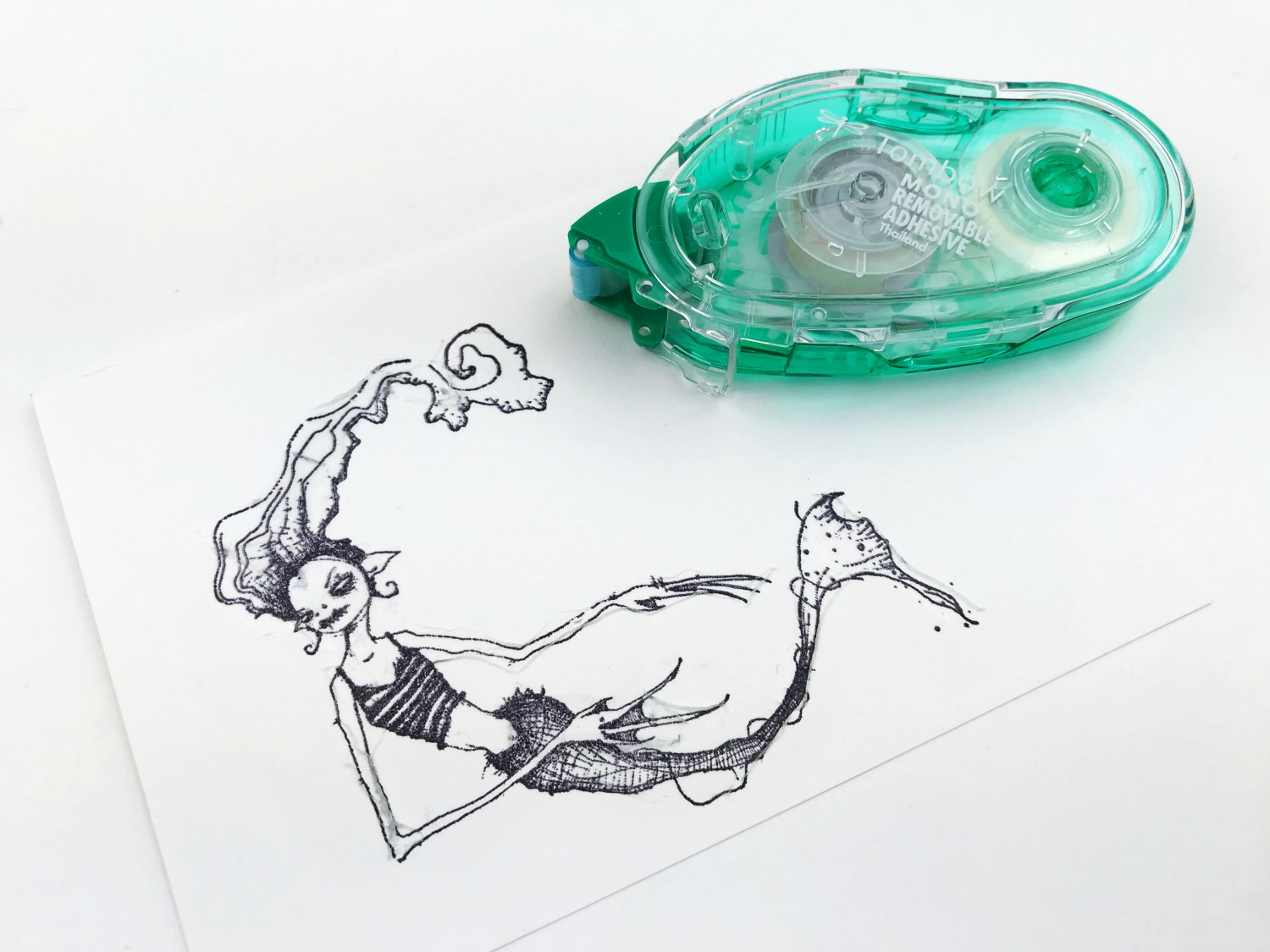 Now for the fun part! Let's work on the background. I'm using teal/green Dual Brush Pens in colors: 296, 346, 379 and 493 for my underwater scene.
Scribble your colors on to your Blending Palette (found in the Blending Kit) and mist it with water using the Spray Mister (also found in the Blending Kit). Then, smoosh the Blending Palette down onto your paper.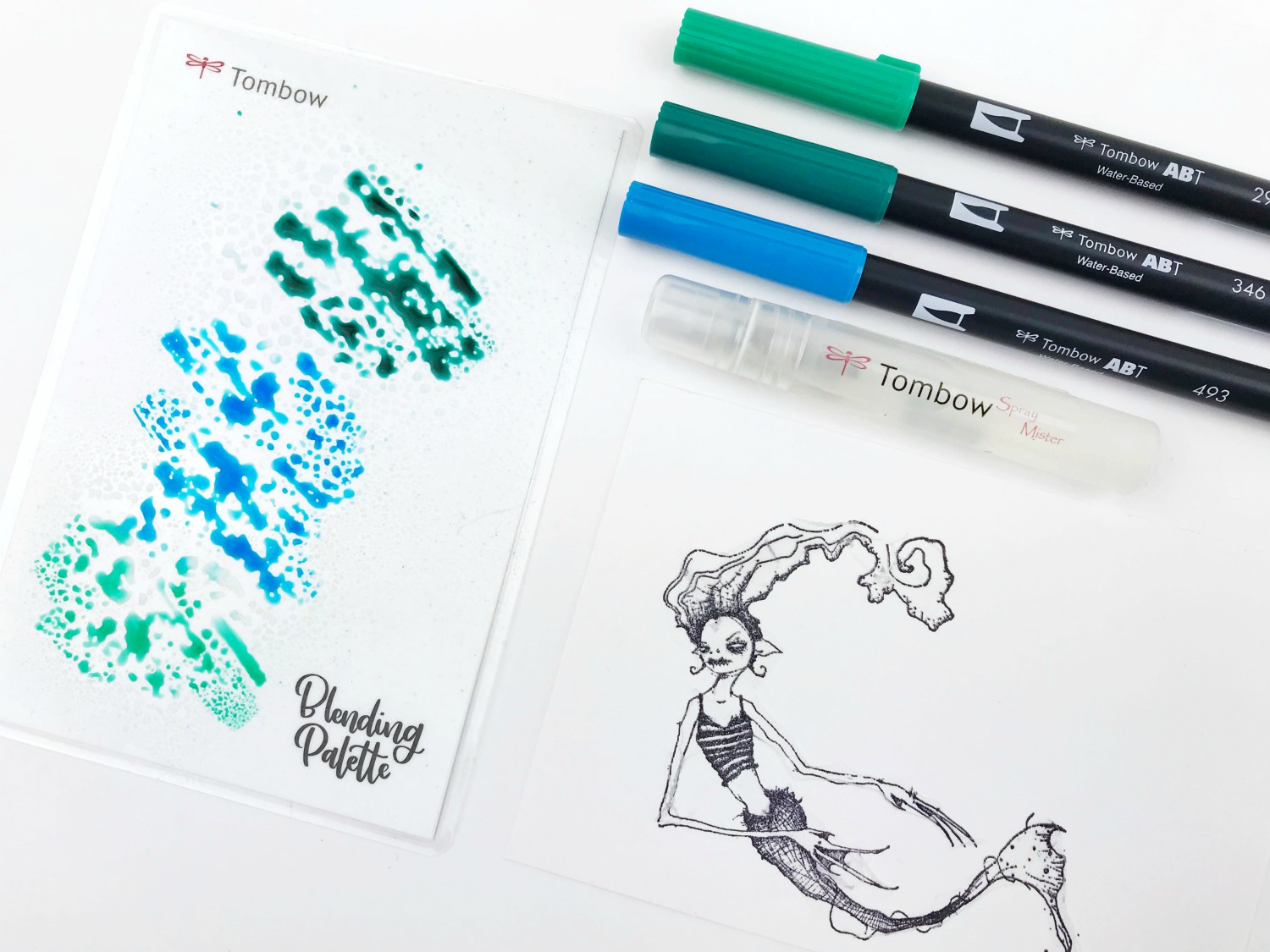 Repeat this step as many times as you'd like to build up your background.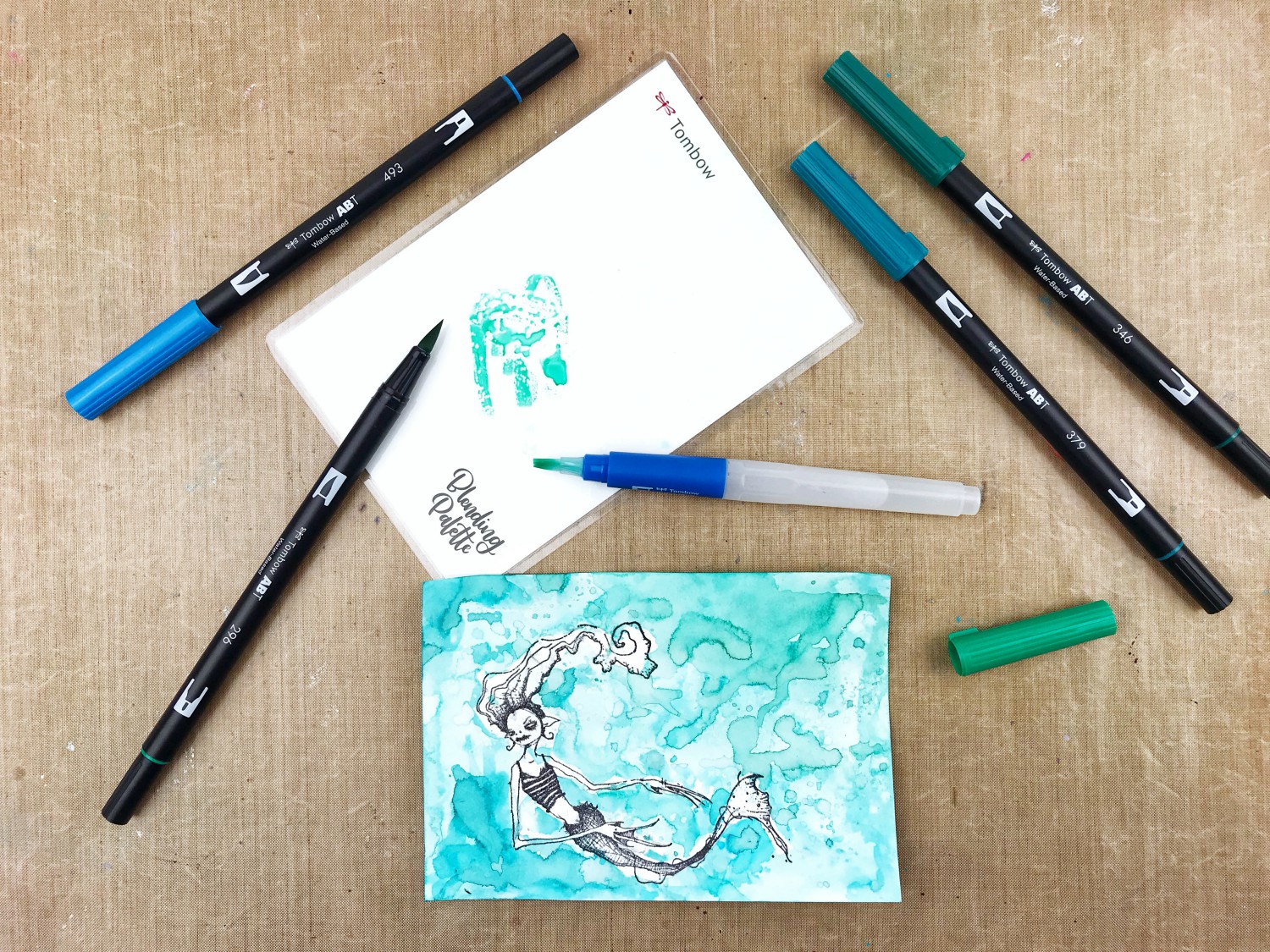 Once you have your background made, it is time to remove our protective layer made with the MONO Adhesive Removable. To do this, simply rub away the adhesive with your fingers. It's actually really fun to do!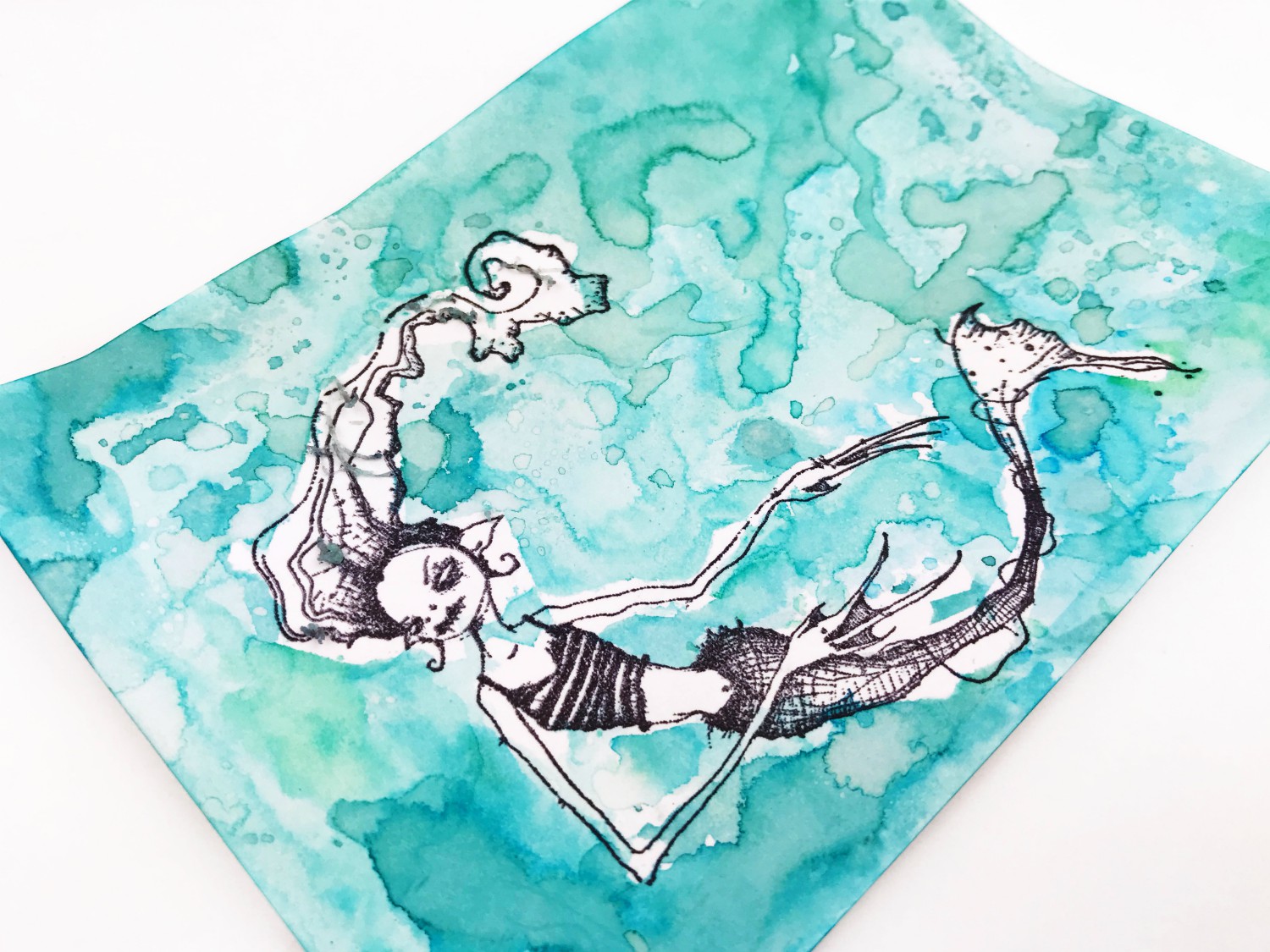 No worries if once you remove the adhesive there are some white spots that need to be filled in around your image. Go in with your Flat Water Brush and a Dual Brush Pen shade you used before and color in the white spaces around your image.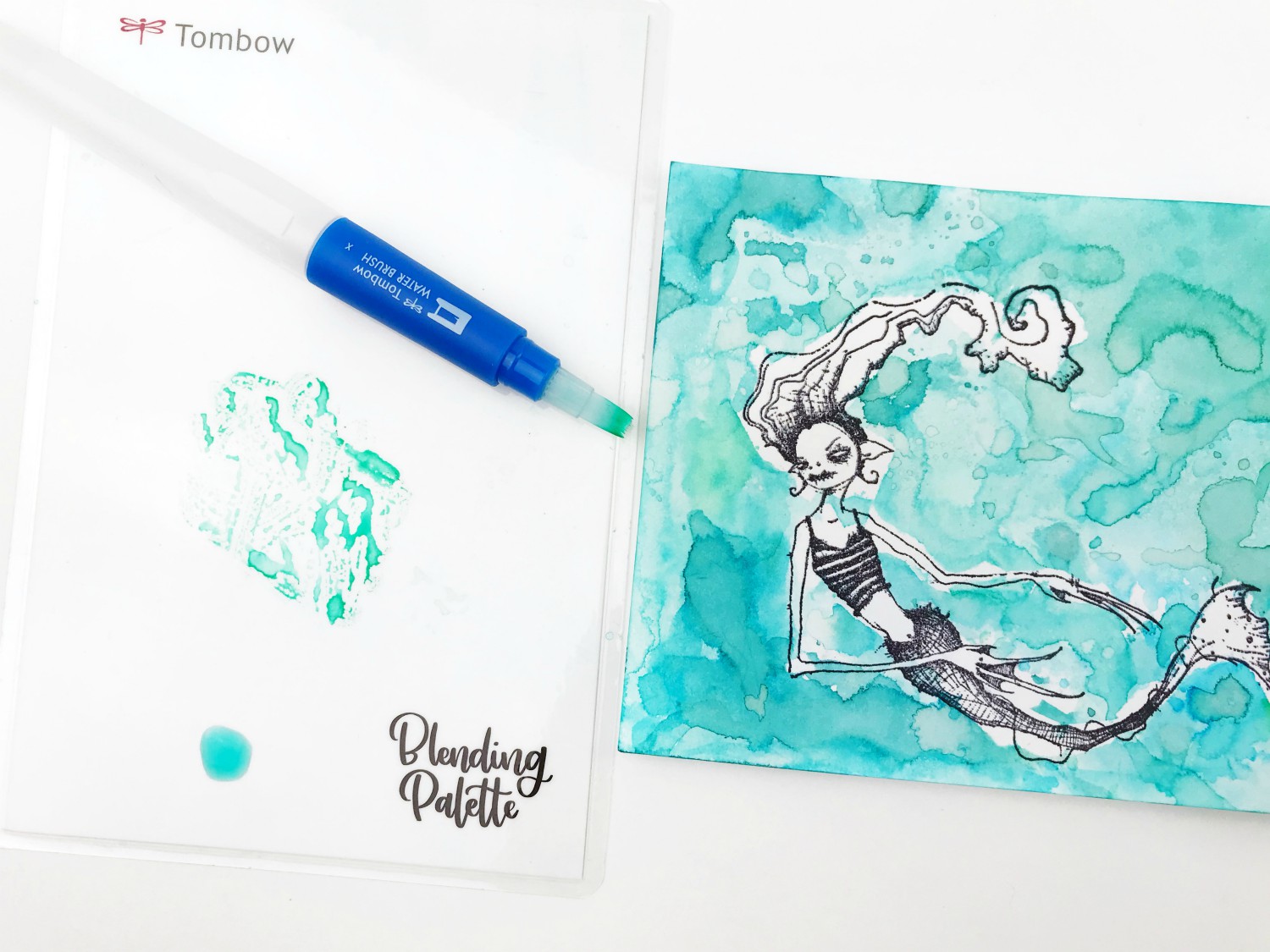 You can also use the Flat Water Brush to add in more color to your background. I went in with the Dual Brush Pen 296 to add more green to my underwater scene.
And that's all it takes to create a watercolor resist technique with the MONO Removable Adhesive!
Finishing Touches
Now let's finish off our art piece!
I'm coloring the mermaid with the ABT PRO Alcohol Markers. See below for the color combos used!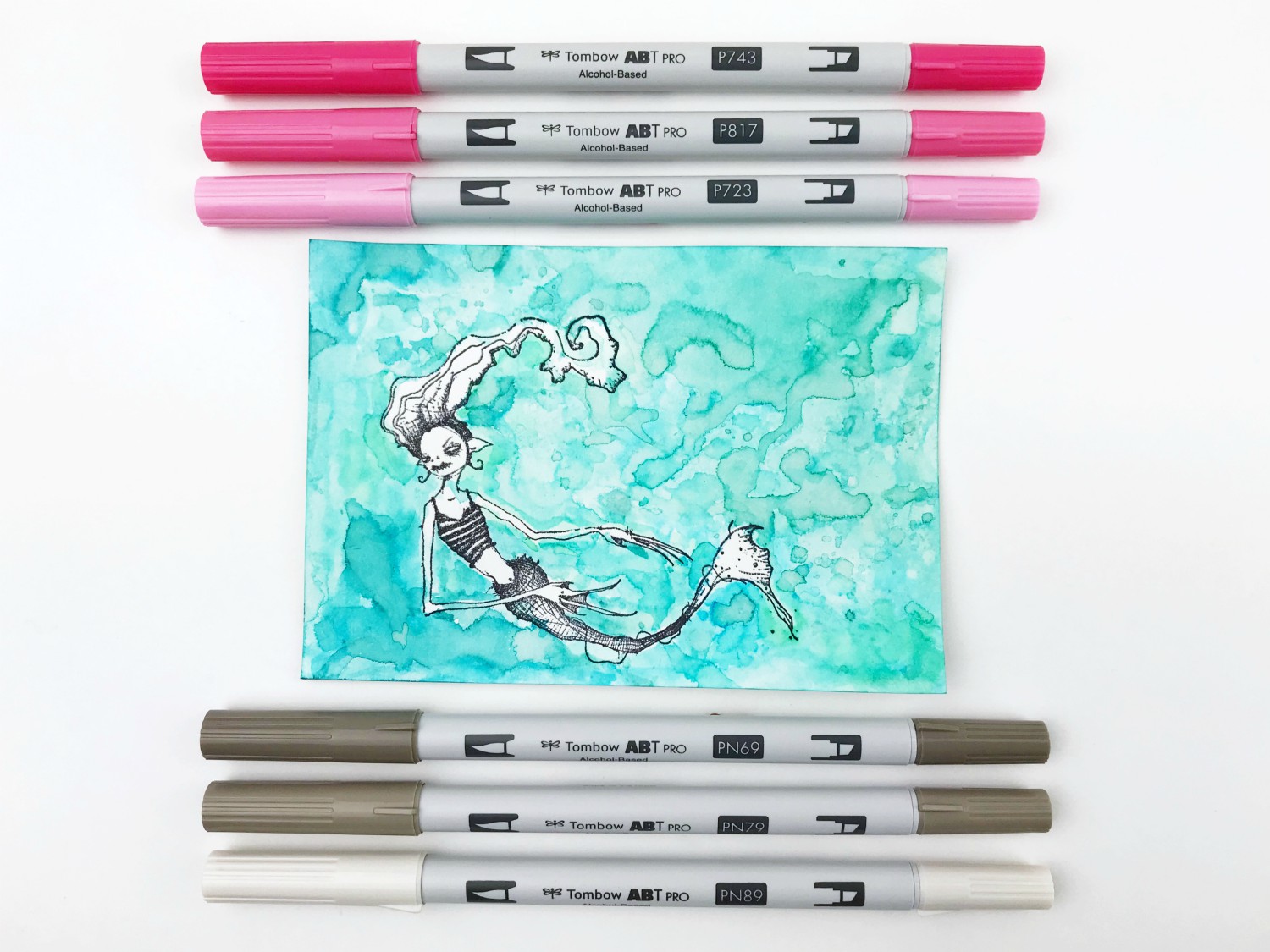 Color Combos:
Hair: P723, P743 and P817
Body: PN69, PN79 and PN89
Tail: P133,P177, P312 and P346
Using MONO Drawing Pens 01 and 02, I doodled a border around the art piece for extra detail. I also used a white gel pen to add details to the mermaid and drew little half circles randomly on the background.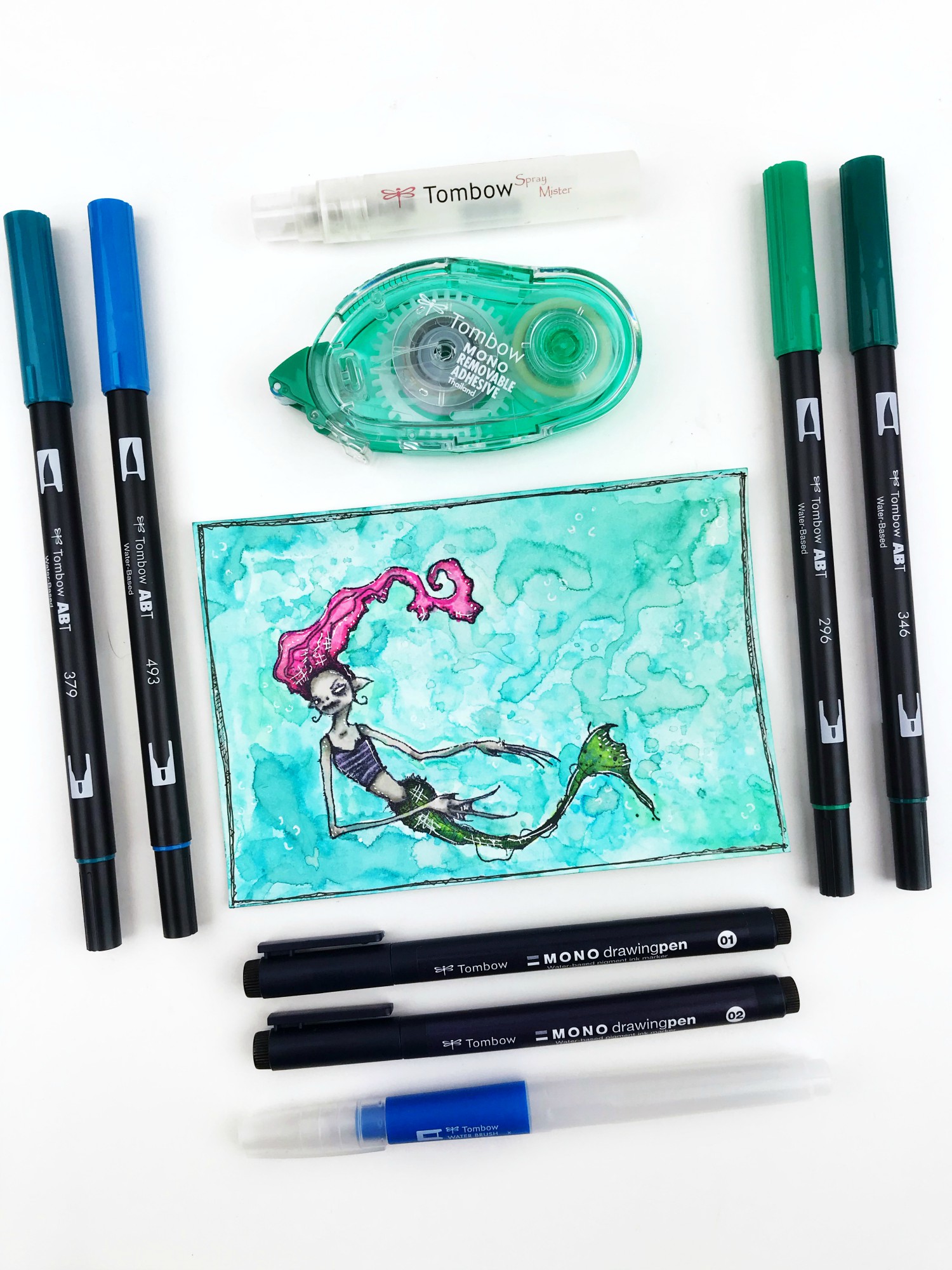 I hope you give this fun watercolor resist technique a try! If you do, make sure to tag @serenabeecreative and @tombowusa.
For more watercolor inspiration check out these awesome posts from the Design Team ladies!
If you'd like to see more from me, check out my Youtube channel or join my Crafty Rebelles Community!
Much love,
Serena Bee