Hi, y'all, it's Grace from Grace Anne Studio. If you've ever seen my Instagram feed, you know that I love rainbow color palettes! I come up a new one for each season. My favorite is the traditional rainbow colors. Today, I'm walking you through one of my favorite things: how to create blended rainbow lettering with Dual Brush Pens.

Supplies
Small dish of water
Watercolor paper or notebook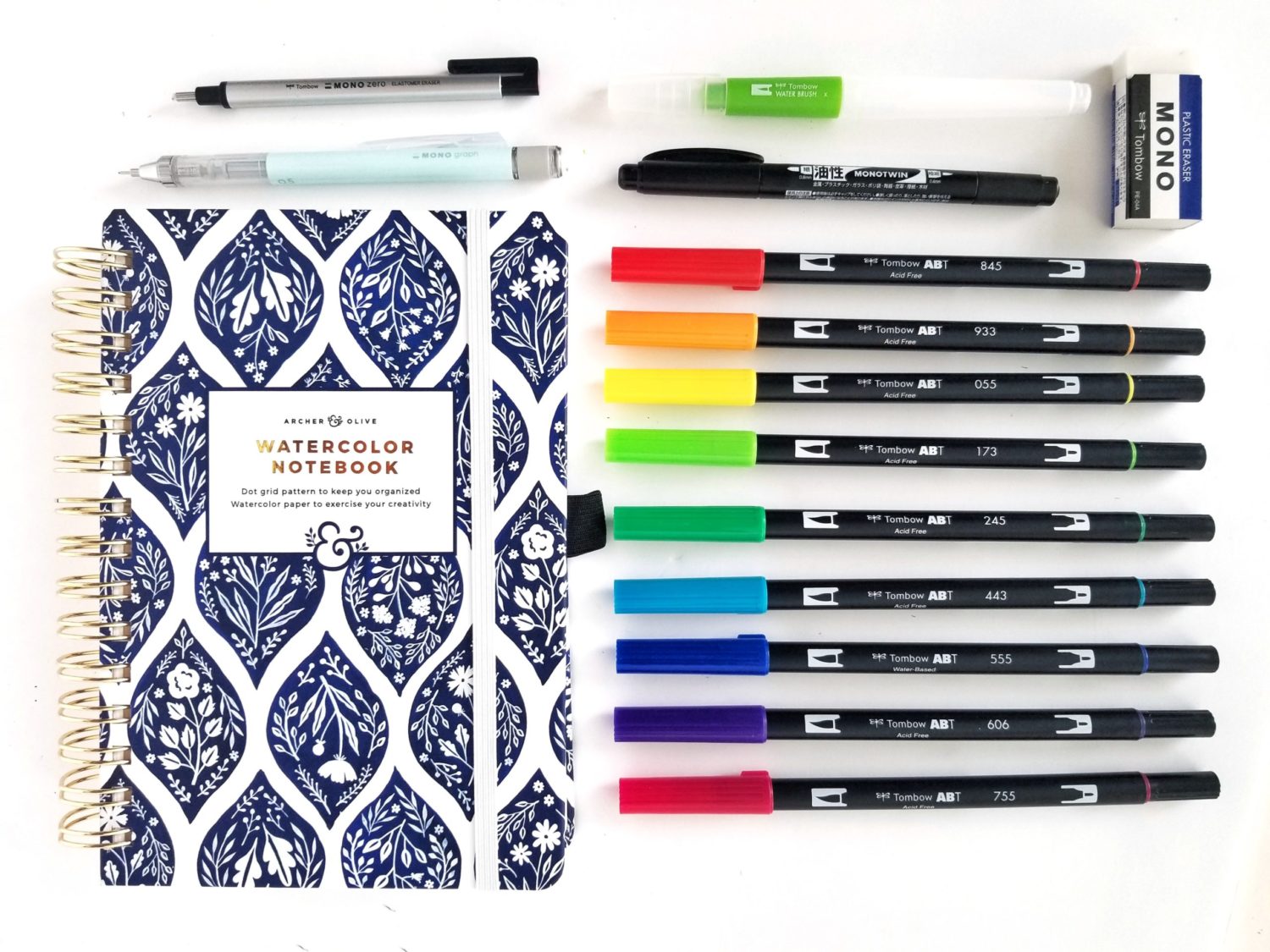 Step 1: Prep the Letters
First, use your MONO Graph Mechanical Pencil to sketch your lettering and/or composition. This Archer & Olive watercolor notebook that I'm using has a dot grid pattern and smooth paper that protects my beloved Dual Brush Pens. I love creating compositions in a dot grid notebook because they help you keep everything straight and proportionate!
Once your composition is the way you like it, use the fine tip of the MONO Twin Permanent Marker to trace the block letters. Next, erase any stray pencil marks and any marks left in the middle of your block letters. The MONO Zero eraser is great for this kind of precision erasing!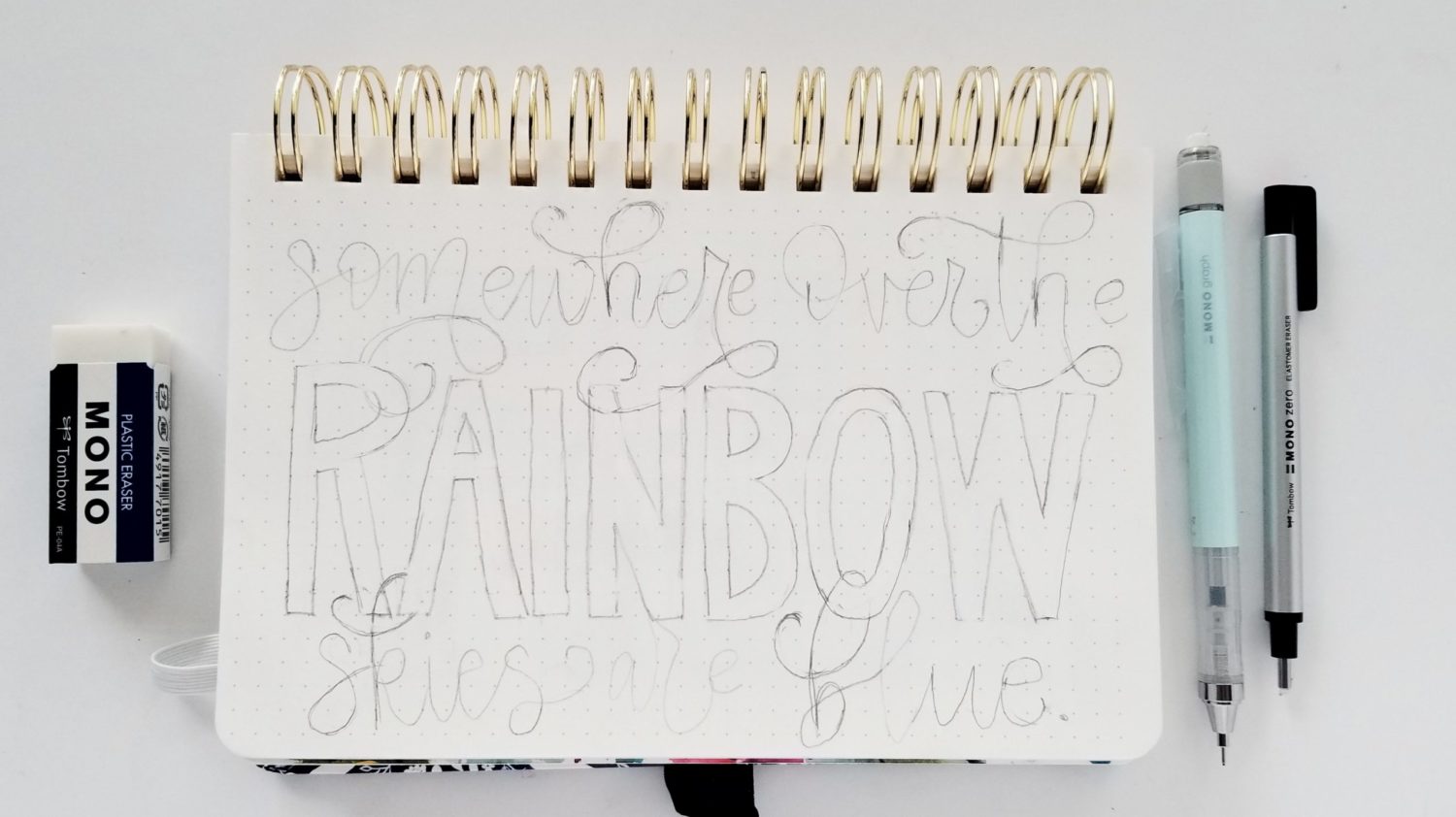 Then, divide the letters evenly into nine sections. My letters are 11 squares tall, so each section is about 1.2 squares. I marked them off with a pencil on one side of the letters. We'll blend one letter at a time. So once the first letter is done, it can act as a guide for the rest.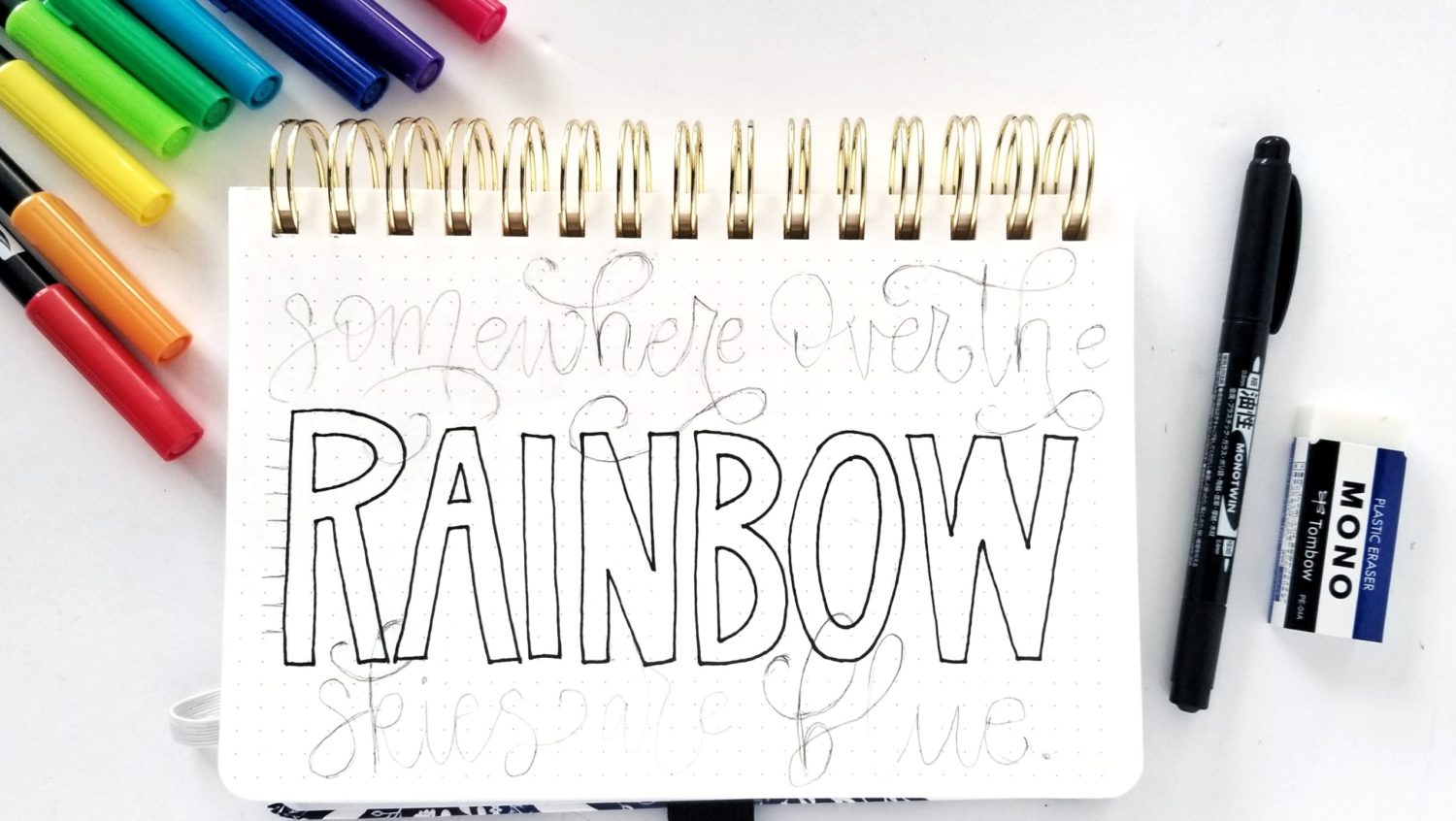 Step 2: Add Three Dual Brush Pen Colors at a Time
Next, line your Dual Brush Pens up in the order you'll apply them. This helps you from making any mistakes when adding color! Then, use Dual Brush Pen 845 and add a few flicks of color to the top of the first block letter. Leave a little white space between each section. Then, add a few flicks of Dual Brush Pen 933 and 055 in the next two sections. Again, leave white space between each section.
TIP: You may be tempted to add all of the colors at one time, but that is not the best practice. The reason this process works is the watercolor paper does not absorb all of the color right away. The color sits on top of the page for a little bit and allows you to move it around with water. The longer it sits on the page, the more it absorbs. The more it absorbs, the less you'll be able to blend the colors. If it sits on the page for too long, for example when too many colors are added at once, you'll be left with marker lines in the watercolor. Avoid that and work at MOST three colors at a time!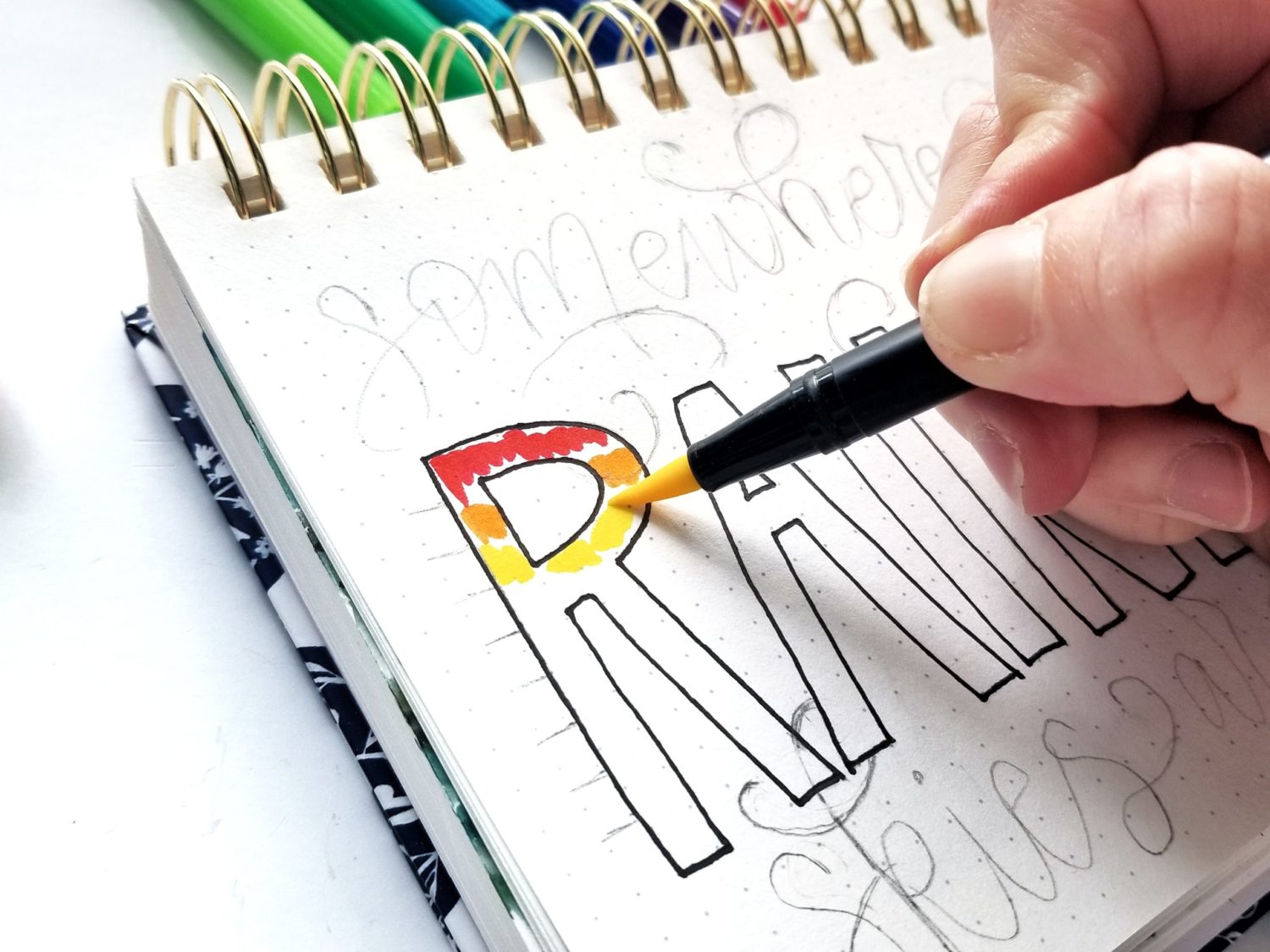 Step 3: Blend with the Water Brush
Next, use a wet Water Brush to add water to Dual Brush Pen color 845. This will move the color around and allow you to fill in the white space below. Use water VERY sparingly. Too much and all of the colors will blend together. Then, rinse your Water Brush and use the wet bristles to wet Dual Brush Pen color 933. Start in the middle of 933 and work your way up to 845. Barely touch the two colors together so they meet, but don't overpower one another. Next, rinse the Water Brush and use the wet bristles to blend 055 the same way. Start in the middle and gently work your way to 933. Touch the colors together and let them blend.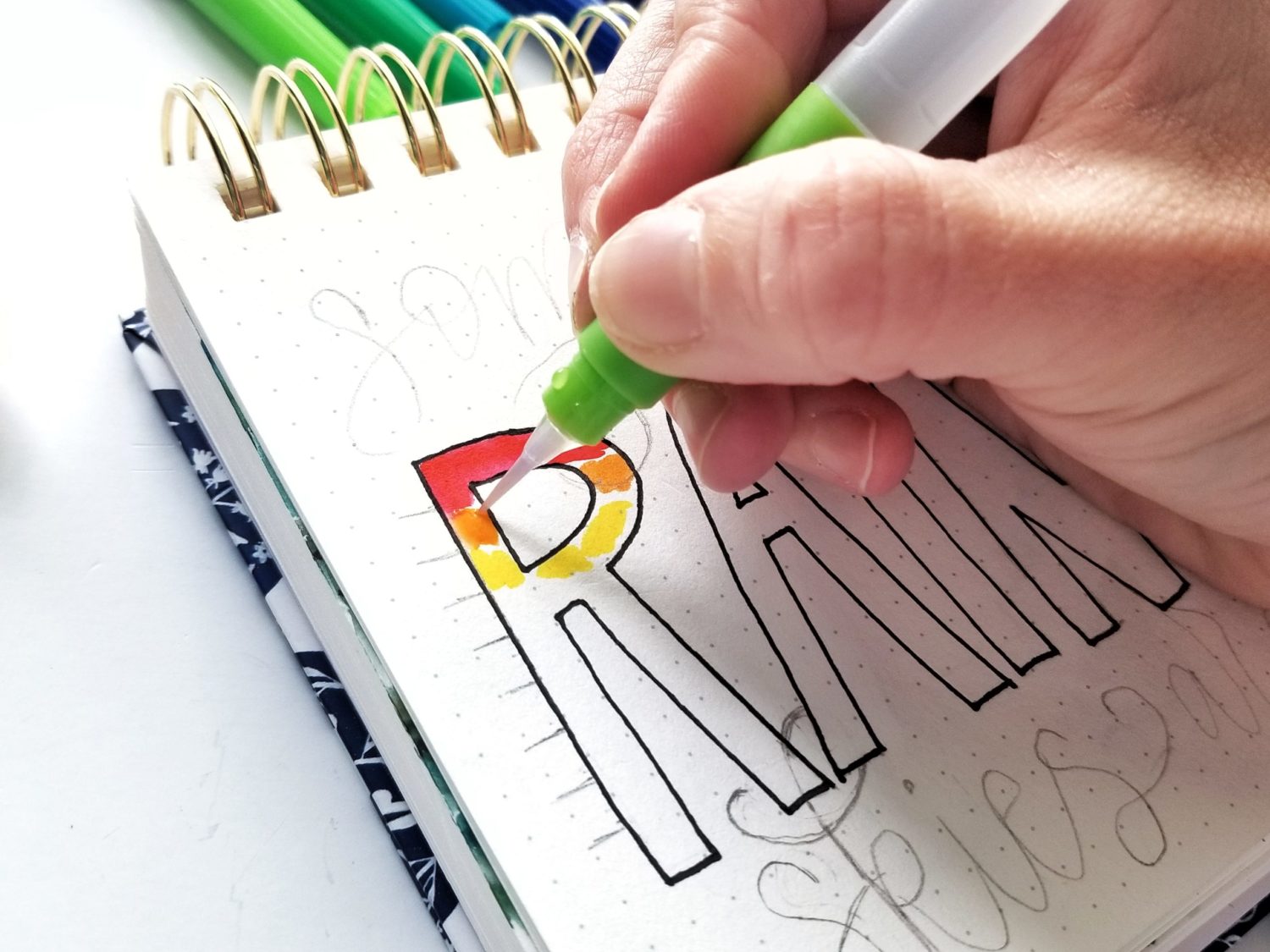 Next, while Dual Brush Pen color 055 is still wet, add 173, 245 and 433 to the next three sections. Again, leave white space between them. Use your Water Brush to blend each color. Start in the middle and gently work your way out. Rinse between each color and repeat with 555, 606 and 755.


Step 4: Repeat for all Letters
Repeat Steps 2-3 for each letter until they're all blended.
TIP: If you need to find a stopping point, choose one between letters. Once the watercolor dries, it doesn't blend as nicely. I suggest starting a letter when you can blend the entire letter start to finish in one sitting. As a mom of small children this can be a challenge for me, but it gives the best results!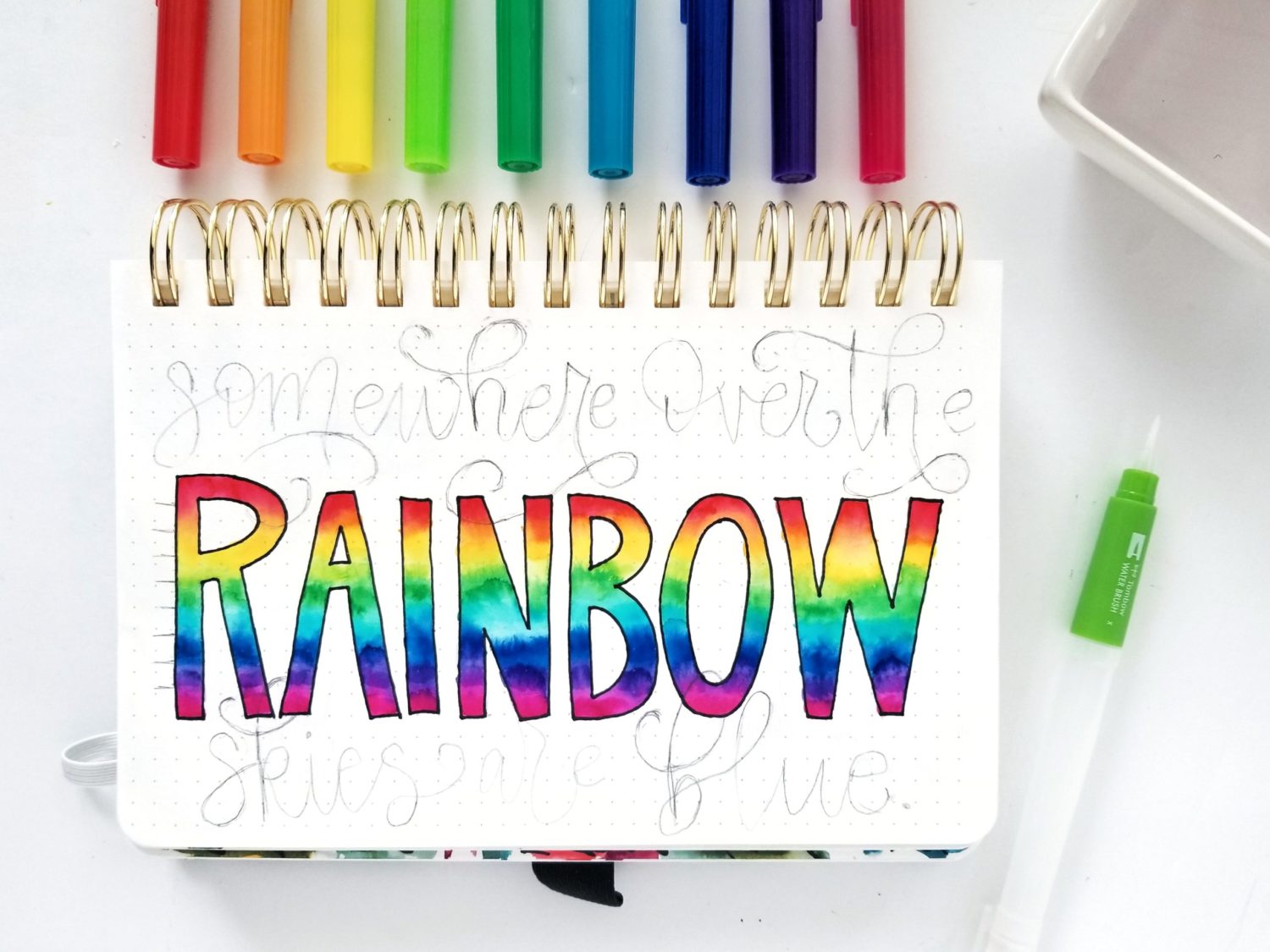 Step 5: Embellish the Letters
After the blended rainbow lettering is dry, use the bullet tip of the MONO Twin Permanent Marker to add a shadow to the block letters. I added one to the right and bottom side of each letter.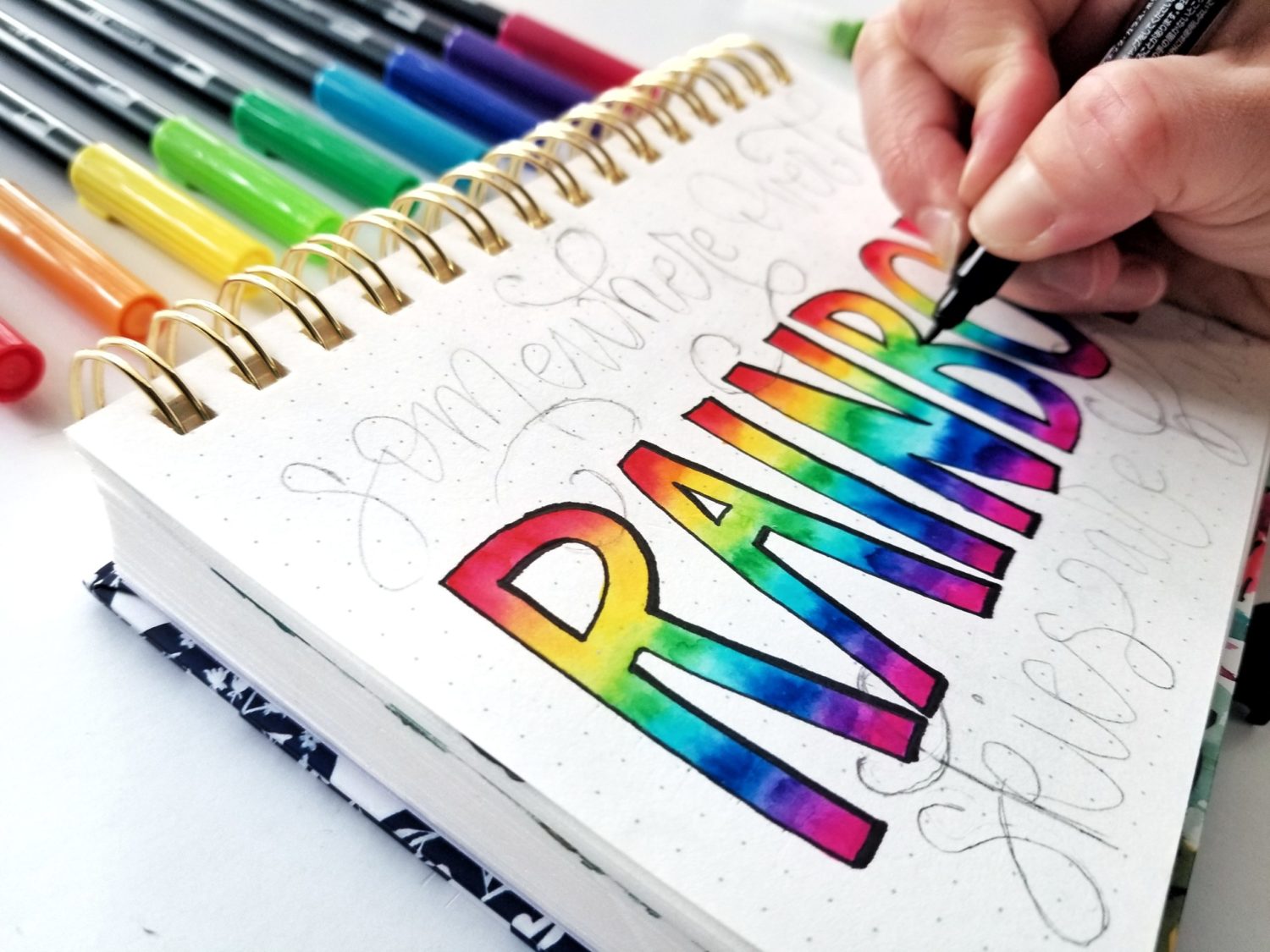 Step 6: Create Faux-calligraphy
Next, use the bullet tip of the MONO Twin Permanent Marker to trace the script lettering. Then, add another stroke to each down stroke and double the thickness to create faux calligraphy.
Finally, finish the art by using the MONO eraser to erase the rest of the pencil marks and display it proudly!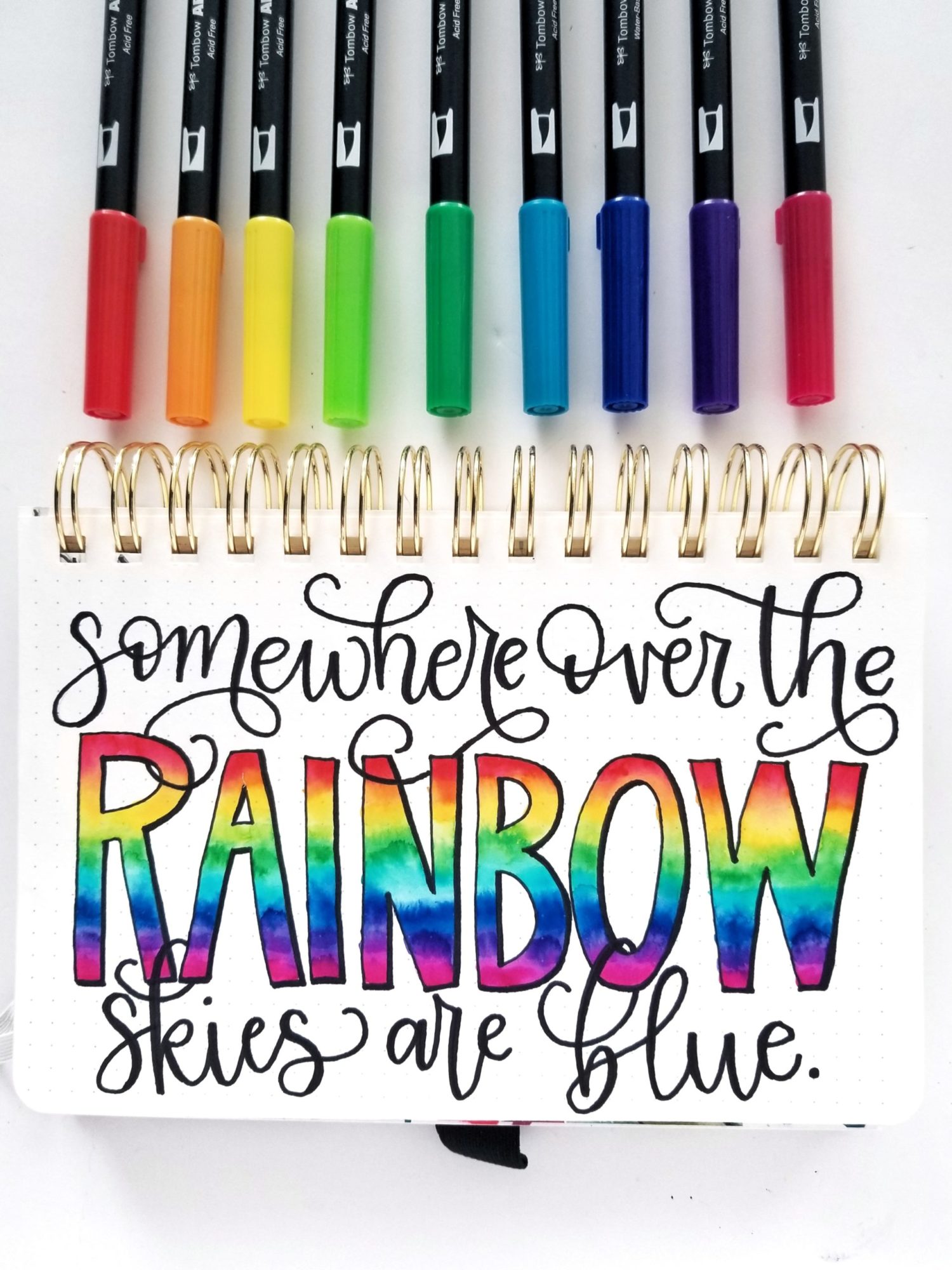 Thanks for following along!  If you create your own blended rainbow lettering, be sure to tag @tombowusa and @graceannestudio so we can cheer you on! For more rainbow blended inspiration, check out my Instagram page @graceannestudio and these posts:
Happy creating!