Hi Tombow fans, it's Mandy from @a_heartened_calling! I am here to show you a fun way to create a leaf pattern using the ABT PRO Alcohol-Based Markers! You can now find the ABT PRO Markers at your local Michaels Stores (YAY!!). To celebrate, the Design Team is creating lots of art with them this week! I love the ABT PRO Alcohol-Based Markers 5-Packs that they come in. When you need a certain color, they are easily accessible!
Let's get our supplies and get started!
MATERIALS
Bristol paper
A leaf from your yard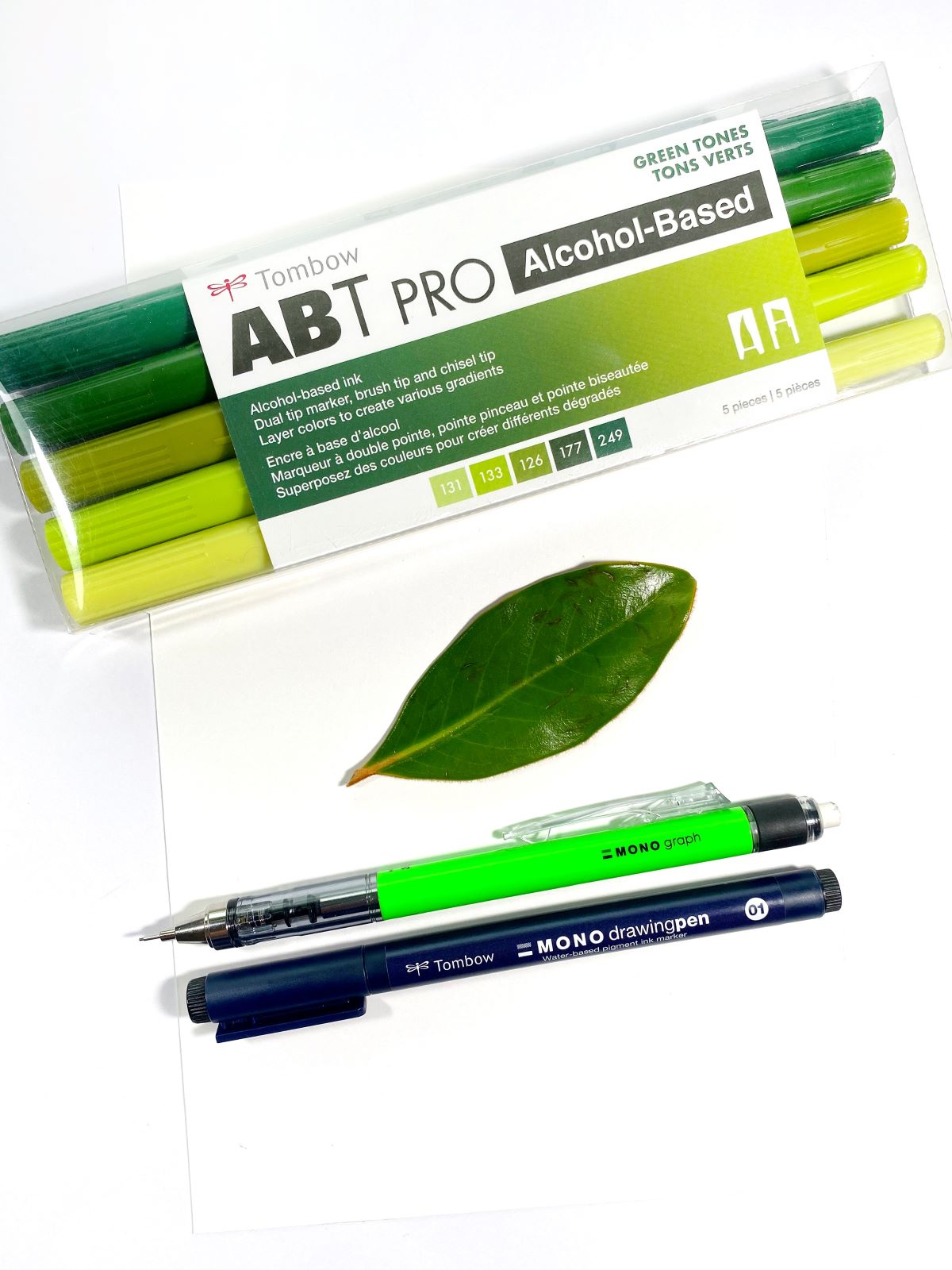 STEP 1 – Sketch
I decided to take a magnolia leaf off of my tree for my pattern inspiration. You can find a leaf in your yard or while on a walk to use for your pattern. Using the MONO Graph Mechanical Pencil, trace the leaf onto a piece of Bristol paper in random spots.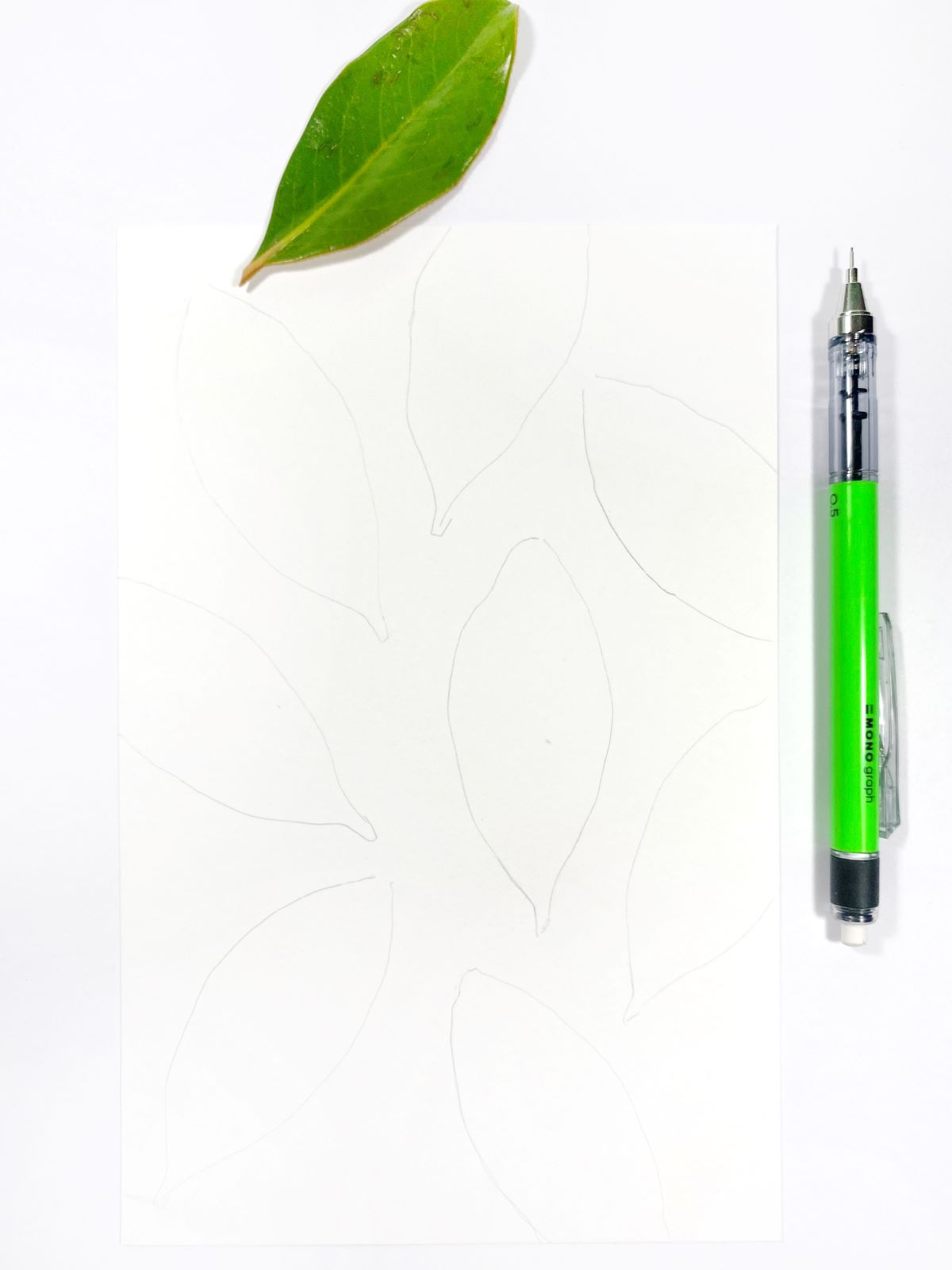 STEP 2 – Add color
I decided I wanted my leaves to be different colors. For the first leaf, use ABT PRO Marker P177 to lay a base color down. Next, use MONO Drawing Pen 01 to trace the leaf and add detail to the inside. Study the leaf you chose to see how to draw the detail. Then use ABT PRO Marker P249 to add darker color starting from the inside middle to the outside. Finish the leaf by adding another layer of ABT PRO Marker P177 over the entire leaf. Then repeat for all other leaves, alternating your colors.
PRO TIP: With alcohol markers, it's easiest to put down a lighter color first and then add darker colors to the areas you want to shade or add shadow. Pick a light color as your base and then use the next color gradient up to add shading.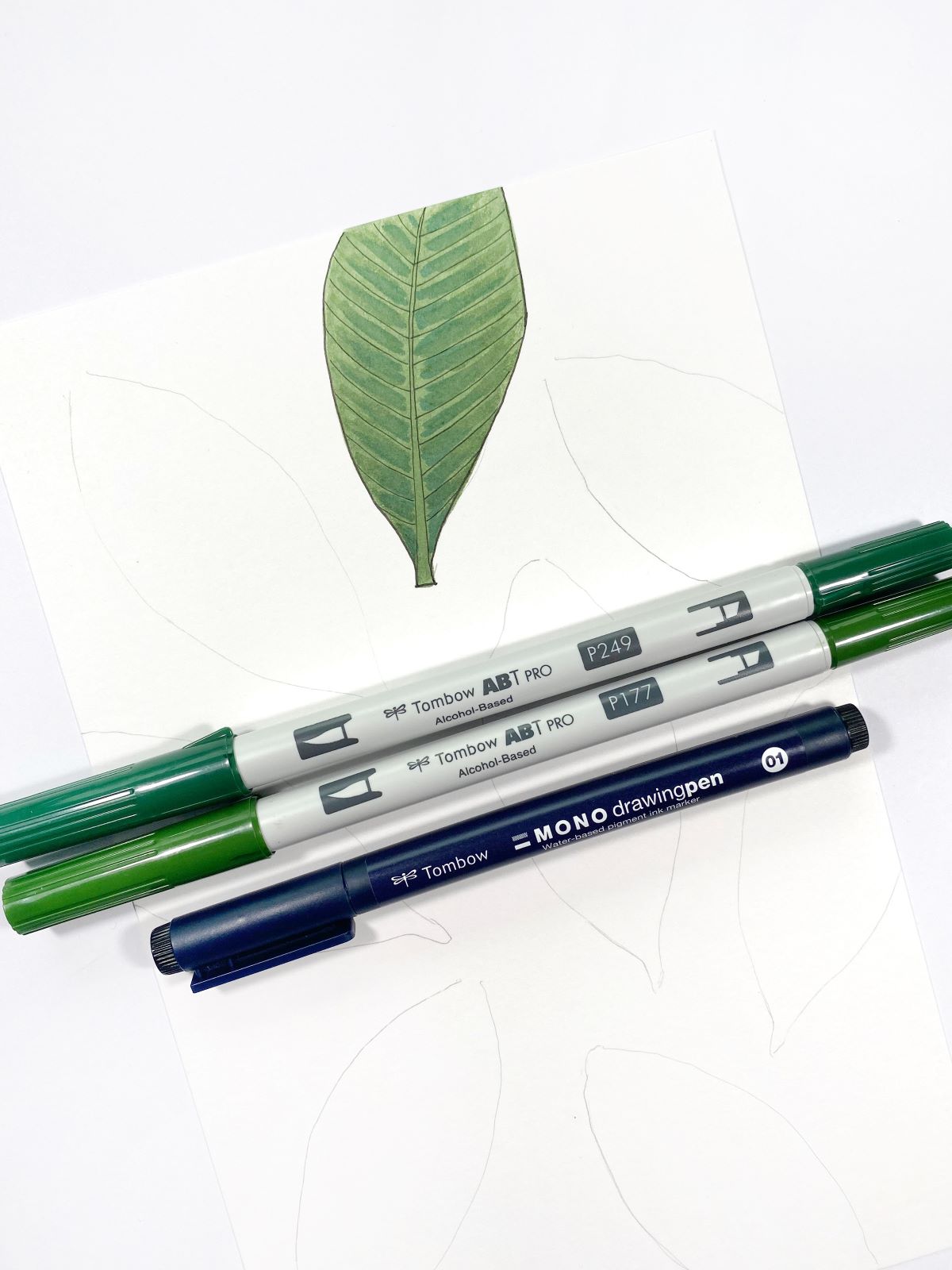 STEP 3 –  Add Background Color
I decided to use the two lightest colors in this pack as my background. Using the chisel tip of ABT PRO Markers P131 and P133, I added color to the remaining white area.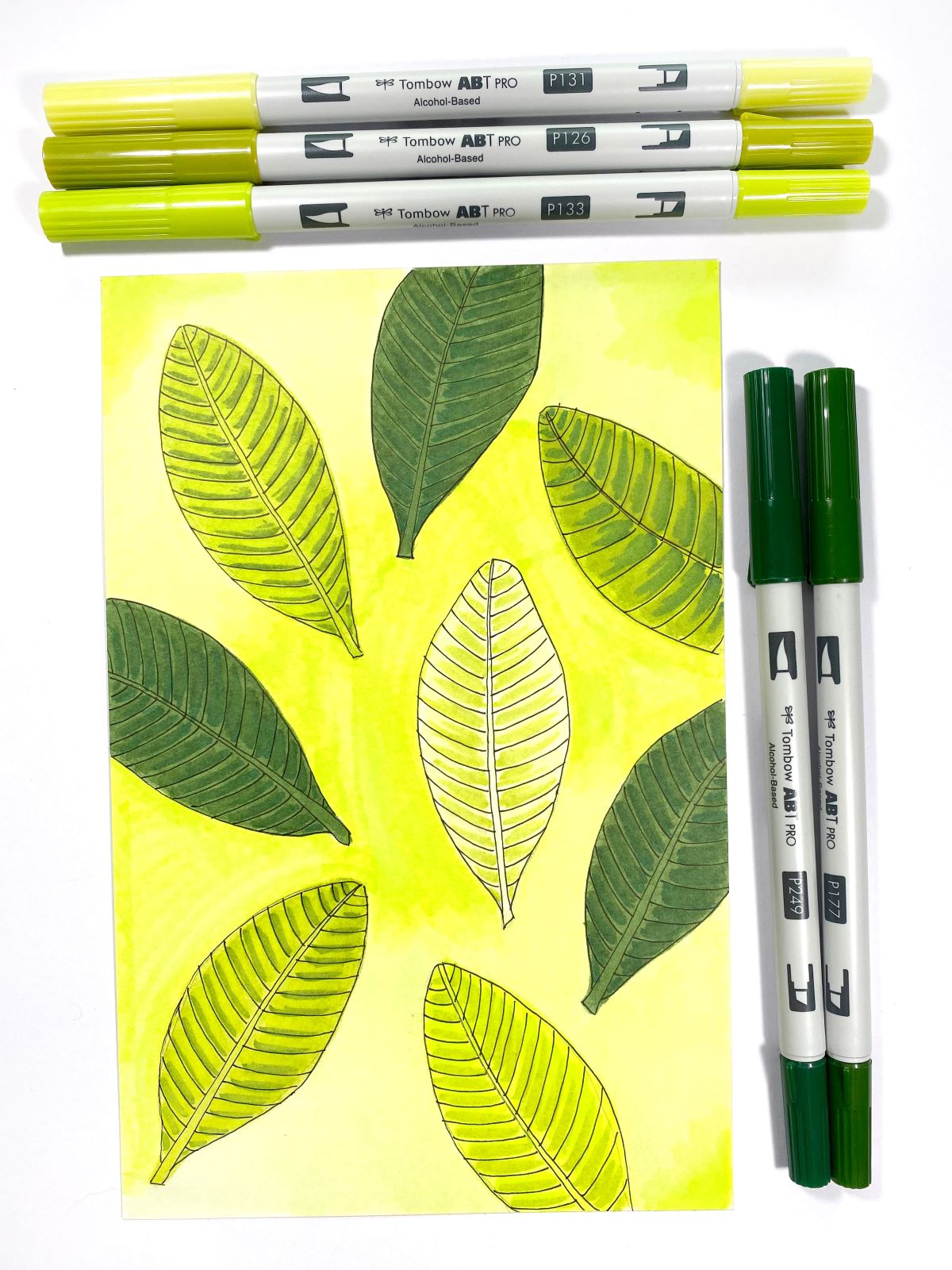 STEP 4 – Final Details
Using MONO Drawing Pen 01, fill in the areas outside of the leaves with flower embellishments like berries and leaves. Your leaf pattern is done!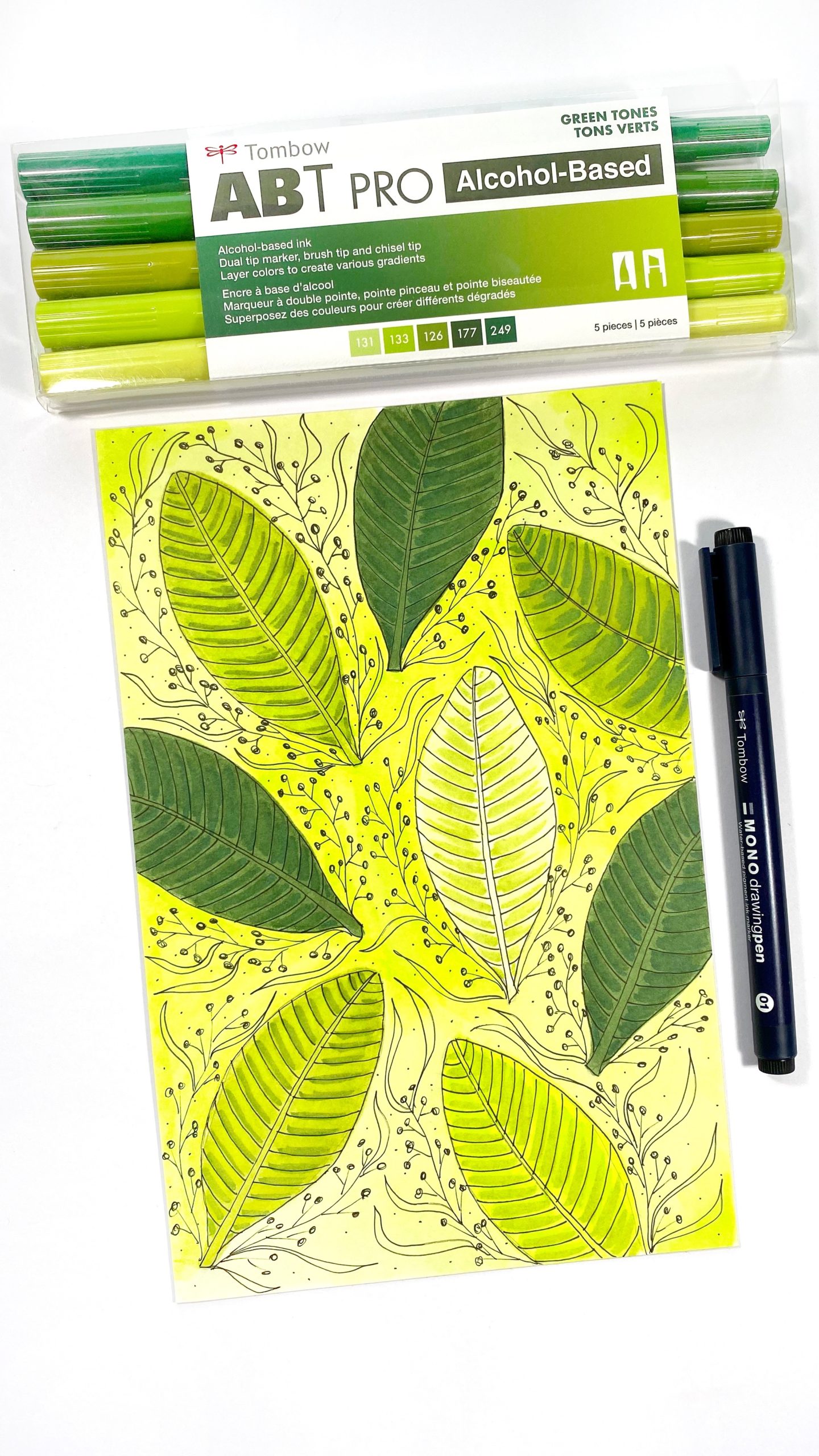 Thanks for following along today! I hope you liked this leaf pattern tutorial! If you give it a try, tag us at @tombowusa and @a_heartened_calling so we can see your amazing work!
Also, be sure to check out your local Michaels Store to shop for all things Tombow!  For more ABT PRO inspired projects, visit these posts!
See you next time!
Mandy