Hi friends, Adrienne from @studio80design here to share my top 10 tips for boosting your envelope game! Since we've been staying at home a lot lately, we've been using this time to write letters to friends and family. In this post, I'll share some fun ways to change up the way you address your envelopes!
Tip 1: Get the right tools
I have found that your tools matter! They help make your experience better and make it easier on you! Here are some tools to help you succeed:
MONO Graph Mechanical Pencil-pencils are your best friend! Use them! Plan ahead exactly where you want everything to go before you go in with pen. Envelopes can be pricey and we don't want any mistakes!
MONO Sand Eraser-If you happen to make a mistake, the  MONO Sand Eraser is a life saver! I always keep this around for any accidental spots and mistakes.
Tombow Fudenosuke Brush Pens-great for addressing envelopes and will give you beautiful and consistent thick and thin lines.
Tombow Dual Brush Pens-great because you get a brush tip and a bullet tip! You could do all your addressing with this brush pen. Use the brush tip for writing the name of the recipient and the bullet tip for the address. Plus you can use fun colors!
Tombow MONO Drawing Pens-perfect for adding embellishments like florals, banners and leaves!
Tombow MONO Adhesive Permanent-use this to seal your envelopes!
Light pad-this is great to use if you are addressing a lot of envelopes. If you create an envelope template (more info on this to come) you can quickly write on your envelopes and know the correct spacing for exactly where you need to write on your envelopes!
Ruler-if you don't have a light pad, use a trusty ruler to create your guidelines!
Tip 2: Make an address template
Making an address template is an easy way to make sure all your envelopes look uniform! Get a piece of card stock paper and trace the shape of your envelope onto the paper. Cut it out and mark on the paper where you want all the information to go!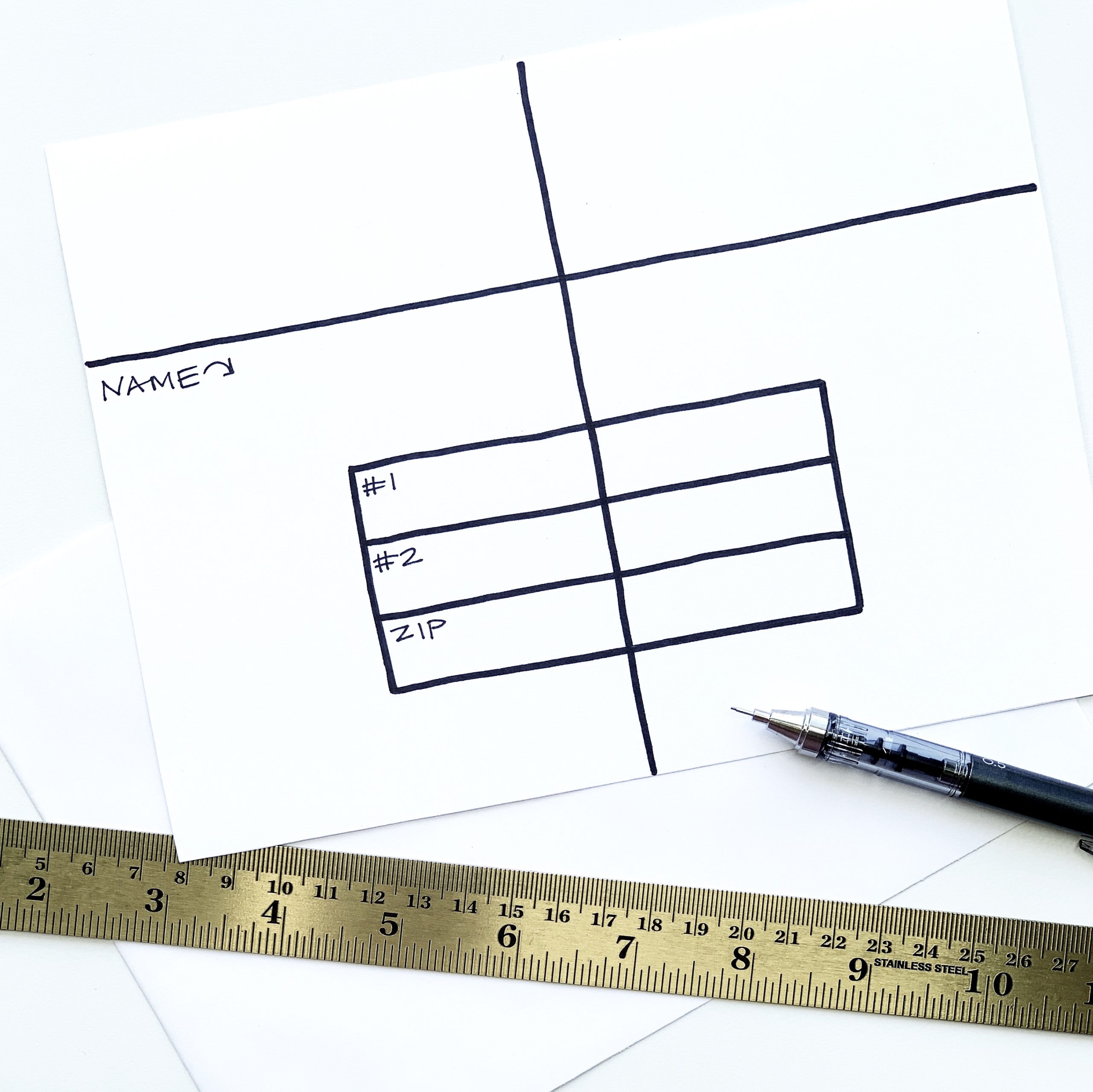 Tip 3: Choose a theme
What is the reason why you're sending mail? Whether it's for a holiday, birthday, graduation, wedding or just good 'ol happy mail, incorporate the theme to the front of the envelope by adding doodles or color!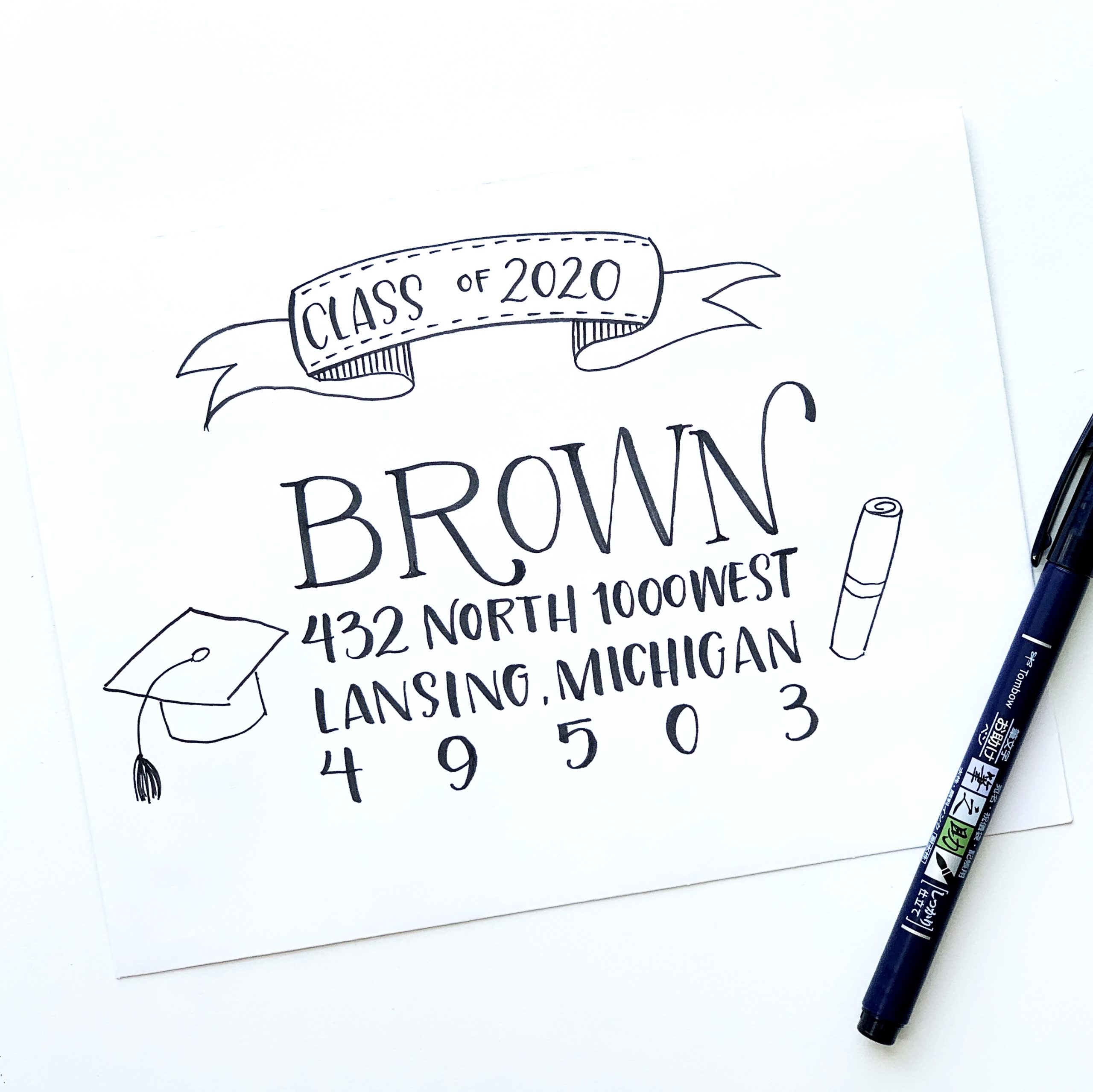 Tip 4: Use colored envelopes
Colored envelopes are a great way to add some color to your mail! Plus, it'll stand out in the mail box, so the recipient will notice it right away!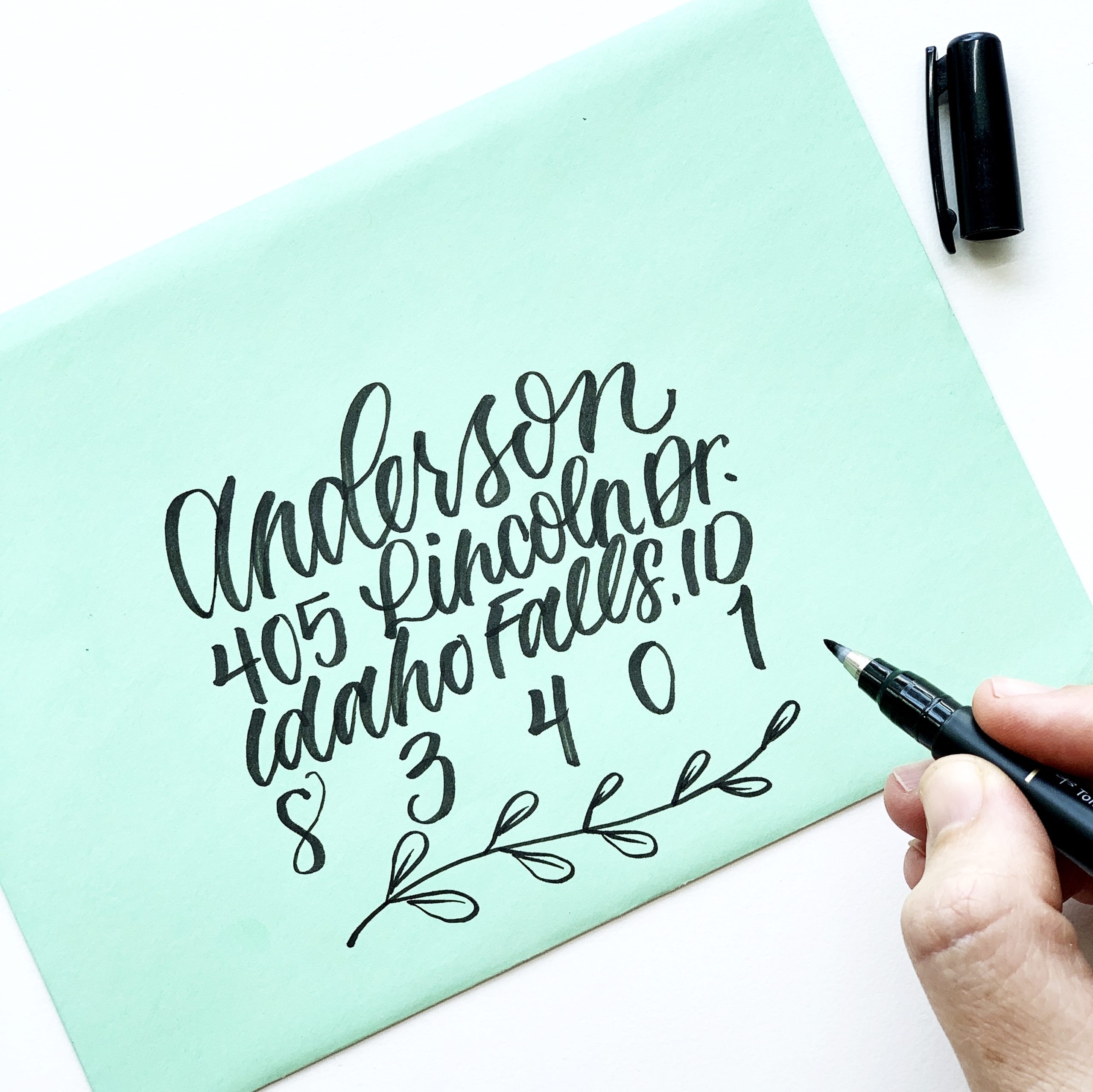 Tip 5: Use color
If you don't have the option to use color envelopes, add color to your envelopes by using colorful markers! I used the Dual Brush Pen Cottage 10-Pack to address this envelope. I love how the colors look together! Then, I used the Fudenosuke Hard Tip Brush Pen to write over the top to bring it together!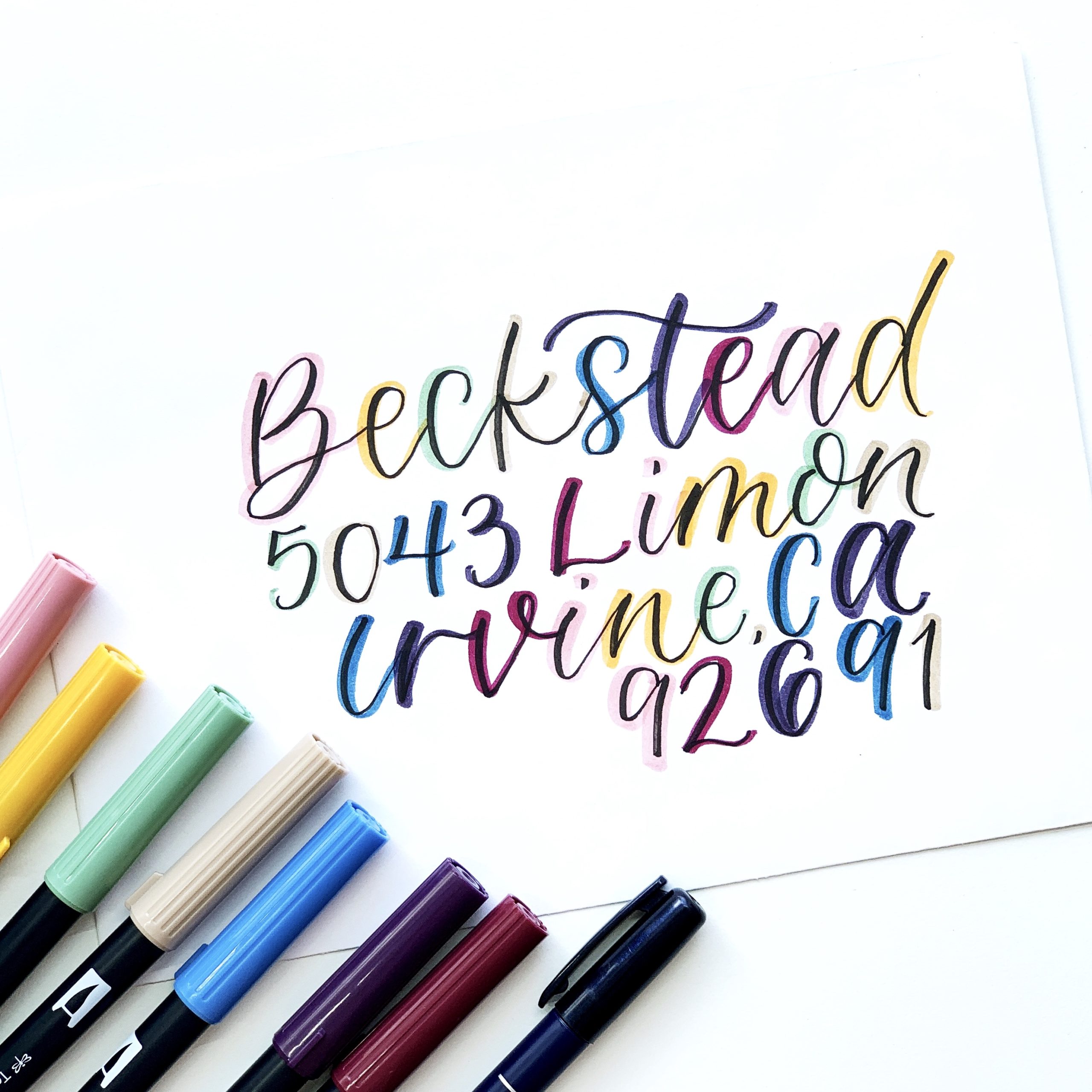 Tip 6: Mix up your fonts
When writing the addresses on the front of your envelope, mix up your fonts! You could use a modern calligraphy font for the recipient's name and then use a sans serif font for the address. Mixing up fonts adds personality to your envelopes and will help you when addressing large amounts of envelopes!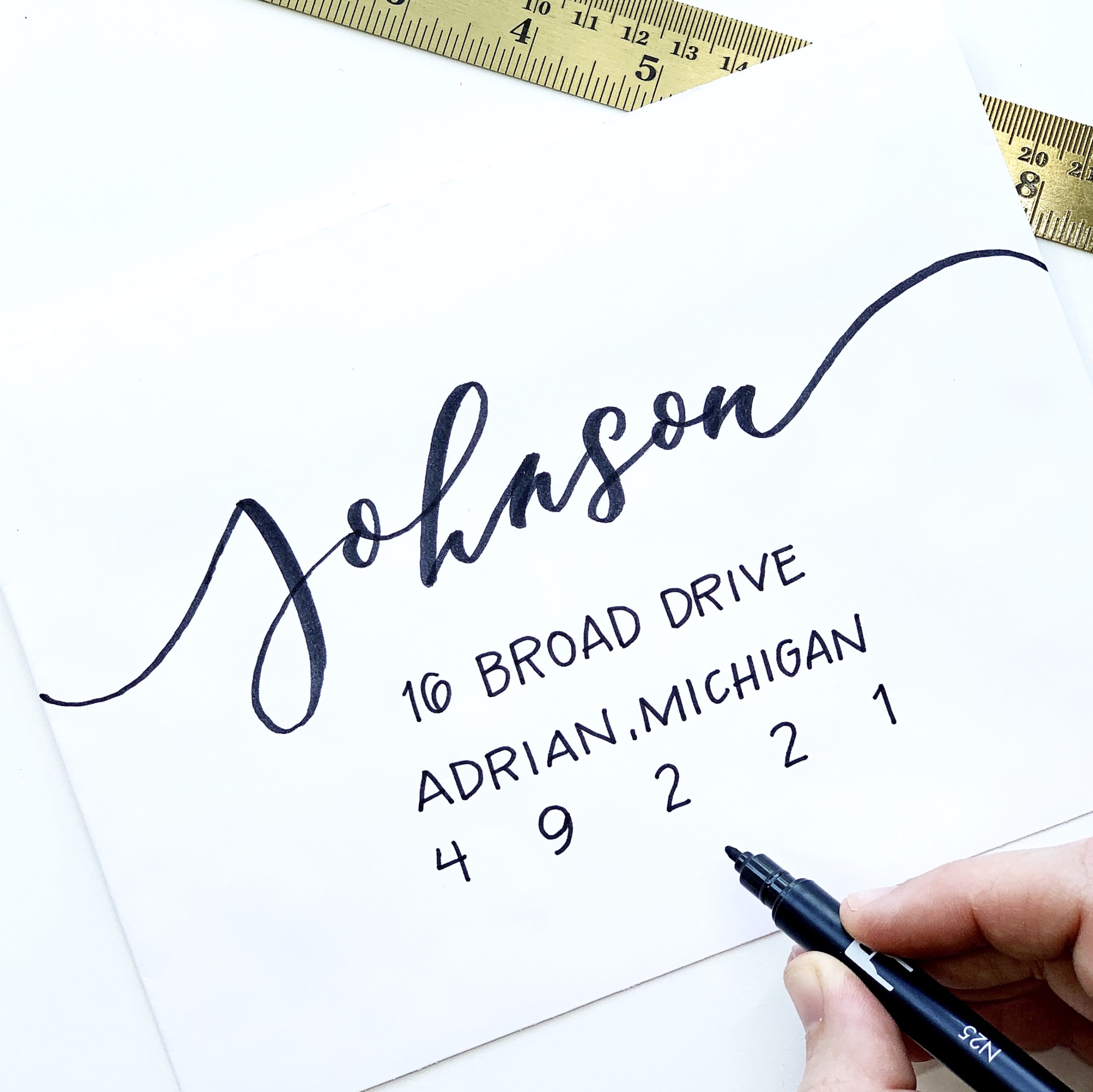 Tip 7: Don't be afraid to use faux-calligraphy
New to hand lettering? Thats okay! Faux calligraphy is a great place to start! Start by using a MONO Drawing Pen and write out the name in cursive. Then go back and add extra lines to all the downstrokes (or any time your hand moved down the page) to make them thicker. Color in the space and you'll have beautiful faux calligraphy that looks like the real deal!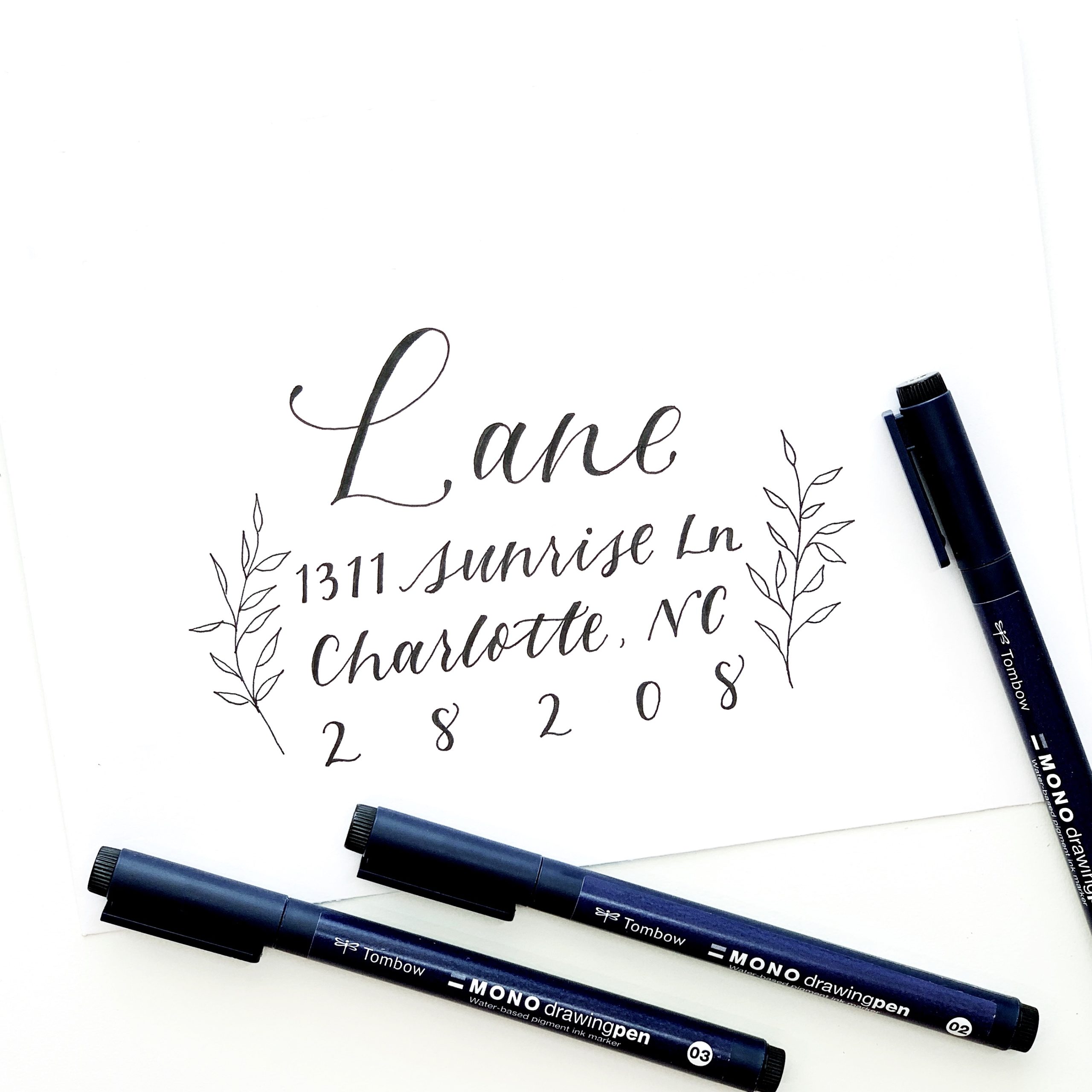 Tip 8: Draw an embellishment
Adding embellishments like florals, leaves and banners help bring the envelope to life and give it some class! The great thing is you can make it as detailed or as simple as you like!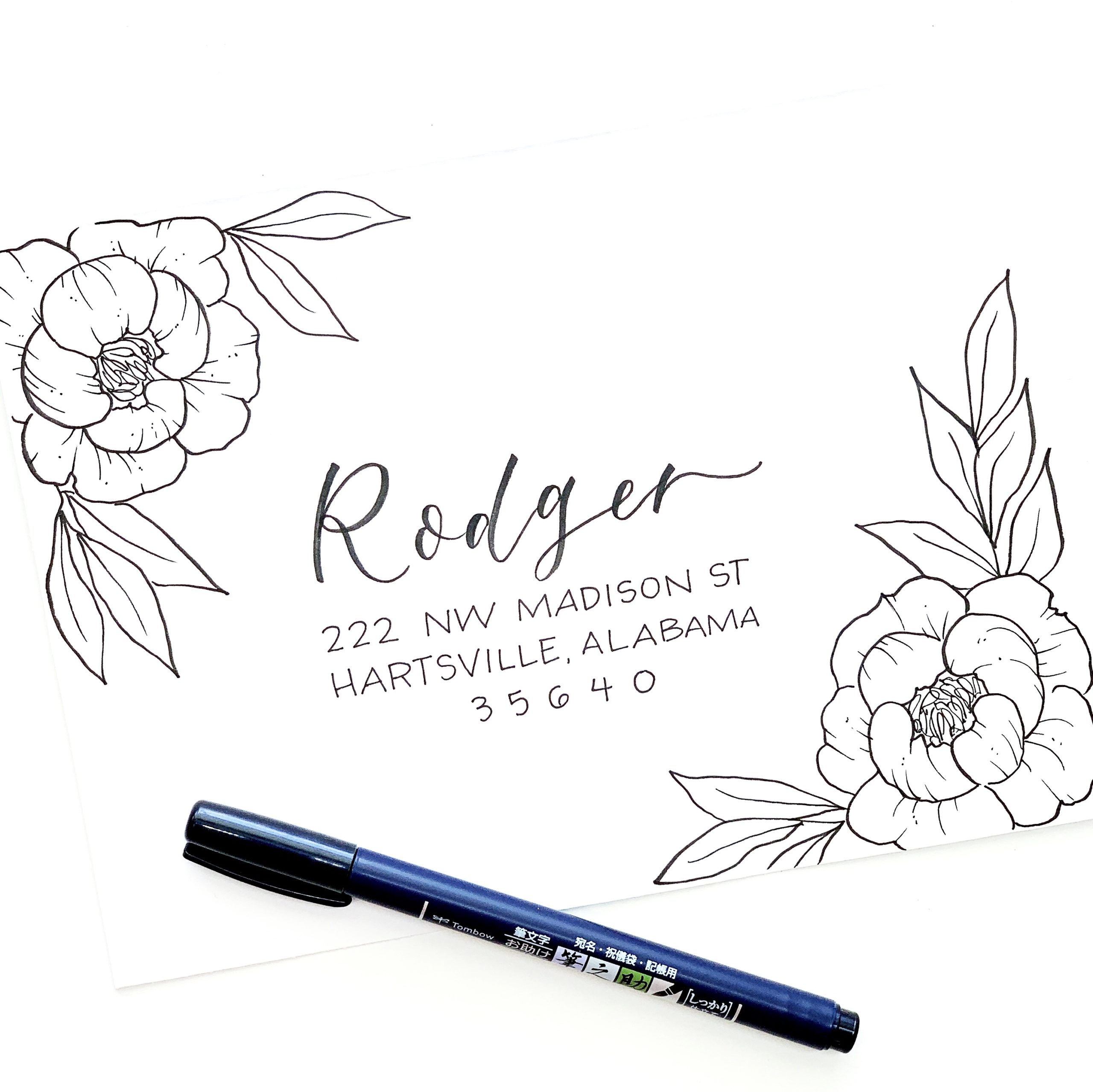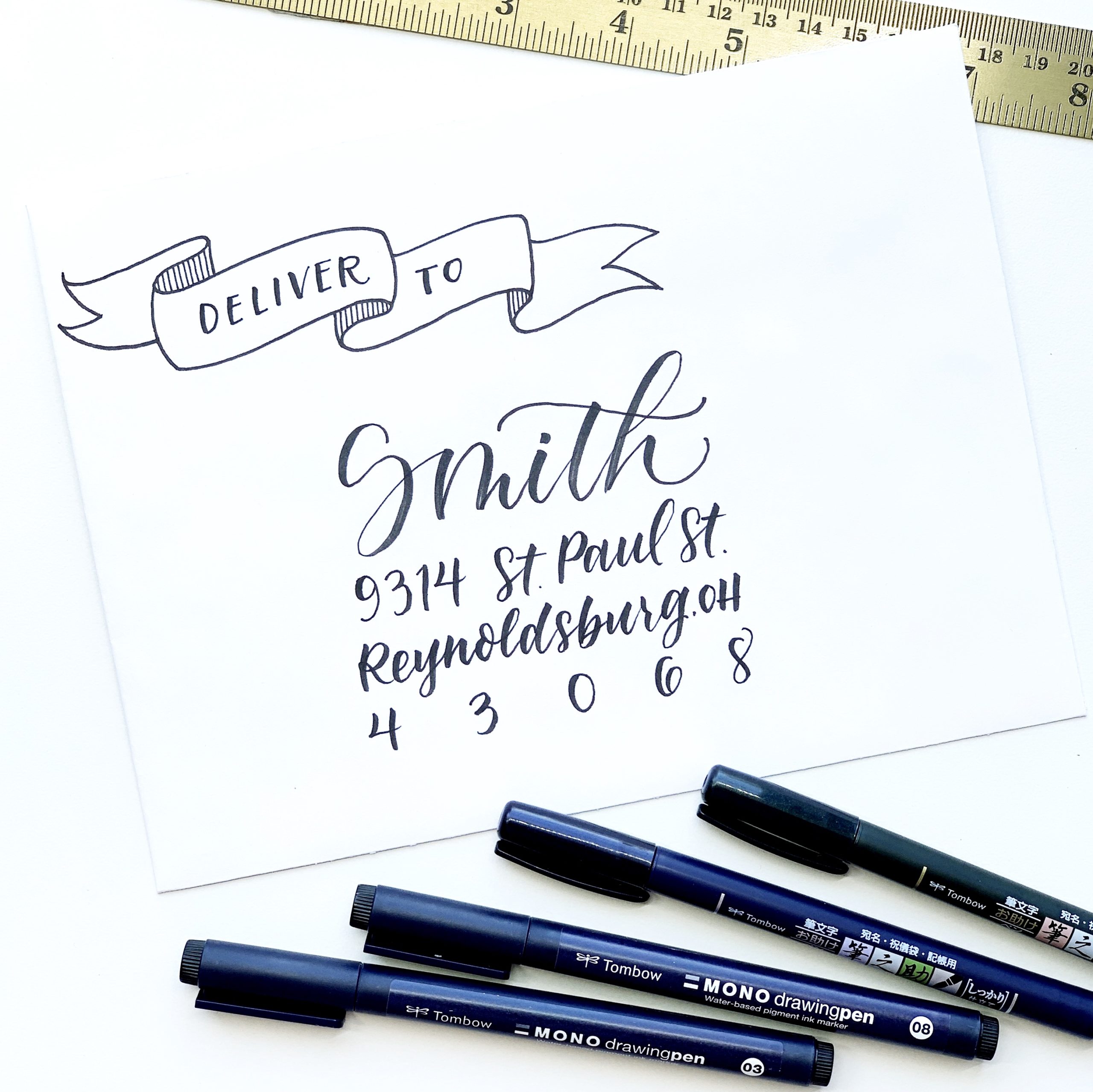 Tip 9: Add an envelope liner
Adding an insert to the inside of your envelope instantly classes it up and gives it that pop of surprise when the receiver opens it! Inserts don't have to be very detailed. Often a simple or abstract pattern can add just the right touch!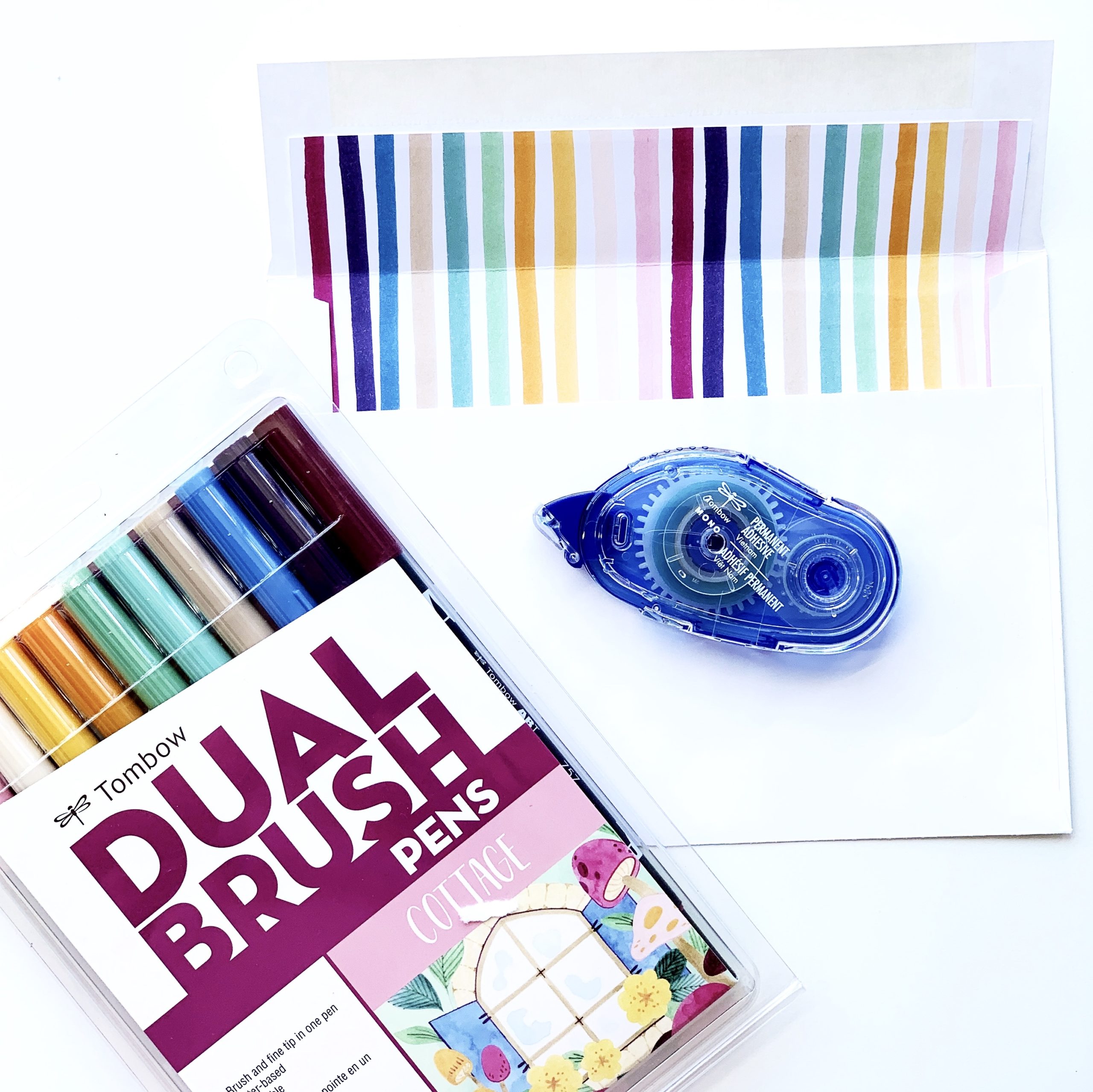 Tip 10: Give your tongue a break
Don't you dare use your tongue to lick and seal all those envelopes! Instead, use the MONO Adhesive Permanent. It's SO easy to roll it on and seal all those envelopes. Trust me, your tongue will thank you.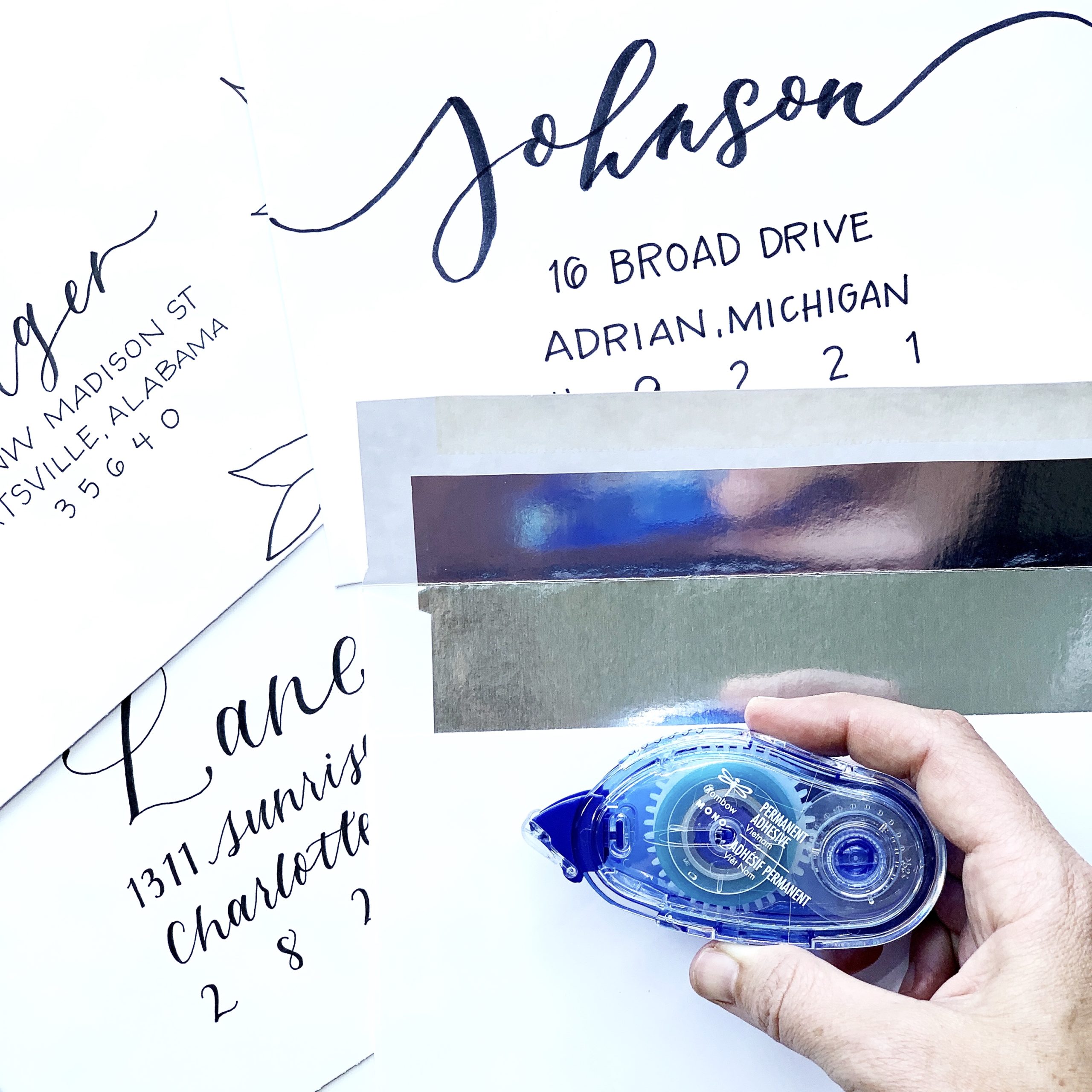 Thanks so much for visiting today! I hope you found these 10 tips to up your envelope game helpful and you try them out! Make sure to follow @studio80design for more inspiration like this!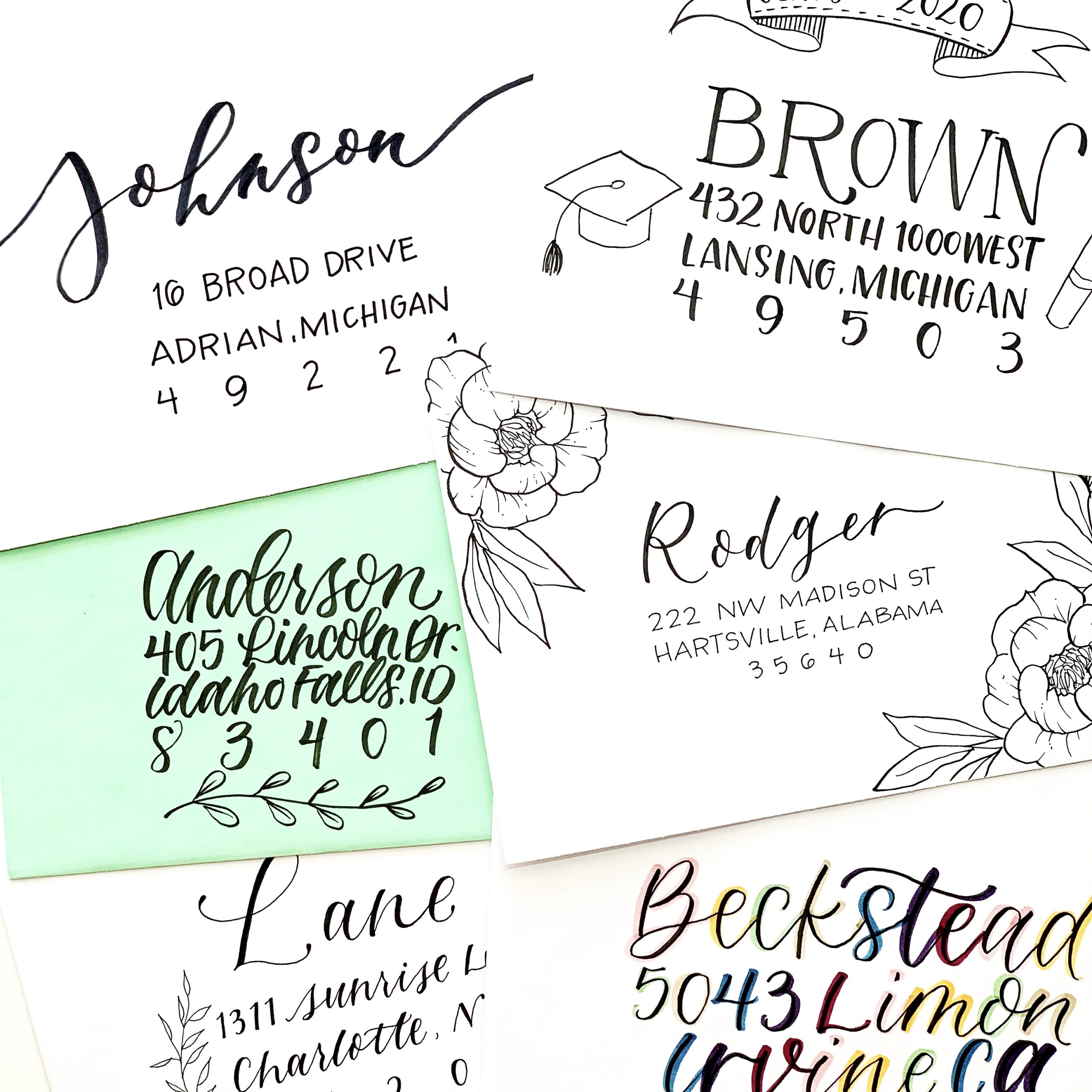 For more envelope projects, check out these posts: