Hey everyone! Want to learn a few tricks for creating a one-of-a-kind watercolor portrait? I'm Katie and today I want to show you how to create a conceptual art portrait! What does conceptual art mean? "Conceptual Art" is an art movement and a term for planning out a piece of art ahead of time and creating a piece of art that really makes you stop and think. For me, it means planning and creating a piece of art that is a bit surreal or fantasy in theme.
Let's make our own version! Grab your Dual Brush Pens and let's paint!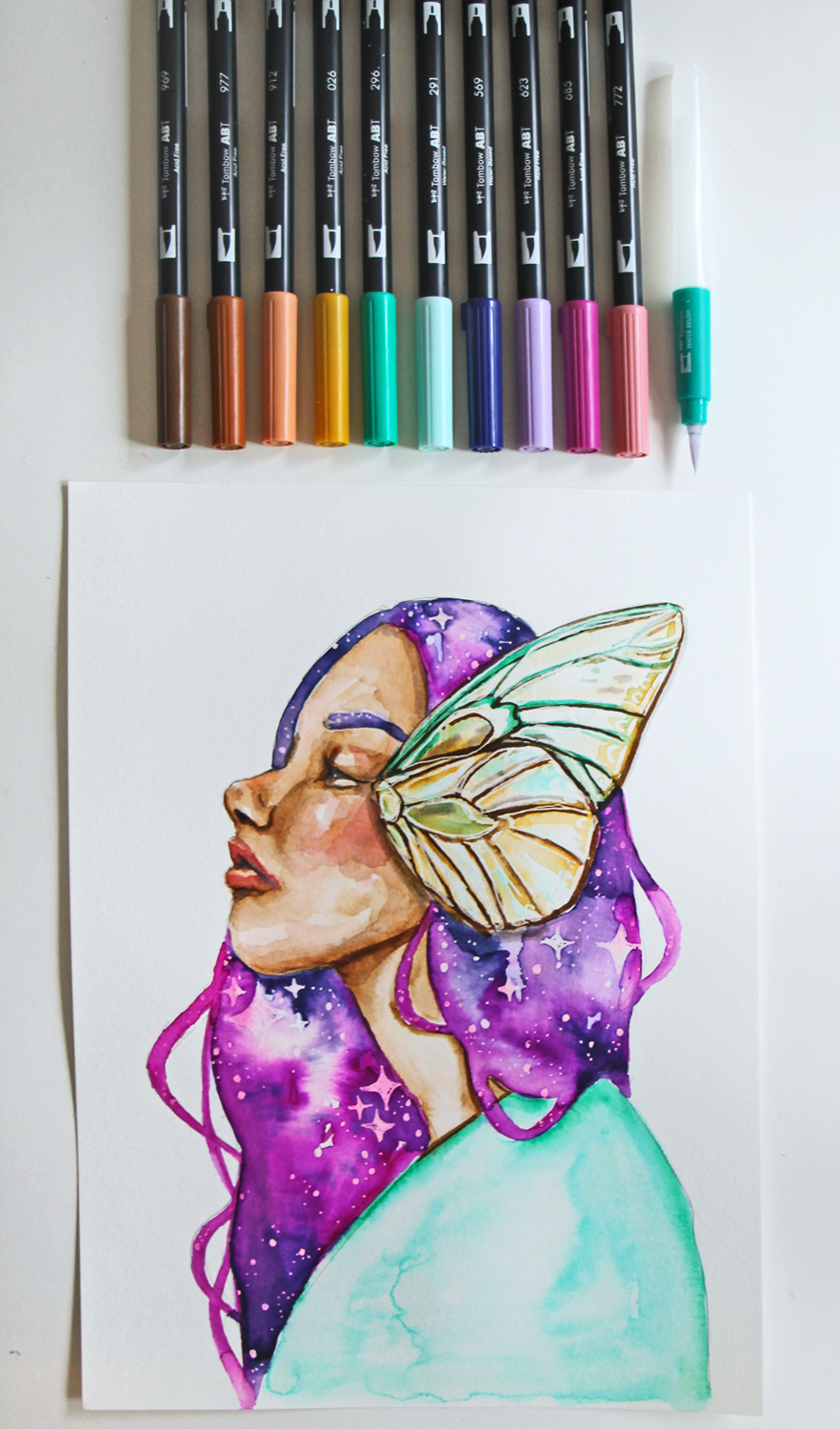 Supplies:
140 lb watercolor paper
Photo sources to reference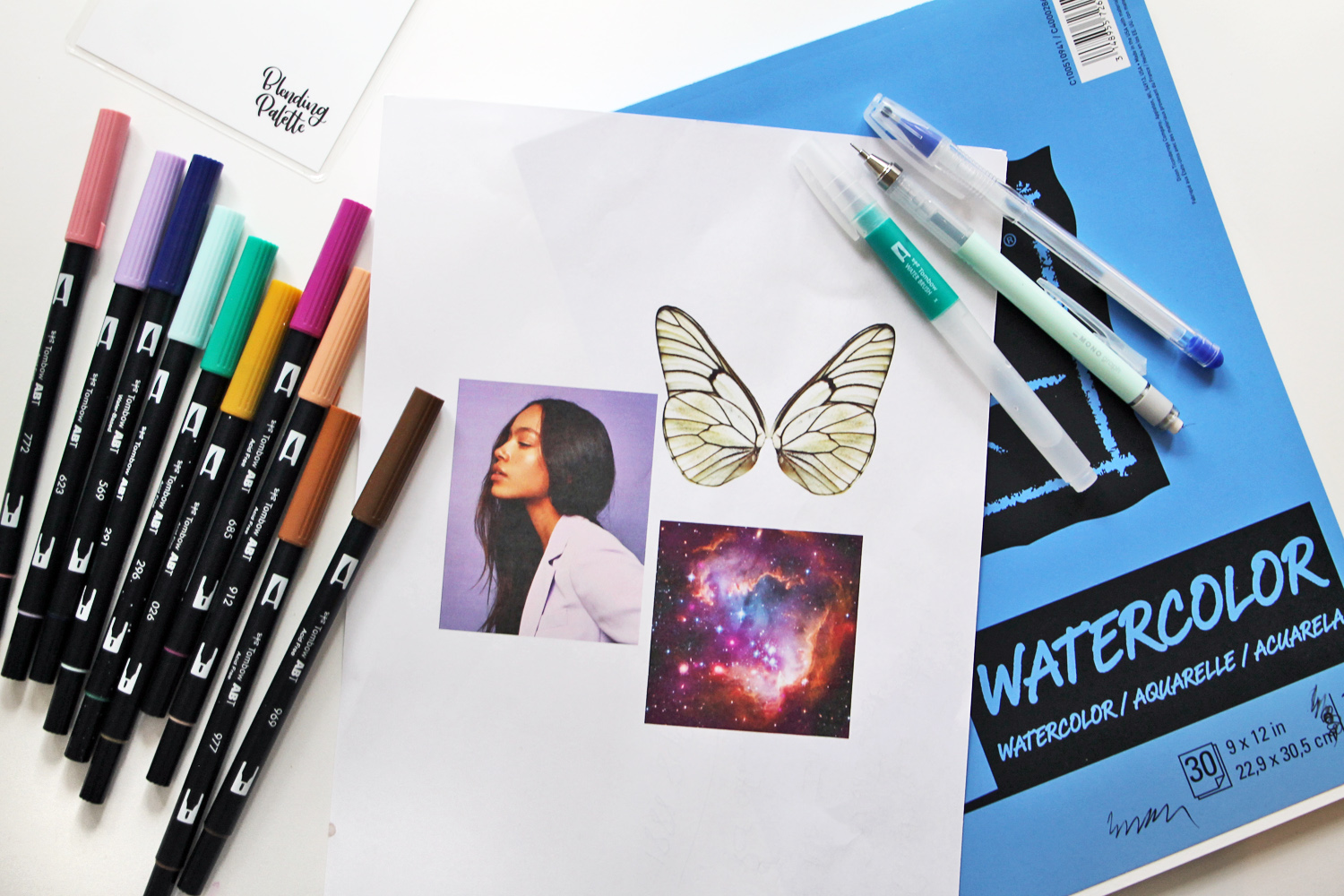 Step one:
The planning stage! This step is the most important part of the conceptual art style! You want to draw something that will make someone stop and think. So, you're going to want to plan out something that stands out.
I like to choose 2-3 photos to use as a reference. You can use your own photos, browse Pinterest or use royalty free websites (Unsplash). Try searching "conceptual portrait" on Pinterest for some ideas to start with!
I recommend printing out your reference photos to have on hand.
Use the MONO Graph Mechanical Pencil to draw out a basic sketch of you concept.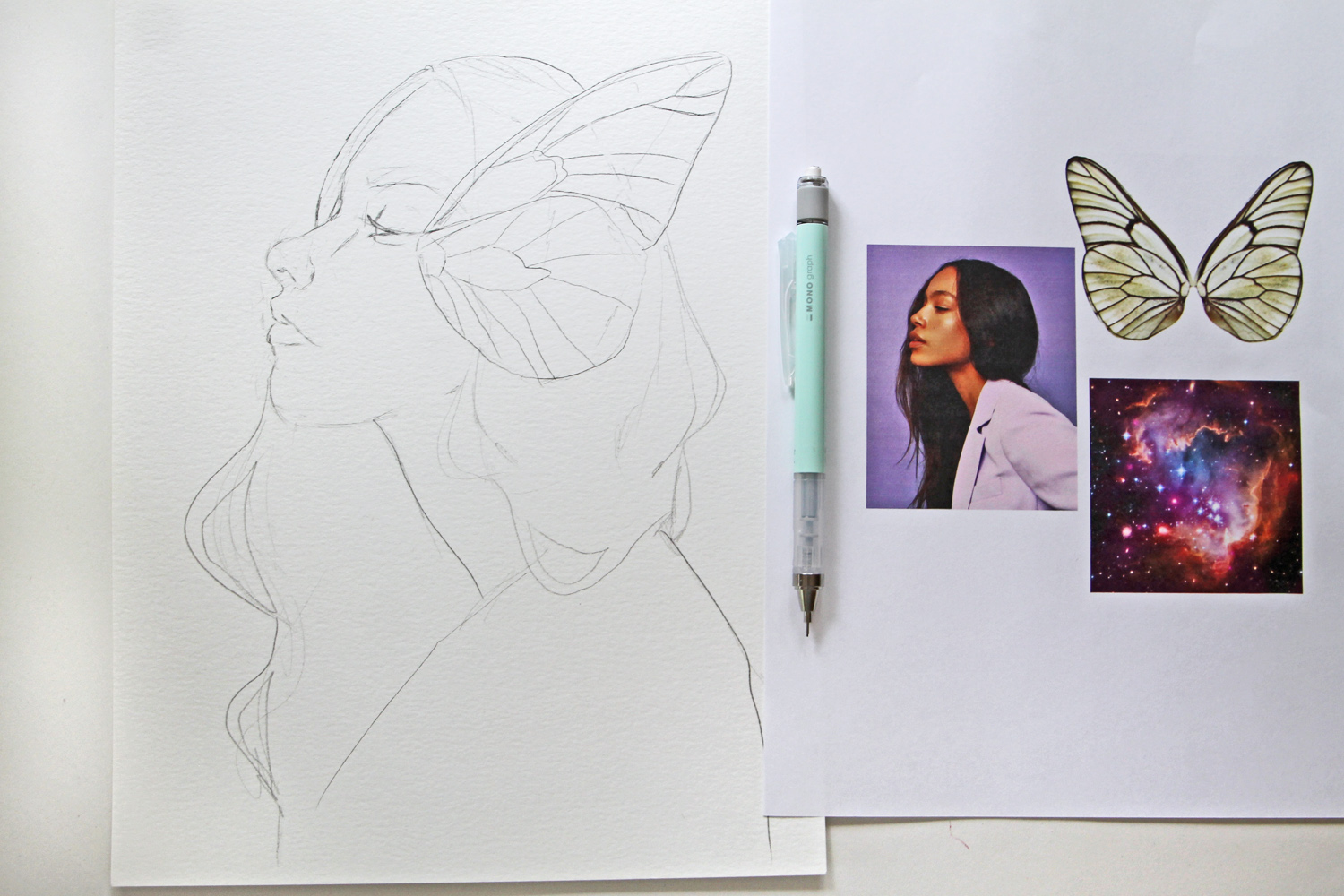 Step two:
Now that you have your concept planned and sketched out, it's time to paint! My favorite part!
To create a soft and dreamy watercolor feel, apply Dual Brush Pen ink to the Blending Palette and then pick the ink up with the a Water Brush before applying the color to the paper. This is called the "indirect" method of painting.
The Dual Brush Pen Portrait 10-Pack is great for doing portraits like this one.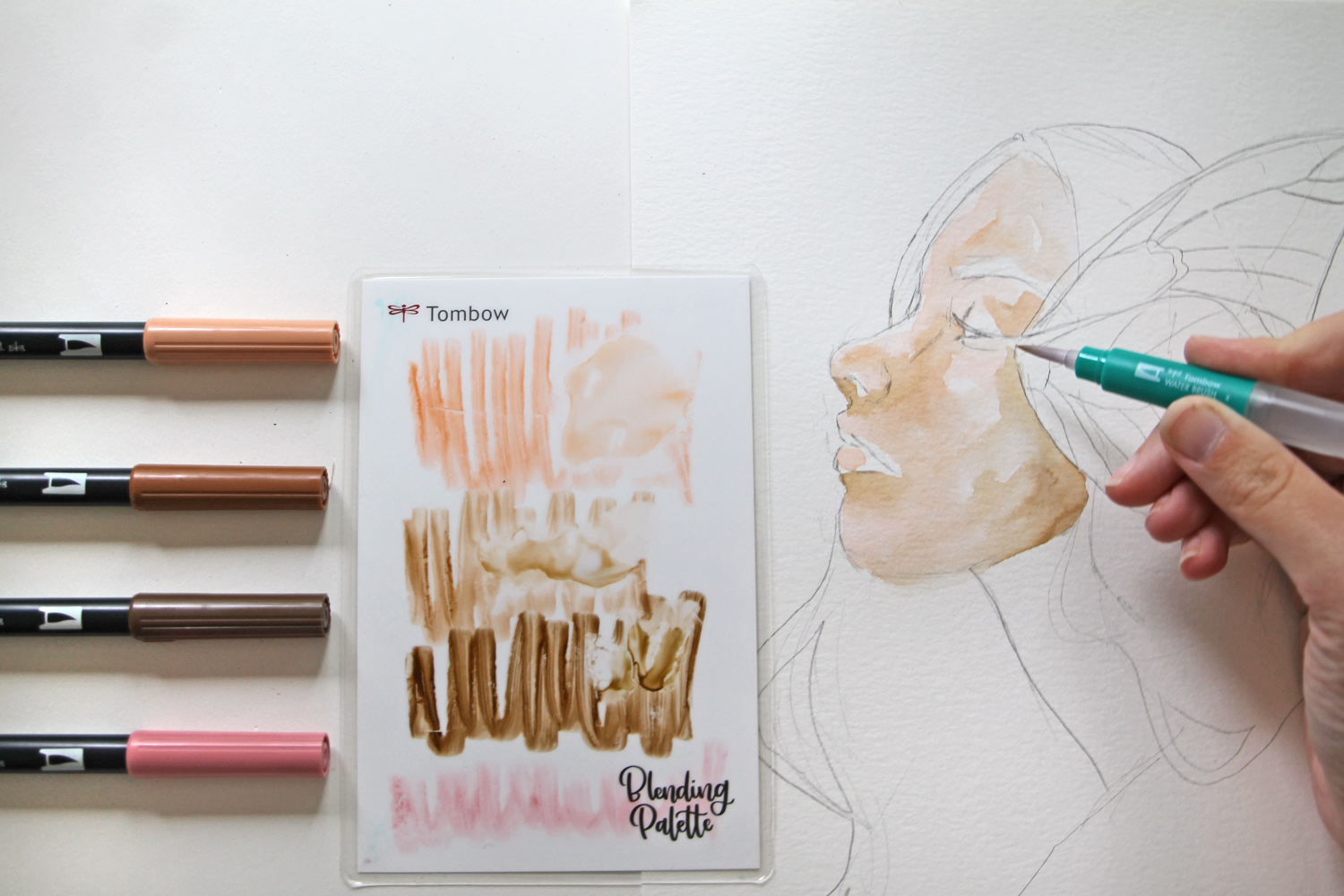 Step three:
Let the ink dry on the paper in between layers and slowly build up the color.
Want to learn more about mixing colors? Learn how to Mix Dual Brush Pens for Custom Watercolors here.
Once you've finished her skin, take a look back at your references and decide what part of the design you want to work on next. For me, that was her hair.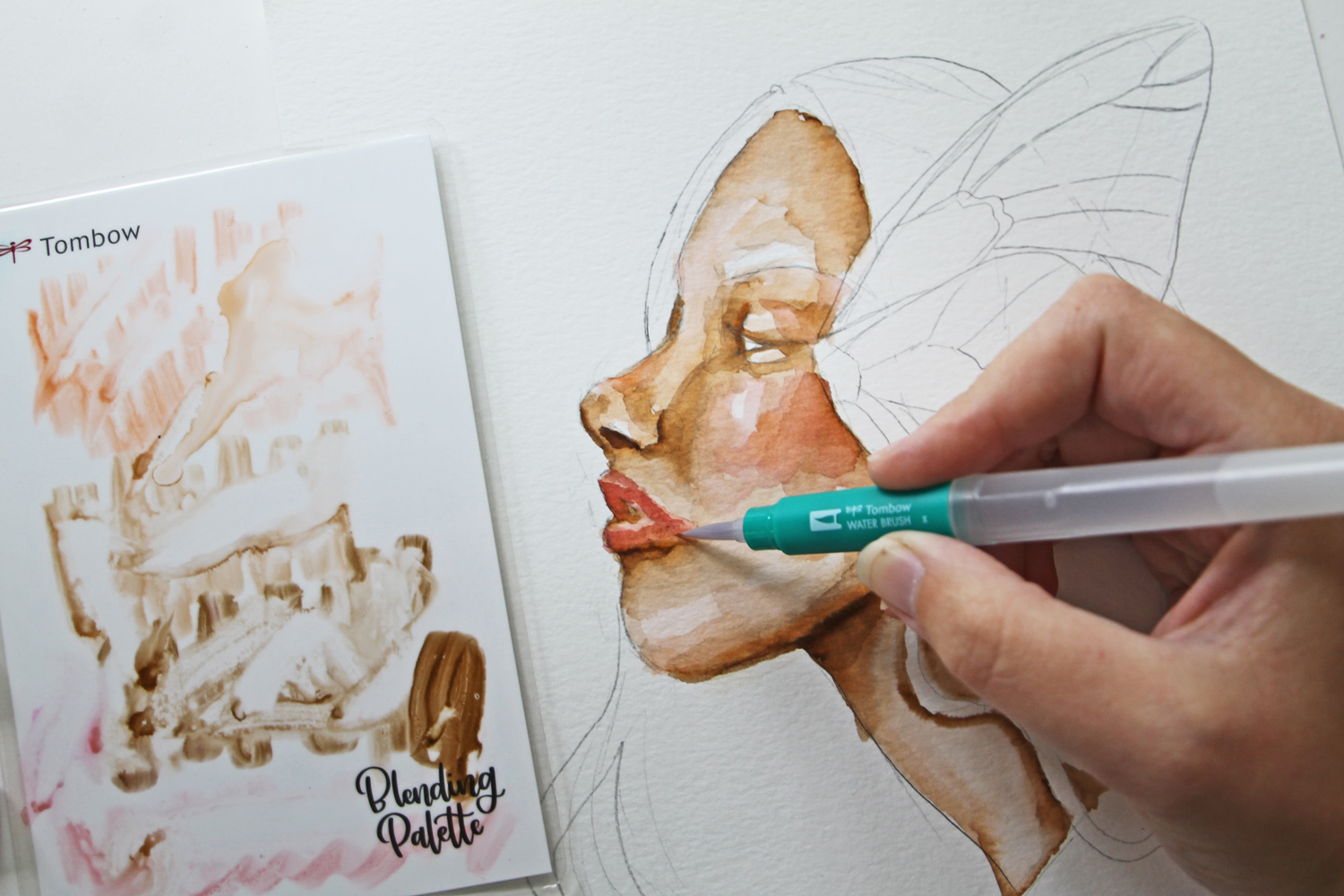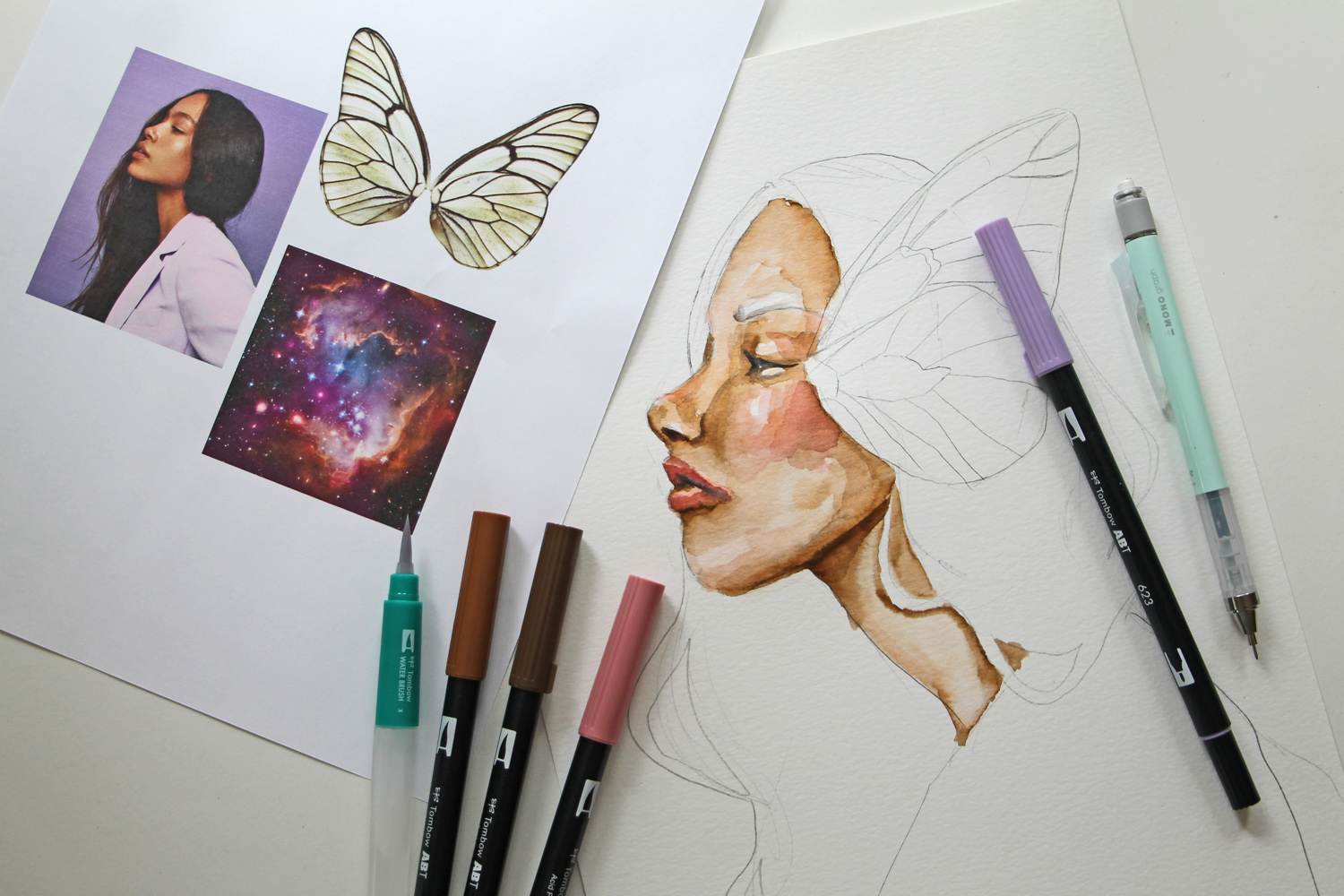 Step four:
If you want to create a resist, use the MONO Glue Pen to draw highlights onto the design. I added lines to the wings and stars within her hair.
The MONO Glue Pen goes on and dries clear. To see the glue easier as you apply it, look at your paper from a lower angle to see the light hitting the wet glue. Let the glue dry (this will only take a few minutes.)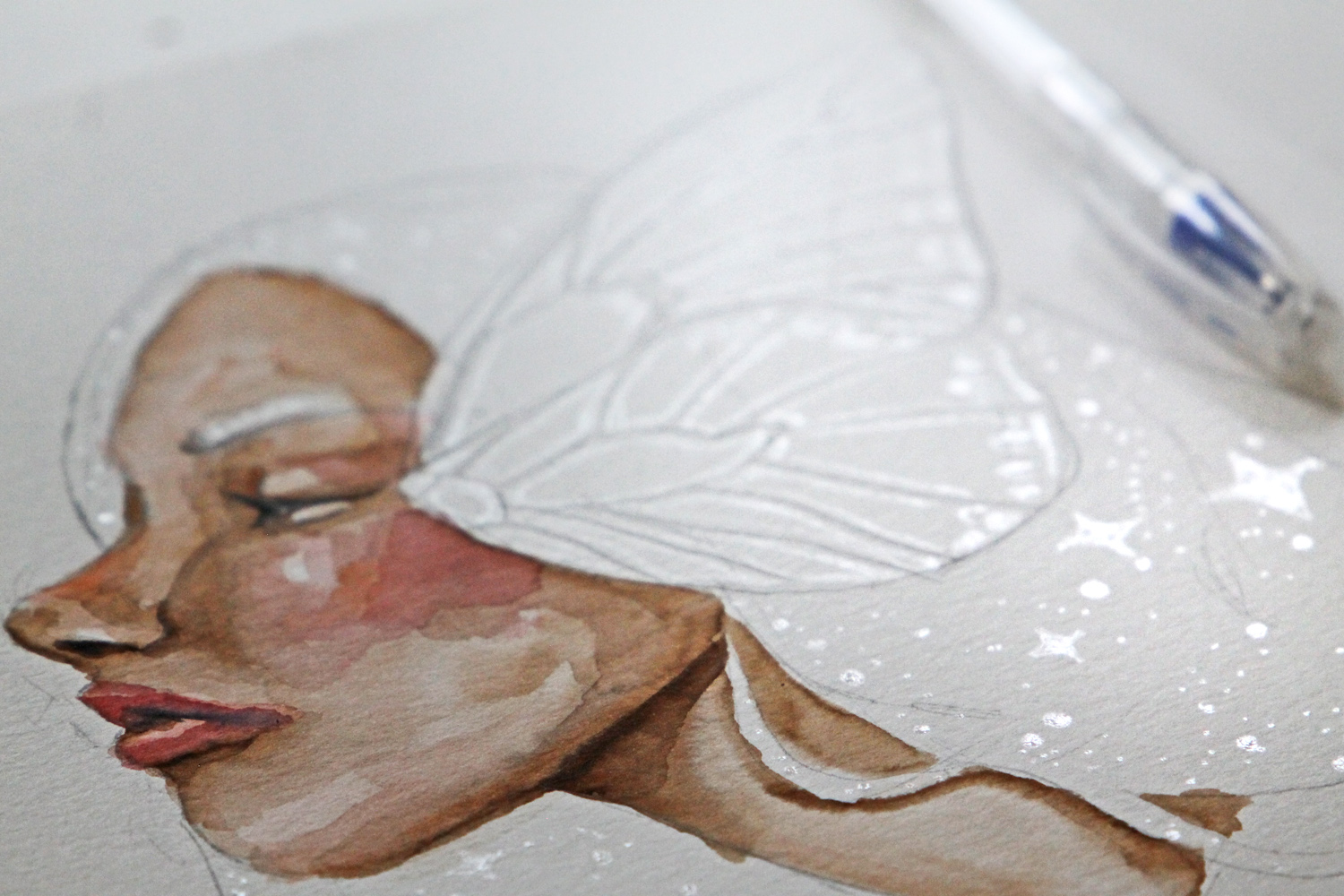 Step five:
One of my reference photos was of a galaxy, so I'm using Dual Brush Pens in purple and blue shades to add a galaxy into her hair.
To do this, apply the Dual Brush Pen ink directly to the paper by scribbling the marker around (inside the shape of her hair). While the ink is still wet, brush over the colors using a wet Water Brush to blend the colors. This is called the direct method. It's where you apply the ink directly to the paper.
Notice how the ink will resist the areas you drew with the glue pen!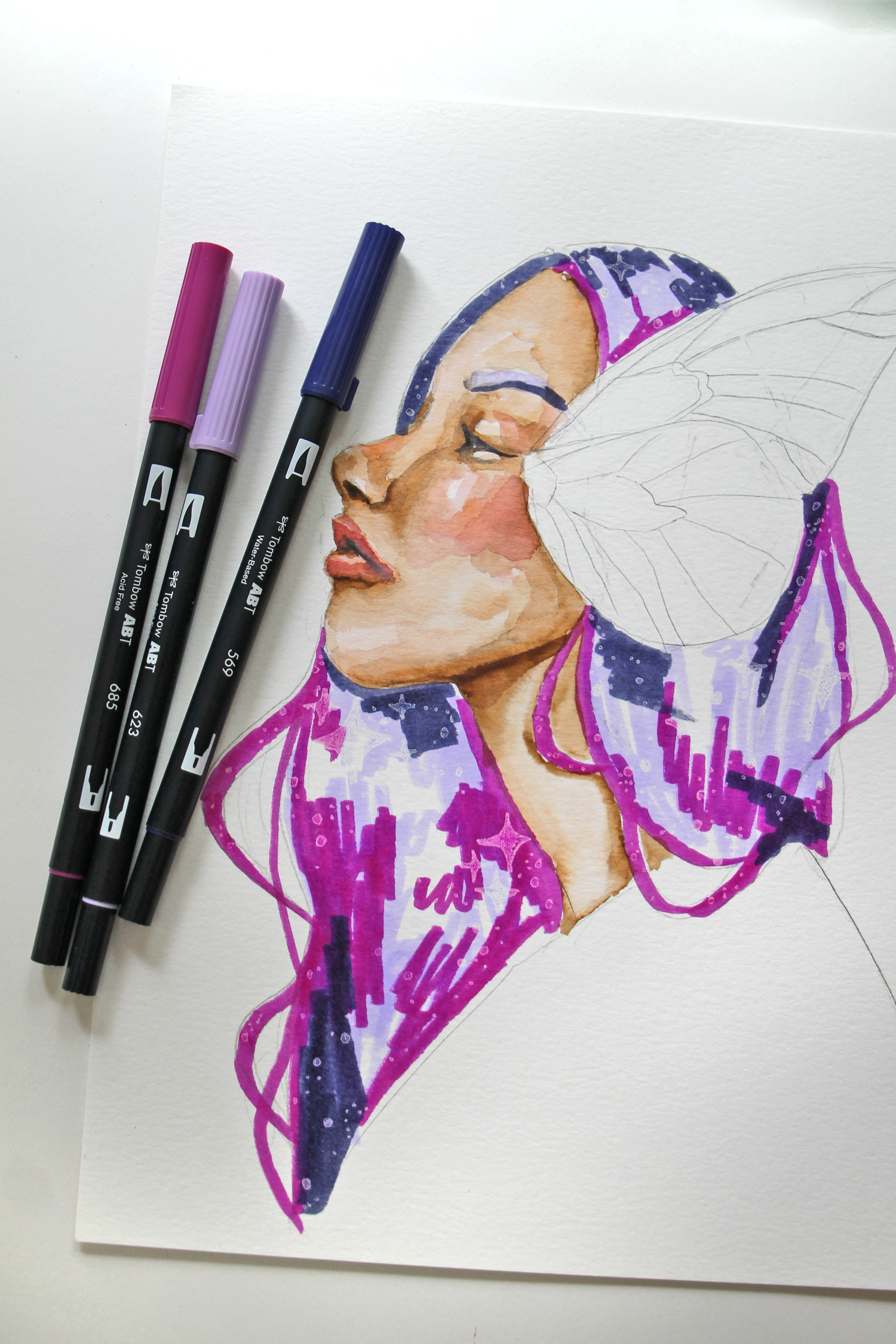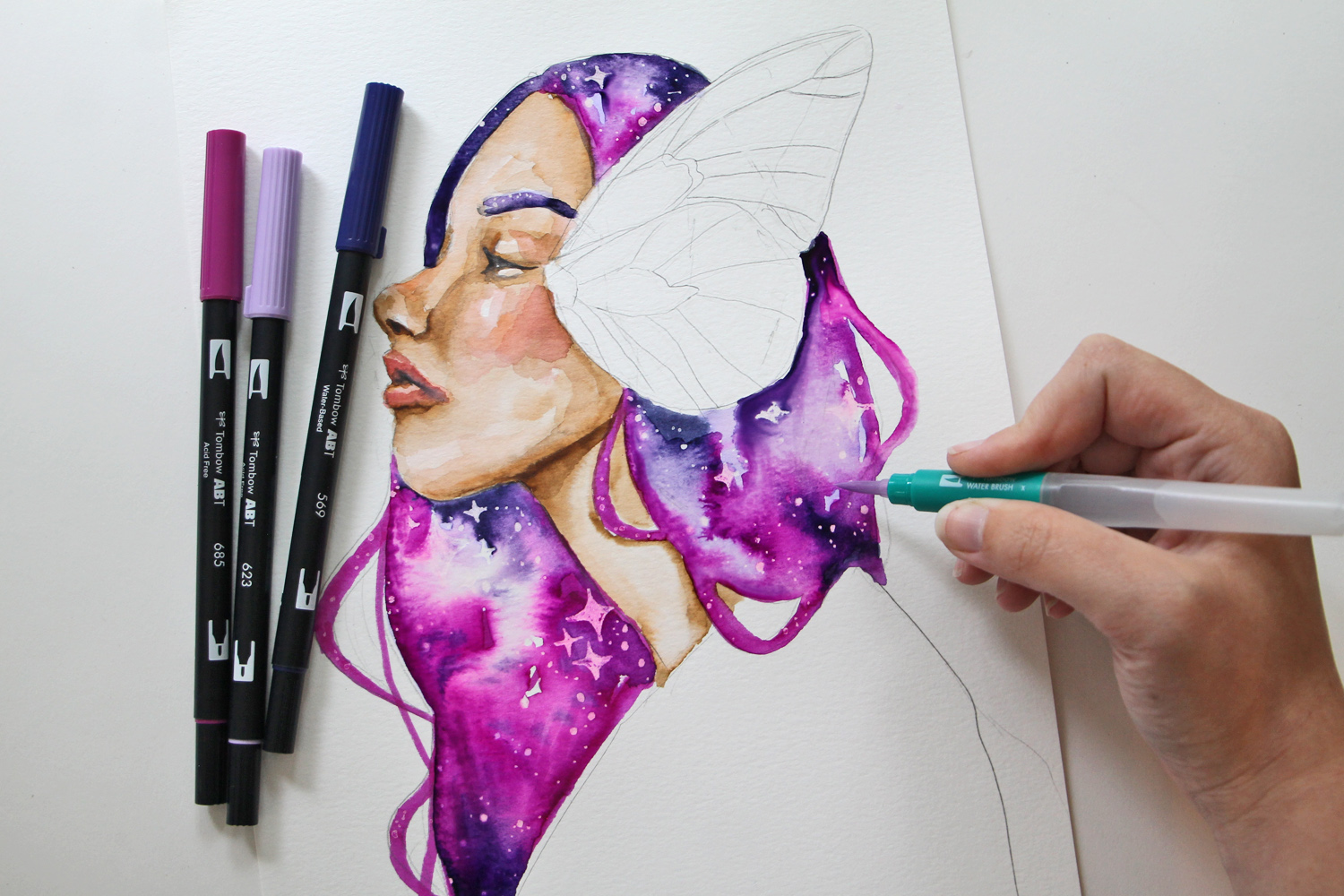 Step six:
Let her hair dry and then move onto the wing!
If your design is different then mine, just make sure you let each section dry before moving onto the next! This will prevent the colors from bleeding into each other and making a mess (for example, her hair bleeding into the butterfly wing)!
Once finished, let dry completely and you're done!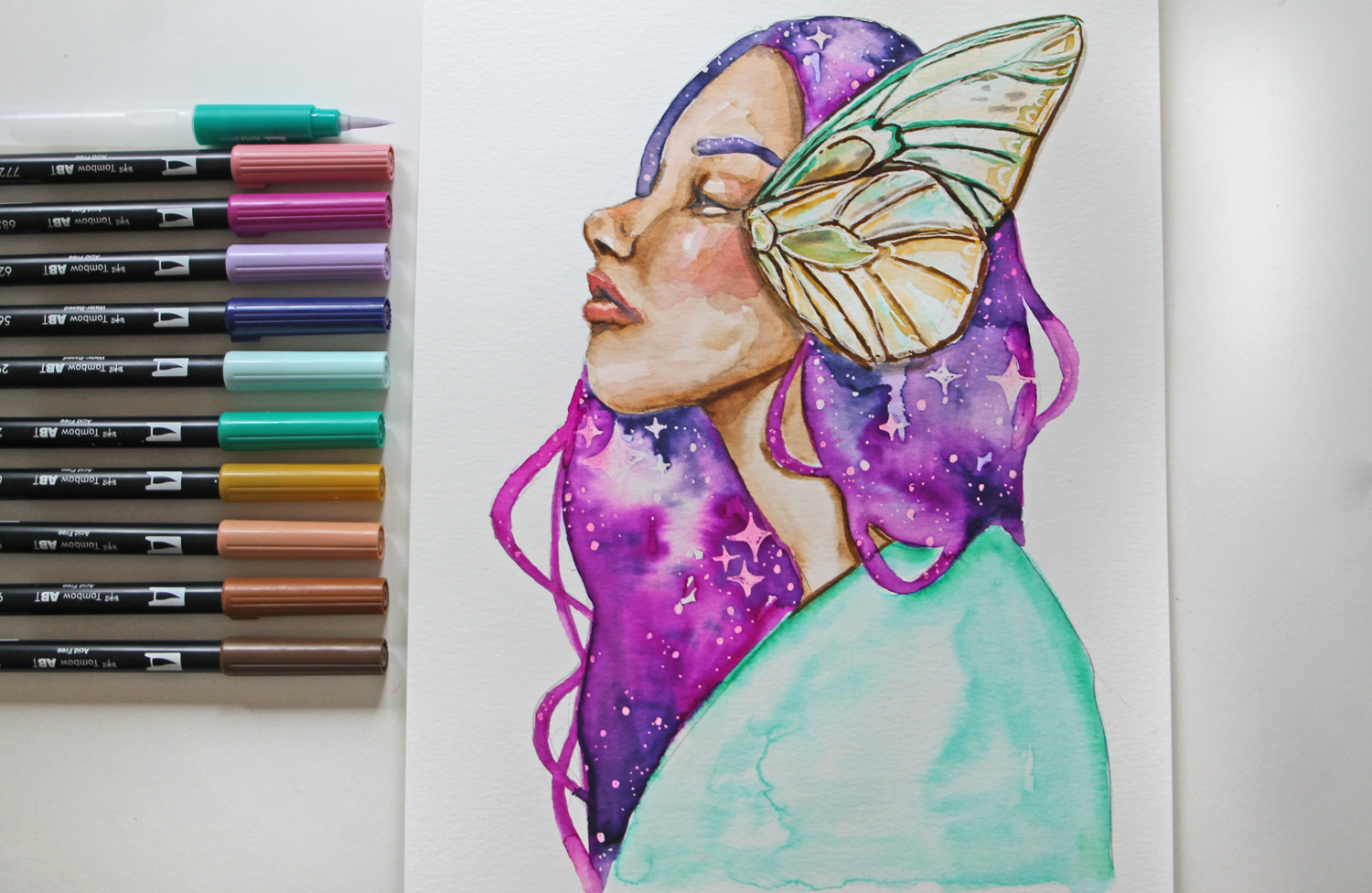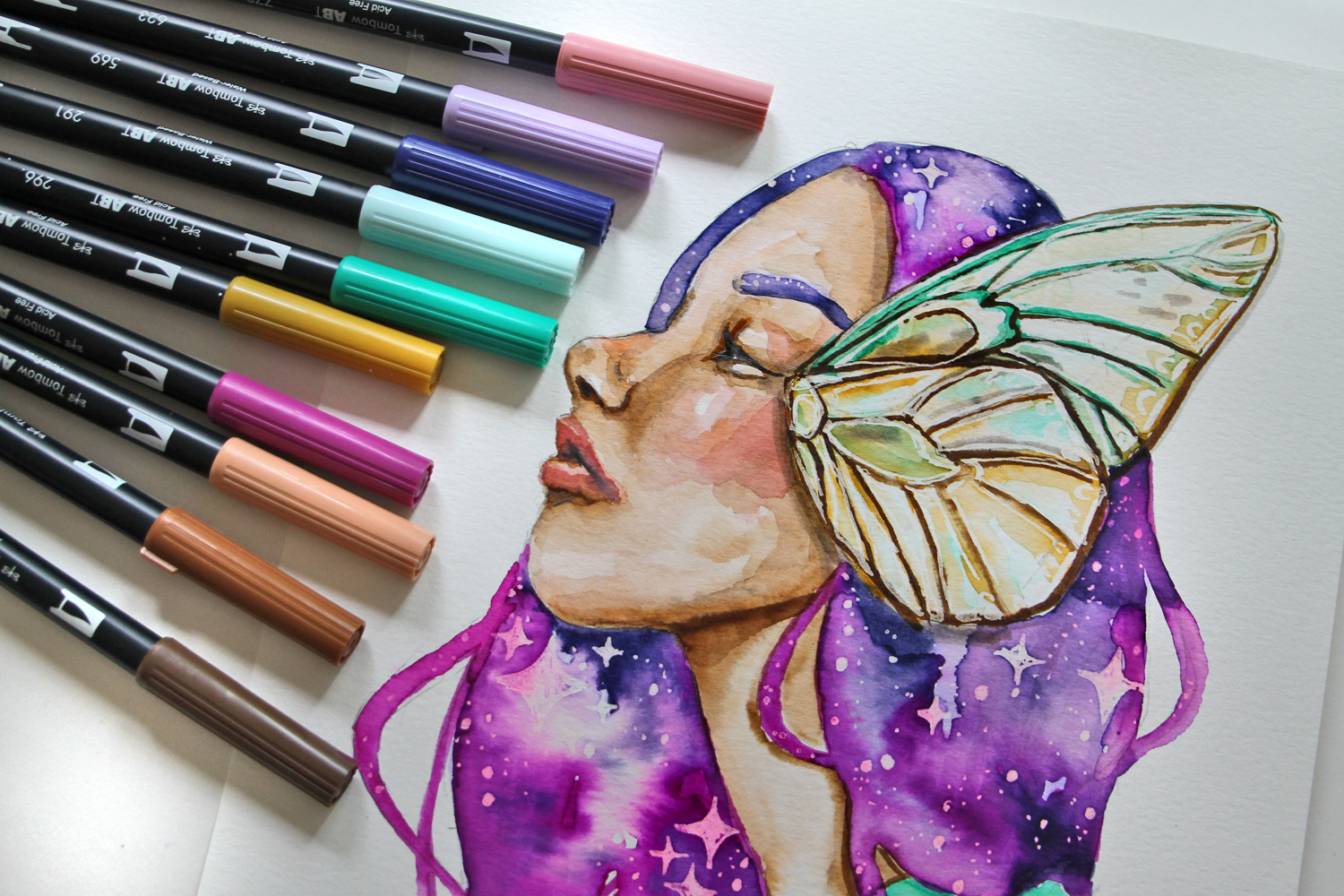 I hope you enjoyed this tutorial and have made your own watercolor conceptual art portrait! If you do, feel free to post your art on Instagram and tag @tombowusa and @studio.katie so we can cheer you on!
Want more watercolor projects? Here are some fun tutorials from the Tombow archives:
How to make a Two-Toned Portrait
DIY Pop Art Illustration Inspired By Roy Lichtenstein
How to Create a Color Mixing Chart