"We are all artists, painting our lives upon the canvas of reality. Mix the colors your own way and apply emotion liberally. Don't be afraid to let your brushstrokes show, and above all else, make sure your art has soul." -Cristen Rodgers
Hi friends, Adrienne from @studio80design here! July is National Journal Writing Month, so I wanted to share my five tips for starting an art journal! Art journaling is all the rage right now, and for good reason! It is a creative way to document your life, thoughts and experiences! The best part is: there are truly no rules when it comes to creating an art journal. Having a place where you can put down on paper your thoughts, dreams, goals and desires in your own way is freeing. We are all creators, even if we don't always think we are!
1. Get the Right Notebook
I can't express how important this is! Do you plan to use watercolor, paint or markers or do you just want to use a pen? Having the right paper makes a difference in what you can create in your notebook. If you want to use paint or watercolor, you will need a notebook that has thick pages that can handle the paint. Using a mixed media notebook or a watercolor notebook will work best! If you only plan to use a pen and colored pencils, then a sketchbook will work well.
Whatever you choose to use in your pages, make sure you get the right notebook!
2. Start Simple
If you're new to art journaling, start simple! Don't try to make large and elaborate pages because it will only frustrate you if it doesn't come together. Pick one thing to focus on. It can be calligraphy, drawing, watercolor, stamping or scrapbooking. Practice each individual thing until you get more confident and you can start to combine medias. It doesn't have to cost a lot of money to start. Just gather what you have around your home!
3. Pick Your Focus
What do you want your art journal to include? What activities do you plan to document (traveling, important life events or kids)? Do you want to add song lyrics, poems or quotes?
4. Make It Yours
An art journal represents YOU. It's about your life, thoughts, experiences and creative artistry. So, let it reflect that. There is no "right" or "wrong" way to create an art journal. So, do what makes you happy! I enjoy watercolor, calligraphy and illustrations more than scrapbooking and collages, so my art journals mainly consist of watercolor, calligraphy and illustrations.
5. Have Fun With It!
This is a place to express yourself and use your creative talents! Experiment and don't be afraid to just START! Add things that you are passionate about and get you excited! Soon enough you'll look back on your pages with joy!
Here's a step by step tutorial on a super easy page you can use in your art journal:
Materials you'll need:
Art journal (I used my Archer and Olive Dot Grid Notebook)
Small piece of scrapbook paper
Scissors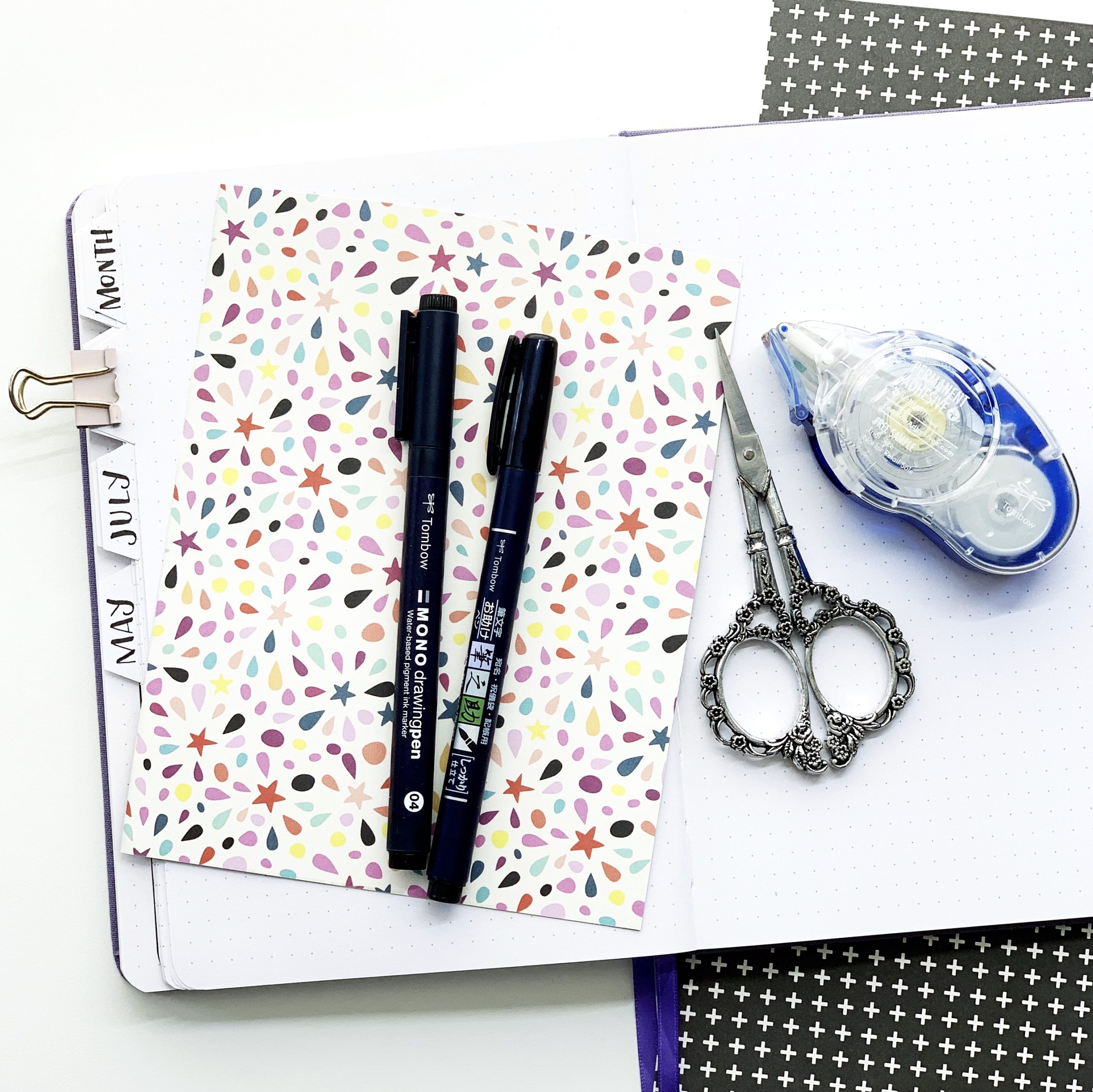 Step 1
The first step is to grab your piece of scrapbook paper and tear off two corners. I love the unfinished look that torn edges add to an art journal!
Step 2
Next, use the Tombow MONO Adhesive + Permanent to add glue to the back of both sides of the scrapbook paper. I love this adhesive because it really means "permanent"! This paper isn't going anywhere.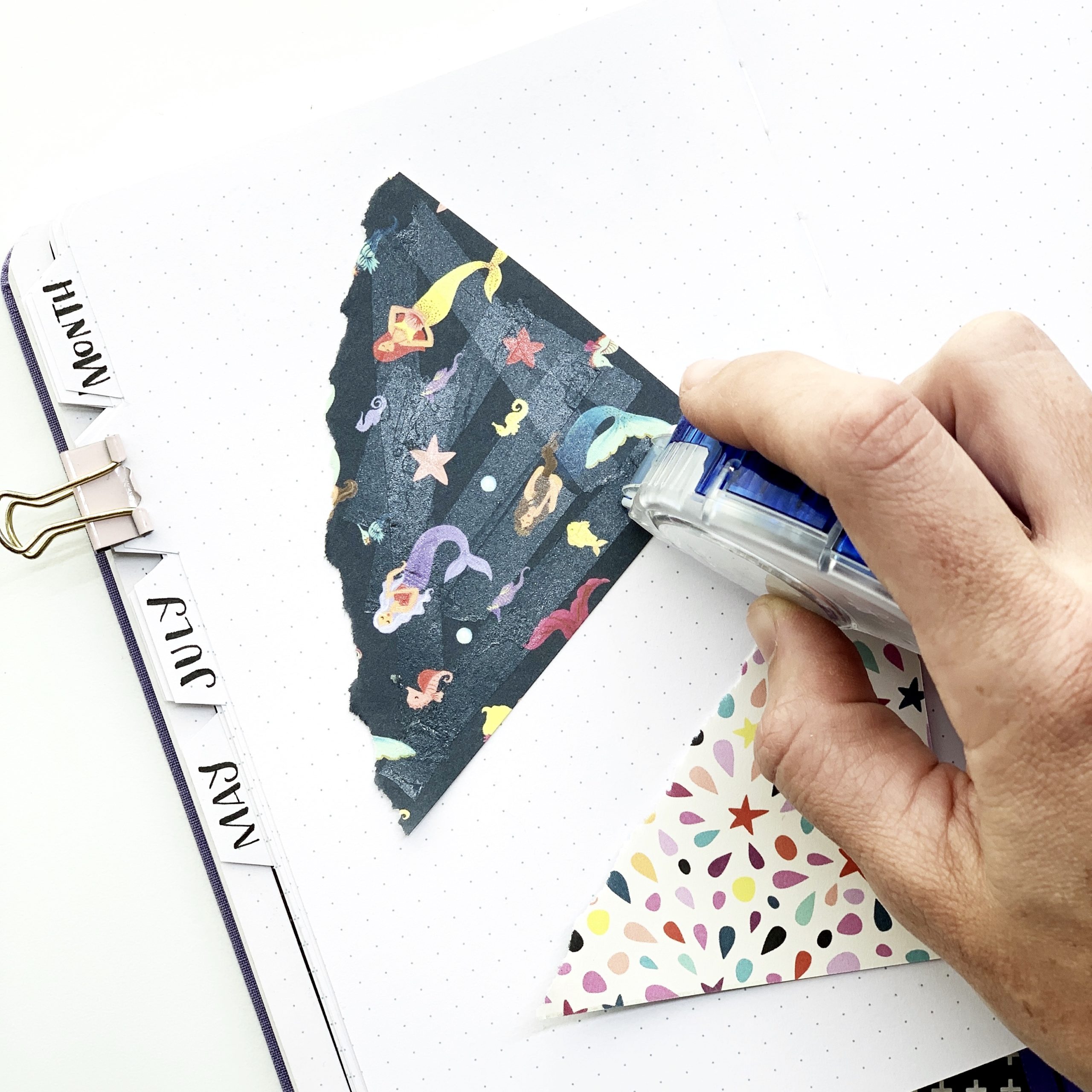 Step 3
Press each paper down on opposite corners on your page in your notebook. If there are any pieces of the paper that overlap, just cut it off with some scissors!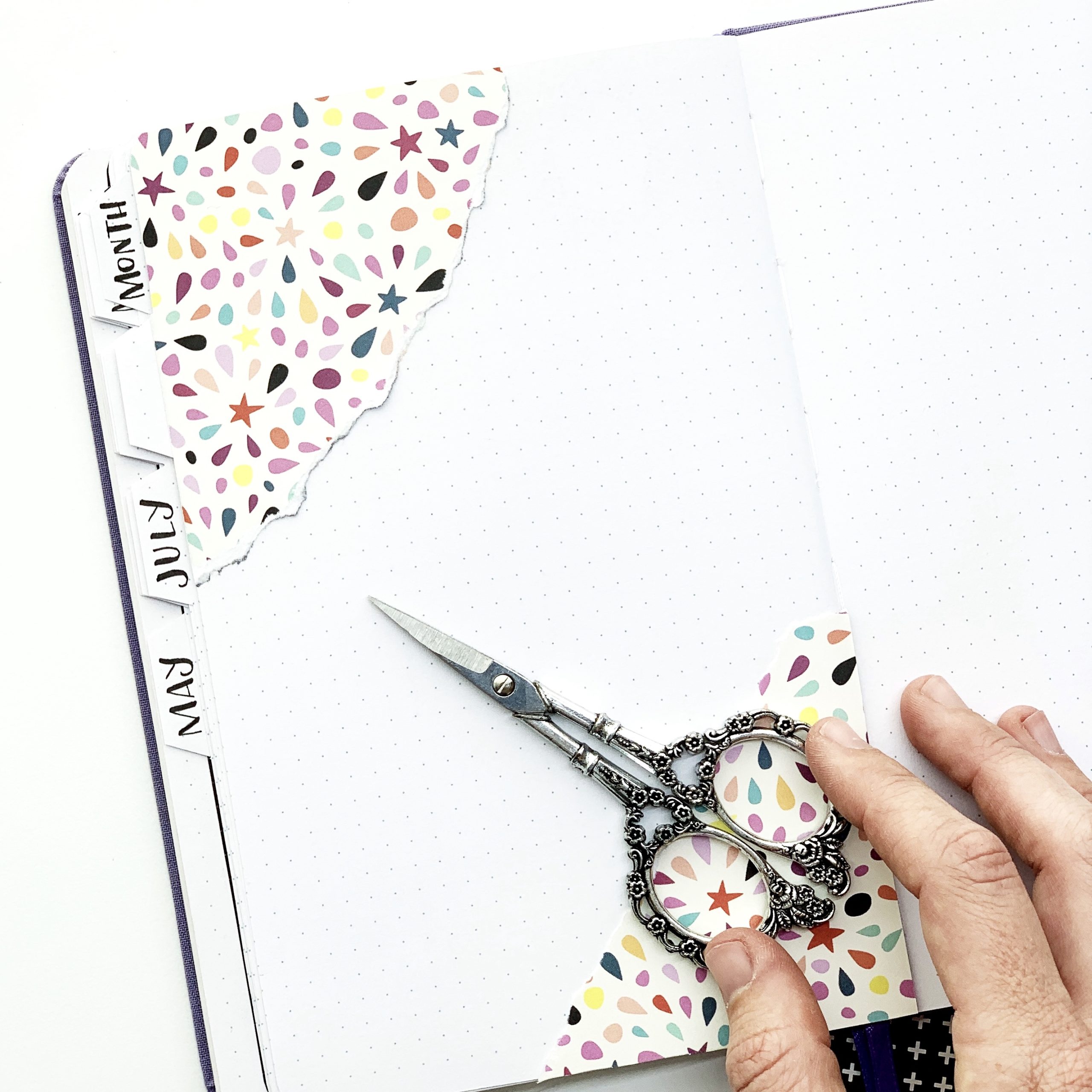 Step 4
Pick a quote you like and use the Tombow Fudenosuke Hard Tip Brush Pen to letter it out on your page.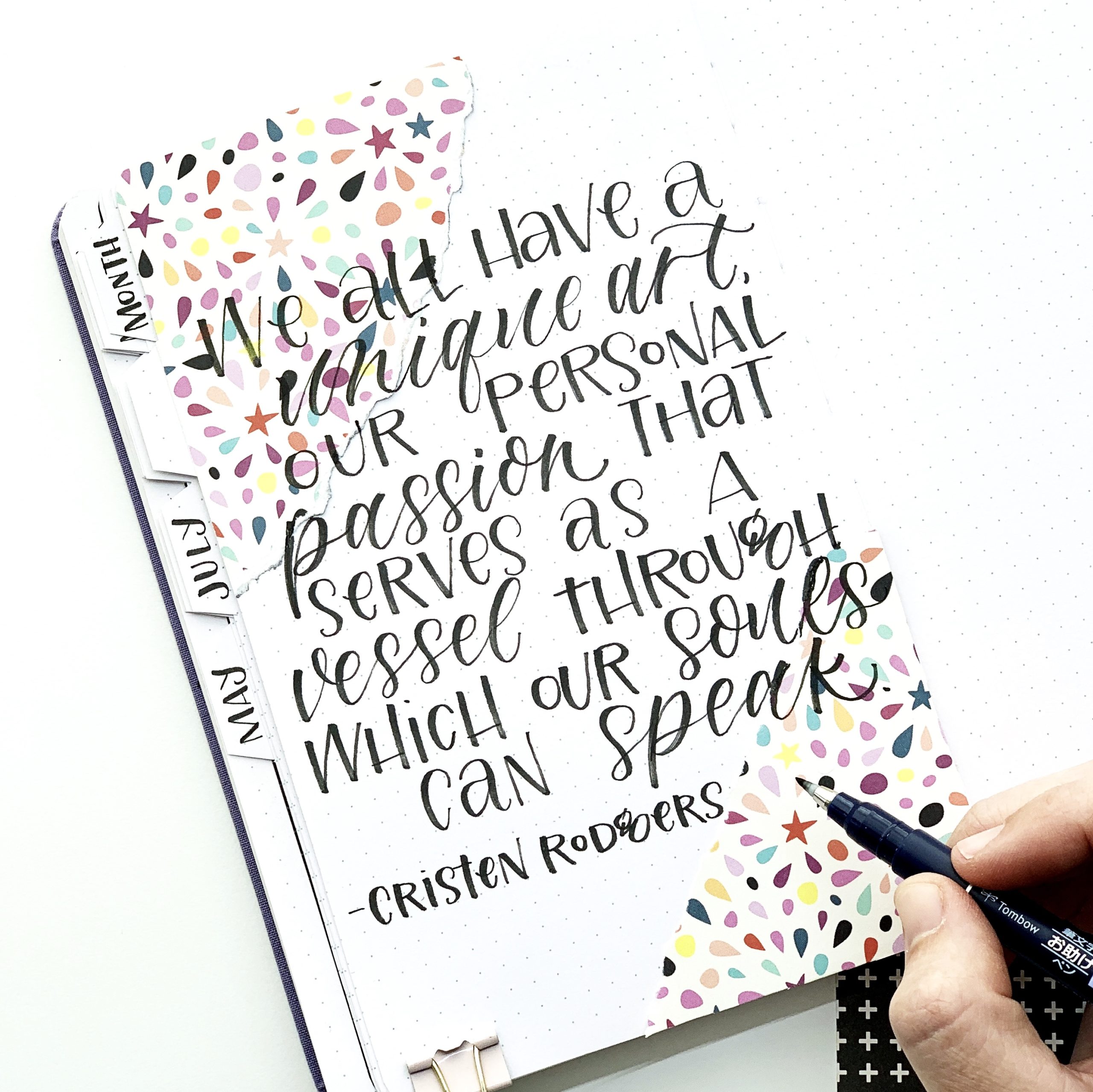 Step 5
Lastly, use the Tombow MONO Drawing Pen 04 to draw leaves on your page.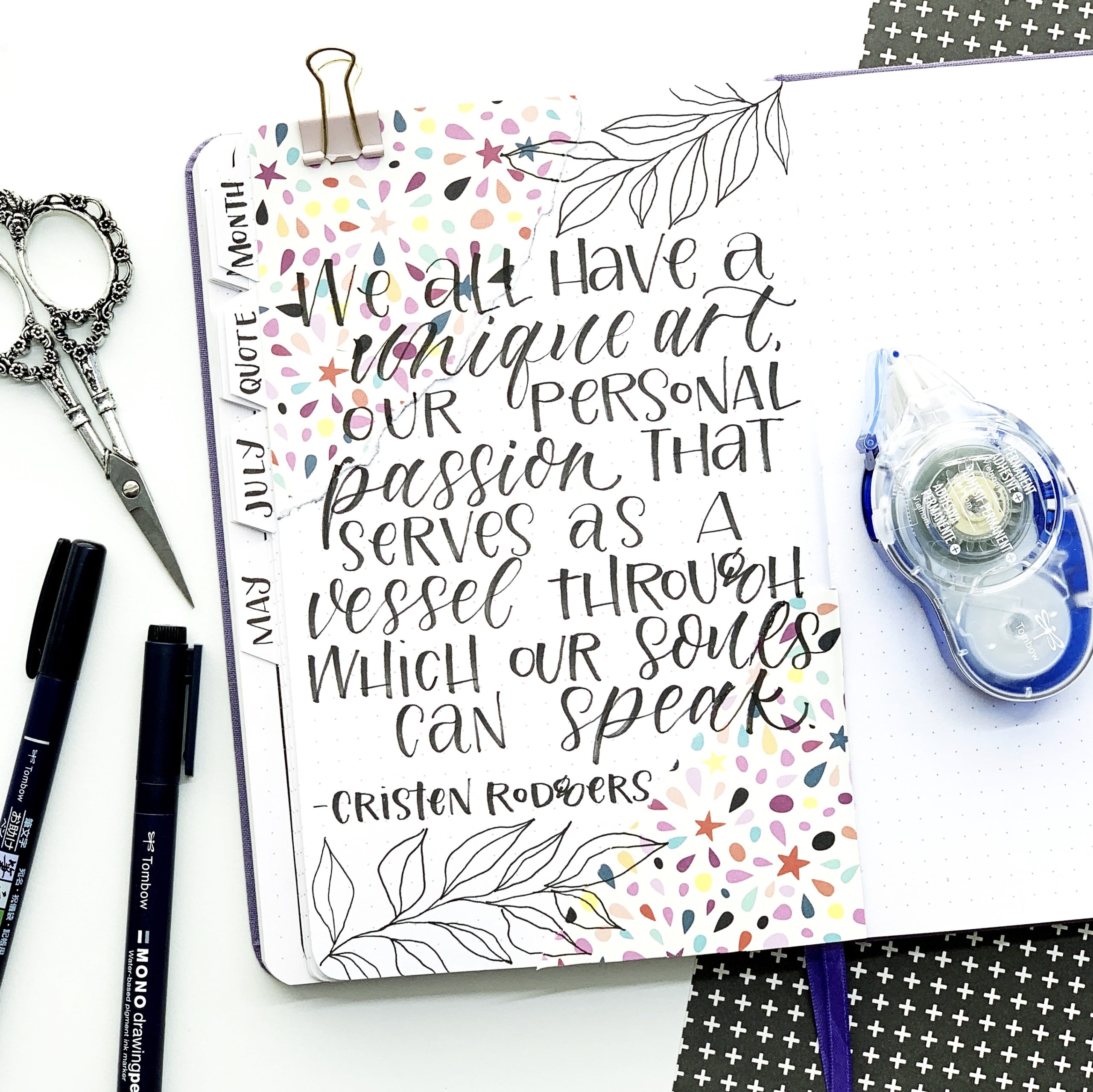 That's it! A super easy way to create an art journal page in your notebook!
I hope you try starting your own art journal and use it as a way to express yourself in a creative way! For more inspiration like this, make sure to follow me @studio80design!
For more art journaling tips, check out these awesome posts: