It's journaling week! Hey Tombow fans, it's Mandy from @a_heartened_calling! Today, I'm taking you through my process on how I Bible journal. I'll also share my favorite Tombow tools to create Bible art.  Let's grab our supplies and get started!
MATERIALS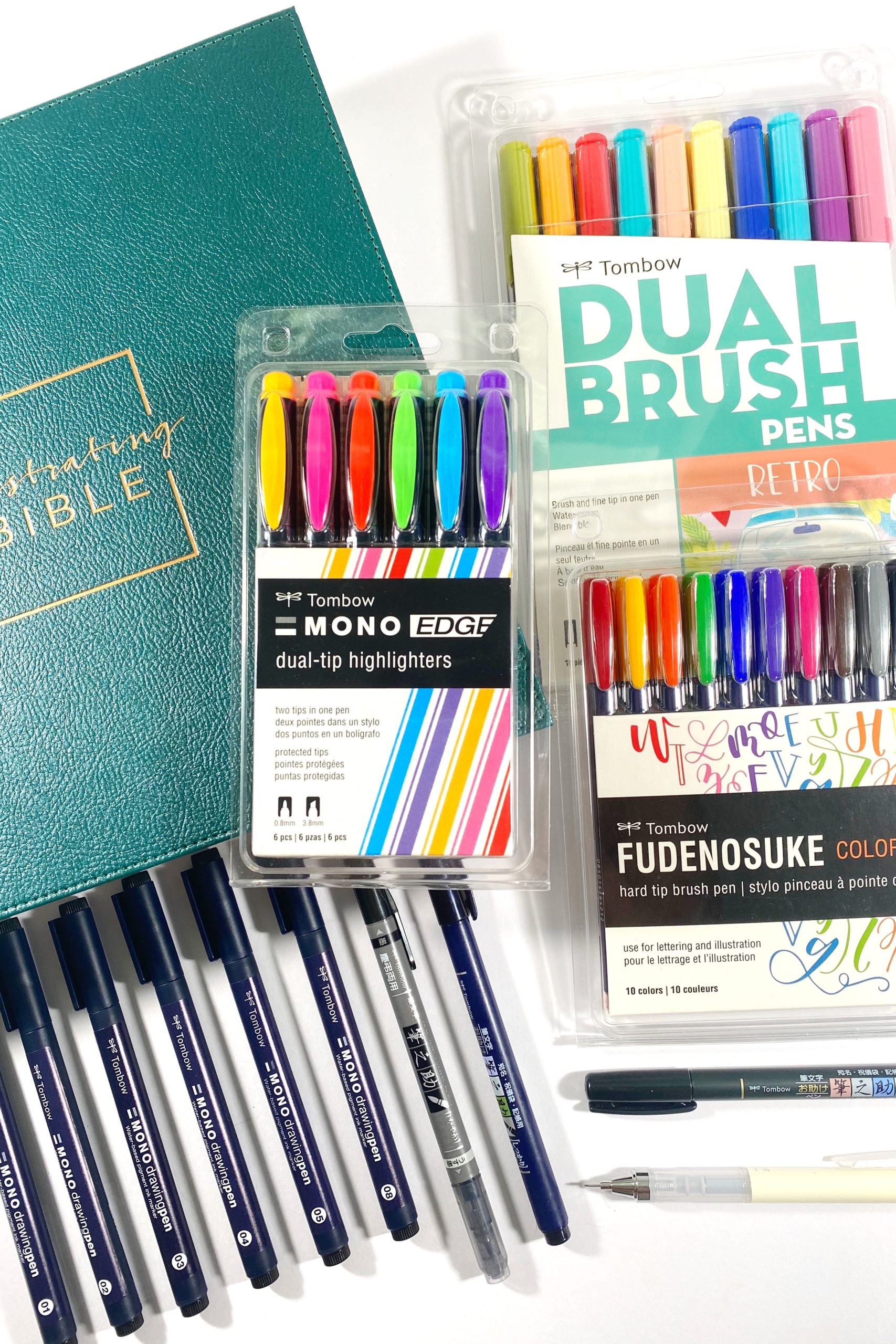 STEP 1 – Highlight
There are so many creative ways to Bible Journal. If you search for Bible journaling and hashtags online, you'll find a great community of artists creating Bible art using different types of mediums on Bibles and journals. My favorite way to Bible Journal is with my illustrating Bible from @dayspringcards . This Bible has thick paper and very large margins which gives you more space to create art on. It is also spiral bound and lays flat which is super helpful! They also have illustrating Bibles by books of the Bible, so you can work through it one section at a time.
When I sit down to create Bible art, the very first thing I do when reading is highlight what stands out to me or what I think is important. The MONO Edge Highlighters are the perfect tool for this!  They are actually dual tipped with one side as a chisel tip and the other a bullet tip. You can also categorize what you highlight by color. For example, any verses that are about love, you can highlight in pink. Marriage and/or parenting could be highlighted in blue, etc. This makes it easier when revisiting verses or flipping through chapters to find verses that pertain to a certain topic.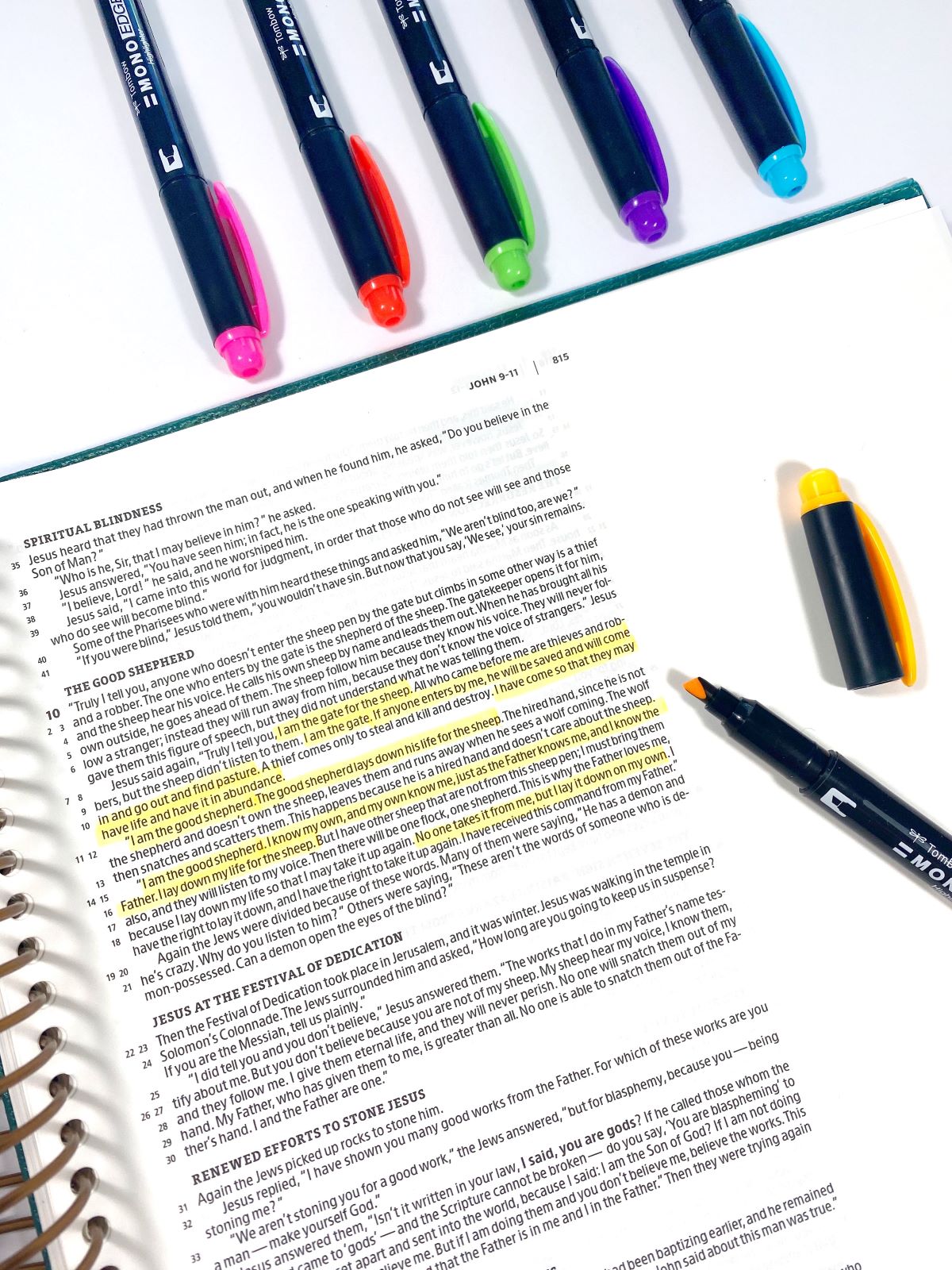 STEP 2 – Sketch
Next, I grab my MONO Graph Mechanical Pencil and sketch out my design. For this design I chose verse 11 and 12 and wanted to add cute little sheep doodles to my lettering. I also wanted my lettering to be kind of playful and fun instead of just straight words on a line, so I sketched out my sheep first then gave myself some guidelines for my lettering. Sketching out the sheep first gives me a visual as to where to place my lettering.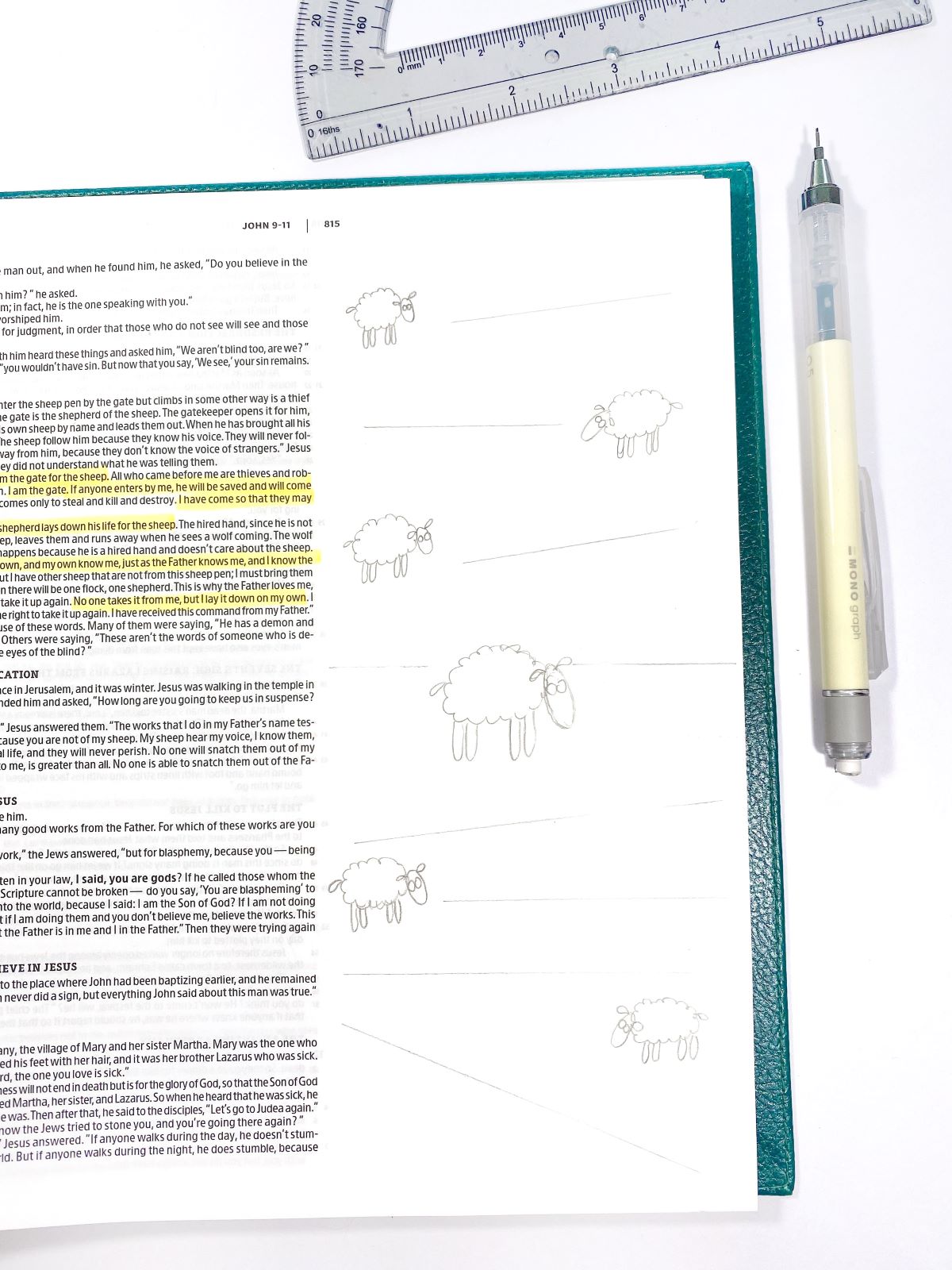 Once my guidelines are in place, I sketch out my lettering.  It looks messy but that's okay. Once the lettering is inked, the pencil lines get erased!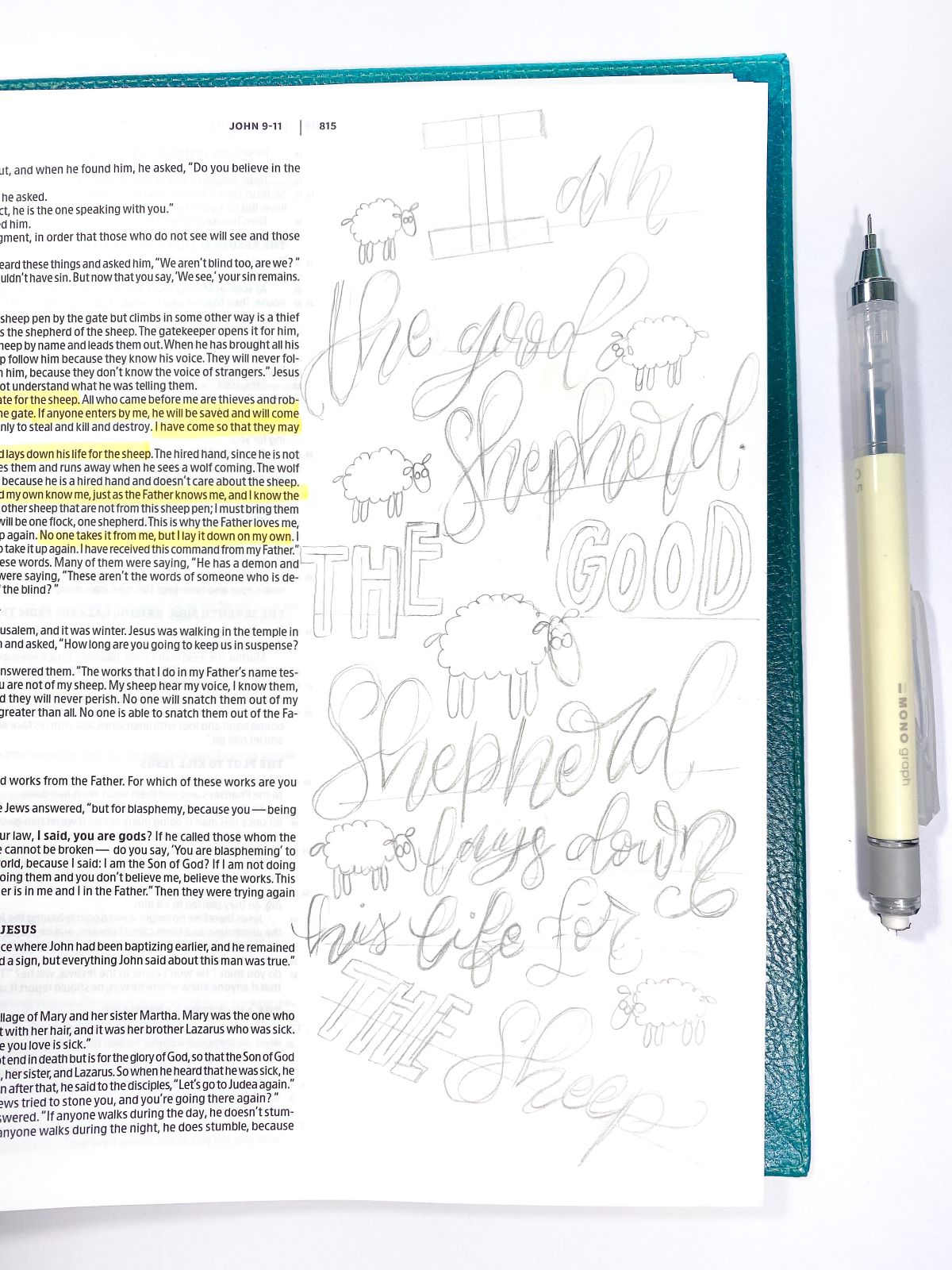 STEP 3 –  Inking
Using the MONO Drawing Pens, I traced and colored all my sheep doodles. Then using the Fudenosuke Hard Tip Brush Pen, I traced over all my lettering. I used Dual Brush Pen 373 to fill in my block letters and then used the Fudenosuke Brush Pen to add a shadow to all of them. I also used Dual Brush Pen N95 to add a shadow around the sheep doodles and the gray tip of the Fudenosuke Twin Tip Brush Pen to add a shadow to my lettering. Lastly, I used a white paint pen to add paint to the middle of my block letters and then used a toothpick to move the paint around to create a highlight on the letters. Once everything is inked, I erased all my pencil lines.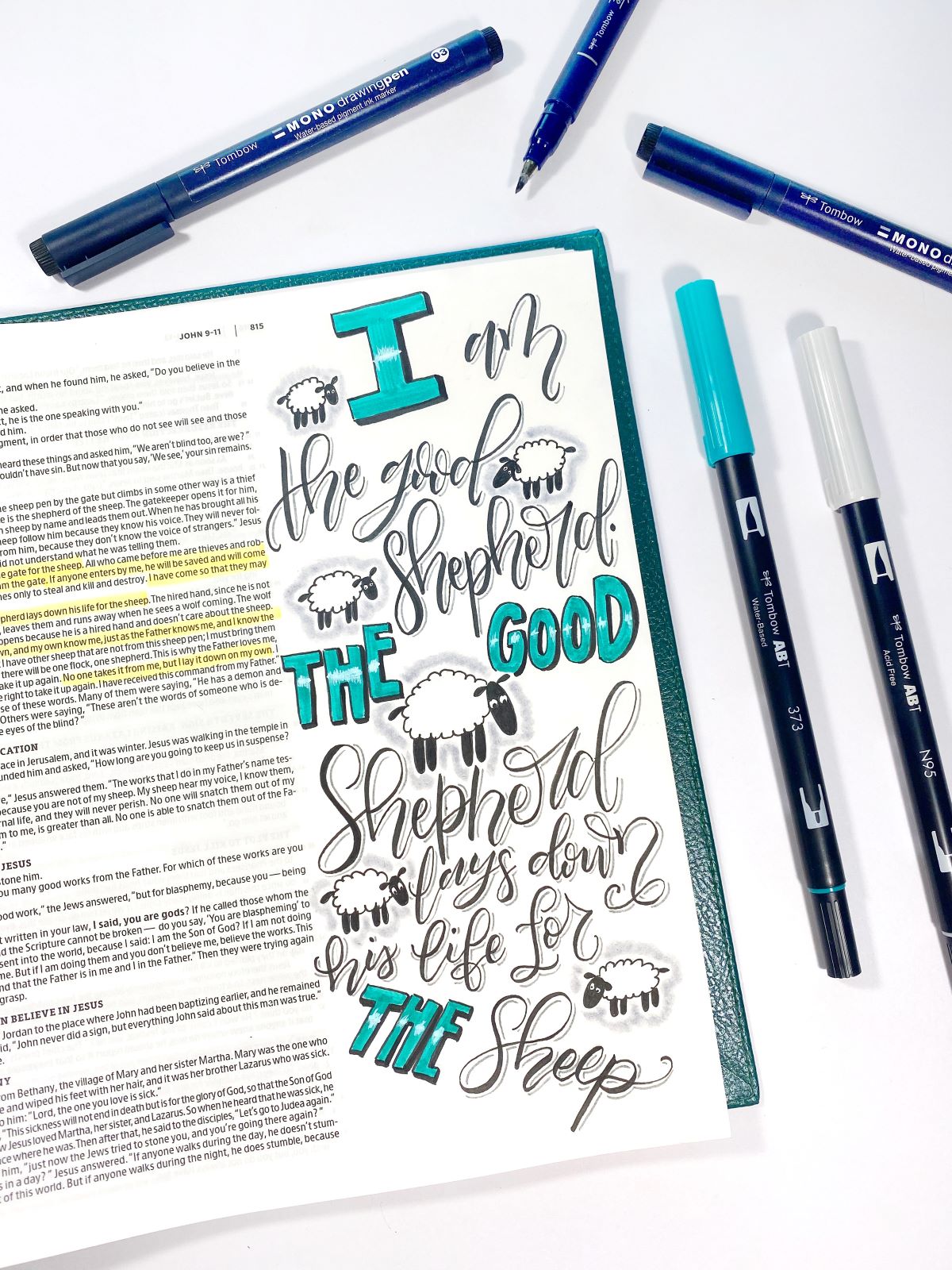 FAVORITE TOOLS
The Tombow tools I used above are the ones I use the most, but I do have more favorites! The Fudenosuke Brush Pen Colors are a big favorite of mine to use for Bible lettering. I also love using the Twin Tone Markers and the Irojiten Colored Pencils!
Here's a few Bible Journal pages I did recently:
Thanks for following along today! If you create Bible art using Tombow products, be sure to tag us at @tombowusa and @a_heartened_calling so we can see your amazing work!
For more journaling inspiration, check out these posts:
See you next time!
Mandy