Hey Tombow friends, this is Jennie! I know that sometimes is hard to carve a few minutes to make some art. However, creating art is self care. Anything that gives you joy is self care! It could be making a quick sketch, lettering, journaling, making a little paper project. Don't feel bad if you have a pile of laundry but you rather make art. Sometimes it is good to take a little you time. I'm going to share with you five Tombow products you can use when you only have a few minutes to create!
Product #1: Pencils
Did you know that the first Tombow product was the pencil? It all started in Japan in 1913! The pencil is perfect for making quick sketches. Tombow has different grades that you can use to add shadows and outline your sketch. Practice your lettering drills with soft B pencils. You can also sketch your lettering composition. The Tombow MONO Drawing Pencils are professional quality pencils but there are also the Tombow MONO J Drawing Pencils. They are more affordable but amazing quality. You can also use the Tombow MONO Graph Mechanical Pencil to draw or write down your thoughts.
Last week, I was busy so I worked on this project for a few days dividing tasks for each day. The first day, I did a sketch in my smaller sketchbook. I wanted to go bigger so I traced it on a bigger sketchbook and added more things.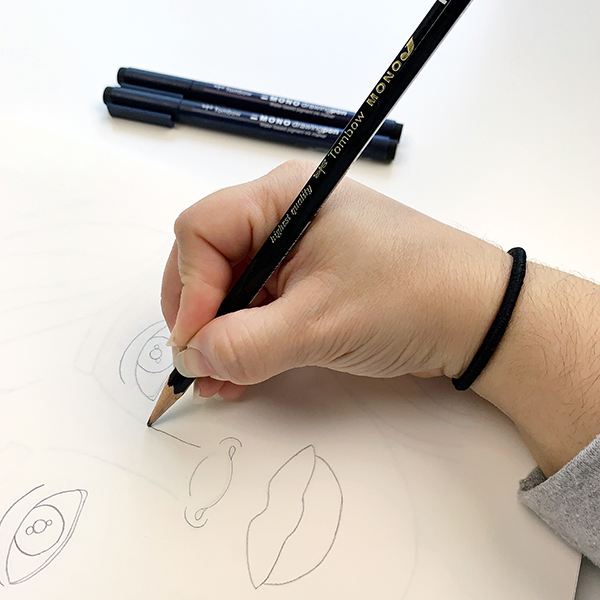 Product #2: Erasers
Tombow has so many erasers! They all have different jobs. The most standard would be the Tombow MONO Eraser. It comes in many sizes including Jumbo (in case you want to erase the whole page)! Lately, my favorite has been the Tombow MONO Dust Catch Eraser which piles the eraser bits to avoid making a mess. If you want to erase little details, the Tombow MONO Zero Eraser is the best one! Perfect for drawing and lettering.
Product #3: Markers
Tombow has a few markers you can choose. It all depends on your project! Out of all the Tombow products the most famous is probably the Tombow Dual Brush Pens. The Tombow Dual Brush Pens are perfect for art journaling, watercoloring and lettering. For art or coloring stamps, try out the Tombow ABT PRO Alcohol-Based Markers.
The next day, I used my little break to add color with the Tombow ABT PRO Alcohol-Based Markers Basic Palette. It contains all the colors of the rainbow.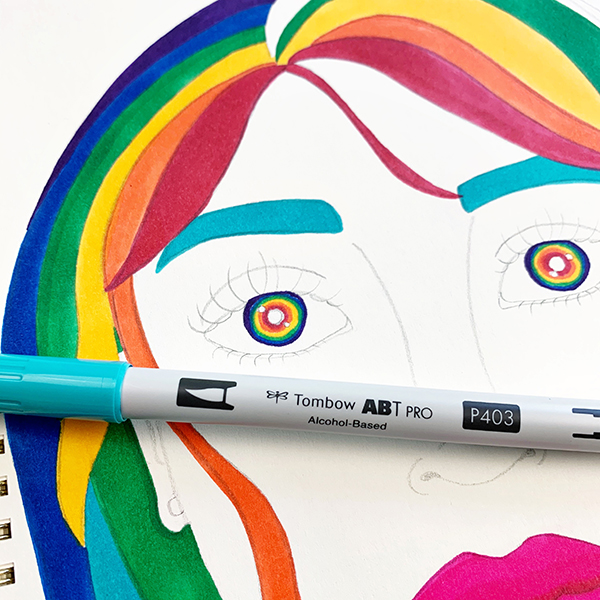 Product #4: Tombow MONO Drawing Pens
The Tombow MONO Drawing Pen comes in 6 sizes: 01, 02, 03, 04, 05 and 08. You can use them for faux lettering. You can also use them for writing on your planner, journaling or lining your illustrations.
This image was lined with Tombow MONO Drawing Pen 03.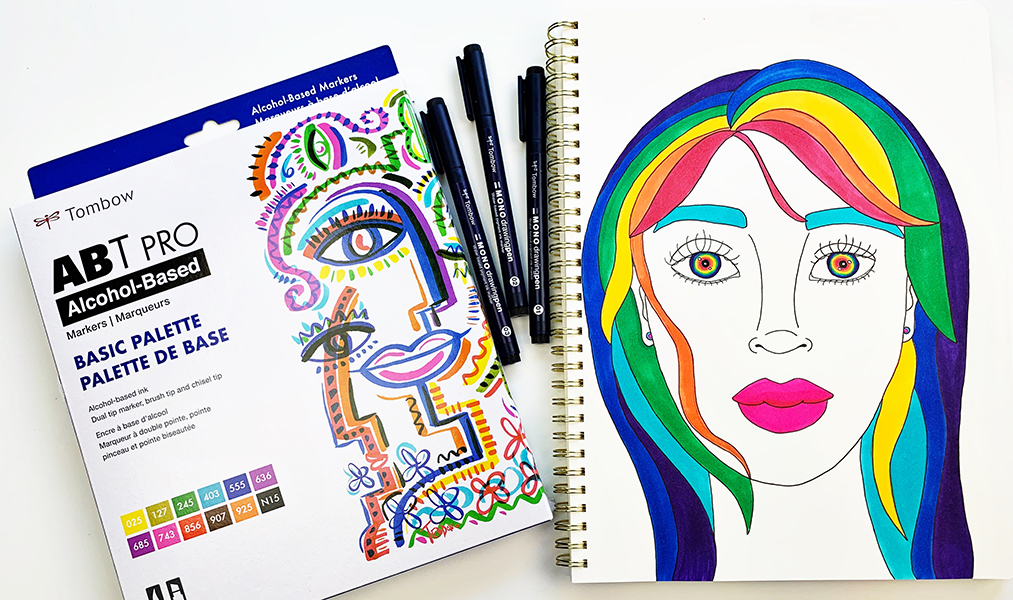 Product #5: Tombow Fudenosuke Brush Pen
I didn't use the Tombow Fudenosuke Brush Pen in this illustration but it is one of my favorite tools and a must have for every creative person. Now, you can even get them at Target! A favorite for letterers, from beginners to the experts! They are often used in manga drawings too!
The last detail I added to the illustration was the background. I created it with Tombow MONO Drawing Pens 01 and 05. I followed the rings to create horizontal lines and then I filled a few of them with vertical lines using the 01 tip size.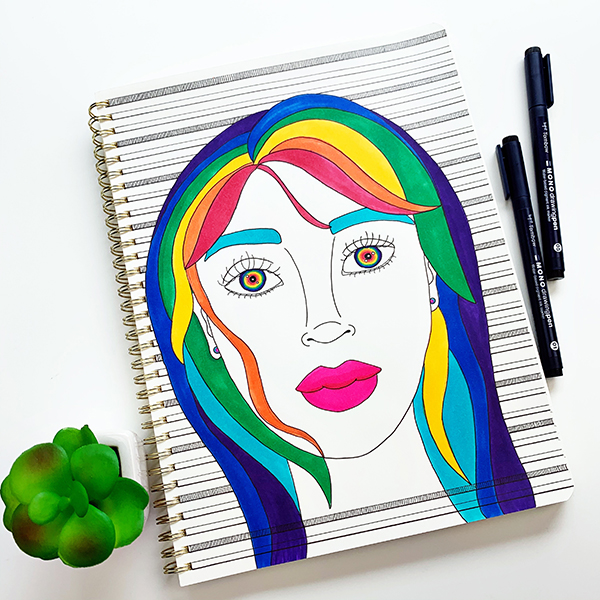 Which Tombow Products are on your must have list?