Hi Tombow fans, it's Mandy from @a_heartened_calling here to talk about five things I wish I knew when I started lettering.  Three to four months into hand lettering, I almost gave up on it completely. I'm glad I didn't. In that moment of time there were definitely things I wish I had known about lettering. I've now been hand lettering for almost five years and have learned so much along the way. So today, I'm sharing my five most important takeaways from my five years of lettering. I hope they help you in your lettering journey!
#1 – Not All Brush Pens Are Equal
This is probably the biggest thing I wish I knew when I started. When I made the decision to start lettering, I went to my local craft store and bought a couple of random art markers. I did no research on brush pens whatsoever or any kind of art marker for that matter. I just assumed they were all the same. NOT SO! The two pens I bought had tips that were EXTREMELY flexible (later on I realized one of them was a marker whose main purpose was to color and not letter!). I practiced lettering everyday but very quickly got frustrated that my lines were so shaky and I wasn't seeing any progress. A handful of months in, I discovered Tombow Dual Brush Pens from a blog post written by Pieces Calligraphy and decided to give them a try. Boy was I blown away at the difference! The tips were not as flexible as the pens I was using. After a few weeks of using them, I didn't have such shaky lines. They were much easier to control. Later on, I discovered the Fudenosuke Hard Tip and Soft Tip Brush Pen. I realized I started my lettering journey kind of backwards. The Fudenosuke Brush Pens have a smaller nib than the Dual Brush Pens and are not as flexible. Ideally, I should have started with the Fudenosuke Hard Tip Brush Pen, then moved up to the Fudenosuke Soft Tip Brush Pen and then moved up to the Dual Brush Pens. The Fudenosuke Brush Pens are even easier to control than the Dual Brush Pens, so starting with these two pens was something I wish I knew!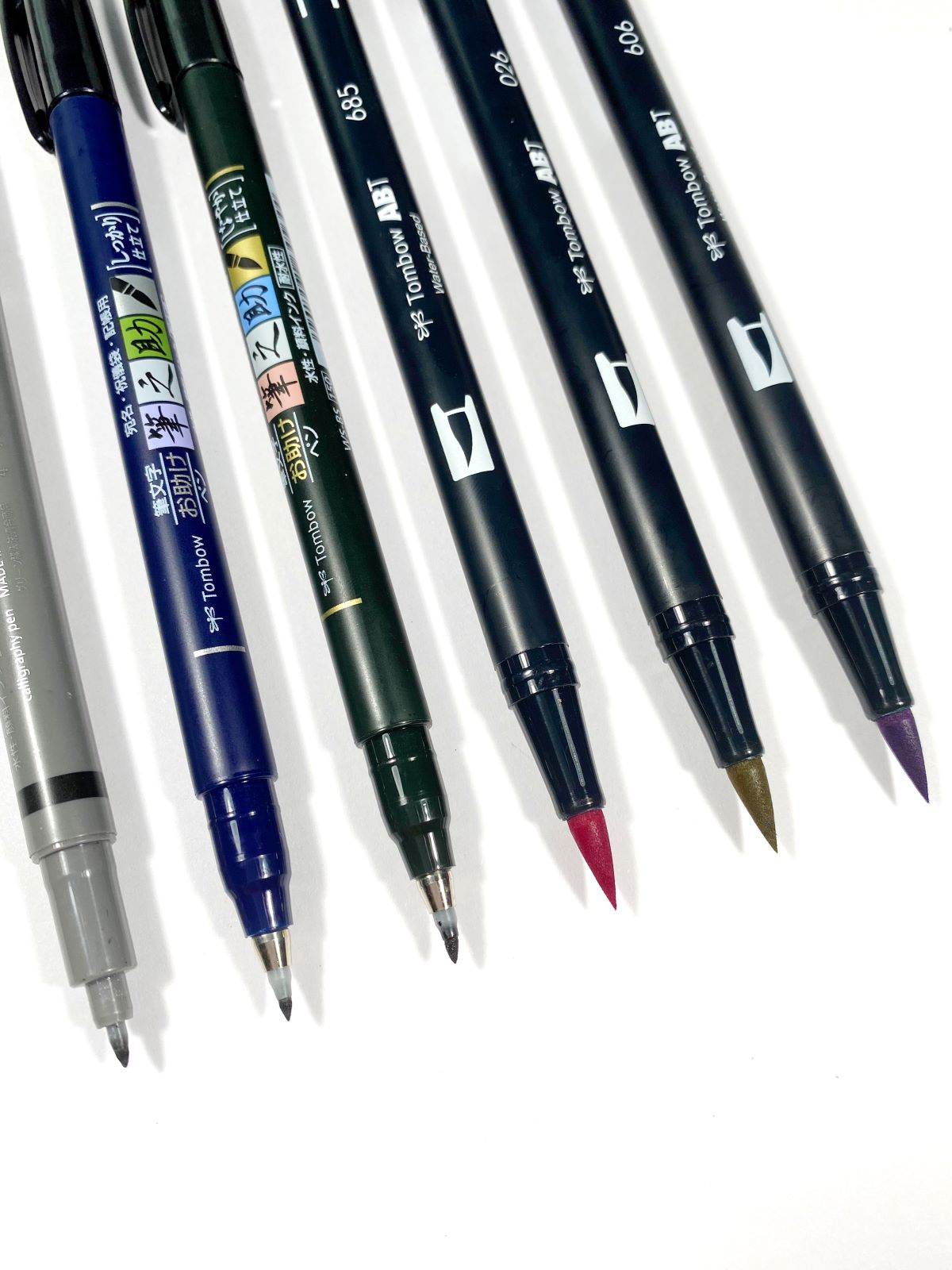 #2 – It Takes Time And Lots of Practice
Having the right kind of pen is a must. Let me say, they are not magic. They will not create instant gorgeous lettering or flourishes. Time and lots of practice is key.  As Ralph Waldo Emerson said, "Every artist was first an amateur."  I also didn't know there was such thing as the eight basic strokes to learn beforehand. These strokes are the foundation of all your letters, so learning them is super important! Below are the eight basic strokes. I highly recommend practicing them repeatedly with the Fudenosuke Brush Pens and then move up to the Dual Brush Pens.
Worksheets are also a great tool to practice lettering. Tombow has free worksheets on their website! (Visit Tombow Free Worksheets  to download them).
If you get frustrated, just take a short break but don't give up! I gave myself short goals to achieve everyday, like lettering something for 10-15 minutes. It could've been my dinner, favorite movie title, favorite song, etc. I lettered whatever came to mind to get more practice. A little practice each day adds up to big growth down the road. So, keep at it!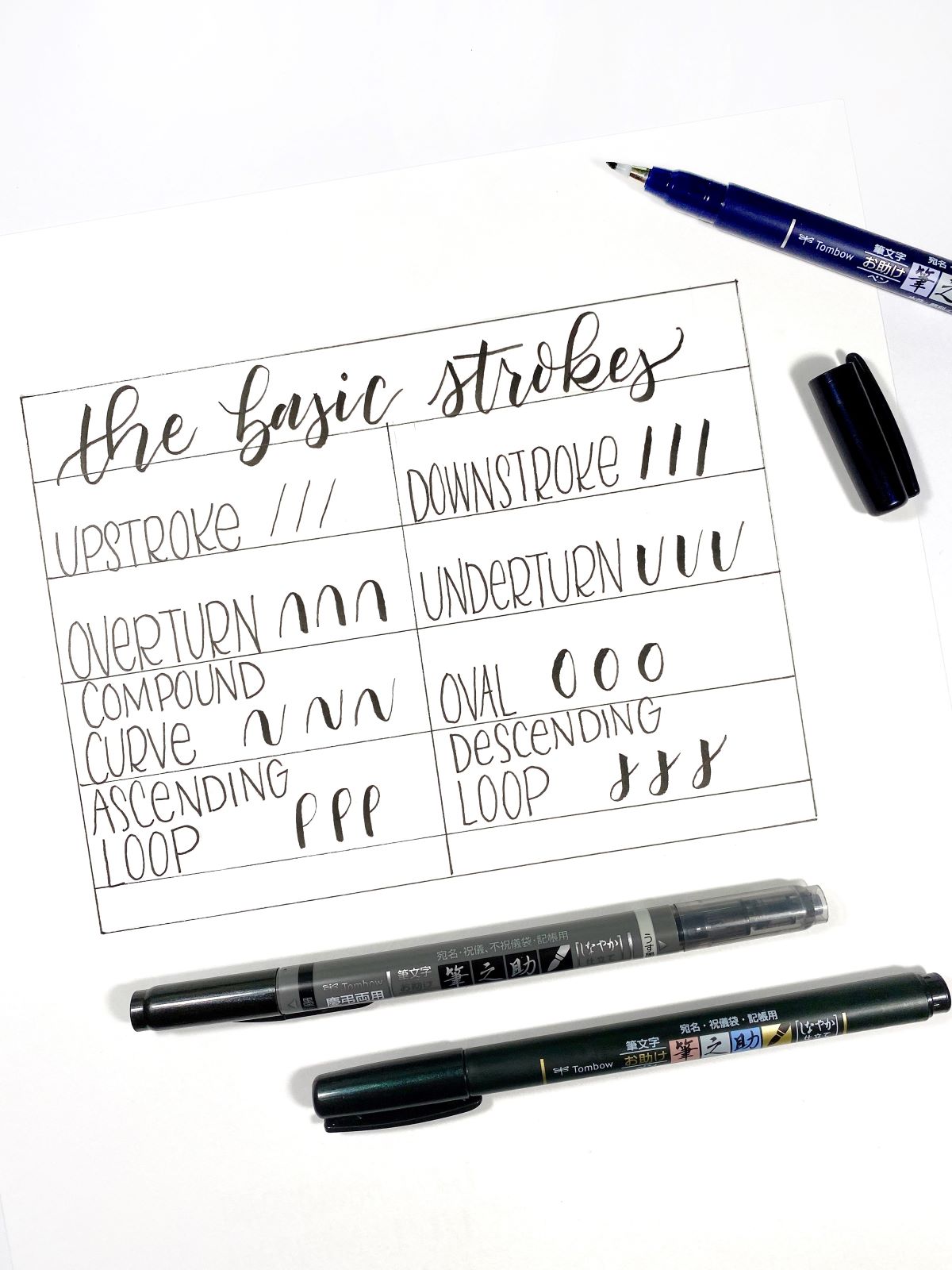 #3 – A Pencil Can Build Confidence
A pencil wasn't introduced into my lettering journey until somewhere around my second year. I started using it first to practice flourishing so I wouldn't go through my pens as fast. However, I found I was getting frustrated that my words weren't lining up the way I wanted them to or my letters weren't in the exact place I wanted them to be. I went through A LOT of marker paper just lettering out words with my Dual Brush Pens and not liking it. Some people can take a brush pen and letter out a phrase without even thinking and the alignment comes out perfectly. However, I am not one of those people! I was putting a lot of pressure on myself to get my lettering just right the first time. So, a pencil became my best friend. Today, I ALWAYS sketch out my lettering first with a pencil, then once it looks exactly the way I want, I letter over it with a Dual Brush Pen. No more pressure on myself! There is no rule that says you have to wing it and just letter something out. Sketching your lettering out in pencil first will for sure help build confidence in yourself! You know it's going to come out just the way you want it to and you won't have wasted precious paper and pens to get it just right!
Below you can see that I sketched out one design first. Then, I went over it again making certain letters bigger and trying to fill in the space between the words.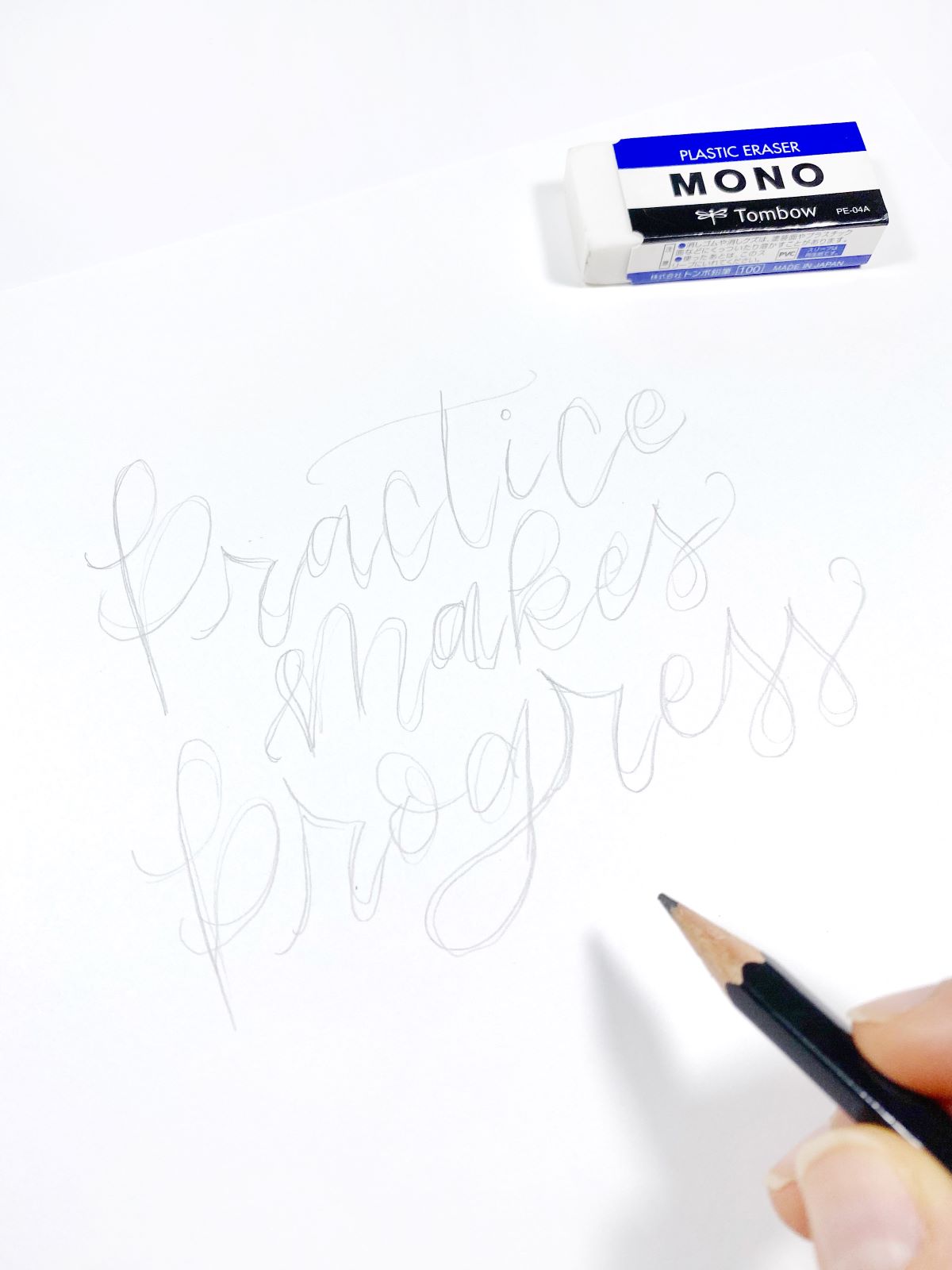 #4 – Paper Matters
Another thing I wish I knew: not all paper is the same and some will fray your tips much faster than others! Marker paper is a great choice but I wish I knew about tracing paper much sooner than I did. Marker paper is expensive and you can go through it pretty quickly. Tracing paper however is very cheap and smooth enough to not fray your tips. To practice lettering, I highly recommend using tracing paper. You can also place a worksheet underneath a piece of tracing paper and letter directly on the tracing paper which makes your worksheets reusable every time!
When you want to create a lettering piece that's not just practice, mixed media and bristol papers are excellent choices. The paper is smooth enough to not damage your precious pens!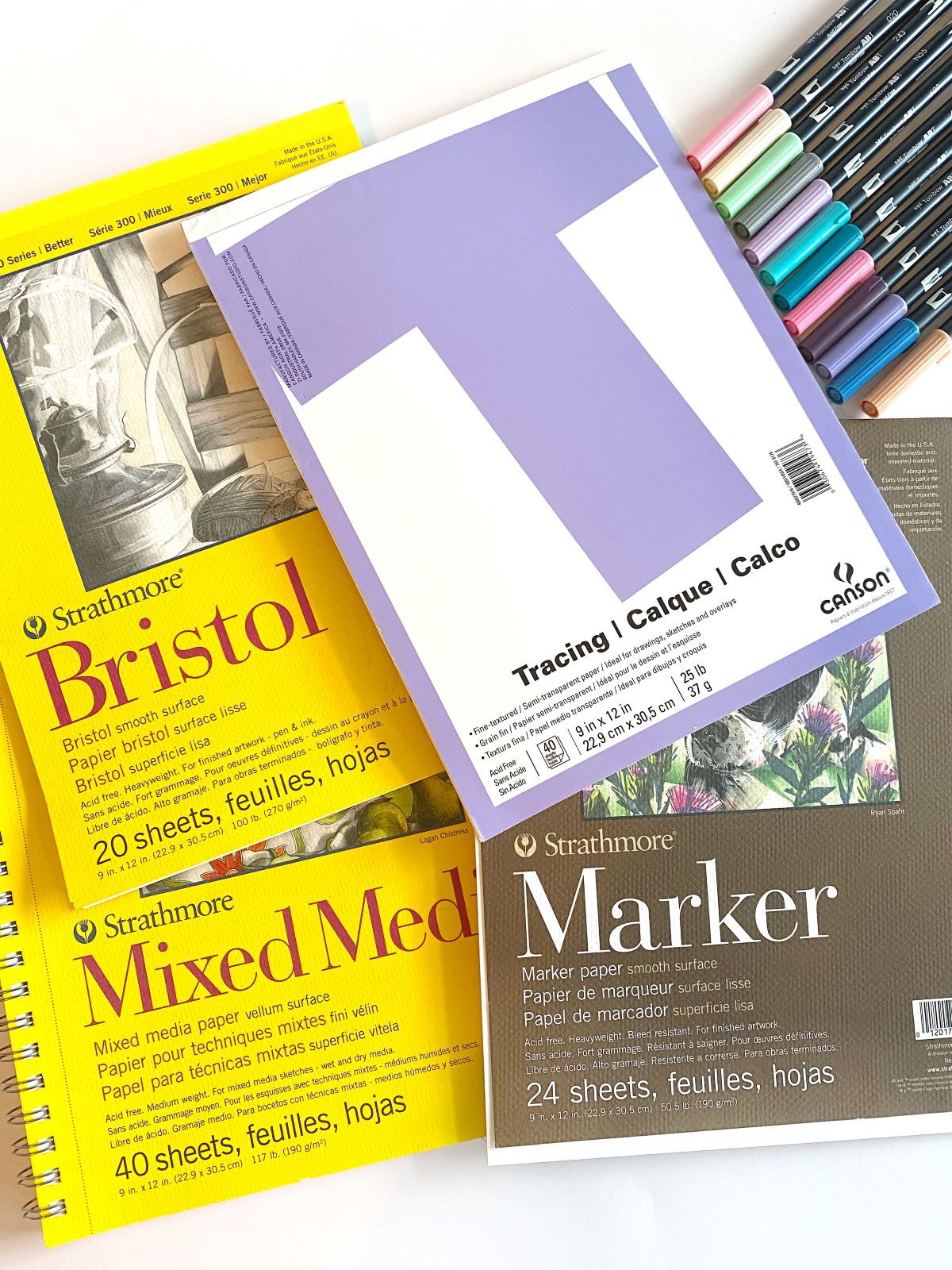 #5 – Be You! Copying is Not Okay
When I first started lettering, I came across lettering artists whose art I just loved. To practice, I would try to imitate their style of lettering. And that's okay, if done privately and just to practice.  If you were to go to art school or take an art class you would imitate an artist's project so you can learn the process and techniques. I remember my kids taking an art class where they had to recreate an Andy Warhol painting. They were so proud of their final project and what they accomplished! I of course was proud of how well their pieces came out and posted it to social media as any proud mom would do! But neither my kids nor myself ever claimed it to be their original art or their idea. No one would ever re-create a painting by Warhol or Van Gogh and pass it off as theirs!  It's kind of the same with lettering. There's a time and place for copying, so you can practice and learn.  However, it's never okay to pass that art off as your own. It is certainly never okay to try and sell that art!
Artists spend A LOT of time on their art, in addition to their heart and soul. There are lots of artists that create that art for an income to support themselves or their families. Copying is actually stealing from that artist. Instead of copying someone, let an artist inspire you to create something that's 100% you.
Here are some do's and don'ts when it comes to copying:
DO:
If you copy someone, do it privately for yourself and just to practice.
If you do post an imitated piece of art on social media, be sure to tag the artist who created the original piece.
Also be sure to mention in your caption the original artist's name and that you were only practicing.
Spend more time developing your own style than copying. Your own style will shine through and develop with practice!
Instead of copying, think of how you can change the lettering/design to make it your own.
Check to see if the artist has a license you can buy. Some artists sell a license so you can use their lettering on products you may decide to sell if you have a business.
DON'T
Post a copied piece on social media without mentioning and tagging the artist.
Ever claim a copied piece as your own and not say you were practicing.
Ever sell a copied piece to make money. You can lose your business doing this.
Continue to keep copying. At some point, you should be lettering in your own style.
Get bit by the comparison monster. You may come across lettering that has taken that artist three years to develop while you've only been lettering three months. It takes time and practice. You WILL get there!
Those are my five things I wish I knew! Is there anything you would add to this list? Tell me in the comments!
Thanks following along today. I hope these five things are helpful for your lettering journey!
For more lettering inspiration, be sure to check out these posts!:
See you next time!
Mandy