Hi Tombow friends, this is Jennie! I'm sharing ten easy ways to make your handmade cards better! If you've never made a handmade card before, don't be intimidated. These tips are so easy! Mother's Day is around the corner, so check out these ideas to impress your mom!
Supplies:
Patterned paper
Die cuts
Other embellishments like sequins, buttons, pearls, etc.
Tip #1: Use an excellent adhesive!
This seems like a no brainer, but receiving a card that needs some assembly because it fell apart on the journey to your hands misses the initial "WOW factor!" First impressions matter. If your first reaction is to put the card together like a puzzle then the wow factor slips down to second place. This is why my number one recommendation for card adhesives is the Tombow Xtreme Adhesive. It's five times stronger than other adhesives and it's perfect for unusual surfaces like acrylic, wood veneers, acetate, etc.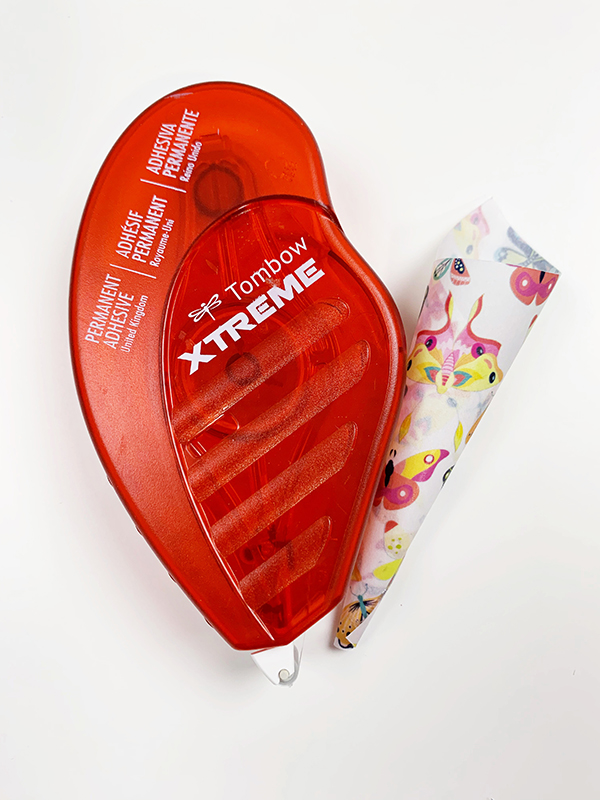 Tip #2: Give it dimension
Adding extra layers using the Tombow Foam Tape makes the card look more finished and professional. You can use more than one layer. Adhesives are not the only way to show dimension. You can roll flower petals and layer it with different die cuts. In the photo above, I used this piece of vellum to put a bouquet of flowers inside. I used a 3×3 square, rolled it and glued it with the Tombow Xtreme Adhesive. Flatten the roll slightly and add Tombow Xtreme Adhesive on the back to glue it on the card.
Tip #3: Mix up the patterns
Don't be afraid to mix and match patterns. If you use one that is really busy or colorful, try to balance it with a simple pattern like polka dots, stripes or something in black and white. In the cards I made, I used the fox pattern paper as my neutral paper.
Tip #4: It's the little things.
Little details are the cherry on top of cards. Flowers are a perfect opportunity to add enamel dots, pearls, rhinestones and buttons at the center. I like to add these details in odd numbers, usually three to create a visual triangle. Another trick is to make sure that these little bits are always touching an element on the card, instead of floating on empty space.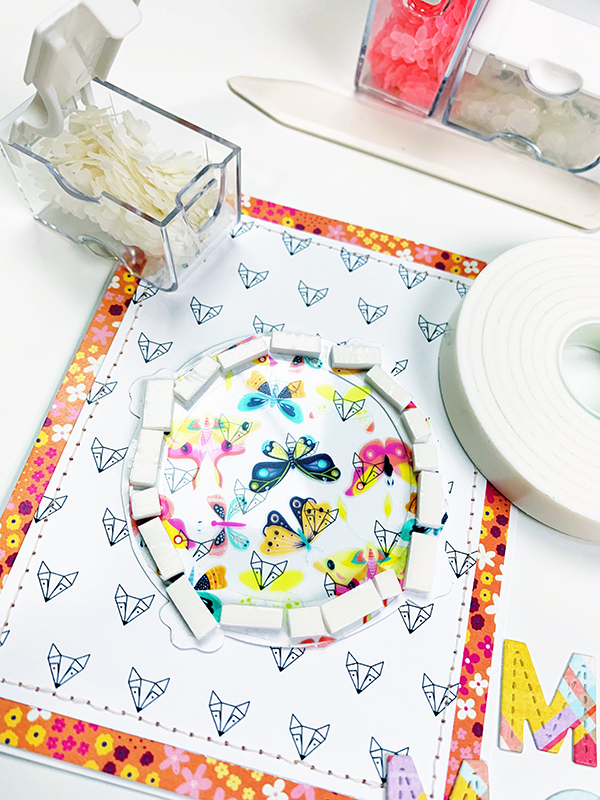 Tip #5: Shake it!
There are many ways to make a shaker card. You can create a box using the Tombow Foam Tape. Circles are tricky, so for this card I only used bigger sequins. You can make a little packet using recycled packaging. To close the edges, you can use washi tape or the Tombow Xtreme Adhesive. If you have been crafting for a while, you might be familiar with something called a Fuse Tool. It melts plastic from page protectors to seal them. If you use one, the last two you can add other fun elements like chunky glitter or seed beads.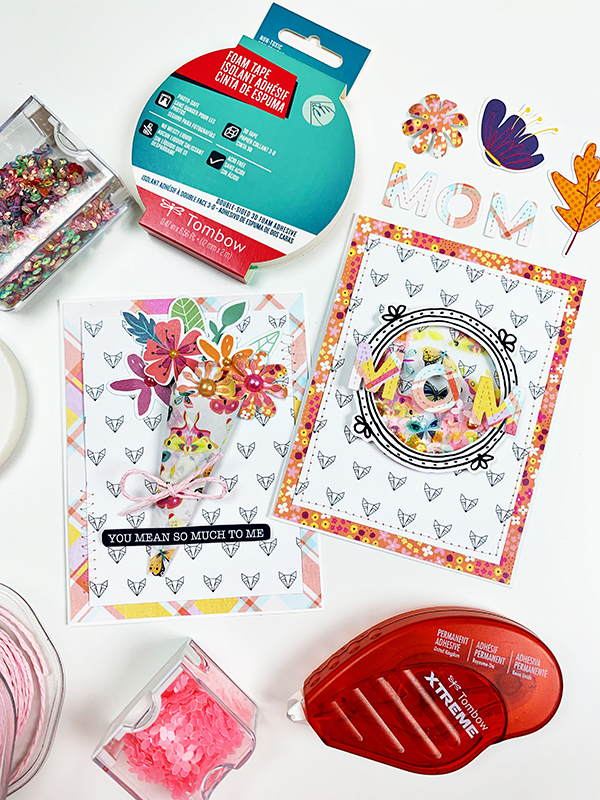 Tip #6: Use translucent elements.
I used an acetate paper for the shaker window. It adds an extra fun element to the window. Sometimes it can work as a patterned layer that is not as busy as patterned paper. The same can be said for vellum, which can be used to lower the intensity of a very busy pattern.
Tip #7: Add thread.
Use your sewing machine or a needle to add a few stitches to your cards or to sew the base to give it an extra little detail.  A little tip: add adhesive in places where the needle won't go through. It dulls the needle and makes it harder to sew through. Some crafters like to add messy thread to give the card extra texture. You can use twine to make little bows too!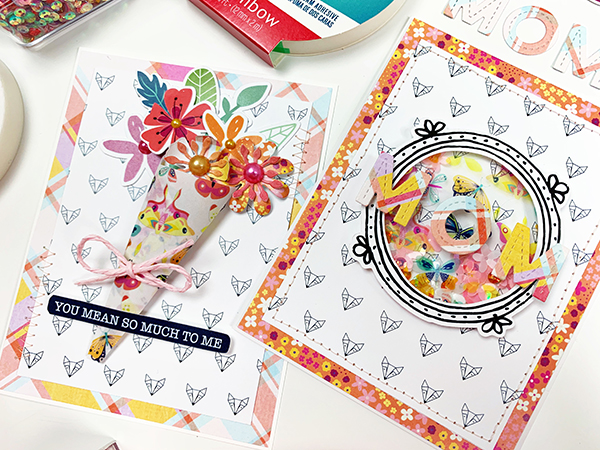 Tip #8: Use your dies and punches.
If you own dies and punches, you might forget about them. They are excellent for making those pieces that are not in your crafty stash. I always recommend to get circles and alpha dies. Don't be afraid to layer them too!
Tip #9: Don't forget the envelope!
You can use Tombow Markers to decorate but if you want an easier alternative, use stickers, die cuts and washi tape.
Tip #10: Use your best handwriting!
Use the Tombow Fudenosuke Brush Pens to address your envelope! These brush pens have a tip small enough to use inside of your cards. If you need some practice, Tombow has these FREE practice sheets to help you out!
I hope you enjoyed these tips! If you want to learn more, read these other posts about cardmaking:
How To Use These 6 Tombow Adhesives for Cardmaking
Learn these 5 Easy Tricks for Cardmaking!
How to Start Making Handmade Cards.
Take Care!