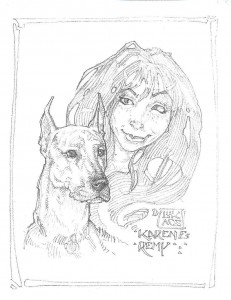 To showcase the variety of projects that can be created with Tombow products, we've dubbed Thursdays on our blog as Tombow's Artist Corner. Every Thursday, we'll highlight an artist and artwork that has been created using their favorite Tombow products.
Today, were featuring the work of Chuck Lukacs. Chuck is a fantasy freelancer and has been illustrating for the Sci-Fi and Fantasy art communities for the past eight years. In terms of technique, he has been influenced by the many craft revival movements throughout history; Japan's Ukiyoe period, the Pre-Raphaelites, Art Nouveau, Music Poster Art of the 70's, and Hip-Hop Graffiti imagery.
Chuck is a raving fan of Tombow pencils, which he uses to sketch all his creations. He fell in love with our pencils after picking some up from his local art shop in Michigan.  
"After sketching for a week with the Tombow MONO B, nothing else could compare to its smoothness, and I went back to the shop and bought all they had."
Chuck used our pencils to sketch this beautiful picture of Karen and her dog, Remy. Click here to visit Chuck's website to see more sketches and get more insight into his artistic technique.