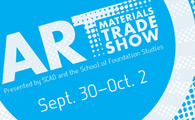 This weekend we will be attending the 4th annual Art Materials Trade Show presented by the Savannah College of Art and Design (SCAD). The trade show will help fund student scholarships and educate students about the art and design materials industry.
We are excited to share tips and tricks with visiting artists and SCAD students throughout the weekend. Marie Browning, Tombow designer, will be giving six educational presentations to SCAD students in a variety of classes demonstrating new and innovative uses of our graphite pencils, erasers, dual brush pens and adhesives. Our products will be offered for sale at discounts at our booth located on the lower level of the River Club Exhibition Hall.
SCAD is the most comprehensive art and design university in the world, offering more degree programs and specializations than any other art and design university. Attending the trade show at SCAD is a great opportunity for us to educate and collaborate with students and artists about our diverse product portfolio and gather qualitative market feedback on which Tombow products best meet their artistic goals.