Hi, Jessica from BrownPaperBunny here to show you gratitude journaling three ways. There are so many benefits to gratitude journaling and expressing your gratitude. For example, stress reduction, greater happiness, mindfulness, and increased positivity (just to name a few). I'm going to show you three of my favorite ways to work in my gratitude journal. Here's what you'll need to get started.
Supplies: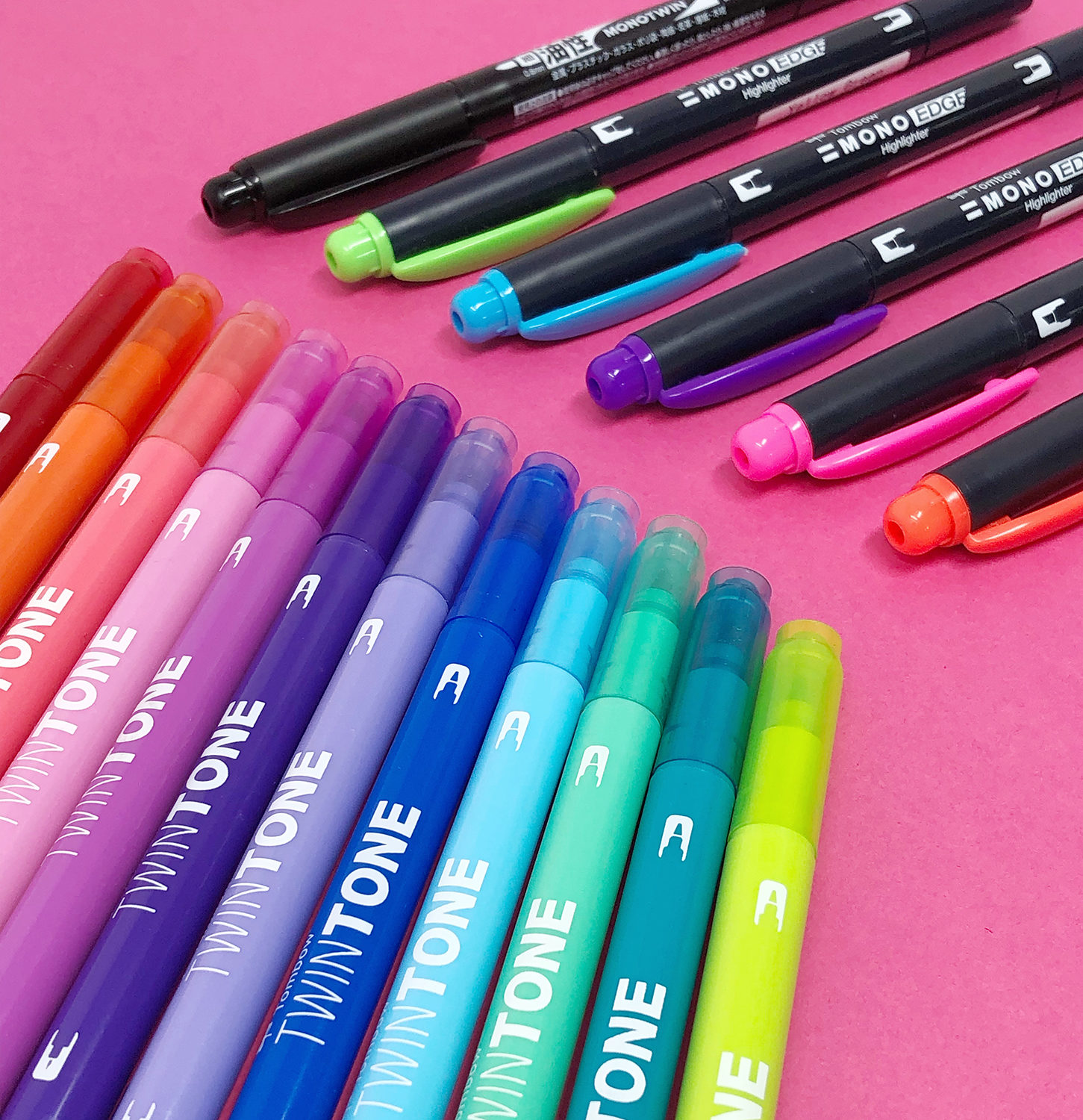 Prepare Your Colors
I like to swatch out my colors before I start journaling and pair up colors I want to use together. For these pages, I paired my favorite MONO Edge Highlighters with slightly darker shades of TwinTone Markers for bright and happy colors.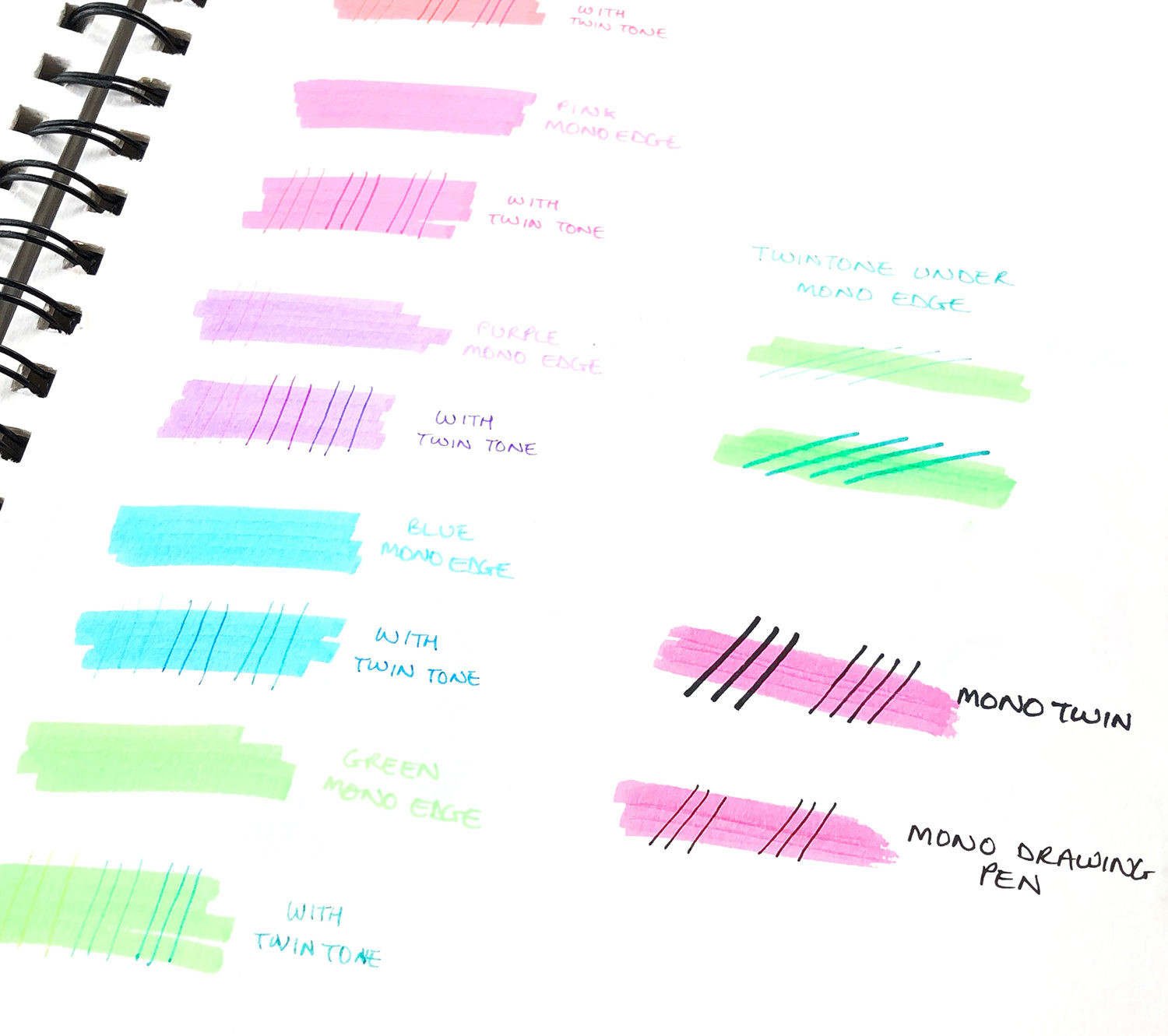 Style 1: Daily Treasures
My all-time favorite way to keep gratitude front of mind is to look for (and record) special little moments every day. I call these 'Daily Treasures' and they can be anything from a particularly good cup of coffee or a hug from your kid as you drop them off at school. This sort of journaling makes me practice gratitude more often during the day. I used my MONO Edge Highlighters to create a swatch of color. Then, I used TwinTone Markers to draw little icons on top of the highlighter. I used the thin end of my MONO Twin Permanent Marker to add captions to each.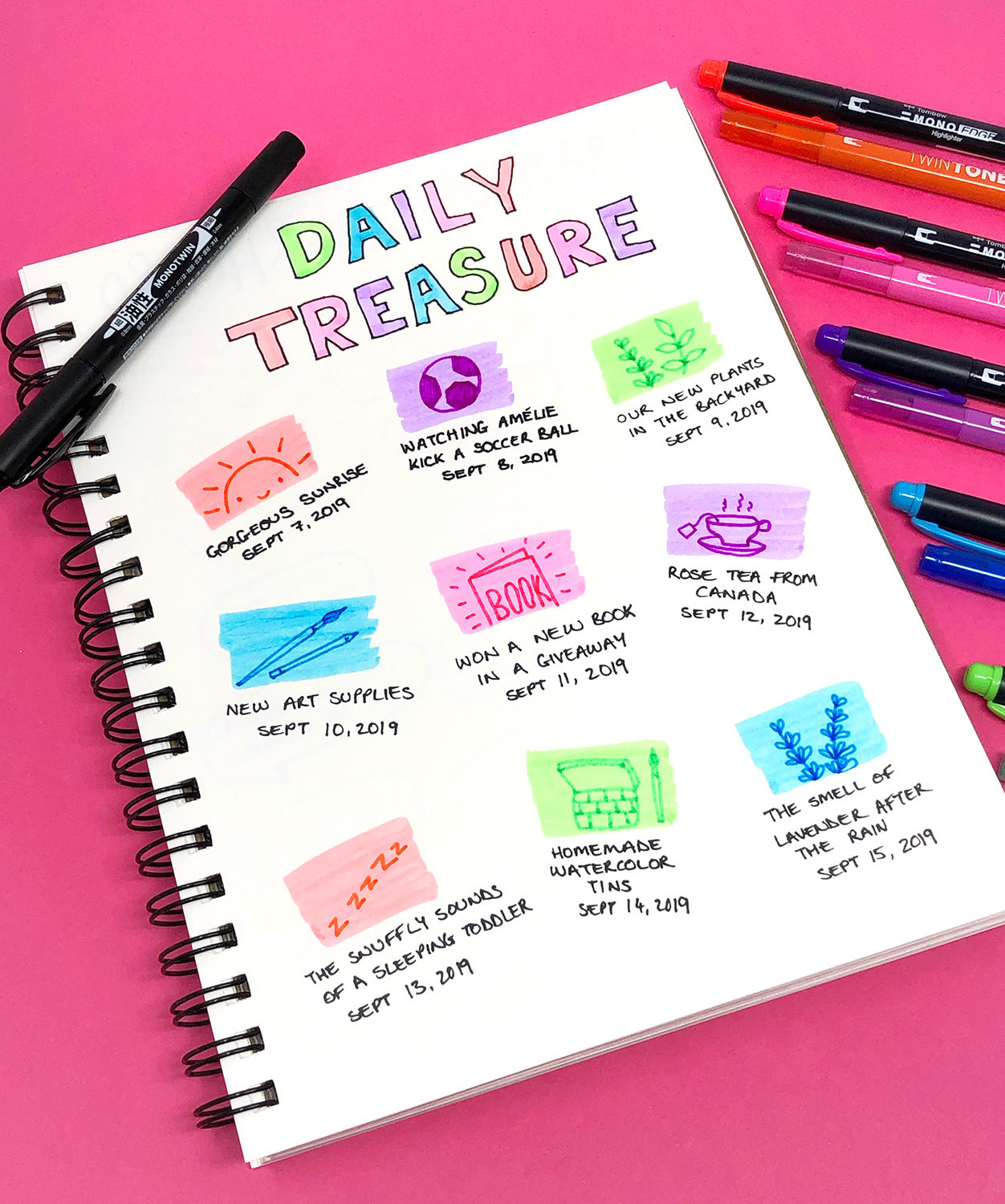 Style 2: Gratitude A to Z
For this style of gratitude journaling, you just write down the letters of the alphabet across a spread in your journal. Come up with something you are grateful for, for each letter. It's great fun! You have to get creative when you start getting down to X and Z! Again, I used TwinTone Markers ontop of MONO Edge Highlighter ink. I love the contrast and brightness of using the two together.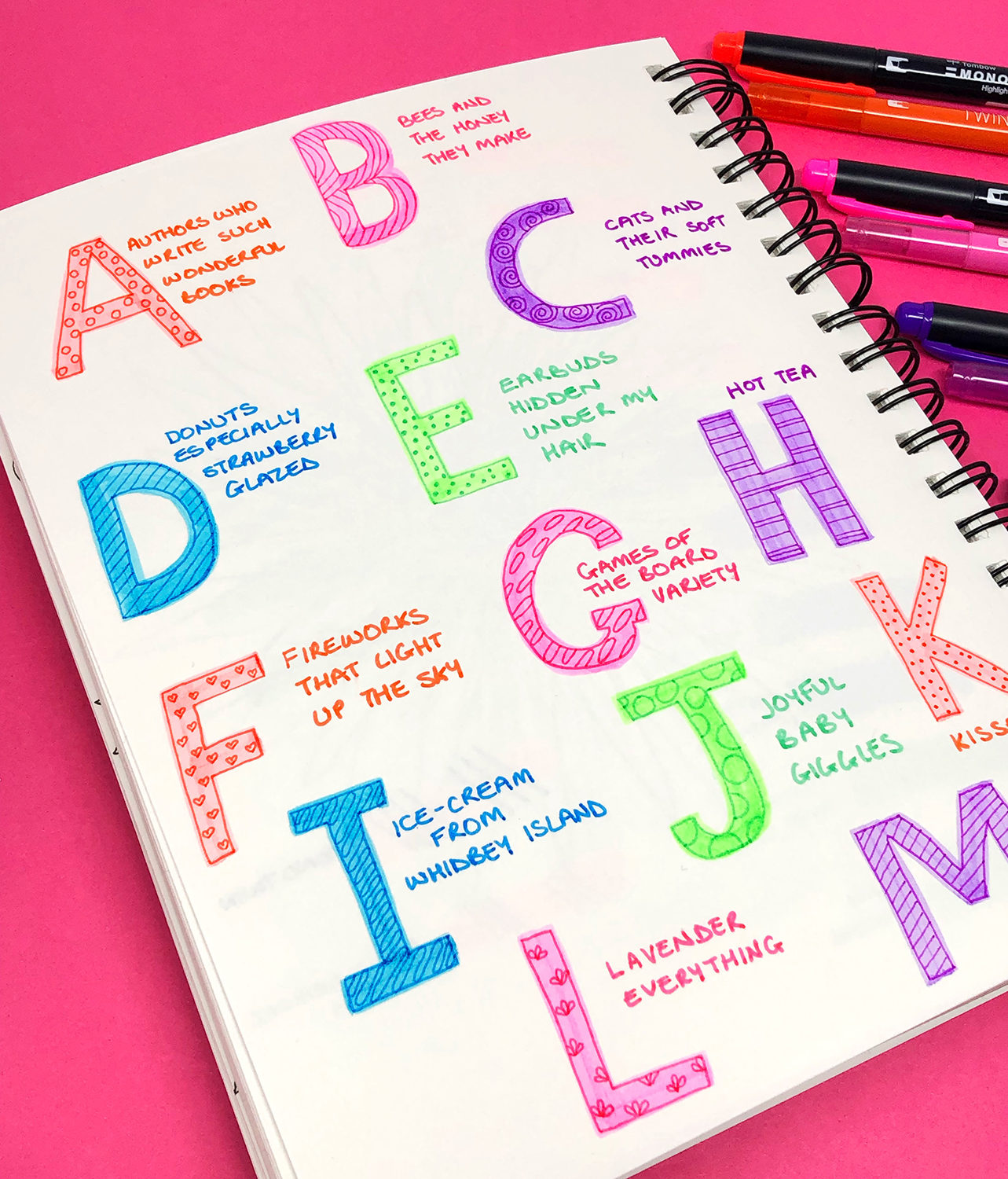 Style 3: Overheard Gratitude
I find it really inspiring to hear what other people are grateful for. Sometimes those things are similar to my own. Sometimes they really open my eyes to things I take for granted in my own life. Ask your friends and family what they're grateful for and record the things they say. You can also listen to conversations around you when you're on public transport or at a coffee shop. Make note of things people sound pleased about. I used a rainbow selection of TwinTone Markers to create this page of speech bubbles and overheard gratitudes.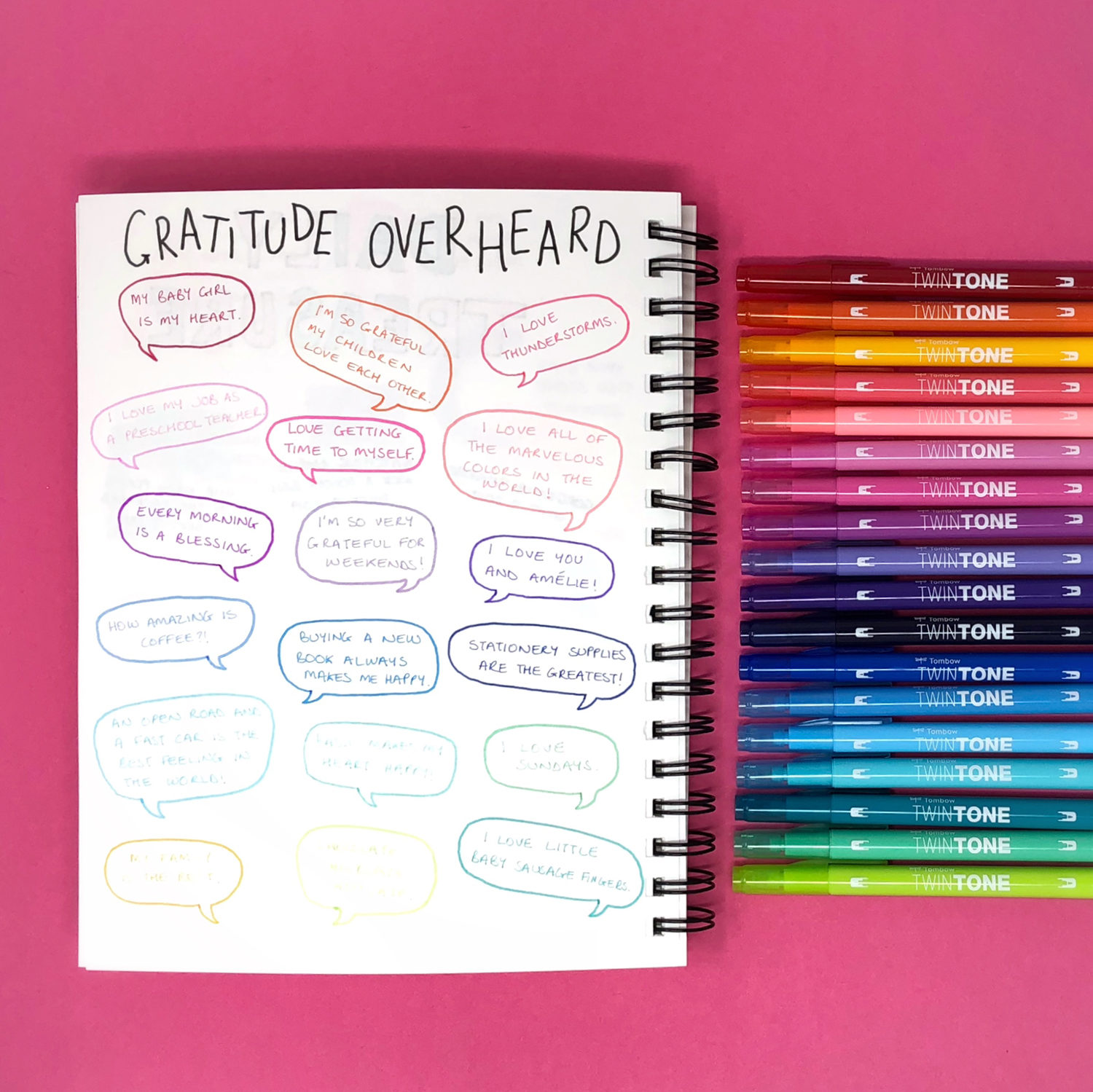 We'd love to know what you're grateful for. Tag @TombowUSA and @BrownPaperBunny on social media so we can see your gratitude journals!