Happy Tuesday!  Beth here to share my Quick and Easy Monochromatic Ornaments with you today!  The holidays are always a busy time and they seem to go by in the blink of an eye these days, so why not slow down and take some time this weekend to create some keepsake ornaments with the kiddos?  And you can use up some of your scrap papers while you are at it!  I created each ornament with monochromatic card stock in a variety of colors, but you could used patterned card stock as well.  Monochromatic just means in the same color family, and I used shades of reds, greens, browns and yellows, but the possibilities are as endless as your imagination!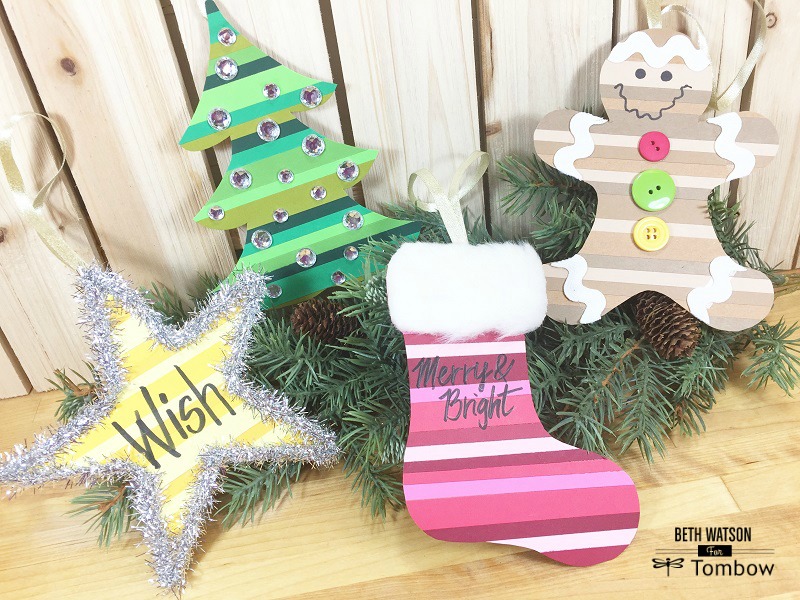 Step One:
Gather your monochromatic card stock and your paper trimmer.  Cut strips in a variety of widths starting with 1″, then 1/2″ then 1/4″.  This is actually the most time consuming step, so I did this while watching a Christmas movie – to get me in the spirit, of course!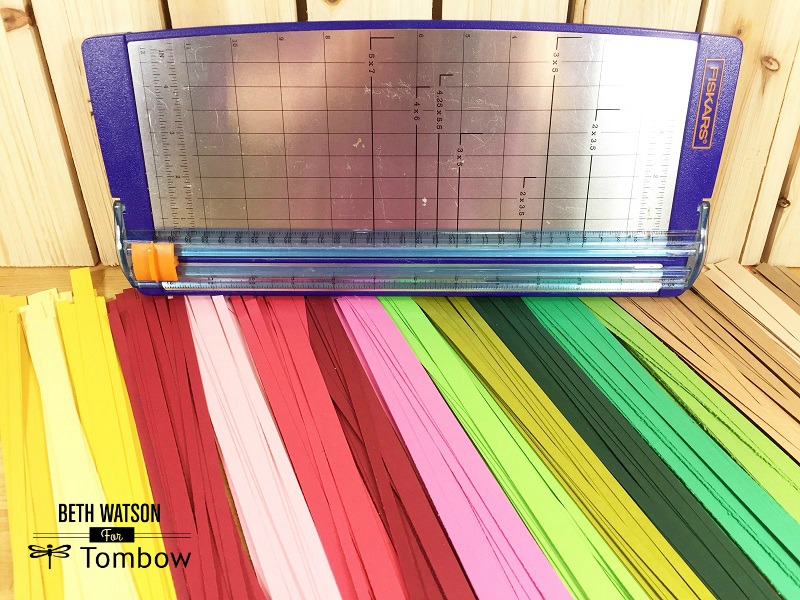 Step Two:
Draw some basic holiday shapes on plain paper with your Tombow MONO Drawing Pencil and MONO Zero Eraser.  I prefer the 3H for sketching since it is a harder lead and will leave a lighter line.  Once you are pleased with your shapes, ink in the outline with the Tombow MONO TWIN Permanent Marker, using the broad tip and cut out neatly with scissors.  I selected a tree, stocking, star and gingerbread man, but you can create any shape that has meaning for you and your family.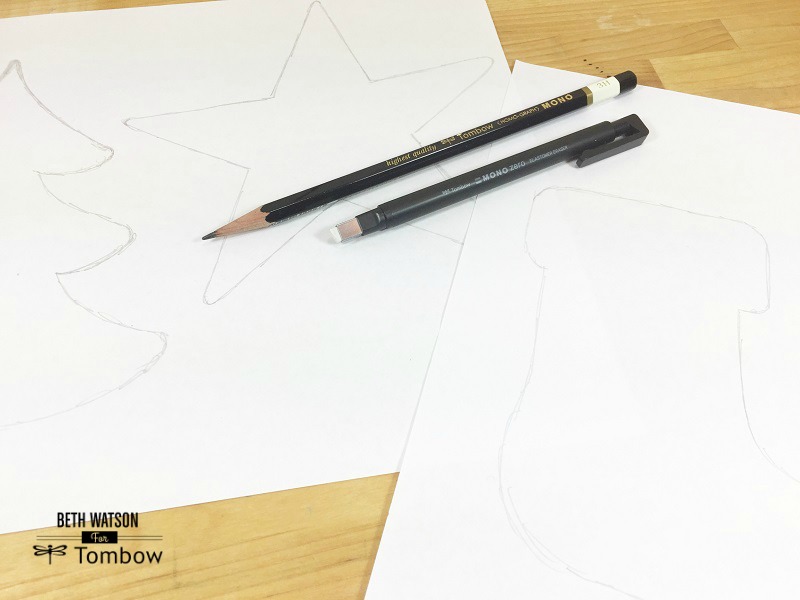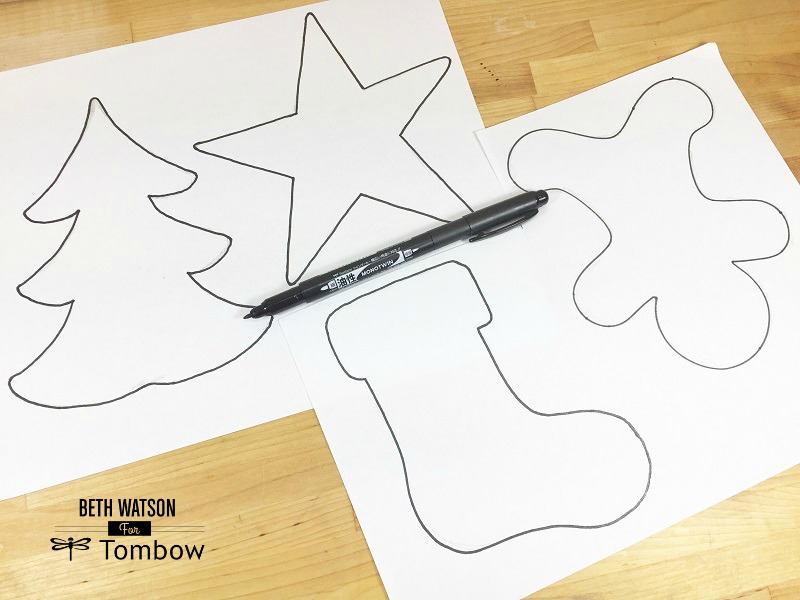 Step Three:
Measure your shapes, then trim a neutral color piece of card stock to those rough rectangular dimensions.  Using your Tombow MONO Adhesive + Permanent runner apply adhesive to the entire rectangle.  Begin laying down the monochromatic strip of card stock to your rectangle in a random order, using different colors and different widths until the entire rectangle is covered.  Trim any strips that hang over the edge of your base card stock.  The MONO Adhesive + Permanent is perfect for this application because it has a solid, permanent bond in a paper to paper application.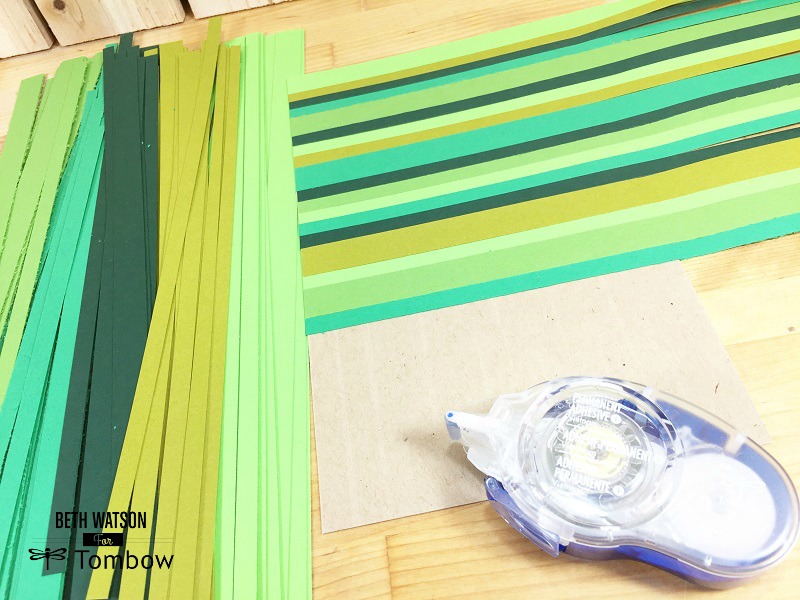 Step Five:
Apply Tombow MONO Removable Adhesive to the back of your patterns, then apply to your monochromatic card stock rectangles and cut out with scissors.  Punch a hole at the top of each ornament, create a hanger with ribbon or twine and secure with a knot.  The MONO Removable Adhesive is great for holding all types of patterns in place both on paper and fabric or even felt!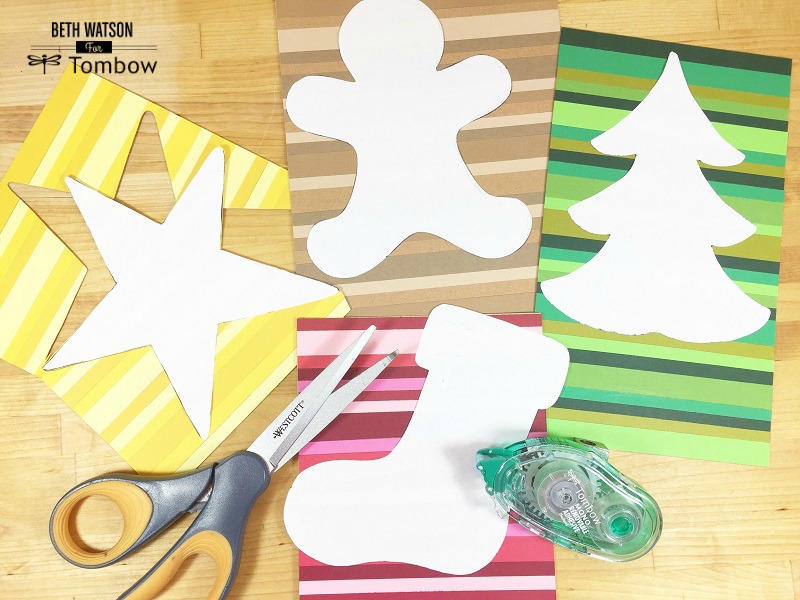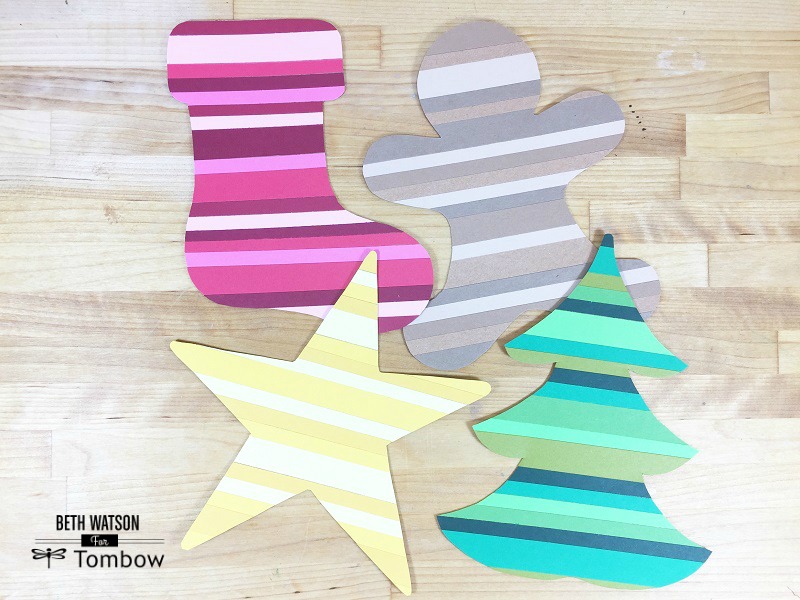 Step Six:
Now on to the FUN part – DECORATING!  If you are a minimalist, then you can definitely be done with step five, but I like a lot of BLING on my tree!  Adhere faux fur trim to the top of your stocking, rick rack and buttons to the gingerbread man, tinsel trim to the edges of your star and rhinestones to your tree – all with Tombow Xtreme Permanent Adhesive.  The Xtreme Permanent Adhesive is five times stronger than regular adhesive runners, so it is perfect for bulky embellishments (and when you don't want to wait for liquid glue to dry, like when you are crafting with the kiddos!)  Just remember to roll out the adhesive then swipe tip to the side for a clean application.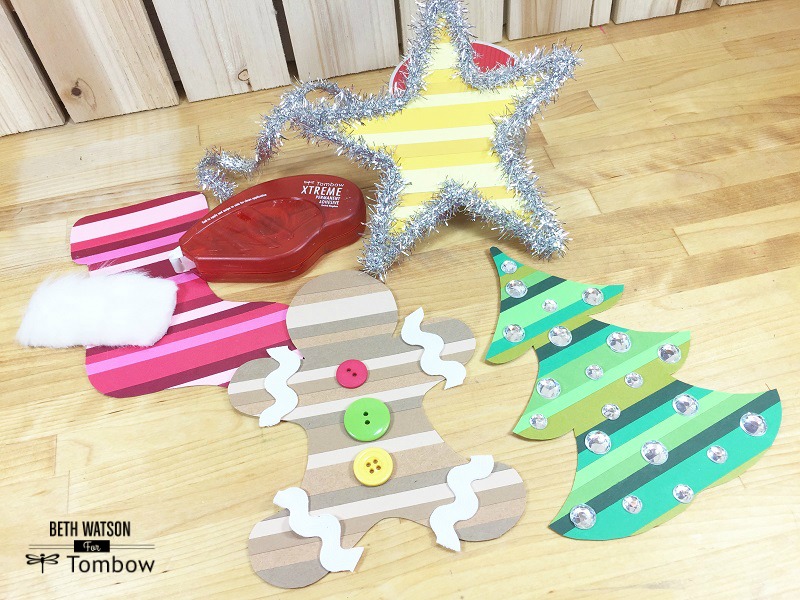 Step Seven:
The final step is to personalize your ornaments with your favorite Tombow pen.  Mine is the MONO TWIN Permanent Marker, but you could use the Fudenosuke Brush Pen or Dual Brush Pen.  Write "Wish" on your star ornament, each family members' name on a set of stockings, draw a face on the gingerbread man or simply have the kiddos write their name and the year, so that these Quick and Easy Monochromatic Ornaments become keepsakes for years to come!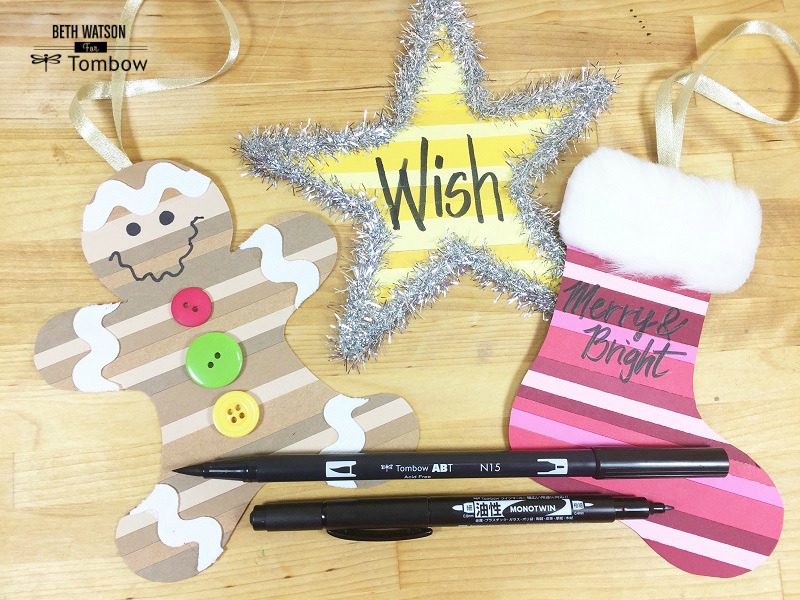 I created all four of these ornaments in under an hour, so just think of what you can create in an afternoon or evening family crafting around the dining room table!
Check out the blog each day this week and let the Tombow Design Team inspire you make some crafty memories this holiday weekend with your family and friends!  Thanks for stopping by and HAPPY THANKSGIVING! – Beth