Summer is a great time to send a fun note, and this tutorial will show you step by step how to create a fun and unique piece of happy mail with simple summer line doodles. I (Lauren of Renmade Calligraphy) love sending a piece of mail that I know will bring a smile to someone's face.  It's super easy to do using just a few common tools that you probably already have around your craft area or desk.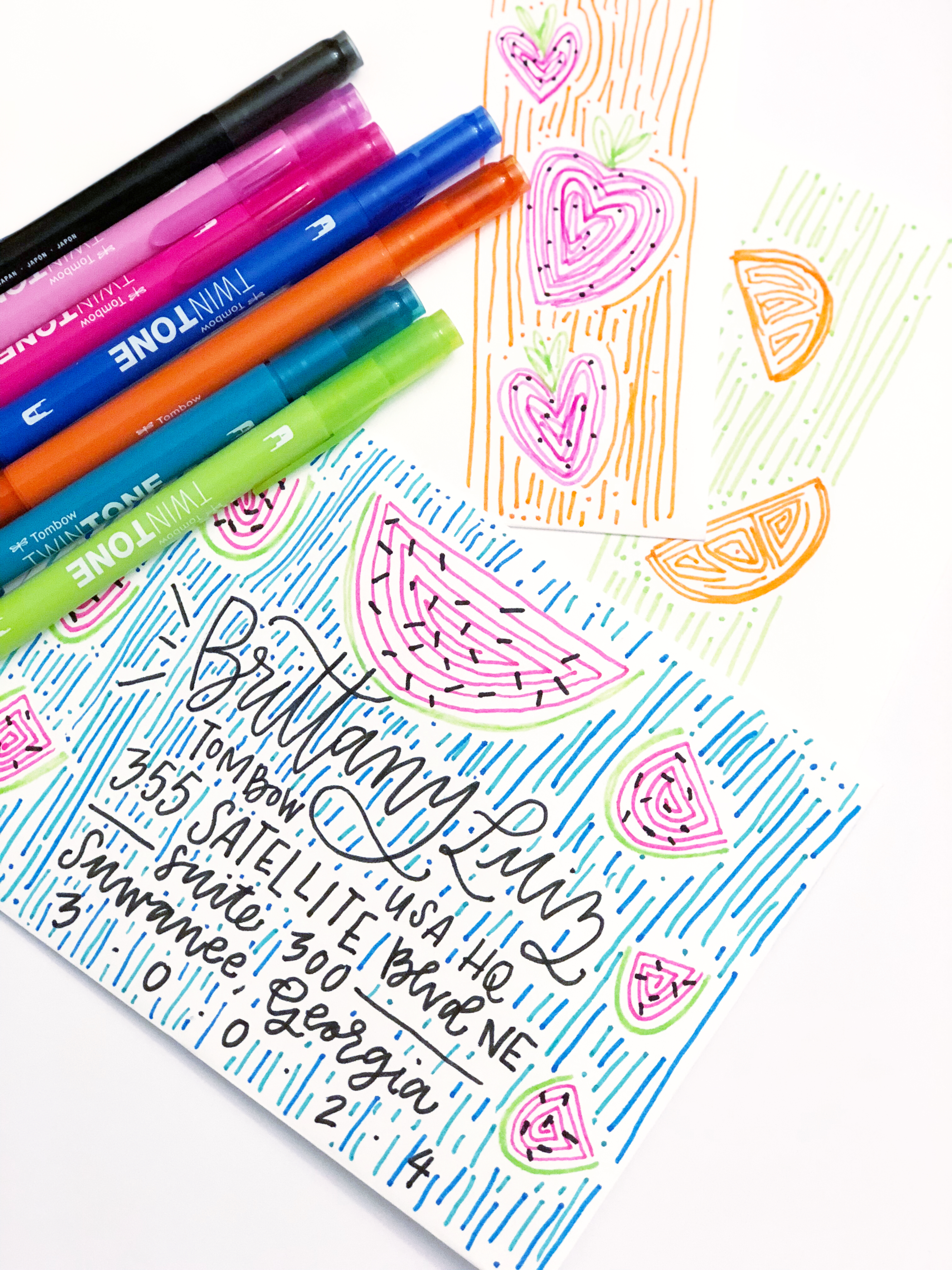 WHAT YOU'LL NEED: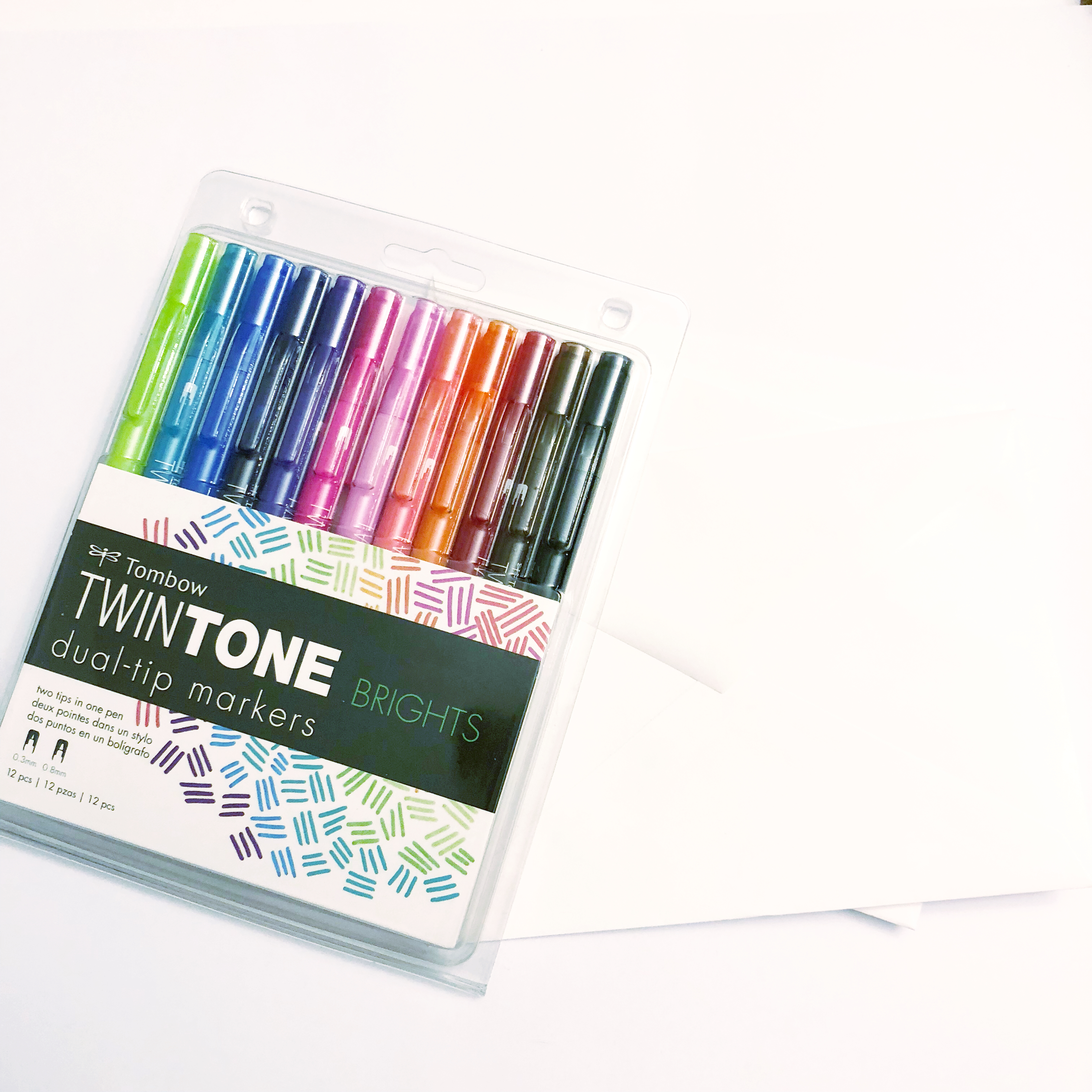 1. LETTER THE ADDRESS IN A FUN WAY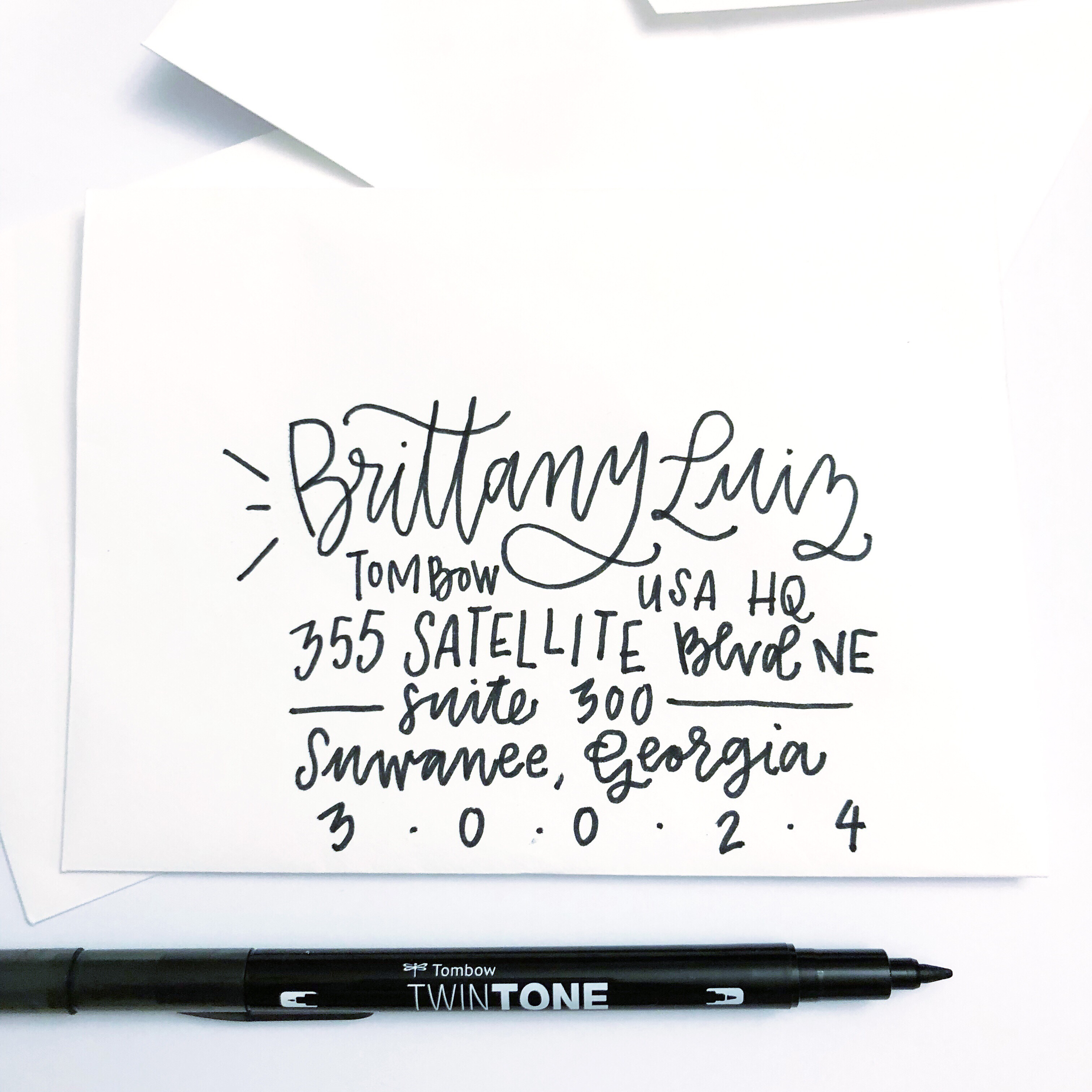 Using the black or brown Tombow TwinTone Marker from the Bright Set, start by adding the address of the recipient of your happy mail. It does not have to be perfect but looks so much more fun when you try to letter it in a fun and different way.  The larger tip is better for writing lettering that stands out and looks bold on the envelope. Once the address is complete, you're ready to add some fun and happy doodles.
2. ADD SUMMER DOODLES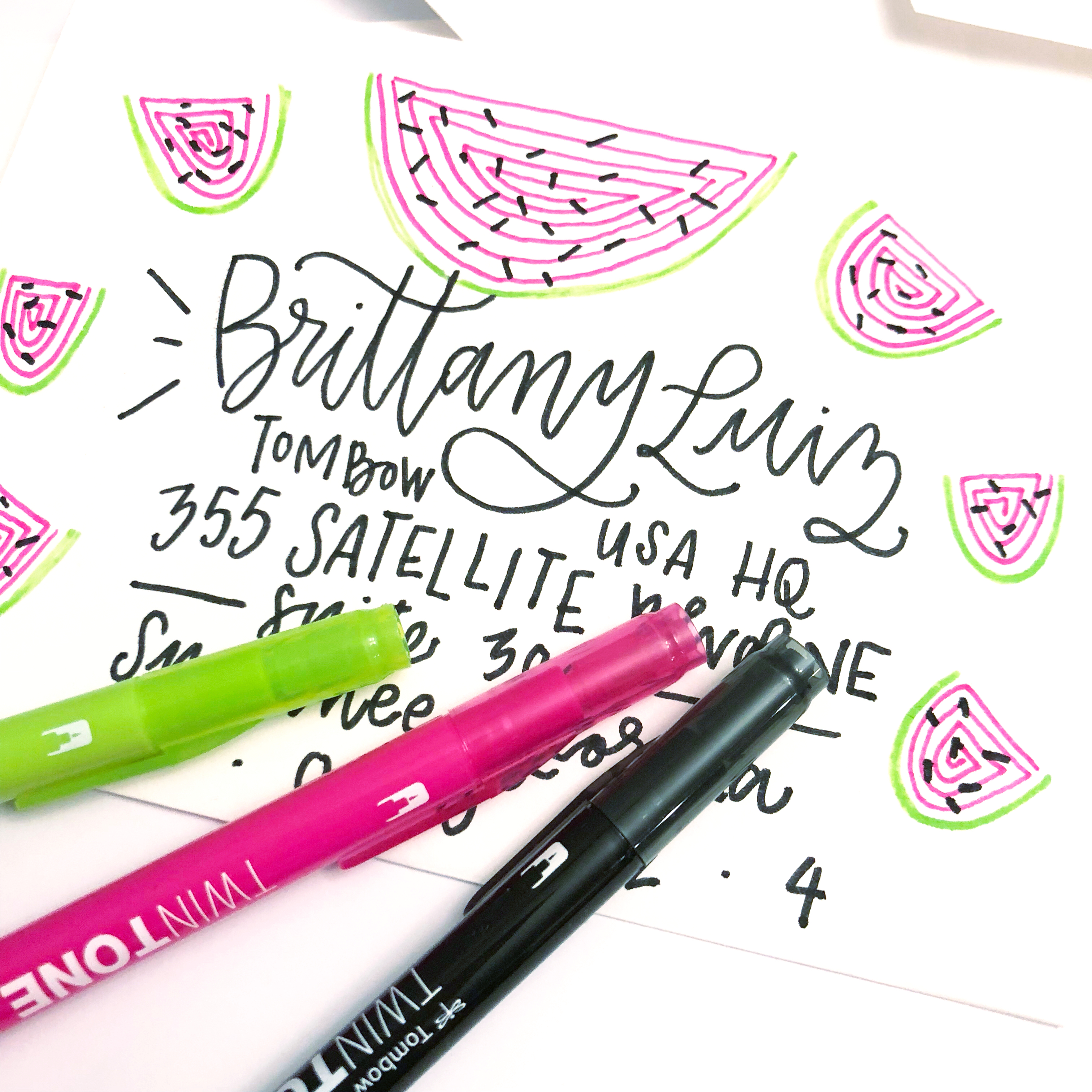 Summer is a fabulous theme for happy mail.  Start by brainstorming some different images that you think of when the idea of summer pops in your head.  I instantly think of different kinds of fruit and bright pops of color, so I decided to doodle different kinds of fruit.  What makes these doodles so unique and simple is that they are created by just adding simple lines in a specific shape or pattern. For example, to draw the watermelon, all you would do is start by drawing a green u shape for the rind, fill the shape with pink lines, and create seeds with a black TwinTone marker. Scatter several of these summery doodles around the address.  I chose to do fruit but there are so many different doodles you could do that are summer themed such flip flops, floaties, ocean waves, sunglasses, and the list goes on.  Once you have plenty of doodles drawn out, it's time to add a fun contrasting background.
3. CREATE A CONTRASTING BACKGROUND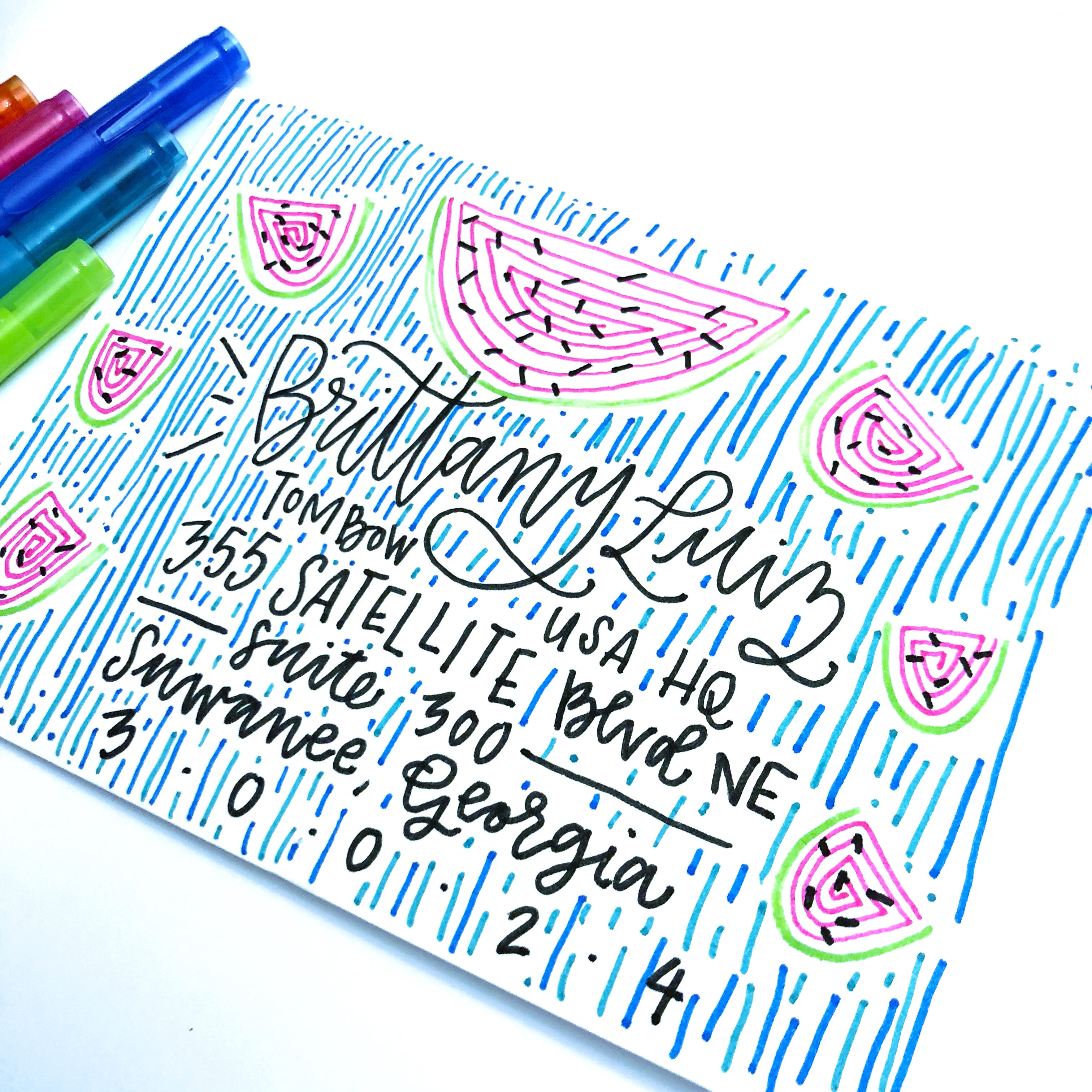 Now take one to two TwinTone colors that are contrasting to your doodles and will help them pop when looking at your envelope. For watermelons, two shades of blue worked very well.  Create the background by filling in the negative space bound the address and doodle with straight lines and dots.  This instantly makes the envelope a piece of fun and summery art.
IT'S READY TO SEND!
Now grab a stamp and send a fun piece of mail to your bestie.  There are so many different options of what you could do to make fun and unique pieces of mail.  Mix up the colors and patterns that you choose to draw.  The options are endless. Be creative! For more information about Tombow products check out Tombowusa.com .
Happy Lettering!
Lauren Fitzmaurice