Hey Tombow friends! This is Jennie!  Last week, Tombow released an awesome product in their VIP Club box: the Tombow Marker Storage Case! This is perfect for organizing and bringing your products everywhere! It's also great for people that don't have a designated area to keep their Tombow products. The Marker Storage Case will be available on its own very soon, so be sure to follow Tombow on social media to find out when!
Here are ten products planner fans need in their Tombow Marker Storage Case.
1. Mechanical Pencils:
Pencils are a must for anyone with a planner, especially students. There are a few beautiful options depending on your style. For example, Tombow has MONO Graph Mechanical Pencils in pastel, metallic and others colors.
2. Tombow MONO Edge Highlighters:
The Tombow MONO Edge Highlighters have two tips. It has a fine tip perfect for underlining and writing notes. The broad tip has a plastic sleeve to protect the tip while you use a metal ruler.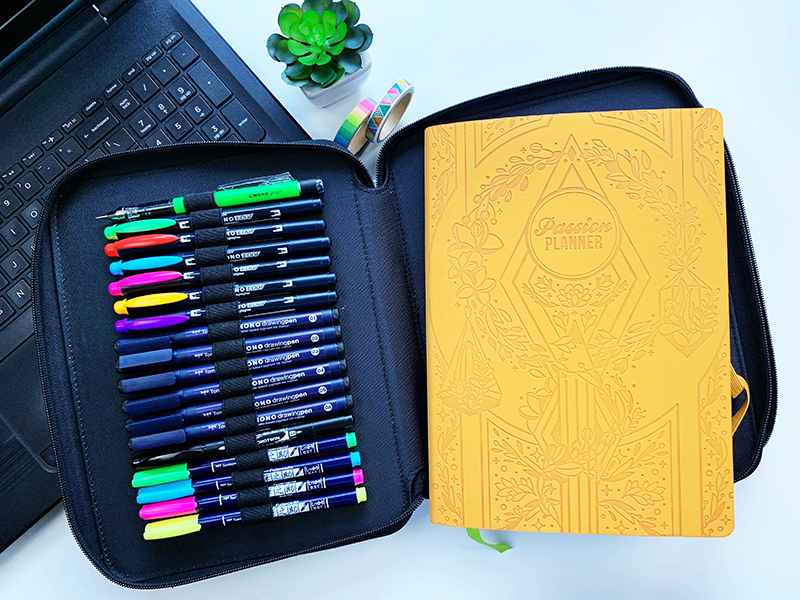 3.  Pens:
Tombow has an amazing variety of pens. My favorites are the Tombow MONO Drawing Pens and the Tombow Zoom L 105 Ballpoint. They also have  Rollerball Pens and Ballpoint Pens. These don't bleed through or ghost.
4. Tombow Fudenosuke Brush Pens:
The Tombow Fudenosuke Brush Pens don't ghost or bleed through either. You have the option to use the Hard or Soft Fudenosuke Brush Pens, the Tombow Fudenosuke Color Brush Pens and the Tombow Neon Fudenosuke Brush Pens. I love to use them for titles and color coding. Here I used them to color the earth.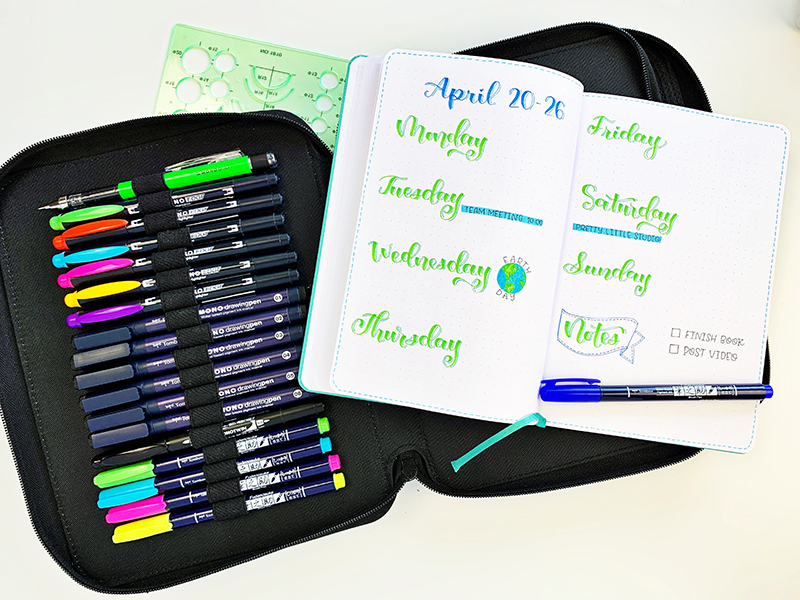 5. Tombow MONO Twin Permanent Marker:
I like to use the Tombow MONO Twin Permanent Marker on top of washi tape. I use this trick for commitments that might be moved. This permanent marker does bleed through, so you shouldn't use it on planner pages.
6. Tombow Dot Grid Journal:
If you are a stationery fan, you already own many notebooks but you need one more: the Tombow Dot Grid Journal. This journal fits in the Tombow Marker Storage Case!
7. Eraser:
Tombow has so many kinds of erasers! The Tombow Marker Storage Case has a mesh pocket where you can put Tombow MONO Erasers and the Tombow MONO Smart Eraser (which is really thin). There are other erasers that fit in the elastic hoops. For example, the Tombow MONO Knock Eraser or the Tombow MONO Zero Erasers.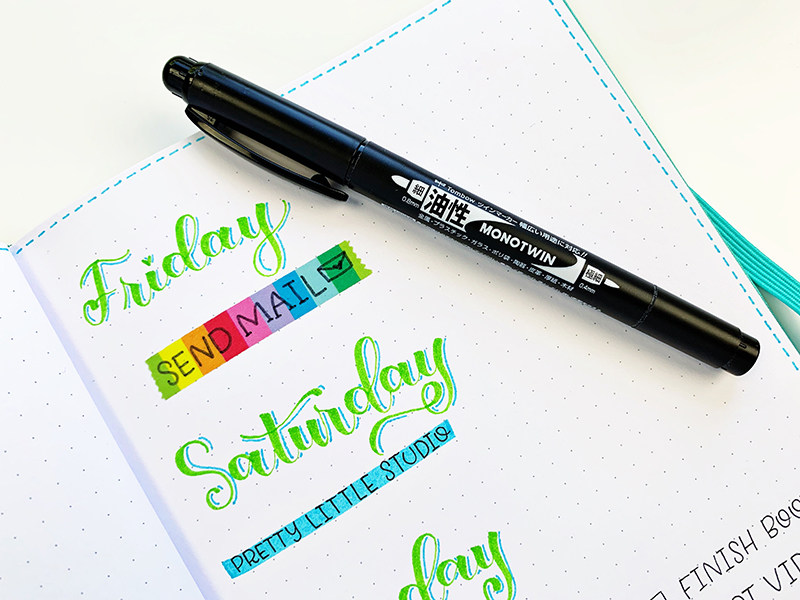 8. Tombow TwinTone Dual Tip Markers:
Color coding has always been a staple in my planning! I was over the moon when Tombow released the Tombow TwinTone Markers. There are three different sets: Bright, Pastel and my favorite, Rainbow! They have two tips. The fine tip is perfect for writing in small spaces. The broad felt tip is great for titles and doodles.
9. Correction Tape:
Not only does Tombow has a big variety of correction tapes but you can get some of them in larger quantities. My favorite is the Tombow MONO Air Correction Tape.
10. Tombow Mini Glue Tape:
The Tombow Mini Glue Tape is tiny but mighty! It fits perfectly in the mesh pocket.
If you are a lettering fan, you might want to add Tombow Dual Brush Pens to your list!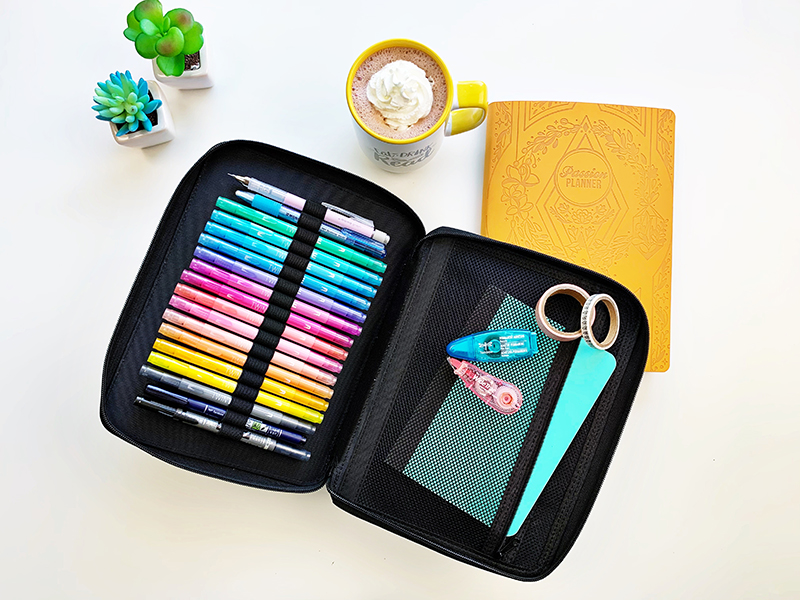 I hope you enjoyed this list! Make sure you sign up for the newsletter and follow Tombow USA on Instagram and Facebook to find out when the Tombow Marker Storage Case will be available!