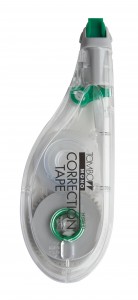 If you like getting two for the price of one, then we've created the perfect correction tape pen for you!
Our hybrid style single-line correction tape has the convenience of side action and the precision of our pen style. The pivoting head provides ultra smooth tape application, and the retractable tip cover protects tape when you're not using it.
With the combination of these two correction tape styles, we're sure that the MONO Correction Tape Hybrid will meet all of your need. Check out the MONO Correct Tape Hybrid in action on our YouTube Page.