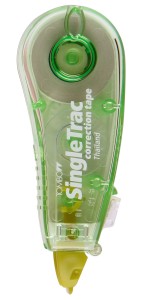 It's back to school time and even though your kids may be dreading heading back to the classroom, it is the perfect time to stock up on the latest and greatest school supplies.
Our Trac correction tape is the perfect addition to any student's back to school kit.  With its hip design and three cool colors, green, blue and pink, Trac is the fast and fashionable way to correct mistakes.
The compact applicator is easy to hold for precise corrections and even easier to store in a backpack, locker or personal organizer.  And since Trac comes in both single and wide tape formats its perfect for any and all types of paper – college rule, wide rule or even graph paper.
So, what are you waiting for?  Add the SingleTrac™ or WideTrac™ to your kid's backpack today!