Usi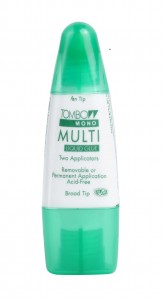 ng glue can get you in some pretty sticky situations, whether you are at the office putting together presentation story board or at home scrapbooking photos from your last vacation. Our MONO Multi Liquid glue is perfect for use in the both the home and at the office.
Dual applicators combine into one dispenser that is designed for maximum comfort and efficiency. With two pen tips, a pen tip for small areas and a broad tip for broad areas this glue pen is perfect for project. This glue is acid-free and non-toxic making it safe for use with photos, cardstock, fibers, and buttons – it's perfect for putting together projects in a quick and mess-free fashion.
In this fast paced world, where there is no time for mistakes our MONO Multi Liquid glue is essential to every work desk and home office. Simplify your life and add the MONO Multi Liquid Glue to your office supplies collection today.