Personal planning is an important task in a world where our datebooks and organizers are filled with not only our own activities but also those of our entire family. Keeping up with your family's everyday schedule is a job in it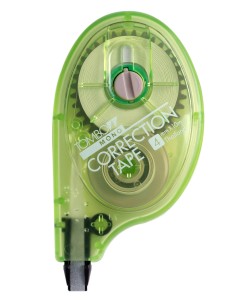 self and calendars filled with soccer games, recitals, doctor's appointments and business meetings can make for one disorganized planner. Life is unpredictable –dates will be canceled and times will be changed but the MONO Correction Tape Retro is perfect for keeping your calendar up to date and tidy.
With colors like kiwi, rose, aqua and lavender you can choose the color that fits your personality. The single line correction film in a compact dispenser makes the Retro easy to use and gives precise application to instantly correct handwritten notes.
Say good-bye to your unorganized planner and stay organized and on top of it all using the MONO Correction Tape Retro.