The holiday season is here and so are the endless number of lists–grocery store lists, wish lists and to-do lists. Crossing things off the list is one sigh of relief at a time however it sure makes one messy looking list.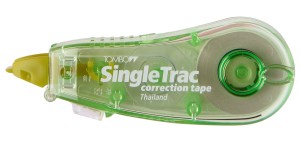 We all know that there is no such thing as a neat on-the-go list, that is, until now. Tombow's SingleTrac Correction Tape and WideTrac Correction Tape are here to help you keep your organizer or planner scribble free. Both the SingleTrac and WideTrac Correction tape allow you to write over film instantly and have a compact applicator that is easy to hold for precise corrections and easy to store in a backpack or personal organizer. Their protective applicator tip allows true, safe portability for a correction tape product that you can travel the world with that won't break. However, the WideTrac™ Correction Tape has coverage twice as wide as standard single line correction tape for double coverage.  The applicator is extra wide and perfect for correcting handwritten notes in a single strip.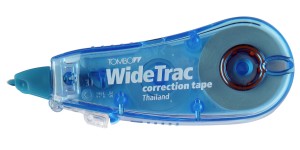 Whether you are making corrections to travel plans or your holiday spending budget, use Tombow's SingleTrac and WideTrac Correction Tape to organize your holiday.