There is nothing worse than admiring a finished piece of your work only to realize that there is something missing. The finishing touches add character to your work and it can be challenging to create these necessary and intricate details.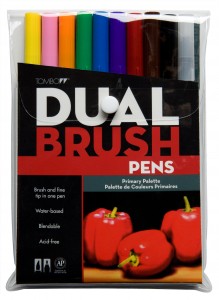 Now you can do it all with the Tombow Dual Brush Pen, a one of a kind brush pen that can be used in countless ways. Dual Brush Pens are ideal for artists and crafters – great for any art project including drawing, water-coloring and shading. With 96 different color varieties the Dual Brush Pen is an artist's magic wand, making the addition of intricate details easy.
The flexible brush tip works like a paintbrush to create fine, medium or bold strokes and the fine tip can be used to give consistent lines. The water-based ink is easily blended and the resilient nylon brush retains its point– stroke after stroke. Ideal for fine artists, a colorless blender softens and blends colors, creating a watercolor effect, but don't worry blending these colors will not mix together unwanted colors, and to top it off, the Dual Brush Pens have tips that self-clean after blending.
Check out our full line of Dual Brush Pens and our professional packs.