Its contest time Bloggers!
Check out our Facebook page for your chance to win a FREE Tombow Stamp Runner and refill.
This is a MUST HAVE for any crafter.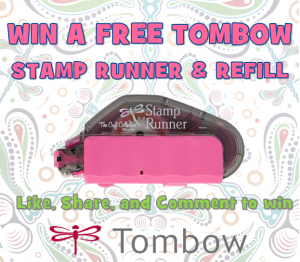 The Tombow Stamp Runner Dot pattern adhesive in dual function tape runner functions as a stamper or a traditional tape runner. Use stamping action to apply squares of adhesive for more precise placement or use as a tape runner for a strip of adhesive and full coverage. All in one adhesive – no need for photo splits, adhesive tabs or glue dots. Dot pattern initially repositionable, sets to a permanent bond.  Also available in solid strip permanent adhesive. Acid-free, photo-safe.
Good Luck Bloggers!