Can't wait for Black Friday? Tombow is counting down to Black Friday with great deals each day while supplies last! Beginning on Saturday, November 23rd we are cutting prices on many popular items! Watch as each day the deals get better and better up to 75% off until Black Friday, November 29th…..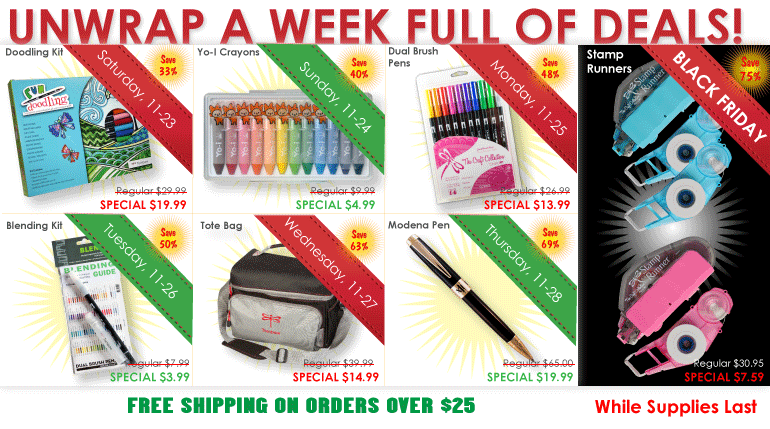 Shop on

Saturday

– Fun Doodling kit at 33% off the list price.
Shop on

Sunday

– NEW Yo-I Crayons from Japan! at 40% off the list price.
Shop on

Monday

– Craft Collection, Retro Dual Brush Pens 10 piece marker set at 48% off the list price.
Shop on

Tuesday

– Marker Blending Kits at 50% off the list price
Shop on

Wednesday

– Tombow Storage Bags to carry all of your supplies at 63% off the list price.
Shop on

Thursday

– Modena Ballpoint gift pen at 69% off the list price.
Black Friday

save 75% ! November 29th will be an adhesive package exclusively available during Black Friday only.
It includes 2 Adhesive applicators and three refills with two different types of adhesive. Great for gift wrapping and holiday decorating. Regular retail value of $30.95 available for a limited time at $7.59.
If you enjoyed this post, you can stay up to date with Tombow by following us on: