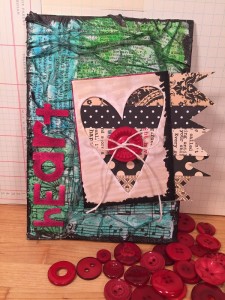 Mixed Media is near and dear to my heart!  It is such a fluid way to create that it always chills me out.  It is my yoga, my meditation.  In fact, I was mixing medias back before we even knew that it had a name!  I always start out with a theme (maybe) and a color palette (most of the time), but that is about it.  No direction, no sketch and no final image in my mind, as I let the piece take me to its end.  ORGANIC is the word!
I have recently been addicted to interested in water coloring with Tombow Dual Brush Pens as I LOVE the way they puddle and blend when the water is added – it is amazing to me, so I knew I wanted to incorporate this technique into my piece.
I started out with a 5″ by 7″ canvas board that I had in my craft stash.  Tear off and crumple a 7″ by 9″ piece of printed tissue paper.  Spread Tombow MONO Aqua Liquid Glue over canvas board with broad tip.  Place tissue on canvas board, crinkling tissue until you are happy with the placement.  TIP: The Tombow MONO Aqua Liquid Glue is perfect for mixed media because it has a quick set up time which allows you to create without waiting for steps to dry!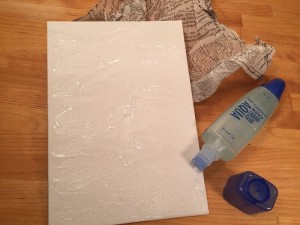 Randomly color in the background with Tombow Dual Brush Pens 515, 195, 373 and 173 then blend with paint brush dipped in water.  TIP:  The more water you use, the more blended puddles you will create!
I colored in the butterfly image on my printed tissue paper, but then decided that I did not care for the color or the placement, so I dug around in my drawer of scrap paper and found the cutout heart chipboard plus the black and white paper scraps – SCORE!  Trim the paper scraps and secure to back of chipboard with Tombow Xtreme Permanent Adhesive.  Tone down the white chipboard with Tombow Dual Brush Pen 990.  Fishtail the end of the paper strips with scissors.
Color plain canvas letter stickers by placing on plastic packaging, misting with water, then coloring in with Tombow Dual Brush Pens 815 and 757 to match the button selected.    By misting the canvas first you achieve a tie dye look on the letters.  TIP:  The Tombow Dual Brush Pens are very versatile when creating mixed media as they color on almost every surface, they ave durable tips and blend well, but do not get muddy.  Roughly outline the border of your canvas board with Tombow Dual Brush Pen N15 (black).
Thread string through button holes and tie a bow.  Apply chipboard heart to canvas board AND button to chipboard heart with Tombow Foam Tape.  Perfect for this application because it gives dimension as well as a strong hold over the uneven surface of the crinkled tissue paper.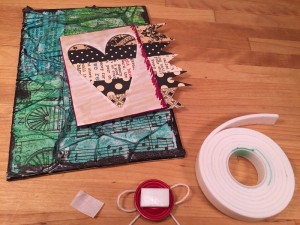 Attach canvas letters to Mixed Media Canvas with Tombow MONO Aqua Liquid Glue, let dry.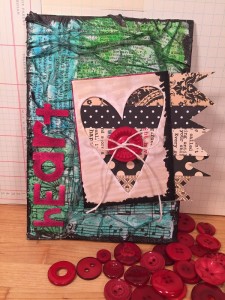 Thanks for stopping by!  -Beth