Warning, these accounts are about to give you major planner envy! Today we're sharing 15 of our favorite planner ladies to follow on Instagram! These accounts are sure to give you awesome inspiration for ways to get the most out of your planner or journal!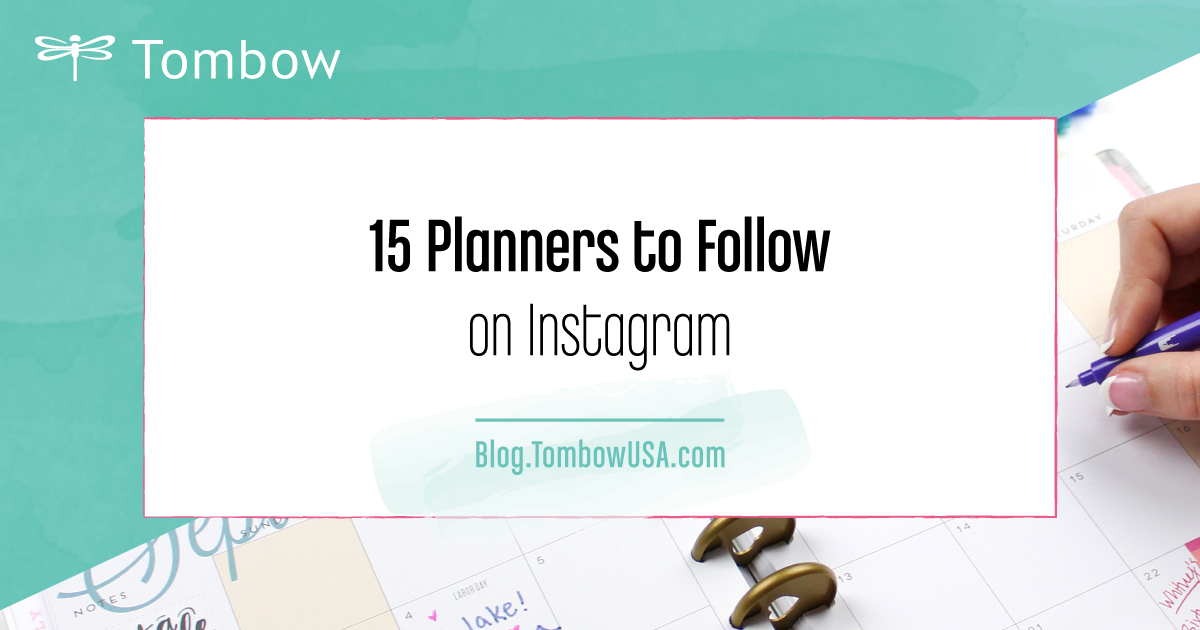 1. @AJMCGARVEY
Why you'll love her: Jennie McGarvey creates super cute planner spreads using The Happy Planner. We love how she incorporates her own lettering with adorable stickers and washi for fun, colorful spreads. She's also one of our Brand Ambassadors, so she's fantastic at using our products!
2. @AMYTANGERINE
Why you'll love her: Okay, let's be real – what is there NOT to love about Amy Tangerine? Her bright, vibrant style will give you all the heart eyes every time her work pops up in your feed. She's recently started using a task journal, and we absolutely love seeing how she's been incorporating our products into it. Amy's also one of our Brand Ambassadors and has her own book, Craft a Life You Love.
3. @BOHO.BERRY
Why you'll love her: Kara Benz of Boho Berry will make you want to get your life organized in so many ways, and her beautiful task journal spreads will help you do just that! In no time you'll be tracking things you never knew you wanted to track! Keep an eye on the Tombow Instagram account because Kara will be taking the reins of it for a day in a few weeks!
4. @BONJOURNAL_
Why you'll love her: If you're into clean lines, Liz's black and white color palettes are a real treat. Her journals are filled with beautiful florals, and she even shows you how to draw them yourself! We love getting a peek at what she's up to each week. Liz will also be taking over our Instagram account in a few weeks, so make sure you watch out for her amazing work!
5. @HELLOPAPERADDICT
Why you'll love her: Cathy's handle says it all, folks. If you're a paper addict like she is, you're going to want to follow her! We love not only seeing her amazing use of stationery in her planners and journals, but also catching glimpses of her adorable pup Deuce from time to time!
6. @IMVINTAGEROSE
Why you'll love her: Violet's feed is just. so. pretty. Every time her photos pop up, you'll feel like you're in a magical stationery land with all the perfect pieces for your planner. We can't get enough of her dreamy style! Violet's also a Tombow Brand Ambassador so she'll show you some fun ways to incorporate our products into your spreads.
7. @JENNIEGARCIAN
Why you'll love her: Jennie doesn't consider herself a planner girl, but we sure do! Take a look through her feed and you'll see why – she creates fun, whimsical spreads with her lettering that will make you swoon. Jennie's been a member of our Design Team for years and really knows how to make a planner page pop by using our products!
8. @KRISTYDICKERSON
Why you'll love her: As the CEO of STARTplanner, Kristy Dickerson knows a thing or two about productivity. Just take a look at her feed and you'll find so much inspiration and motivation to get things done in your own life. We love seeing behind-the-scenes glimpses into Kristy's entrepreneurial journey. And, since Kristy is located so close to the Tombow USA office, we're going to have her come visit us soon to show you how she incorporates Tombow into her planner during an upcoming Facebook Live session!
9. @LIFEBYWHITNEY
Why you'll love her: Whitney's journal spreads are so intricate yet she'll have you wanting to create your own because she makes it look so simple! Her videos are amazing and she always tries unique and creative spreads each week so you're sure to see something new each time her posts pop up on your feed. Keep an eye out on the Tombow Instagram because Whitney's work will be featured in an upcoming takeover!
10. @MOMMYLHEY
Why you'll love her: Lhey's doodles and lettering will be a bright spot in your Instagram feed for sure. She specializes in creating whimsical and kawaii clear stamps, so she shares lots of behind-the-scenes looks at her creative process as well as the finished product when she incorporates her designs into her planner and journal pages. Lhey's a Tombow Brand Ambassador so you'll also find her using our products in new and interesting ways from time to time!
11. @OHSOPRETTYPLANNER
Why you'll love her: Claudia is a self-proclaimed girl boss, mom, planner addict and journal junkie –  and you'll find all those facets of her life reflected on her account! You'll love seeing her planner adventures and latest recommendations pop up on your feed. Claudia is also a Tombow Brand Ambassador so she's great about showing you the newest Tombow products and how to use them in your planner or journal.
12. @POPFIZZPAPER
Why you'll love her: Dani Manning is the planner girl on our Design Team, and you'll see why when you take a look at her gorgeous spreads. She loves color and is incredibly crafty so you'll discover so many new ways to use your planner supplies through her fantastic tips and tricks!
13. @PRETTYPRINTSANDPAPER
Why you'll love her: Jessica loves lettering, journaling and all things creative. You'll find inspiration and guidance on her feed for how a task journal can help you lead a less stressful life (sign us up!). Jessica will be sharing her love of Tombow products and journaling in an upcoming takeover on our Instagram account!
14. @STEPHANIE.FLEMING
Why you'll love her: Stephanie is the co-owner and VP of Marketing for me and my BIG ideas, the maker of The Happy Planner, so if you love their planners you'll definitely want to follow her! She shares posts about her life, some behind-the-scenes at mambi and of course her amazing planner spreads!
15. @THEDOODLEPLANNER
Why you'll love her: Laura's the only planner/journaler on the list who is located outside of the United States, so she'll give you some wanderlust with her spreads. We love how colorful her spreads are and how she incorporates doodles into them.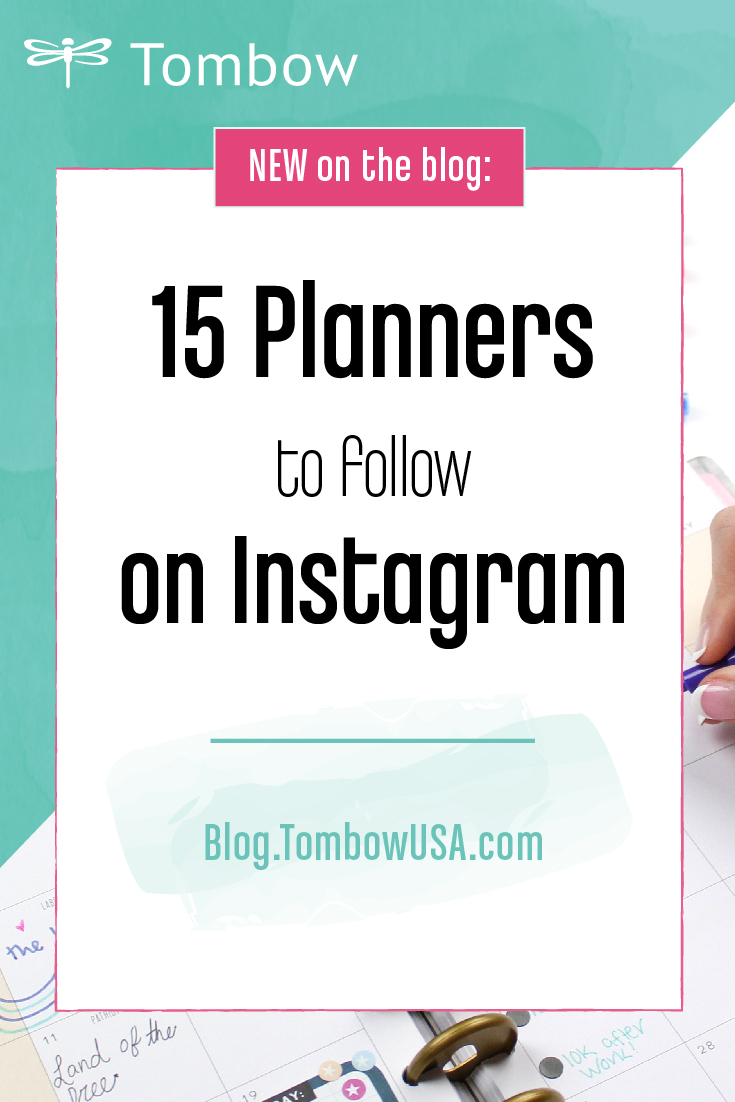 Know of a planner or journaler who you think is amazing? Let us know their Instagram handle in the comments!