Hi Tombow friends! This is Jennie! In this post, I'll teach you how to draw a cactus. In my opinion, colored pencils are one of the most relaxing coloring mediums. The Tombow Irojiten Colored Pencils are more suitable for artists. The enamel coated exterior lets you hold the pencil for long periods of time without hurting your hand.
Supplies:
Step One: Color Study
Whenever you start an illustration, it's good to do a color study. This was a great idea for this particular project because there are many shades of green in the Tombow Irojiten Colored Pencils assortment. I used the Tombow Fudenosuke Brush Pen Hard Tip to write the names of the colors on the Tombow Dot Grid Journal.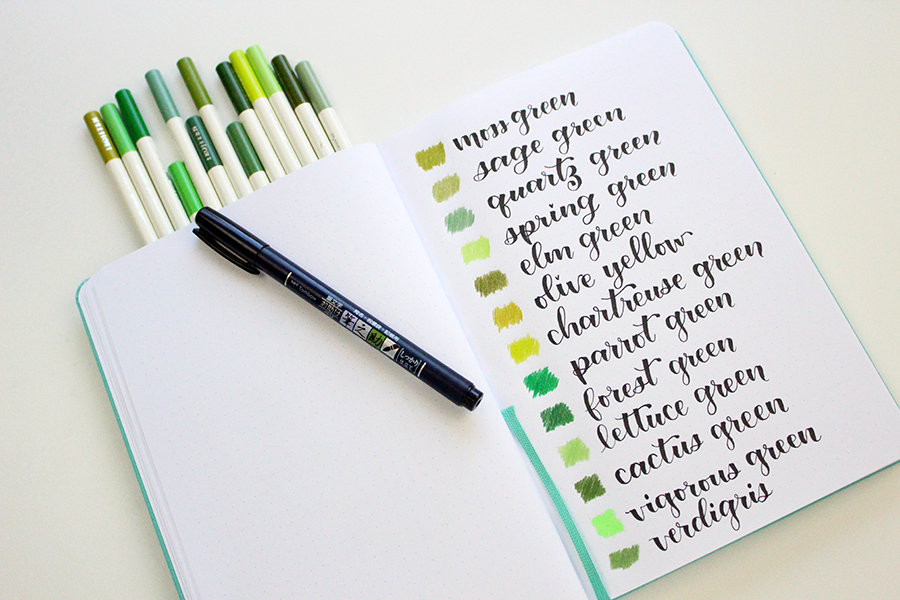 Step Two: Sketching the Pot
To sketch, I used the Tombow MONO Graph Mechanical Pencil. Start with the pot. Draw the oval on top. Then draw lines on the sides determining how thick the top of the pot will be. Add a parallel line below the oval. Draw the bottom slightly slimmer than the top.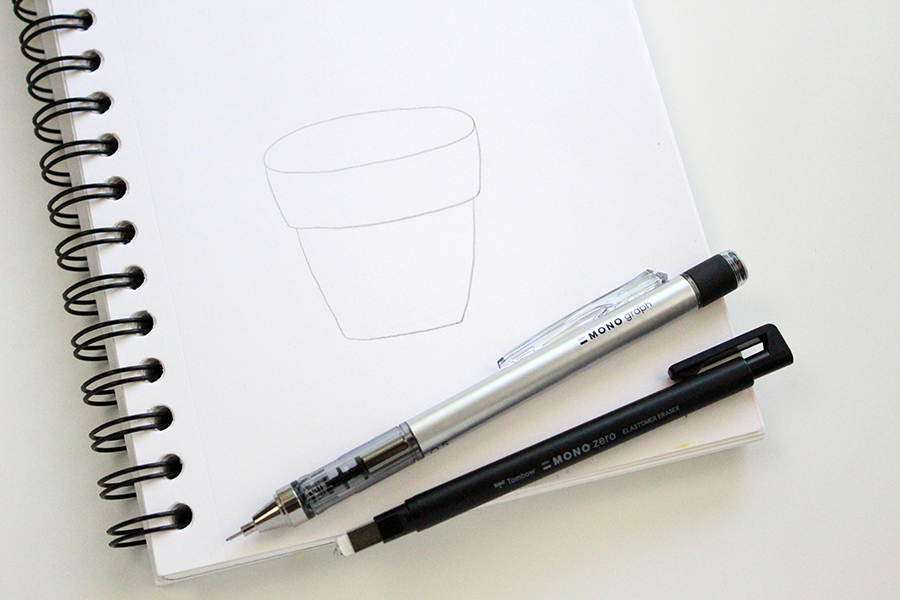 Step Three: Sketching the Cactus
Start with the oval closest to the pot. You don't have to be specific and you can add as many ovals as you want. Draw a line parallel to the back of the pot, this will be the dirt. Use the Tombow MONO Zero Rectangular Eraser to erase overlapping lines (like the pot over the cactus).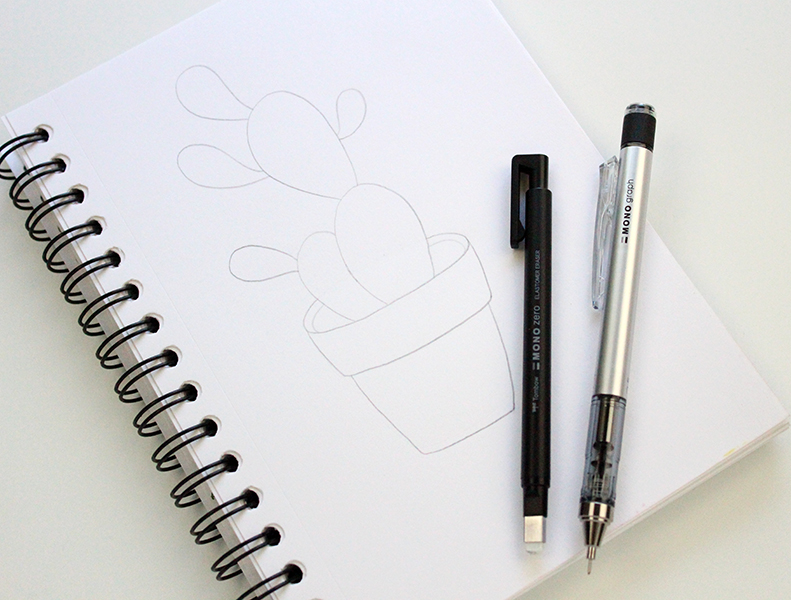 Step Four: Picking a Light Source and Coloring
Pick a light source. For this image, the light source is coming from the top right. So, everything in the left bottom will be dark. This is where the color study comes in really handy. Always color into the darker areas using the lighter colors. It will create a smooth blend.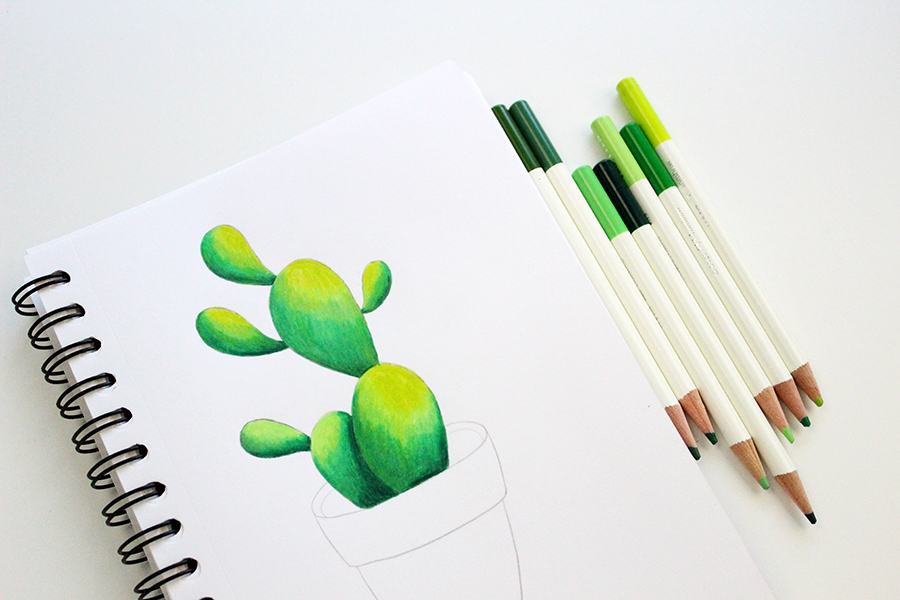 Step Five: Adding Details
Use the Tombow Irojiten Colored Pencil- Spruce or a dark color to draw small pricks.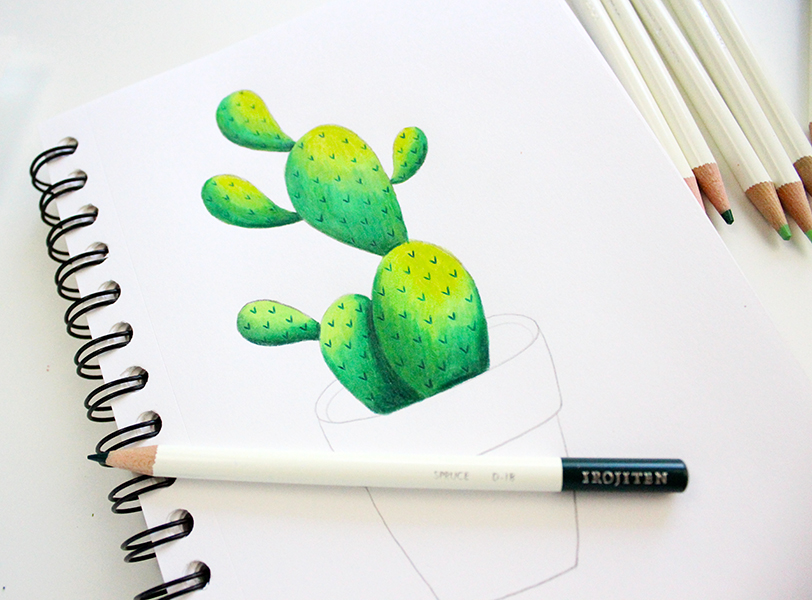 Step Six: Coloring the Pot
Since the cactus is a cool color, I chose warm colors for the pot. I made a pattern, but you could use terracotta color instead.
Don't forget the light source on the pot! If you go heavy with color, use the Tombow MONO Zero Rectangular Eraser (or any eraser) to create light spots. I was tempted to outline this image, however I felt like it looked better and more organic this way.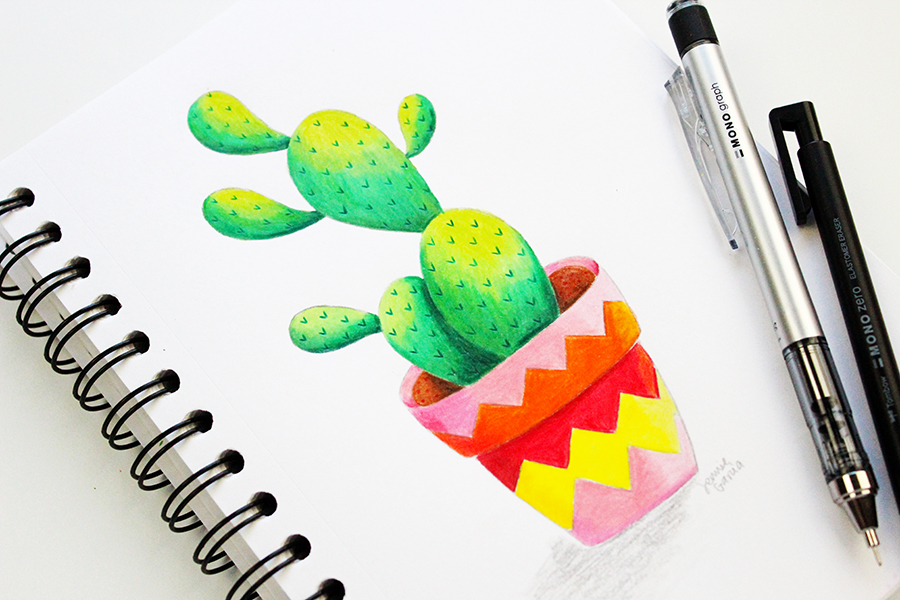 If you want to learn more about how to draw a cactus or other plants, read this post by Katie!