Hi friends! It's Dani from @popfizzpaper here with a DIY journal stamp tutorial! You can use this stamp to quickly and easily add trackers and a calendar to your planner spreads. I recently learned this stamp creating technique from a friend and wanted to share it with y'all! I'll be using my Archer and Olive Dot Grid Journal. Let's get started!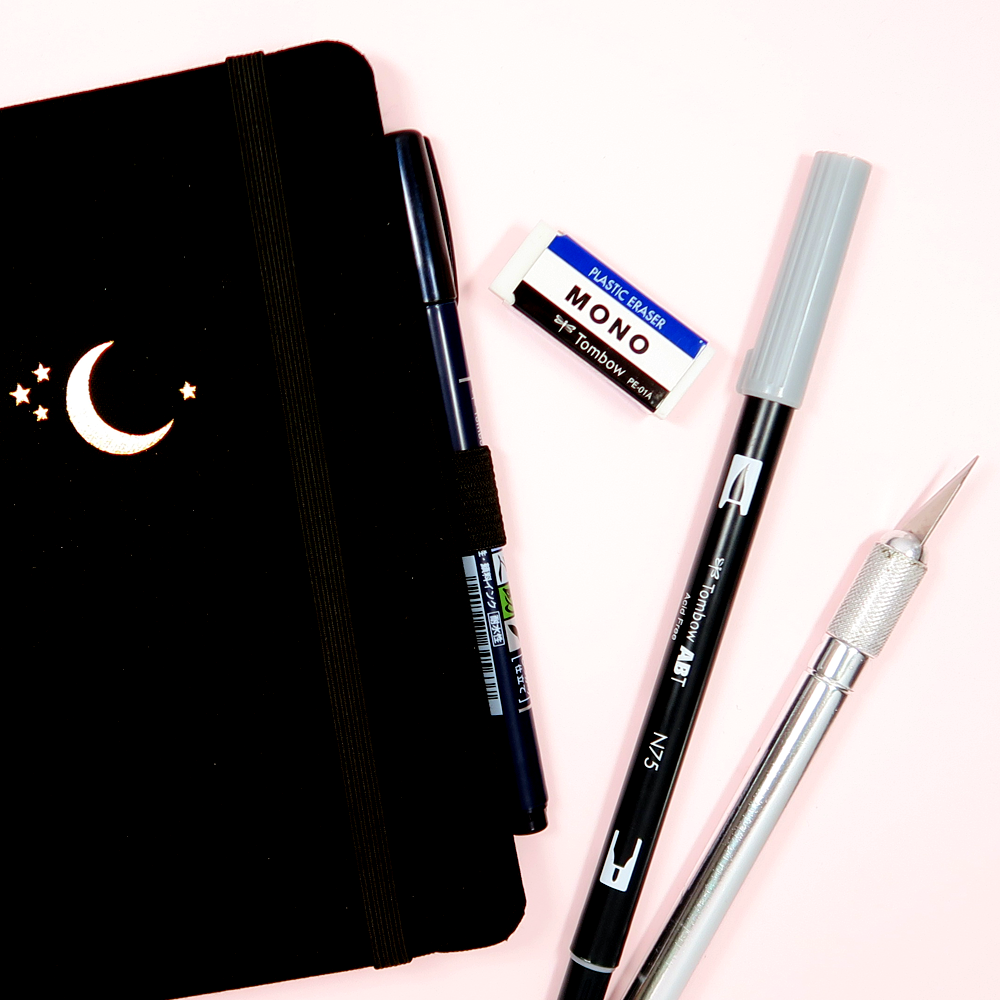 SUPPLIES: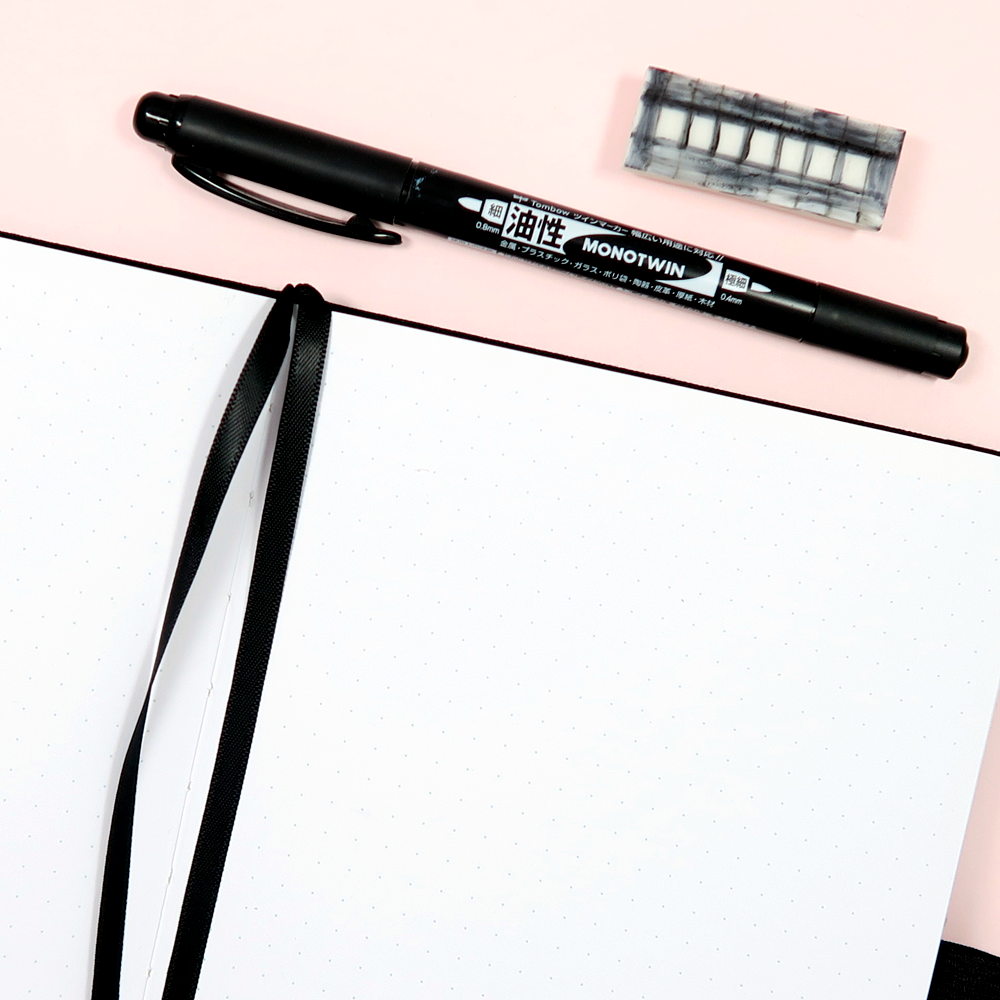 CARVING
To begin, get your Tombow MONO Plastic Eraser and the MONO Twin Permanent Marker. Line up your eraser horizontally on your page, so that 7 squares are centered along the length of the eraser. Now, use the Tombow MONO Twin Permanent Marker to mark the lines around where you want the 7 squares and fill in the cut-away areas. You can see how mine looks above!
Next, start carving away the eraser where you don't want it to stamp. Use the tip of the craft knife to cut down vertically into your eraser (no more than a 1/3 way down)  and carefully go around your design. To finish, cut horizontally into the side of the eraser to release the cut-away areas. Be careful not to cut all the way through under your boxes! Go slow and cut away from yourself!  You may want to also bevel the edges so your journal pages don't get random ink on them.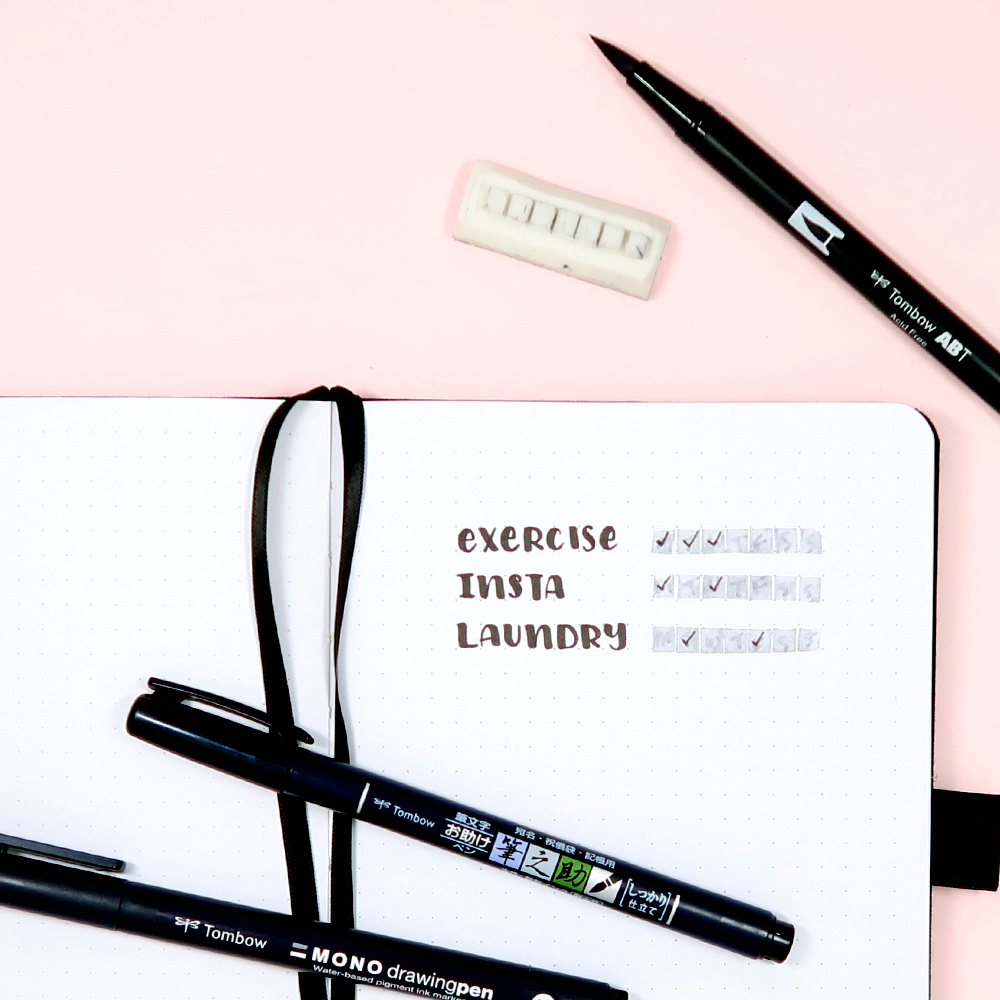 STAMPING
Now let's stamp! I used the N75 Tombow Dual Brush Pen for a soft gray tracker. You can match the color to whatever spread you're working on. To stamp, brush some of the Dual Brush Pen ink on the stamp with the brush end of the marker. Quickly flip over, line up, and press down onto the page. For the tracker above, I also used the bullet tip of the same N75 Dual Brush Pen to create tonal days of the week and a Tombow Fudenosuke Brush Pen to title my different tasks.
For the page below, I repeated lines of the stamp with the same Dual Brush Pen to create a super quick blank calendar! Just fill in the dates you need and you're set. FYI, a Tombow MONO Drawing Pen in 01 is the perfect size for this small stamp!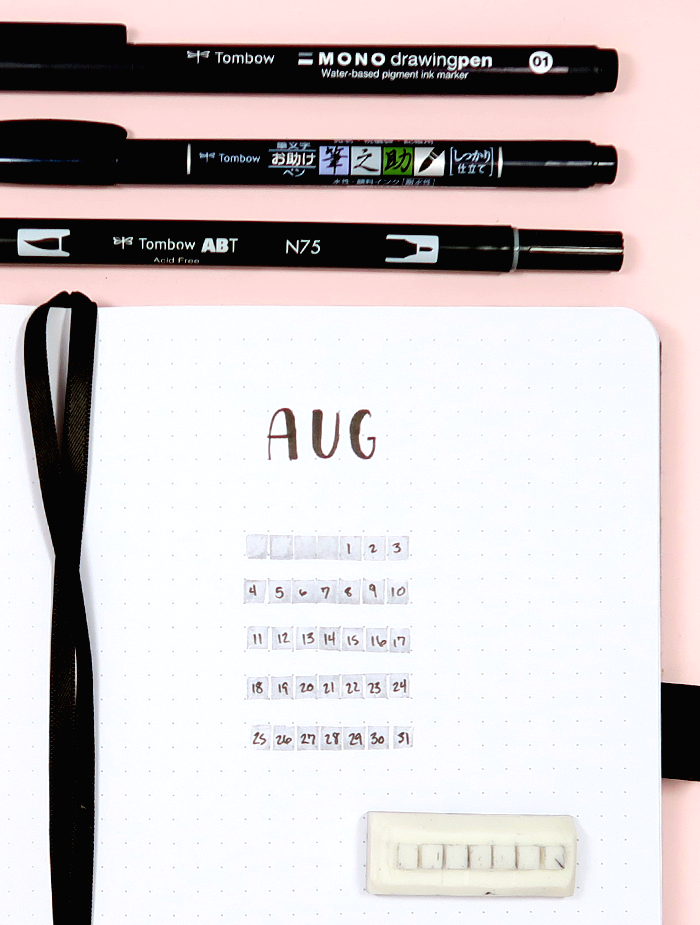 Did you enjoy this tutorial?! Thank you so much for following along today! Please tag @popfizzpaper if you try carving your own tracker stamp. I would love to see! What other ways would you use it? For more tutorials like this, make sure to check out my Crafty Club for more fun ideas! See you next time!