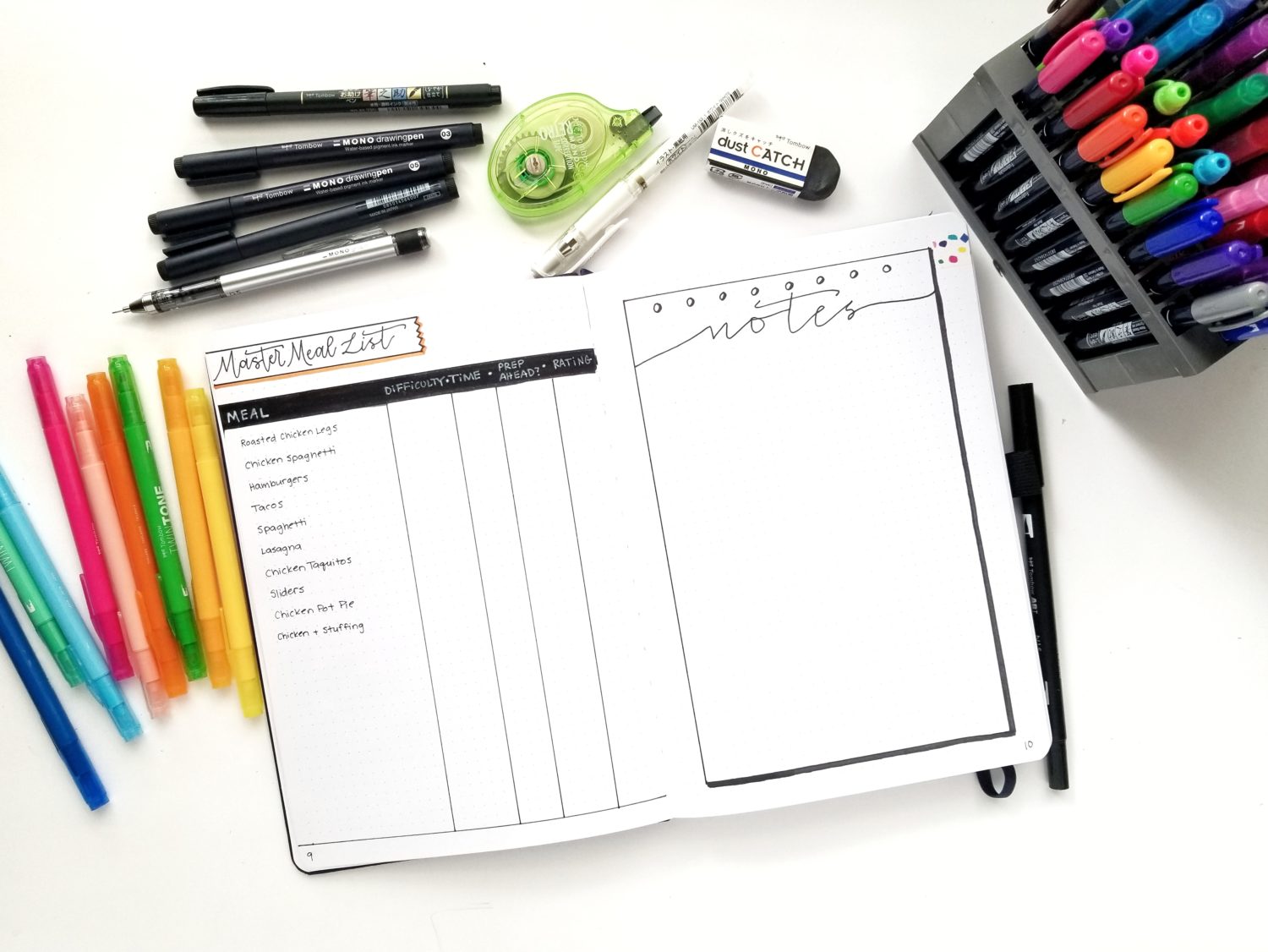 Hi Tombow friends! It's Grace from Grace Anne Studio. I have another confession: bullet journaling intimidated me! Everyone's bullet journals looked SO BEAUTIFUL and mine always ended up as an unplanned mess. It took me a LONG time to try it out again. Now that I have, I'm hooked! Today, I'm sharing with you 5 simple tips for bullet journaling that made it so much easier!
Supplies
Archer and Olive Signature Dot Grid Notebook (I used a B6)
White Gel Pen
Ruler
Tip #1: Use Quality Supplies
There is nothing more frustrating than getting through your first bullet journal spread only to find out it bled through the paper. Avoid this problem by starting with quality supplies! Tombow products and Archer and Olive Dot Grid Notebooks go together like coffee and biscotti! (If you know me, you know what a huge compliment that is.)
Archer and Olive graciously supplied the notebooks for this post and I can honestly say, I am thrilled with them! They are the perfect combination of form and function. To start, Archer and Olive notebooks have INCREDIBLE paper. It's smooth, so it won't fray your brush pens. The paper is also thick enough that you won't have any ghosting or bleeding. Even the broad tip side of the TwinTones Markers don't show through! To top it off, the pages are a brilliant white and lie completely flat so you can get amazing studio-quality looks on every page.
And of course I can't forget my Tombow products. You can go the minimalist route and use only the MONO Drawing Pens or go color happy and choose from any of the TwinTone Markers, Dual Brush Pens, Fudenosuke Colors, or even the MONO Edge Highlighters! The possibilities are endless!!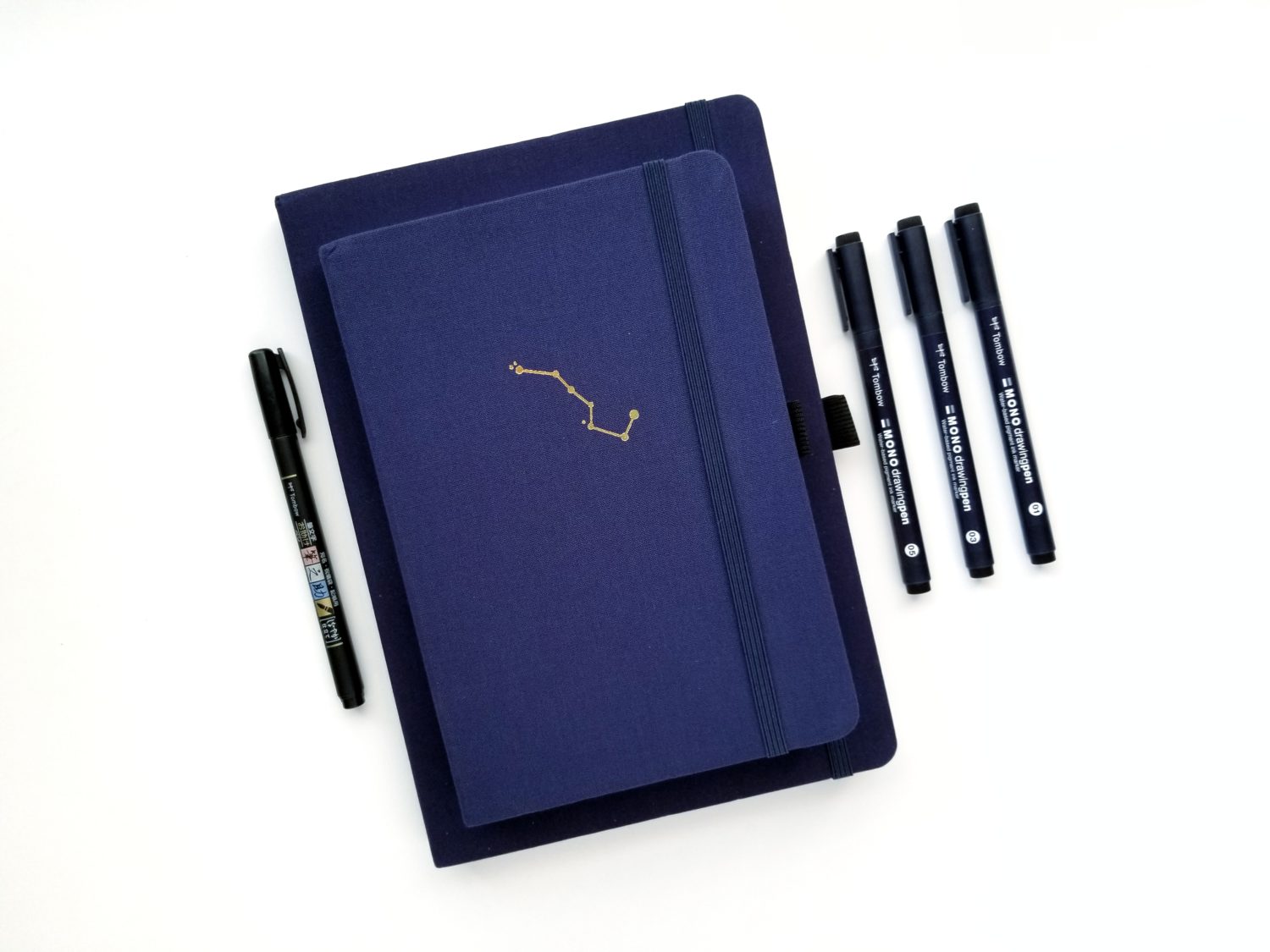 Tip #2: Start with the Basics
Thinking about ALL the things you want in your bullet journal can be overwhelming. Skip the stress and just focus on the basics to start. Make a key, an index page, a future log, and single purpose monthly calendar. Use simple spreads and keep the layout black and white. This eliminates a lot of choices and allows you to get in the habit of bullet journaling before you create elaborate layouts. I created a monthly spread specifically for Grace Anne Studio. I'll be able to keep track of my social media, blog posts, and Tombow deadlines all in one place!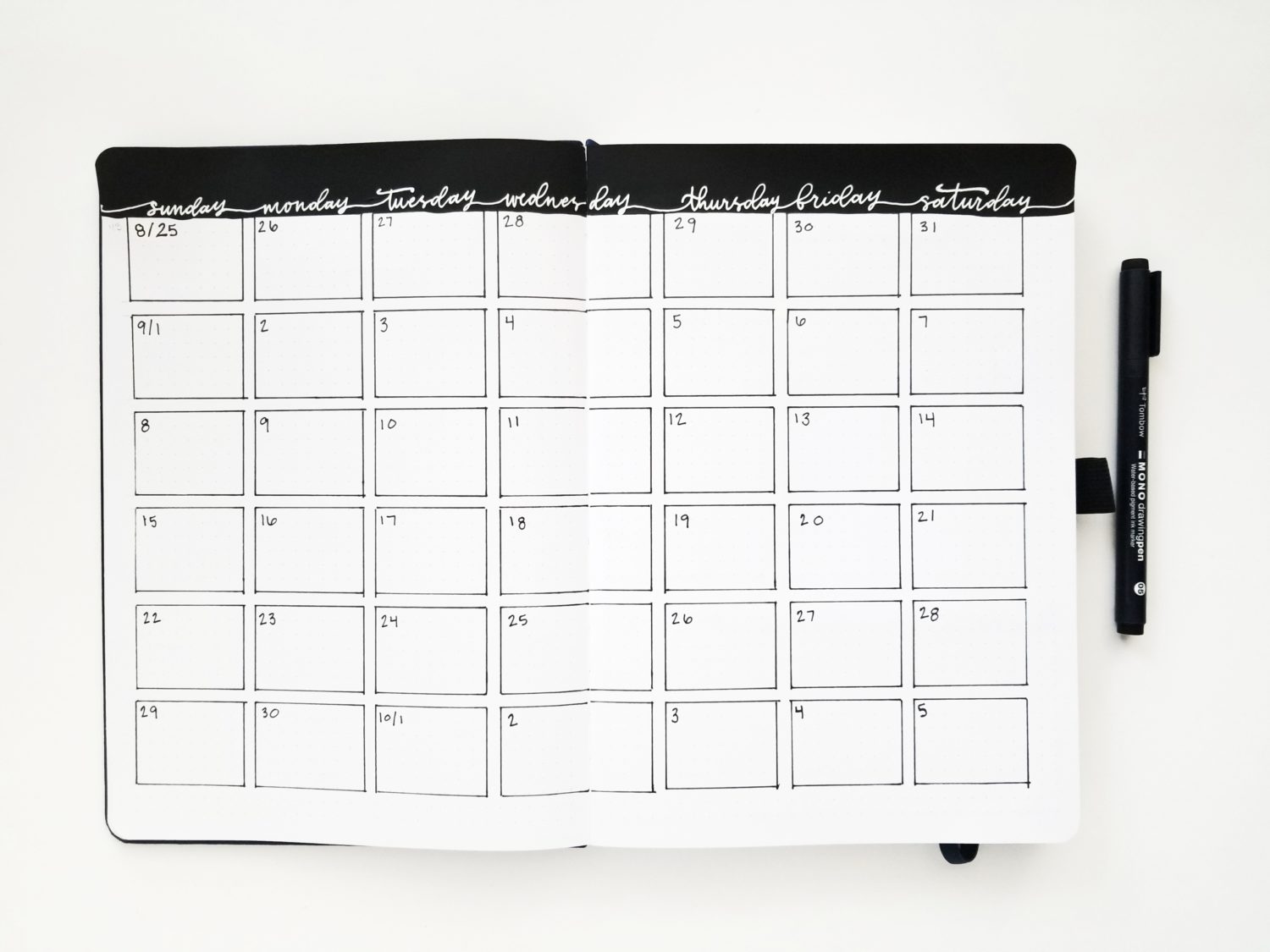 Tip #3: Start with a Pencil
When you're designing spreads and drawing layouts, it's tempting to dive right in with a MONO Drawing Pen. HOWEVER, that's a mistake!! Start your layouts with a pencil and enjoy the freedom to erase any and all mistakes! Once your spread is set, add ink! I added a 'Master Meal List' to keep track of meal possibilities when I'm meal planning. You probably noticed the orange drop shadow on the header. We'll get to that next.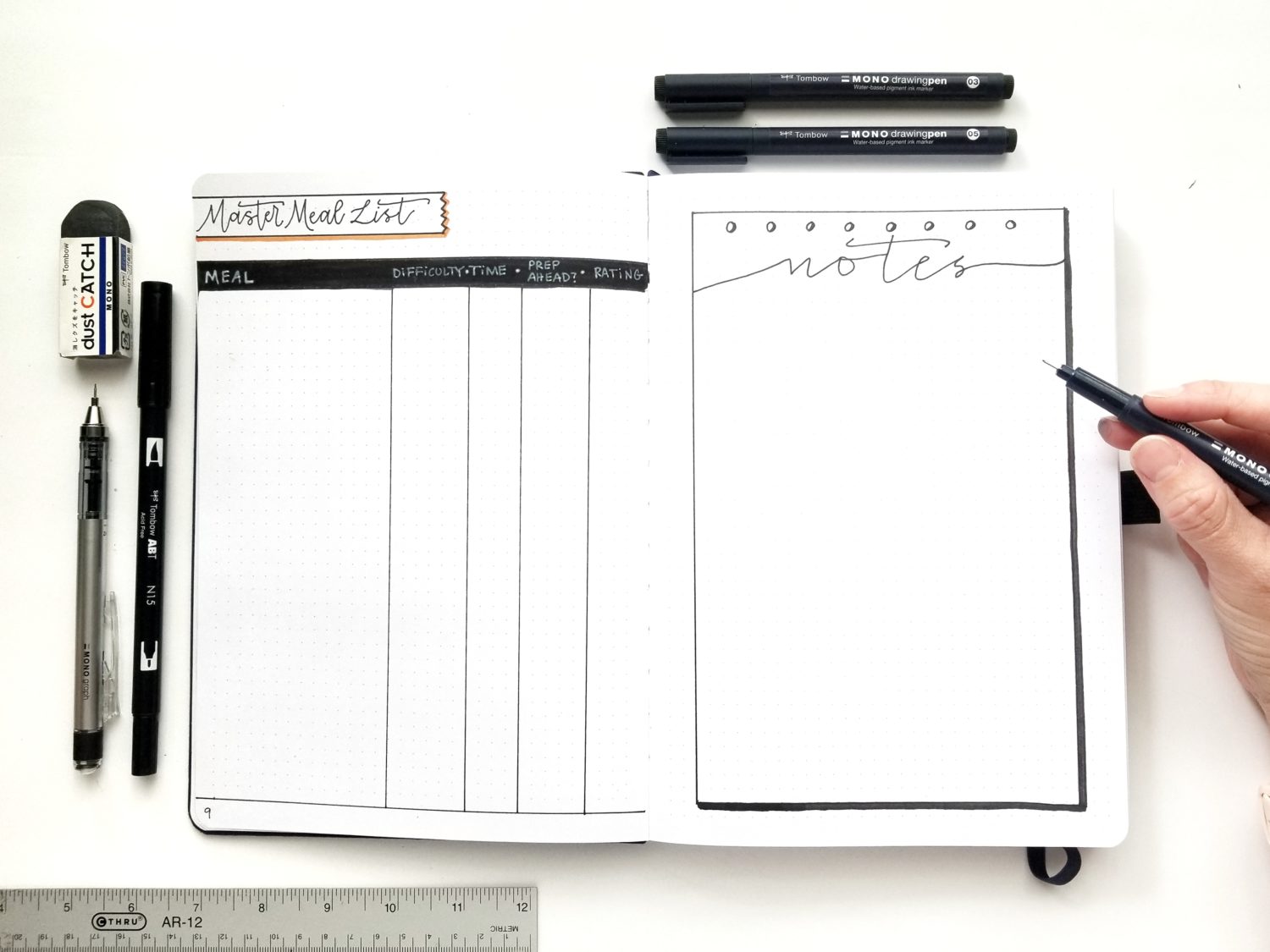 Tip #4: Choose a Color Palette
Since your spreads are black and white, a fun way to spice up your journal is by choosing a color palette. Using a consistent color palette throughout your bullet journal will help you stay organized and keep a cohesive aesthetic. I created one and added it to my "Key" page. On my 'Master Meal List' above, I used an orange drop shadow to show it's in my "House" collection. Simple and effective. I also created a mini color palette for my Grace Anne Studio Monthly Spread and included it at the bottom of the page for quick reference!
MINI TIP: If you have a large color palette, you can add washi tape to your markers to keep track of them.


Tip #5: Tombow MONO Correction Tape is Your BFF
You would never know it from looking at this picture, but my 2019 Future Log is covered with correction tape. The Retro MONO Correction Tape is the perfect width for correcting any inky mistakes in a dot grid notebook. This was the first log I created and the Retro MONO Correction Tape saved it SO many times!! With this cutie in your toolbox, you can add ink without fear!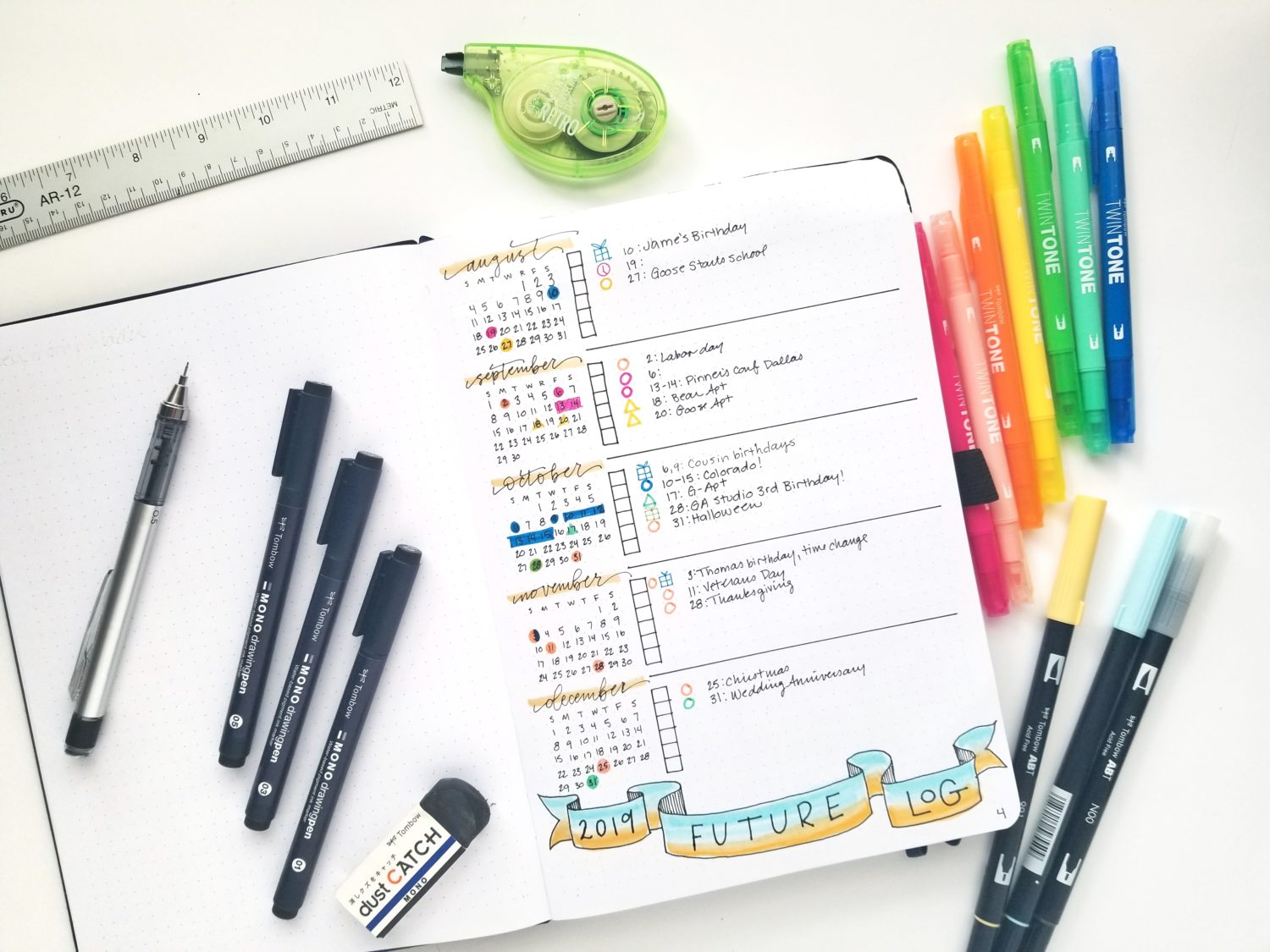 Thanks for following along today! A huge thank you to Archer and Olive for the beautiful Signature Dot Grid Notebooks!! They're truly the perfect compliment to Tombow products. If you use these 5 simple tips for bullet journaling, be sure to tag @graceannestudio and @tombowusa so we can cheer you on! For more bullet journaling tips and inspiration, check out these posts:
Happy Journaling!
Grace