Don't you hate it when your art work is ruined because of a pencil smear? Darla Dixon does too, and that is why she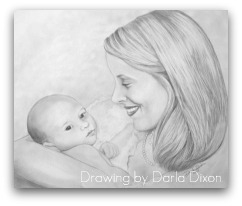 loves to use Tombow MONO Drawing Pencils. Darla creates pencil portraits and her work has been published many times and it is even sold internationally.
She prefers to use MONO Drawing pencils because the artist slant and extra-refined, high density graphite help her to create smearproof portraits! With a break resistant point, these Tombow drawing pencils are perfect for blending and will help you to produce crisp, clean drawings with the added value of slow wear for smooth, dense writing and are available in multiple point strengths.
Check out some of Darla's workon her blog and learn more about MONO drawing pencils on our website.
Darla's Link: http://www.squidoo.com/tombowmonohomograph