When I received a globe ornament kit from Globecraft Memories I knew I wanted to create some vintage scrap craft ornaments. Along with Tombow Adhesives it was a joy to make these dimensional ornaments!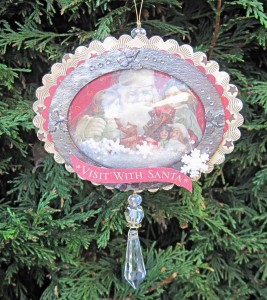 I used only half of  the clear dome from the Globecraft Memories ornament kit and made two ornaments. I started by cutting scalloped ovals  from the Lost and Found Christmas Collection cardstock from My Minds Eye using a die from Sizzix.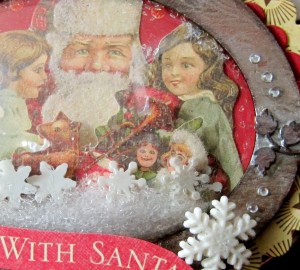 The Vintage Christmas scraps were layered in the center of the ovals using Permanent Adhesive and Foam Tabs. I then decorated the frame using Vintage Holiday Flourishes and Metallic Silver Enameling Gel from Globecraft Memories. Glitter from  Art Glitter and mini snowflakes were sprinkled on the inside of the dome and then glued to the frame and paper ovals using MONO Multi Liquid Glue. The banner and snowflake were attached to the outside using Foam Tabs. For maximum sparkle, I added a hangers and crystals from Connie Crystal to finish the ornament.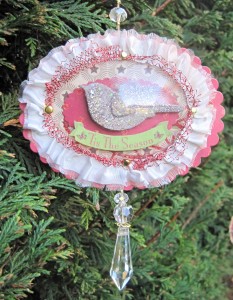 The second ornament was made similarly, but with a glitter covered chipboard bird in the center of the dome. I used MONO Aqua Liquid Glue for gluing the Art Glitter to the chipboard. The silk ribbon was attached by laying down a line of MONO Multi Liquid Glue around the frame and letting it dry clear. The ribbon was then finger pleated around the dome. Red crinkle wire was then attached using brads to finish the framing.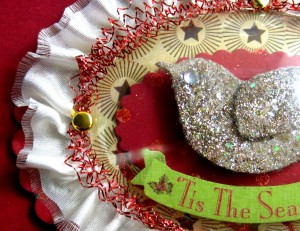 I like the fact that the cardstock ovals as the backing piece allows you to write a message on the back of the ornament  for the recipient. Thank you Globecraft Memories for the inspiration for making these ornaments!