When Tombow sent me the first box of products they threw down the gauntlet and asked us to get creative with the materials that we use and attach crazy and heavy items to push their adhesives to the limit.  Challenge ACCEPTED!  Puzzle pieces are thick and oddly shaped, which makes them a great material for Tombow Adhesives.
Every family has a few puzzles that are missing pieces and when glued together make a fun and interesting wreath. Here's how to make it!
Step 1 – Base coat puzzle pieces with Design Master ColorTool Primer, let dry.  Top coat puzzle pieces with Design Master ColorTool in Robins Egg Blue (or color of your choice), let dry.
TIP – I always spray paint outside on a large piece of cardboard.
Step 2 – Trace a 10″ circle and an 8″ circle on corrugated cardboard.
TIP – I used Smoothfoam shapes that I had in my studio, but you could trace mixing bowls or cake pans.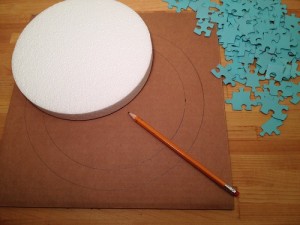 Step 3 –  Cut outside edge with scissors.  Cut inside edge with craft knife.
TIP – Make sure to cut on top of a self healing mat when using a craft knife.
Step 4 – Run a double line of Tombow Xtreme Adhesive to wreath form, making sure to snap the Xtreme off at a 90 degree angle to break the adhesive.  Attach first layer of puzzle pieces to wreath form.
Step 5 – Attach Tombow 3D Foam Tabs to the blank spaces around the wreath form.  Then attach second layer of puzzle pieces to wreath.
TIP – If you still have some "bald spots" on your wreath, add puzzle pieces with Xtreme Adhesive to fill in those gaps.
Step 6 – Cut a 24″ length of ribbon, tie in a bow and notch the ends.  Apply Tombow Xtreme Mounting Putty to the back of the bow, then attach to the top of the wreath.
Here's a detail shot of the puzzle layers: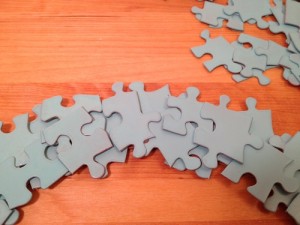 And here is a shot of the final wreath – Hang and ENJOY!
These wreaths are quick and easy to make.  Think about making a few extras to give as a gift to family and friends using their favorite colors!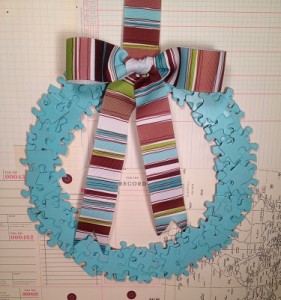 Thanks for stopping by! -Beth