Last summer I attended a baby shower that my sister threw for her friend. At the entrance of the party, they had a sign on an easel with a cup of markers – the idea was for people to add a message for the baby to the sign using a marker. Now that one of my friends is having a baby girl, I thought this would be a great, crafty way to welcome baby into the world, with messages of love from family and friends.
I created this wishes for baby sign for the upcoming baby shower:
To create blended letters, use a Tombow Blending Palette, as shown in the video below.
How to make a custom Baby Welcome Sign:
This sign comes together fairly easily. You can use any frame you like; I used a molded Smoothfoam frame that I painted with acrylic paint to add color. The keys to this project are the Tombow Dual Brush Pens.  The ink from the pens stays vibrant and true over time, it's water based so it blends easily and they're odorless. Use the pens to letter the baby's name or a welcome message and then keep an assortment of pens out by the sign for guests to write and draw their messages to baby. For ideas on lettering with Tombow Dual Brush Pens, check out this book by Tombow Signature Designer Marie Browning: Brush Marker Magic.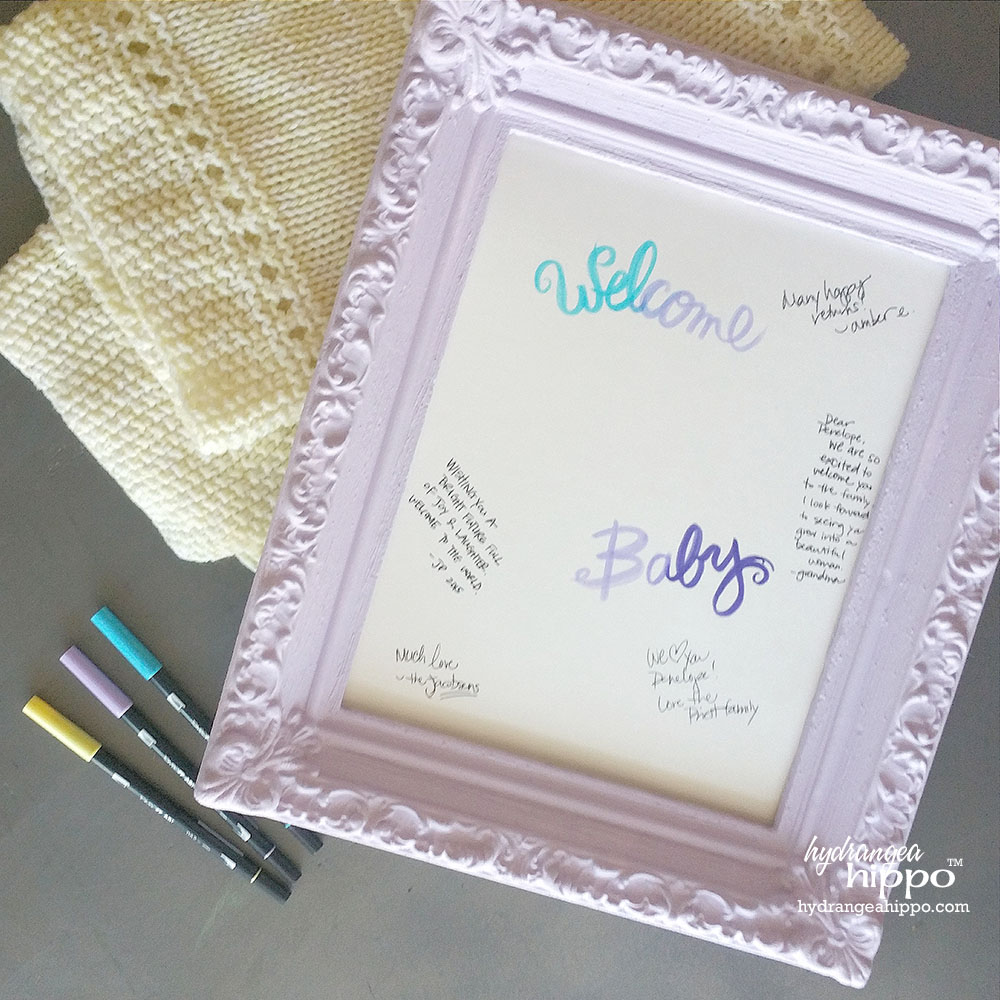 Create a space in the middle of the sign to add baby's footprints:
To leave space in the middle open for baby's footprints, loosely trace a pair of newborn baby booties with an OLNO Mechanical Pencil.  Leave the tracings on the board during the baby shower so everyone knows to leave that space blank. When you're ready to add baby's footprints to the board, use a MONO NP Eraser, Non-PVC to erase the pencil lines.
Here's how to create a custom baby welcome sign from start to finish:
We're celebrating baby shower week with a Challenge!
Come and link up your baby project for the chance to win Tombow Mono Permanent Adhesive, Tombow Mono Adhesive Dots and Tombow Adhesive Dots.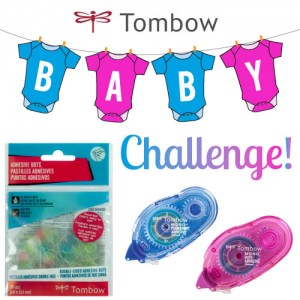 This challenge will start on March 2nd and will end on March 15 at 11:55PM EST. Winner will be announced March 16!
Click HERE to enter the Tombow Baby Challenge.
Thanks so much for stopping by the Tombow Blog today.  See more crafty ideas over on my blog, Hydrangea Hippo. Until next time,