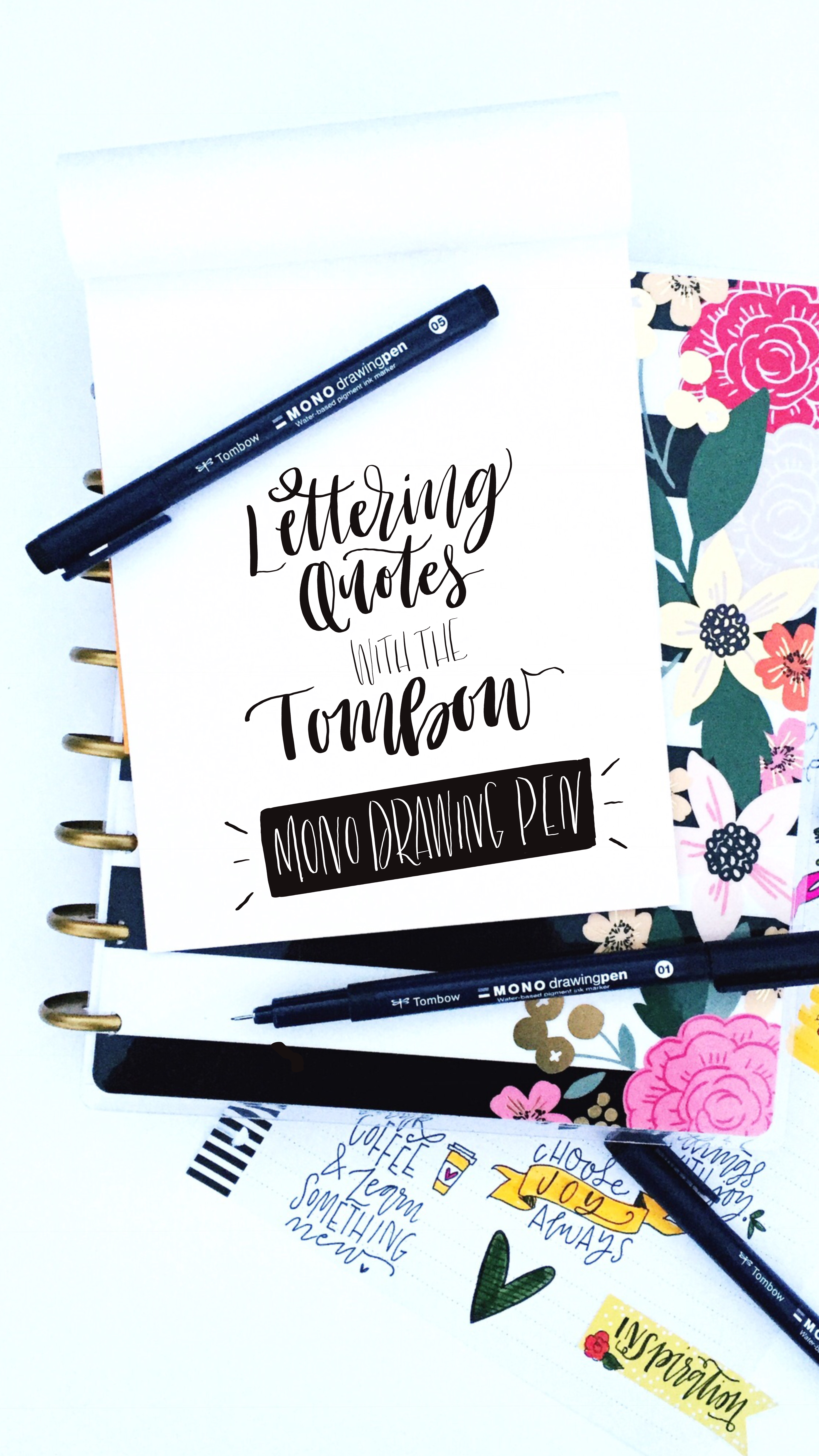 This week we're introducing the NEW Tombow MONO Drawing Pen: the perfect tool for lettering quotes in many different styles! Hi lovelies! I (Lauren of @renmadecalligraphy) am back to show off the new Tombow MONO Drawing Pens and how they can be used for lettering. In this tutorial, I will demonstrate the different ways I love to use this new lettering tool by creating a quote collection section in my planner.
MATERIALS USED IN THIS TUTORIAL INCLUDE: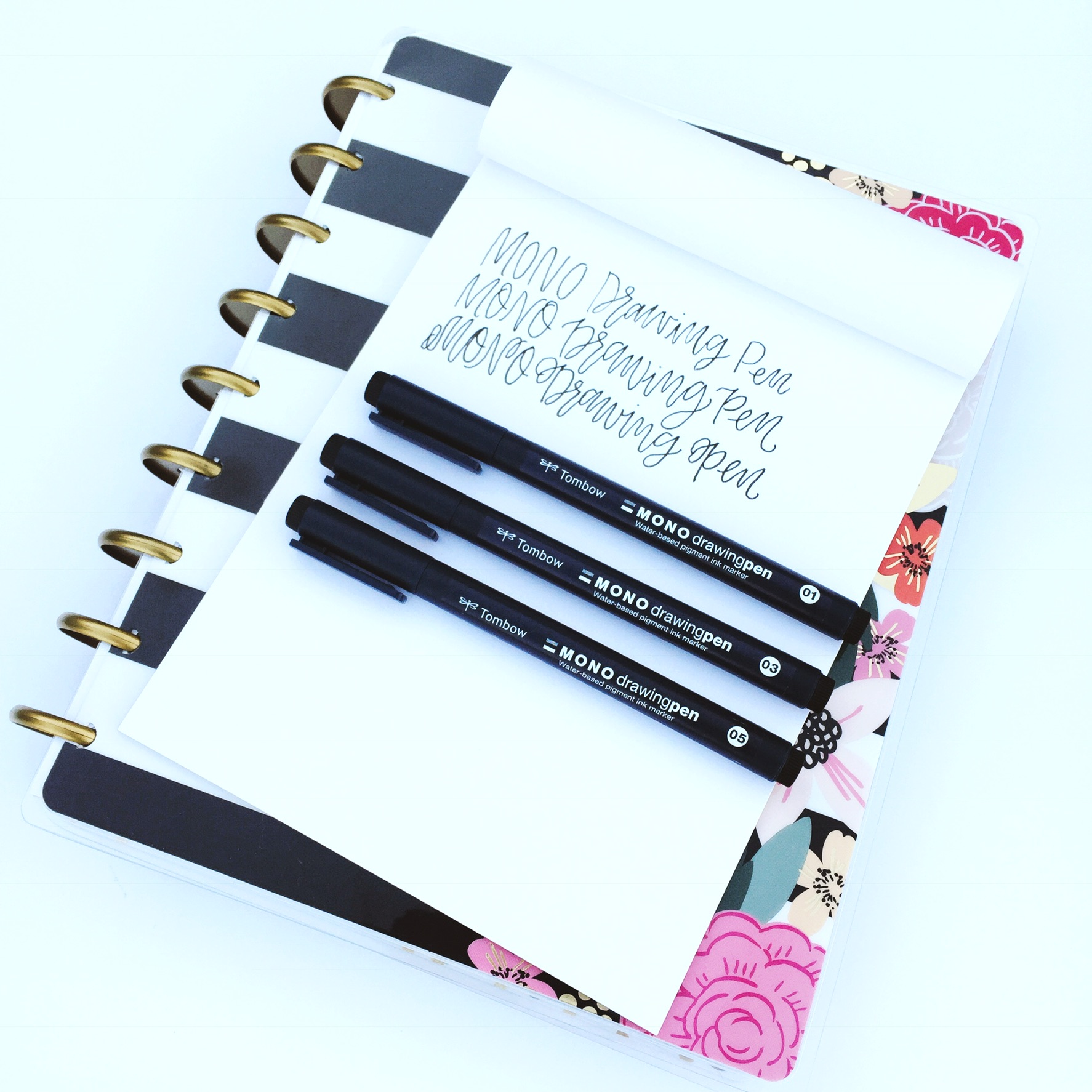 TOMBOW MONO DRAWING PEN DETAILS
The new Tombow MONO Drawing Pens are an amazing addition to my Tombow lettering tool collection! The three sizes (01, 03, 05) are all very practical and versatile for both creating and embellishing lettering in the studio and on the go. These water-based pens have very fine tips that offer precise, clean, and very narrow lines.  Whether creating illustrations, lettering a quote, or creating a patterned design, this pen will instantly become one of your favorite, go-to tools!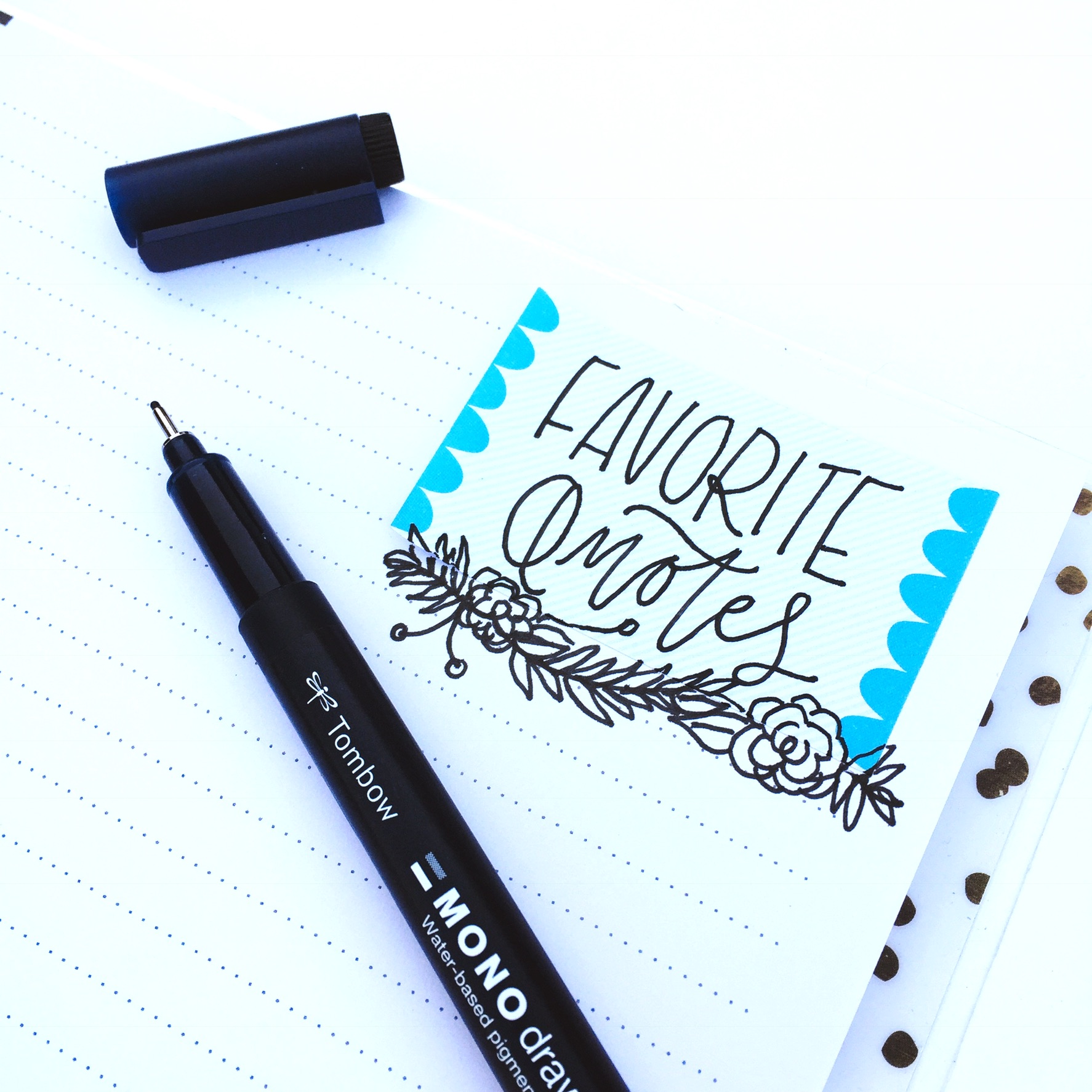 I'm currently obsessed with The Happy Planner by mambi.  I love the vibrant colors, sleek design, and the fact that all of the papers are removable and easy to place back in, which makes it easier for me , as a lefty, to letter and create in my planner without constantly bumping into the center rings.  I like to remove the pages as I write and then place them right back where they belong.  I also am loving the sticky note insert that makes it easy to add a colorful note anywhere in the planner. The back section of the planner is perfect for adding fun quotes and ideas.
MONOLINE LETTERING
The simplest way to use the Tombow MONO Drawing Pen is to create monoline lettering,  meaning it doesn't have thick downstrokes like calligraphy but has a narrow, fine line throughout the letters.  This kind of lettering is very simple and sleek and pairs great with a floral illustration.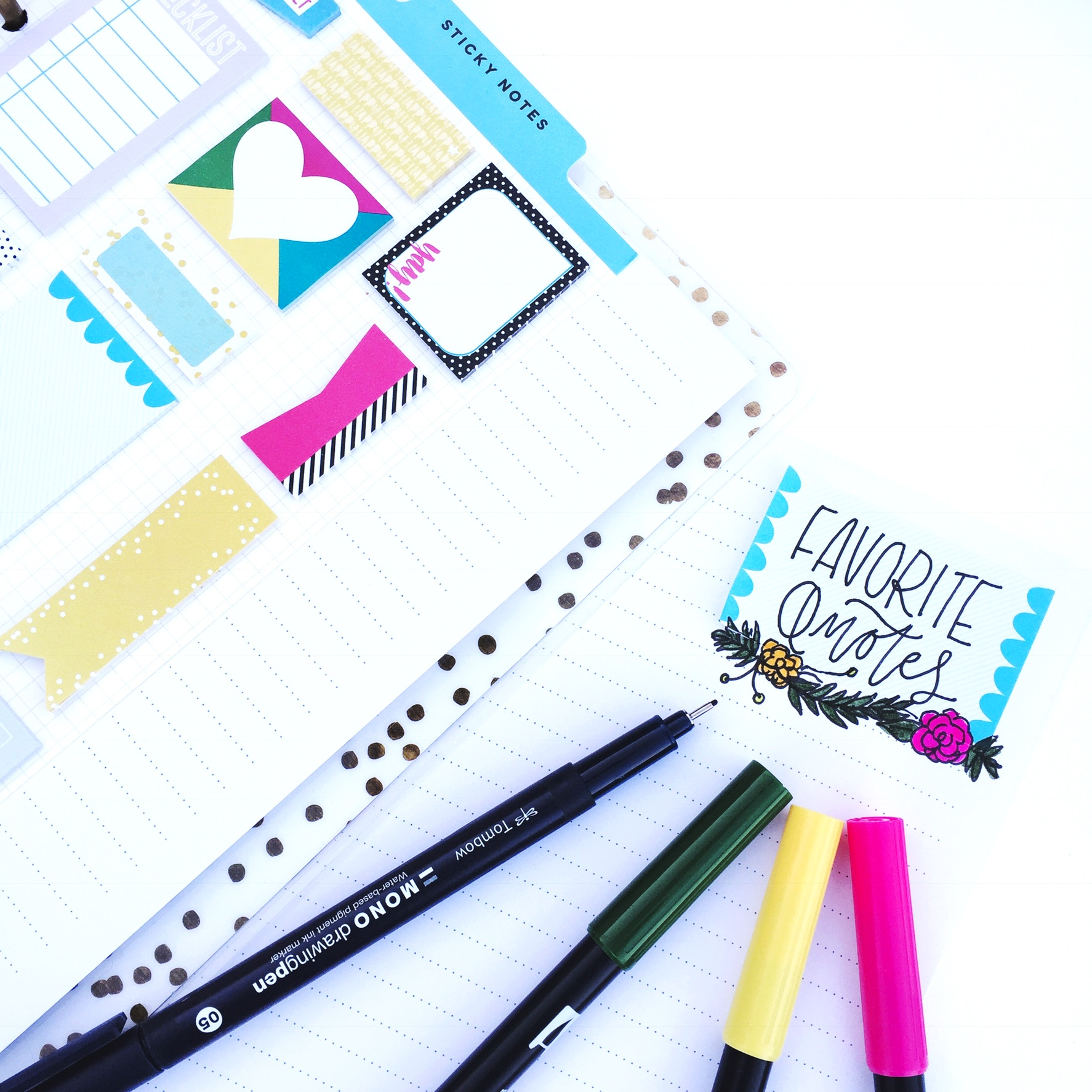 Add a little Tombow Dual Brush Pen color and you've created a beautiful design of lettering and illustration.  When creating monoline lettering, I like to use size 05 as it looks bold and smooth.
EMBELLISHING AND OUTLINING BRUSH LETTERING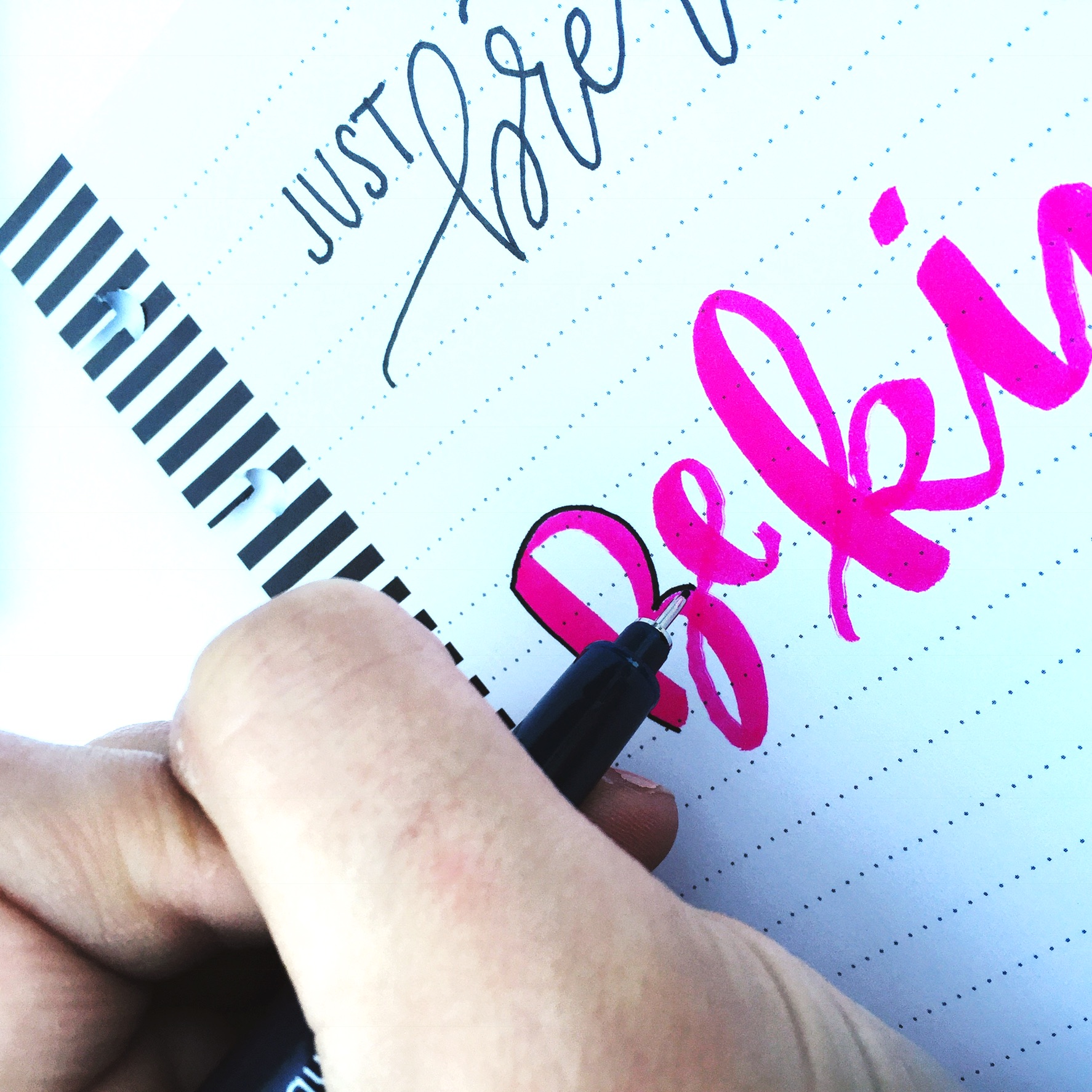 Embellishing lettering is also a super fun task that is easy to complete with the Tombow MONO Drawing Pen. The easiest way to do this is to start off by lettering with a Tombow Dual Brush Pen, in the color of your choice.  Then use the Tombow MONO Drawing Pen in the size of your choice to outline the lettering.  This will make the lettering look polished while also giving it a bold pop.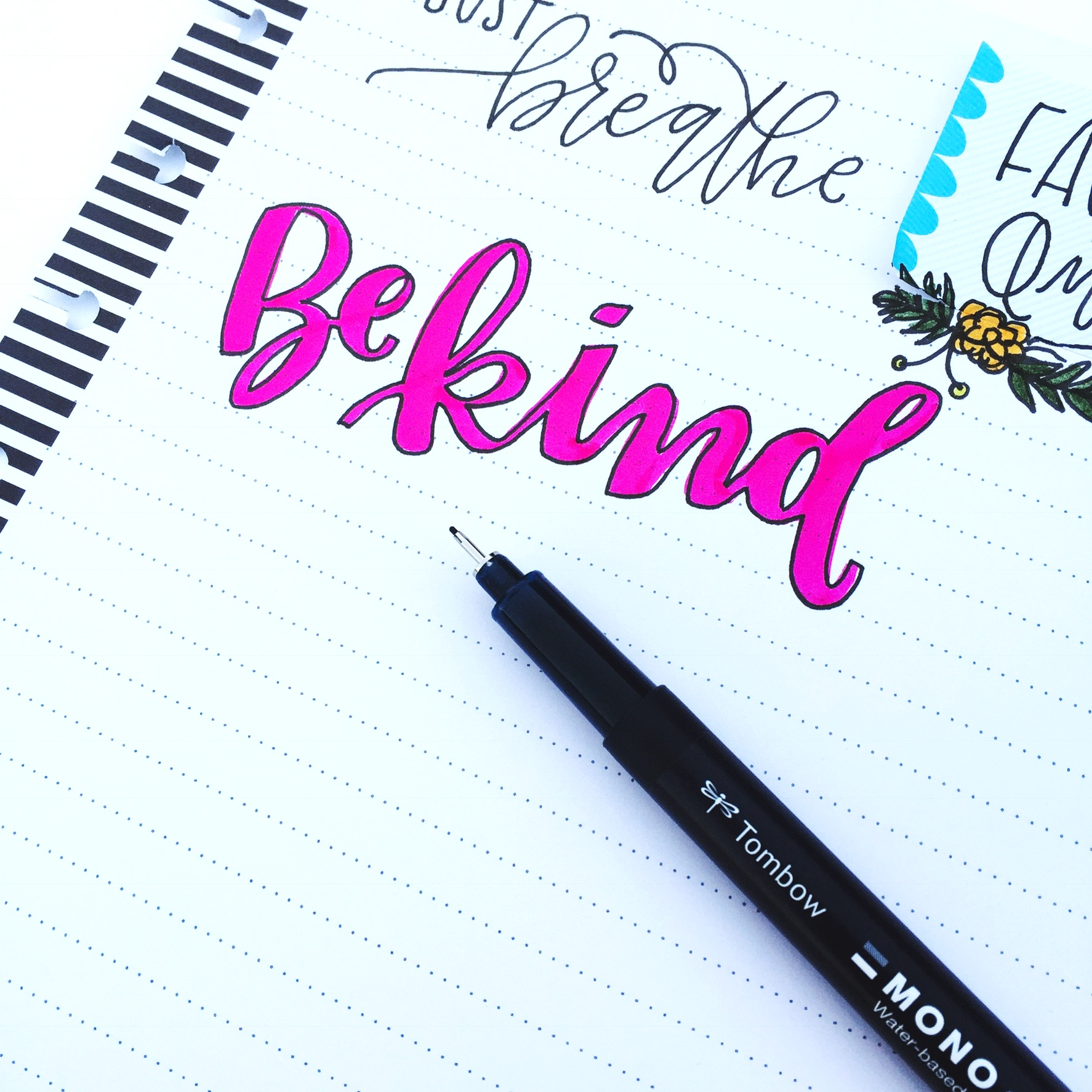 ADDING SMALL DETAILS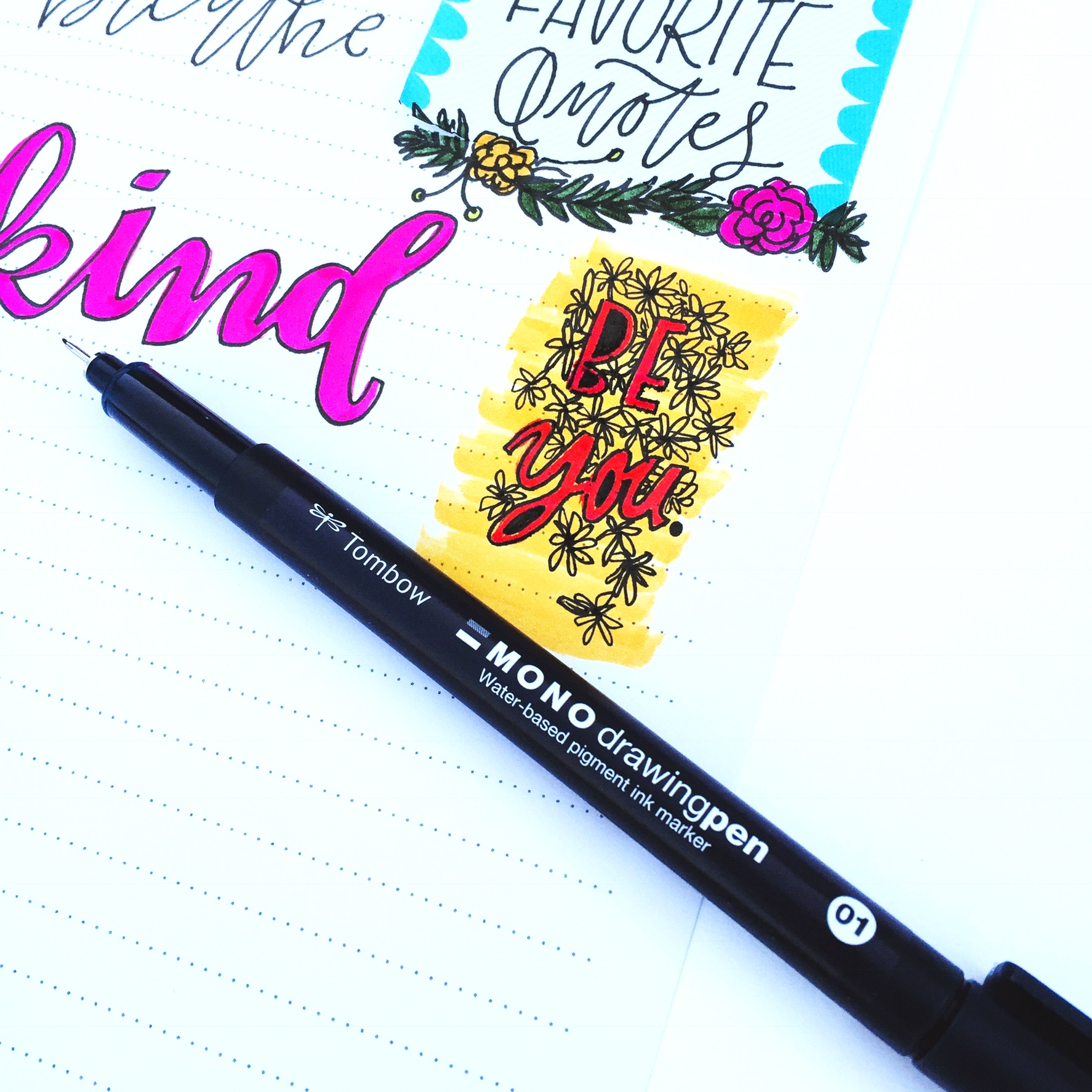 Adding details with size 01 of the Tombow MONO Drawing Pen is also super fun! Create your lettering and guide the fine time of the Tombow MONO Drawing Pen to add a small detail or design.
FAUX CALLIGRAPHY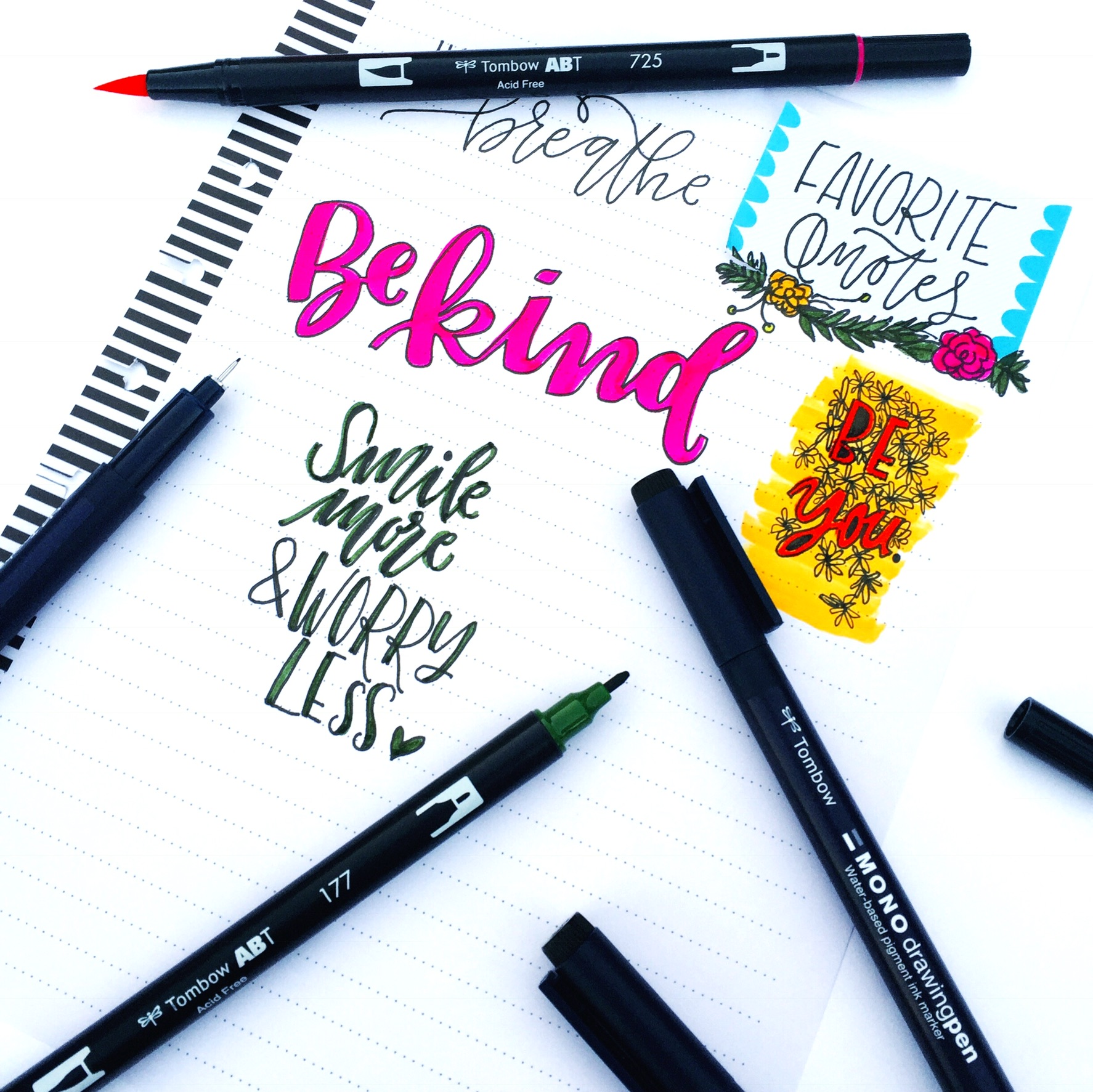 Create faux calligraphy by creating thick downstrokes and thin upstrokes using the Tombow MONO Drawing Pen.  Adding a shadow or filling in the strokes with a Tombow Dual Brush Pen can also add great interest to your lettering design.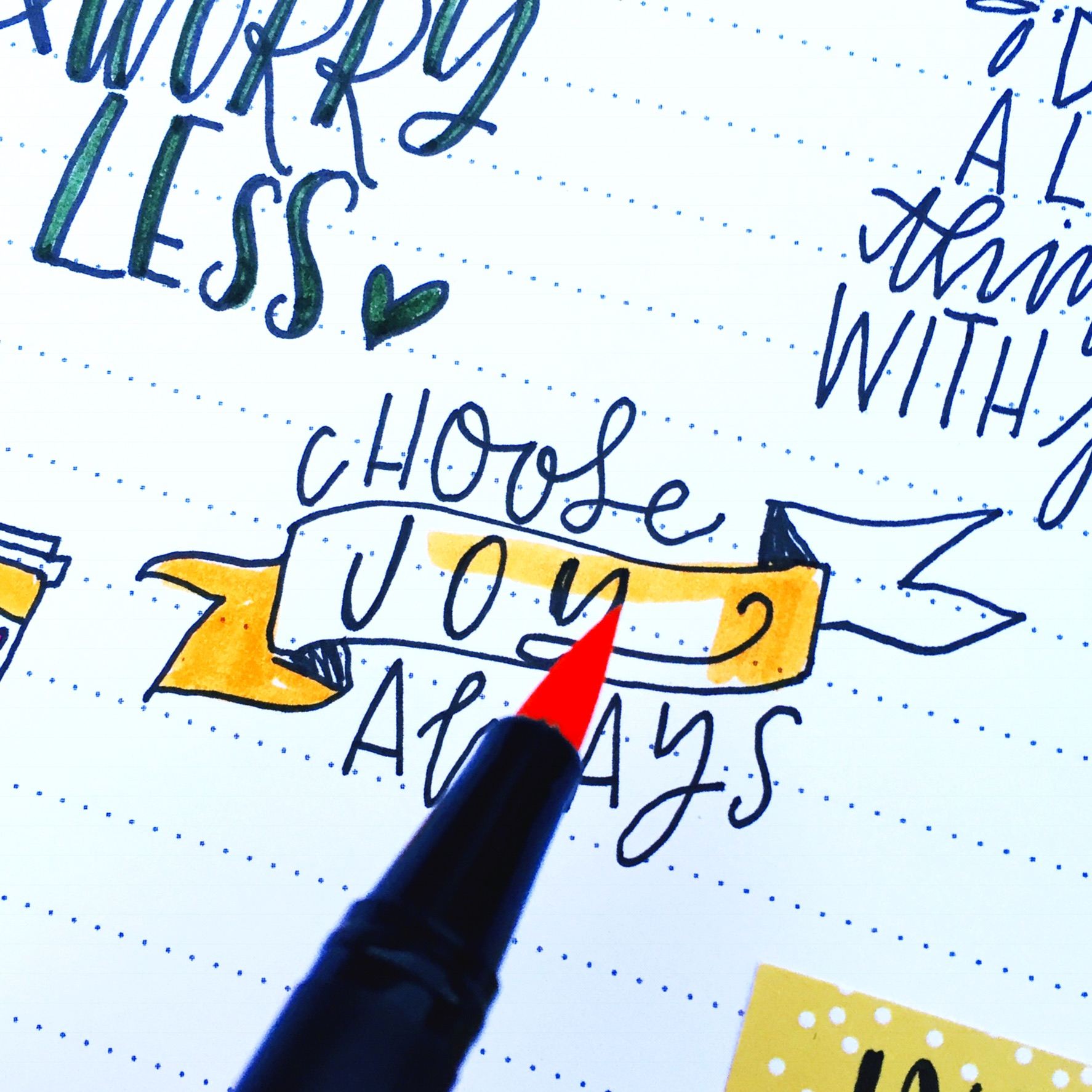 Add a banner to your calligraphy.  Another amazing detail of these pens is that you can color over the ink with the Tombow Dual Brush Pens and it doesn't smear!
CREATING AN ORIGINAL DESIGN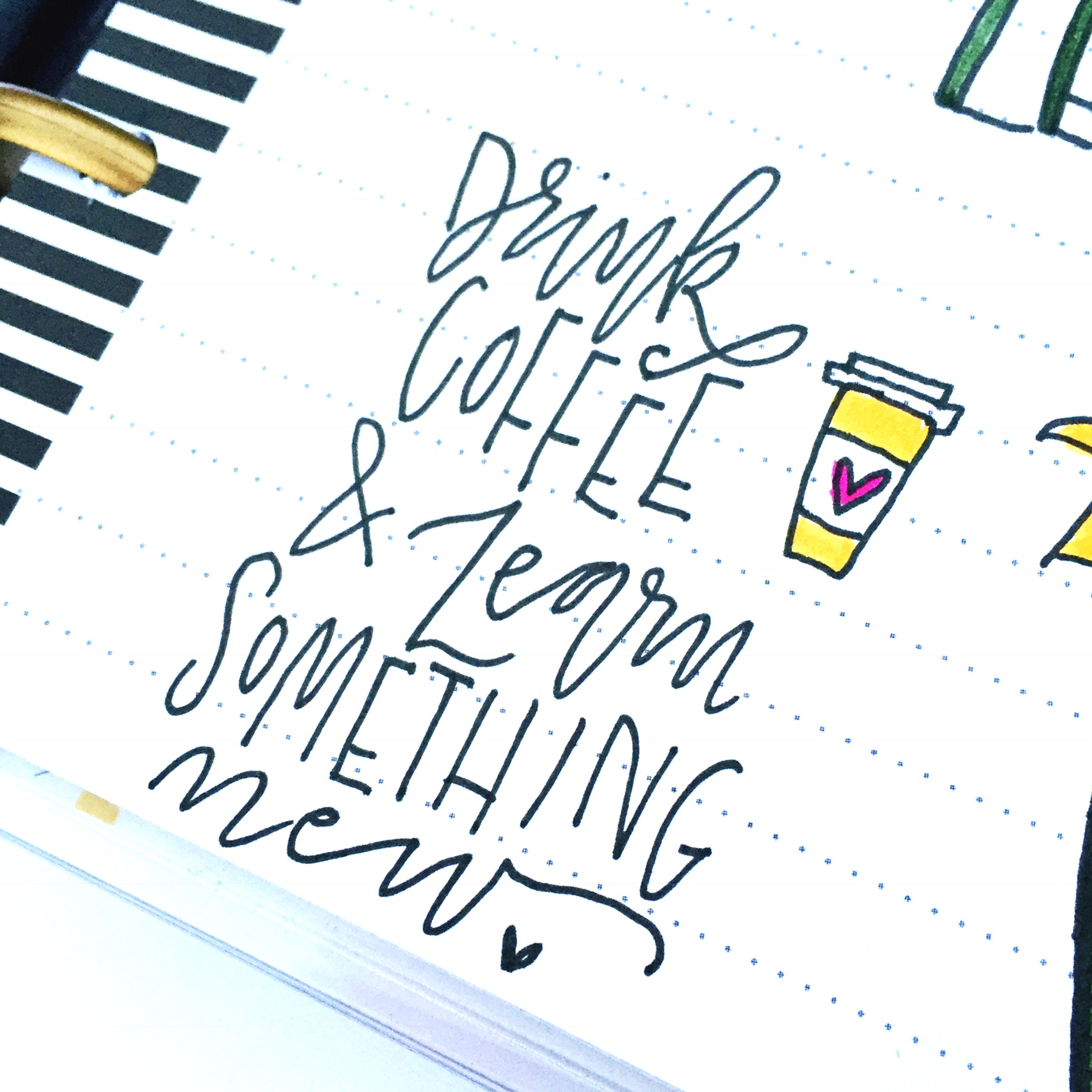 The Tombow MONO Drawing Pen is a great partner to the Tombow Dual Brush Pen.  Create the perfect quote designs by thinking outside of the box.  Add a fun illustration.  Mix it up with a pop of bright colors.  Fill in negative space behind the lettering.  Do whatever you can to create something new and original.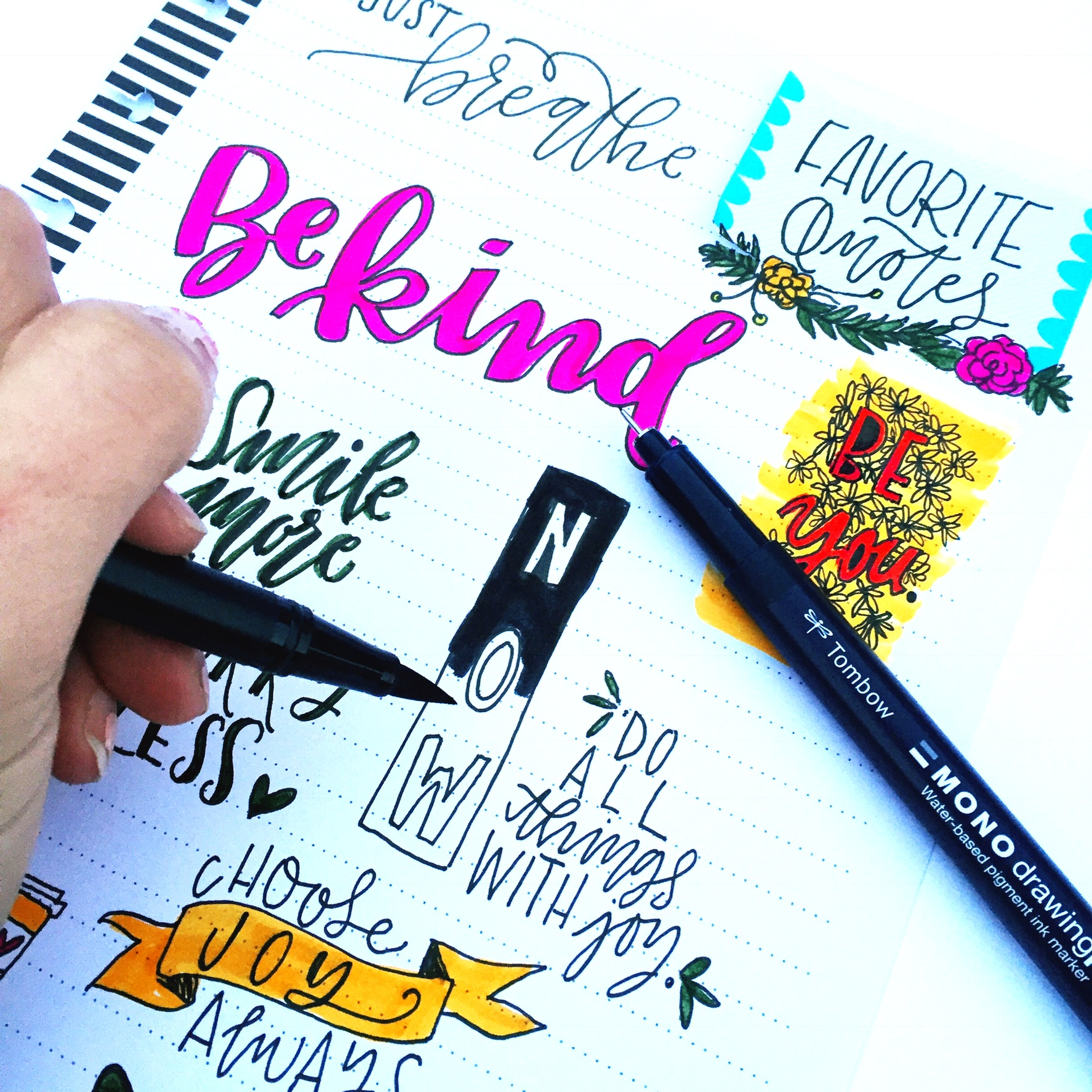 GETTING INSPIRED!
The Tombow MONO Drawing Pen is an amazing tool for lettering and illustrating! I cannot say enough wonderful things about this new pen! How will you use it? I can't wait to see what you all come up with! For more lettering tips and tricks using Tombow products, go to my website or follow my lettering adventures on Instagram at @renmadecalligraphy.