i have to admit, when i started making this calendar i had no idea that the response would go over so well….not only with the readers of tombow's blog (THANK YOU!) but also with the 4 teachers and 2 family friends that got them as gifts for christmas, or the guys at fed ex kinkos that even told my husband i was "amazing".  always good to hear, pardon me for tooting my own horn. but i love this calendar as much as they do!
so i wanted to hop on and give you a brief update about a possible way to use this calendar.
now i don't want this to be my planner that i carry around and write appointments and practices in, i bought a different one for that so it could get beat up and written in through out the year.
i want this calendar to be my "year in review" when 2011 is done.
i'm adding important dates and events, memorable dates and events. i'm adding them in after the fact, as well as those that are already planned out. i'm keeping a list of things to do as a way of remembering what my life was like during this year. and i'm using the 4×6 insert between the pages to add wallet size pictures to. i won't get every picture i take in there, but i'll get a good sampling of what our lives were like each month.
so here is what january looks like so far…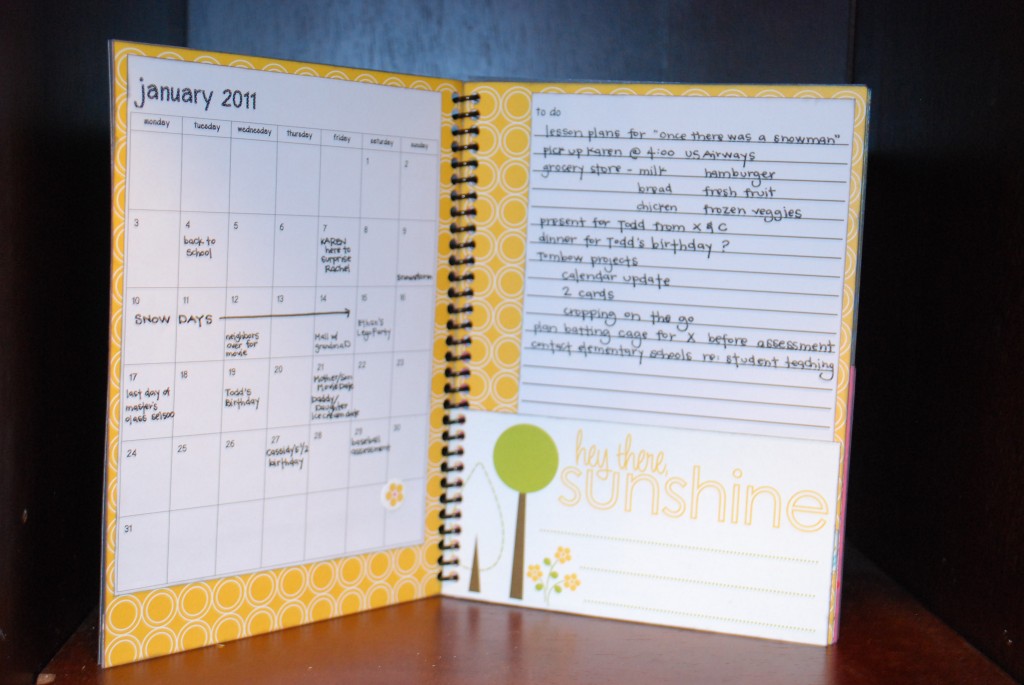 good luck with your calendars.
p.s. they even make great presents for a mom-to-be. they can document the whole first year. just start with the month the baby was/will be born and carry it through for the year. or, if you are really ambitious and know about the pregnancy early on, make enough months that she can also document the stages she goes through.