National Scrapbooking Day

was started by the well-known album company, Creative Memories and is celebrated on the first Saturday in May. Since 1994 scrap bookers all over the country celebrate their passion for Scrap-booking on this day! Here are a couple of links to publications and companies that are helping celebrate National Scrap-booking Day…http://scrapbooking.com/ &  http://www.twopeasinabucket.com/ be sure to visit and see all the fun they are bringing you!
Tombow's Design Team is getting the action too, you can see how much fun they're having…have a great day and
happy scrapbooking everyone!
Debbie Fisher,  is showing us one of the pages from a Scrapbook she is doing about her oldest son Benjamin. They all seem to grow up so quickly don't they? Scrap-booking is a wonderful way to keep those memories alive and well long after that special moment or event passes.  I have Scrap books all over my house about my family, I pick them up from time to time and just leaf thru and take a shot trip back down memory lane…you can too!
Did you know that according to CHA research most people craft for one or a combination of these key benefits?
Sense of accomplishment

Relaxation

Memory keeping

Health

Economy/Value

Recommended by friends or family

Enables spending time with others

Interaction with children
Speaking of children, look what wonderful pages Jennie Garcia,  did with her daughter Ithamar in mind!
These are so cute; children make wonderful subjects for scrapbooking.
Scrap-booking is a great way to chronicle the growth of your family. Children change so quickly and Scrap-booking is a great way to capture all those special moments you want to remember.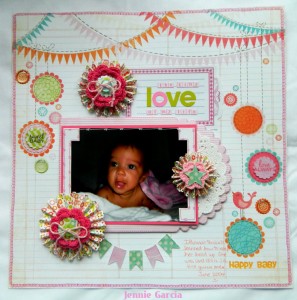 Marie has such a wonderful family and you can see how she has created a few scrap-booking pages using a different look for each occassion.
 I just giggle when I see the little ones face holding that bug…
All of these pages are so special, each one hold so may memories, I hope you have tried scrap-booking, if not use so of these examples to get started, you know you have lots of memories you want to share and keep forever. I hope you have a wonderful day scrapbooking, come back to see us soon…..
If you enjoyed this post please follow us on   and