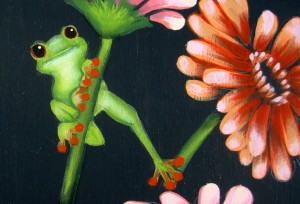 This is a quick fix for all you decorative painters out there. I painted this little frog in with acrylic paints on a wooden surface. I was not happy at all with my floating and used Tombow's Irojiten Colored Pencils to do a quick re-do.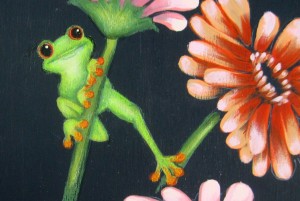 Here is Mr.Frog again, this time the shading is a bit smoother, the highlights more defined and the coloring a bit brighter. I started by choosing my Irojiten colors, and making sure the paint is bone-dry, I blended the colors on top of the painting. I loved using the Fluorescent green to really make the green 'pop'! Even the very fine details were easy to handle. In a few minutes I was much happier with the finished piece. The acrylic matte varnish then was applied to protect and fix the painting.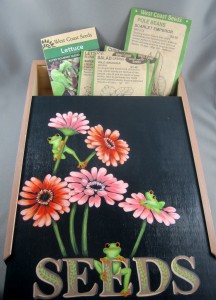 Here is the finished seed box lid ready for my spring planting!