We are thrilled to announce that we will be BLOG Hopping with Precious Remembrance Shop this week!
Precious Remembrance Shop is owned by Dyane!
According to her, "Having this shop is a dream come true, because I love and enjoy crafty things. It is also a dream to create my own line of product that I can use and share in this crafting  journey."
Dyane made her dreams possible and is so happy and excited to introduce her  own line of clear stamps. She designs all of them with love.  PRS uses  high quality photopolymer clear stamps Made in USA. Each set of stamps are truly one of a kind.
We are so excited to be hopping with them this week!
We will have a TON of FUN and exciting projects for you all week!
Check out this AWESOME PRIZE: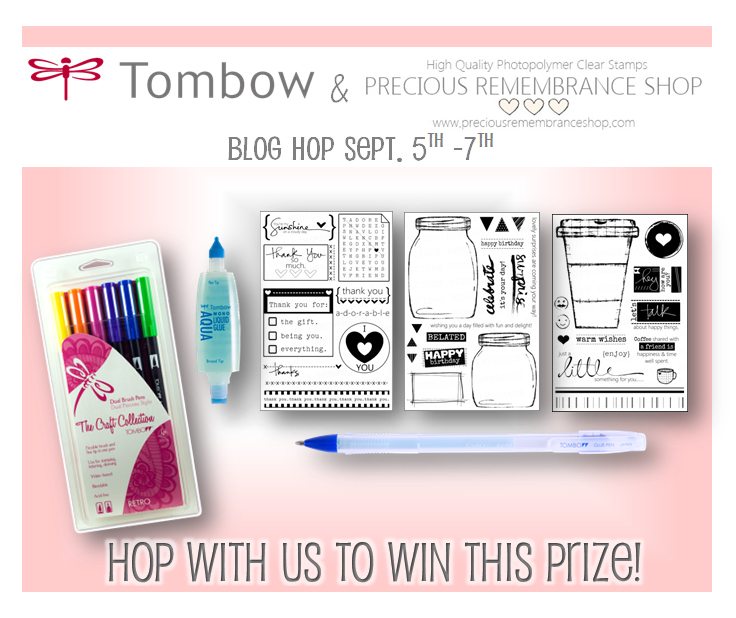 It includes GREAT Prizes from BOTH Companies:
From Tombow the Winner will receive:
From Precious Remembrance Shop the Winner will receive:
In order to qualify to win this AMAZING prize you must:
1. Comment on each of the Design Team Member's blog post AND the Company Blog post.
2. Like BOTH TombowUSA and Precious Remembrance Shop  on Facebook.
The Winner will be announce on Tuesday September 9th
Now for TODAY's Line UP:
TombowUSA Blog
Marie Browning
Rosemary Dennis
Lisa Elton
Debbie Fisher
Sue Lelli
Kim Bell
Melissa Cash
Melissa Chipperfield
Geri Freeman
Jennie Garcia
Andrea Budjack
Precious Remembrance Shop
Now get to HOPPING 🙂
If you enjoyed this post, stay up to date with Tombow on our Social Media outlets!