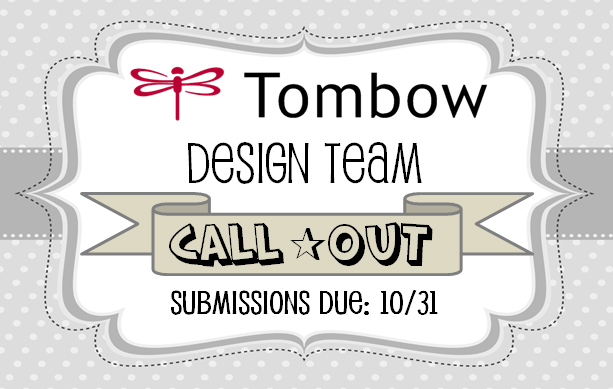 Tombow is looking for some FUN and CREATIVE people to join our Design Team! LOVE Tombow Products? Then this is the Design Team for you! 🙂
Tombow Design Team perks:
You will be supplied with awesome Tombow goodies to play and create with (this includes Art and Craft products).
You will also receive products from our Product Partners.
You will be compensated for your Design Team work
You will have your name, bio, headshot and link to your personal blog on the TombowUSA blog.
You will be compensated for any published work where Tombow is credited.
You will receive exposure through the TombowUSA blog & ALL of our other social media sites.
Tombow Design Team expectations:
Use Tombow products in your projects and link to our site or blog whenever possible.
Actively promote Tombow products.  This includes social media participation.
Post regularly, as well as participate in cross promotions whenever possible.
Minimum of 4 blog/social media posts linking to Tombow per month.
Link to the TombowUSA blog on your blog or website.
Design team membership lasts one year from when names are announced.
This Design Team Call will have 2 rounds!
Round 1:
Post a minimum of 3 projects on your own blog, one of which should be a D.I.Y. project.  Please choose projects that really show off your style & talent. While it is appreciated if Tombow products are used, it is not required for the first round.
Email me the following no later than October 31st 2014 at Kbarber@tombowusa.com :
Subject line: Tombow DT Call
Contact information: name, address, email address & all blog/website addresses
Your resume.  If you don't have one, please list the past & present Design Teams you have been a member of.  (Being on another Design Team is not a prerequisite.)
A brief description of yourself, including your design strengths and why you want to be part of the Tombow Team.
A link to your submission post.  (If you do not have a blog, you will be permitted to email me your projects instead)
All finalists will be announced on the TombowUSA blog on November 4th 2014
Round 2:
For the final round Tombow will provide the finalists with a special Tombow product to work with to create a final project.
All finalists are required to create a minimum of either one tutorial or one video. Again, please choose a project that best demonstrates your style & talent.
When you have completed your project, email me the following.

For Video Submissions:  Post your video tutorial on your own blog.  Then forward me the YouTube link to your video, plus photos of the completed project.  Please also include a brief written introduction to the video.
For Written Submissions:  Post the tutorial on your own blog.  Then forward me the link to your post, along with photos of the completed project.  Please also include a brief written introduction to the tutorial.  All photos should be sent as an attachment and in jpeg form.

Deadline: November 21st 2014.  All submissions will be posted the week of November 24th 2014.
Our new Design Team members will be announced December 3rd 2014.
Thank you and good luck to you all.  Spread the word to all your creative friends! 🙂
We cannot wait to see what you create!