I am a bit of a fanatic about being organized.  My motto is – "A place for everything and everything in its place!"  And any chance I get to upcycle is a BONUS!
Now I am NOT a cook or a baker, so I was recently cleaning out and organizing my kitchen cabinets and came across this brand new baking sheet.  I needed a message center by my home phone (yes, I still have a land line!) and thought this baking sheet would be the perfect size!  So, I set out to upcycle it into exactly what I needed.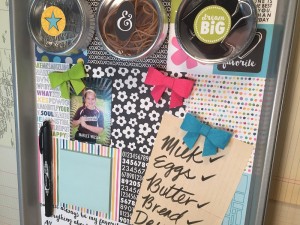 The baking sheet I used was 11 1/2″ wide by 17 1/4″ tall, so I knew I would need multiple pieces of scrapbook paper.  I used the Just Add Color collection by Bella Blvd. along with stickers and felt bow embellishments from the line.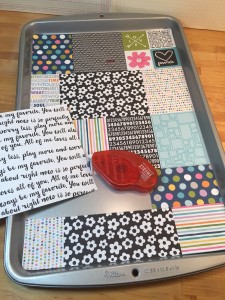 I pieced together a full sheet of Daily Details and scraps of Speak Freely for a patchwork effect and attached it to the inside of my baking sheet using Tombow Xtreme Permanent Adhesive.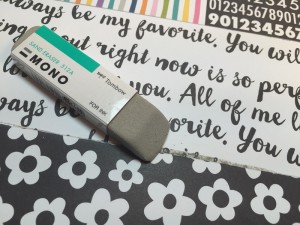 I wasn't as neat as I wanted to be with my adhesive and it showed past my seams.  I tried to rub it off with my finger, but just made a sticky black smear instead.  🙁  I grabbed my Tombow MONO Sand Eraser (traditionally used with colored pencils) and the Tombow Xtreme Adhesive came right off – SCORE!  I love when I discover a new use for an existing supply in my craft stash.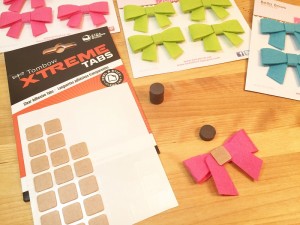 Now, I needed some super cute accessories for my organizer, so I attached magnets to the back of some Bell Blvd. Bows in pink, green and blue with Tombow Xtreme Tabs.  These tabs are clear and very strong, so I know they will hold up to all my notes and photos.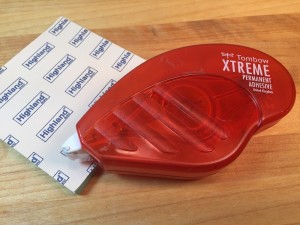 Next, I attached a post-it note pad to the organizer with Tombow Xtreme Adhesive.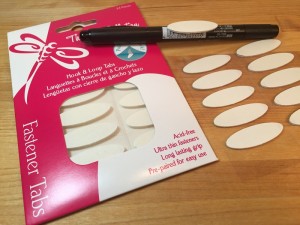 I finished up with a pen.  I love the Tombow MONO Twin Permanent Marker, so it was the natural choice for my organizer.  It has a fine tip and a broad tip that write on any surface. Perfect when you need a pen in a hurry!  I attached it to the organizer with Tombow Fastener Tabs, which are self adhesive hook and loop tabs, so you can detach the pen, use it and then stick it right back – brilliant and always handy!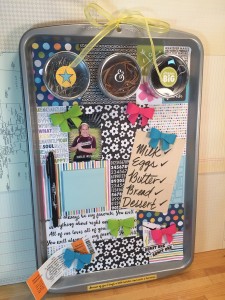 I filled a few metal containers with paper clips and rubber bands, then attached them to the organizer with heavy magnets.  Tied a bow to the top, embellished with Bella Blvd. Treasures & Text Stickers and my organizer is ready to hang and use for years to come.
This was such a quick and easy project that I might make some to give as teacher gifts for back to school!
Make sure to check back each day this week to GET ORGANIZED with the Tombow Design Team!
You can also follow Tombow USA on Pinterest to discover more tips, tricks and techniques!
Thanks for stopping by!  -Beth