Latrice here with an easy way for you  update your home and office supplies. I don't know about you, but I love home and office supplies something fierce. I could go into Staples and need one thing, grab a basket and end up with a cart full of post-its, pens, envelopes, planner supplies, binders and clipboards. I also love giving old things a new life. I found this beat up clipboard that my kids and I had used for years. They used it to play school with each other and I made many lists using it. Time for an update from boring brown to colorful beauty! Check it out!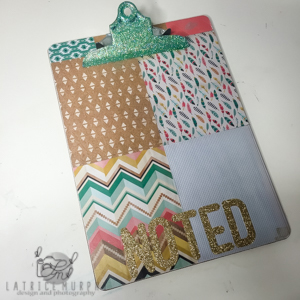 You will need a few supplies:
Tombow MONO Aqua Liquid Glue (My favorite glue ever!) 
Letter Stickers
Clipboard
Patterned paper
Foam brush
Glitter
Sanding block (not pictured below, but you'll see it in a later image)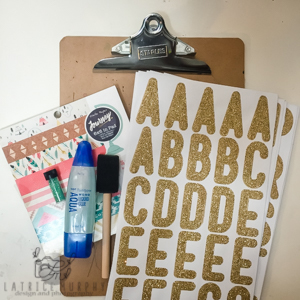 Follow my picture tutorial to create your own updated clipboard today. Let's get started!
Step 1. Begin by cutting some patterned paper down to 4-1/2″ wide. I measured my clipboard to 9″ so I knew I wanted it even in the center.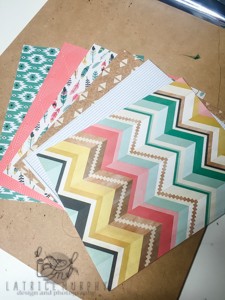 Step 2. Cover your entire front with Tombow MONO Aqua Liquid Glue and smooth out with your foam brush. I'm so glad to be covering up this ugly clipboard.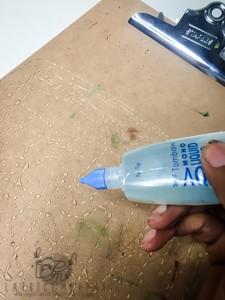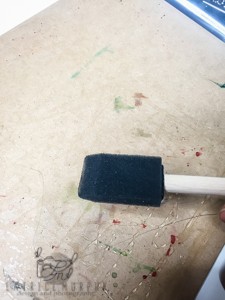 Step 3. Place your patterned paper onto your clipboard and smooth with your fingers. I trimmed the top pieces down to 1-1/2″ since I didn't need such big pieces.
Tip* To keep my clip pen open I used some elastic  This helps when I put on the top coat with the Tombow MONO Aqua Liquid Glue also.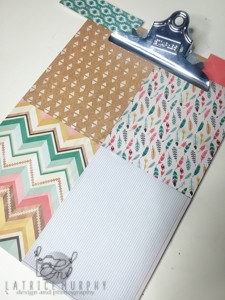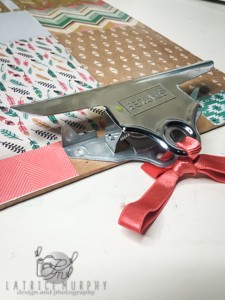 Step 4: Sand those edges totally smooth. Using a sanding block makes this super easy and finishes the edges perfectly.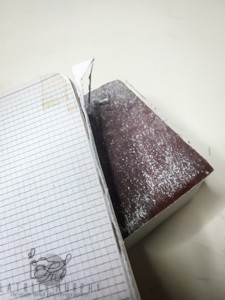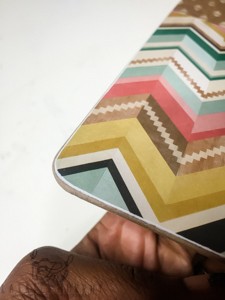 Step 5. Add your letter stickers and add your top coat of Tombow MONO Aqua Liquid Glue.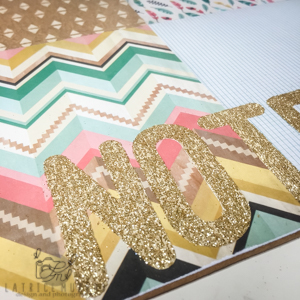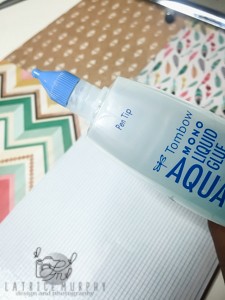 Step 6. After letting it dry for about 1 hour you can glitter the clip. I used the same Tombow MONO Aqua LIquid Glue and some super fine glitter.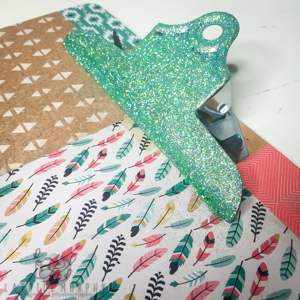 So fun and festive! Here's a look at the finished clipboard again.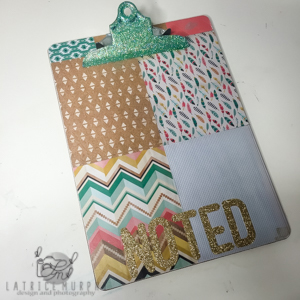 I hope you give this a try today. If you haven't already check out the other fun Home and Office projects from earlier this week below. Don't forget to find me on Instagram, Facebook and over on my site HERE! I love visitors. I hope you this gets you motivated to start updating your home and office supplies.
Have a crafty day!