Hey there readers. Happy Thursday. I'm excited to be here today to share more with you for our Fancy Pants week. Today I've created a photo tutorial for you showing you each step I took in creating a fun Fancy Pants Layout with a little bit of a back to school theme.
Here's my fun layout for you today.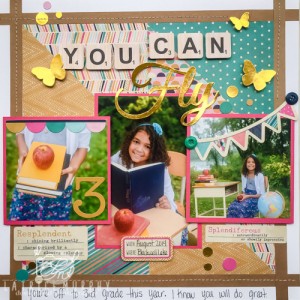 Here is what you'll need:
Fancy Pants Flutter Collection
Cardstock
Tombow MONO Adhesive Permanent
Let's get started!
Step 1: Choose your patterned paper. I chose from the 6×6 pad since I knew I was going to be cutting the paper down to size.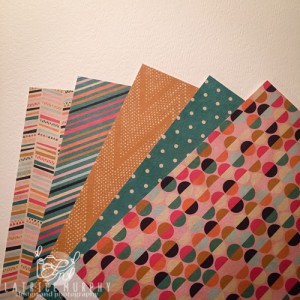 Step 2: Cut your 6×6 pieces down to 5×5 and then cut in half to create triangles.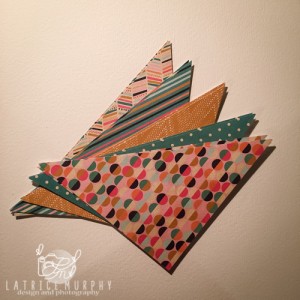 Step 3: To make these pieces easier to assemble I taped them all together to create a "new" piece of paper.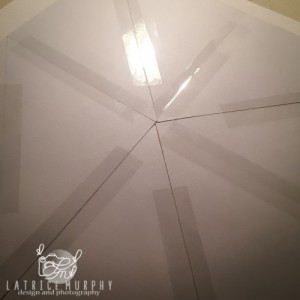 Step 4: Choose your photos and trim if needed. I originally had three 4×6's and cut two down to 4×4 to work for my page. I then chose a cardstock in a bold color to matte my photos onto.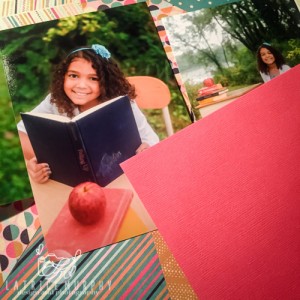 Step 5: Matte photos and adhere to page. My center photo was adhered with Tombow MONO Adhesive Permanent and the two side photos I used  Tombow Foam Tape.
Step 6: Add all your pretty embellishments. I used a couple of borders, some gold butterflies and create my title with the pieces as well. The smallest dots were adhered with Tombow MONO Multi Liquid Glue and the butterflies were given dimension with Tombow Foam Tabs.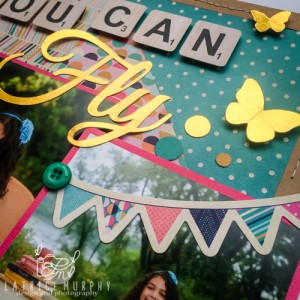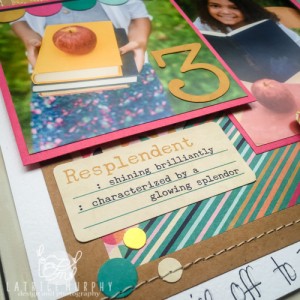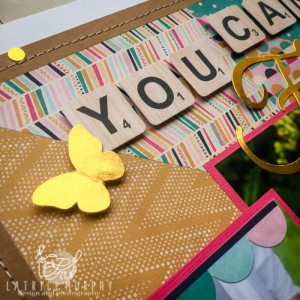 Here is again all finished up!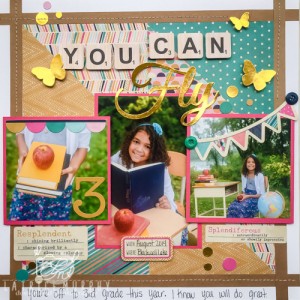 How fun is this collection?! So colorful and vibrant – I love it so much. Thanks a bunch for stopping by the blog today for Fancy Pants week. There is still more to come tomorrow and if you haven't checked out the rest of the awesome projects this week, go do that too!
Don't forget to visit me on my blog over at Latrice Murphy Design and Photography! Lots to share with you always.