*Periodically we will be featuring Q&A posts with Tombow Brand Ambassadors so you can get to know the people who use and love Tombow products. This is the first in our Ambassador Spotlight series.

Kiley Shuffett is a Kentucky native currently residing in New York City who is in the process of moving to Southern Illinois. She is the handletterer and blogger behind www.kileyinkentucky.com and Co-Founder/Creative Director of Girl-ish (www.girl-ish.com). Kiley has always been what she calls "artsy-fartsy" and gravitates toward bright colors and patterns. However, she also loves white space and using a smaller focal point to make her work pop. She is constantly changing up her personal style and searching for new methods of creating, but her go-to style will always remain "less is more with pops of color!"
Follow Kiley at: kileyinkentucky.com  |  girl-ish.com  |  Instagram  |  Pinterest
Q: How did you first learn about Tombow?
When I first got into hand-lettering, one of the first artists to inspire me was Amanda Arneill (I still adore everything she does). I saw that she was using Tombows, and being the impatient person that I am, I Googled where I could find Tombow in stores in NYC, and made a quick trip on my lunch break to pick some up. It was love at first use! I was amazed at how easily I could use them right off the bat…it was meant to be.
Q: That is so wonderful! Do you sell the handlettered artwork you create?
Up until recently, the majority of my work has been personal. I truly use handlettering as an escape from my reality. My lettering time is my time to relax and get centered. I still view it as that, but now that I've gotten some experience under my belt and am more comfortable with my skill set, I do commissioned work, and am opening an Etsy store in the very near future!
Q: How would you describe your creative process?
If I have a specific plan in mind, I loosely sketch what I imagine the finished product to be. From there, I'll start putting pen to paper – this is the most nerve-wracking part for me because every stroke matters! But, in the end, I like to let my creative brain lead me, and I go with the flow of what is happening on the paper. When the product is finished, I'll photograph it or scan it into my computer in case I want to digitize it!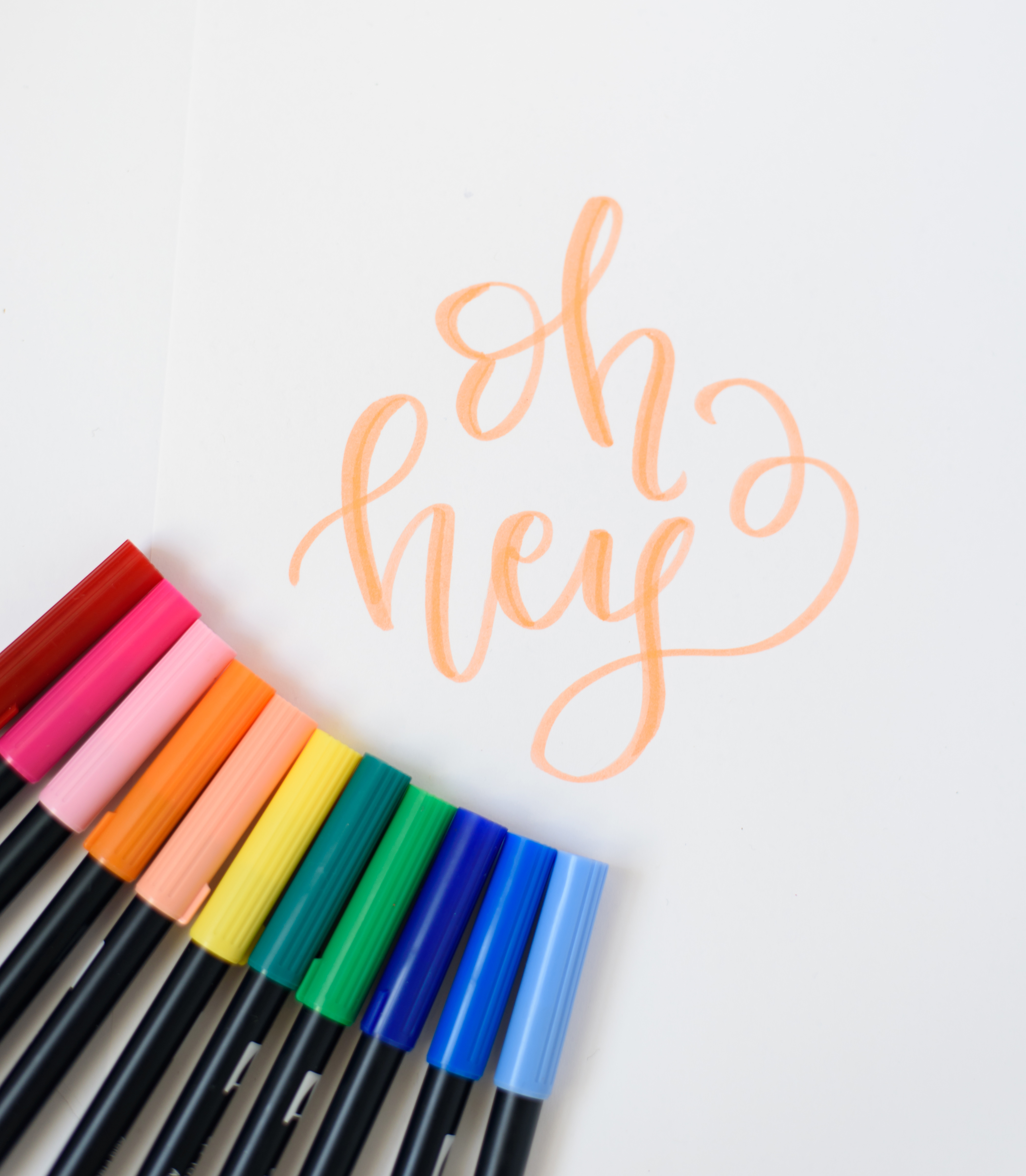 Q: Where do you draw your creative inspiration from?
I haven't pinpointed that yet! It is very random, the things I will be inspired by and the times I'll get inspired! Bursts of inspiration and creativity are so fleeting for me, I just try to pay attention and take advantage the moment it hits!
Q: Is there a particular piece of your artwork that you are especially proud of?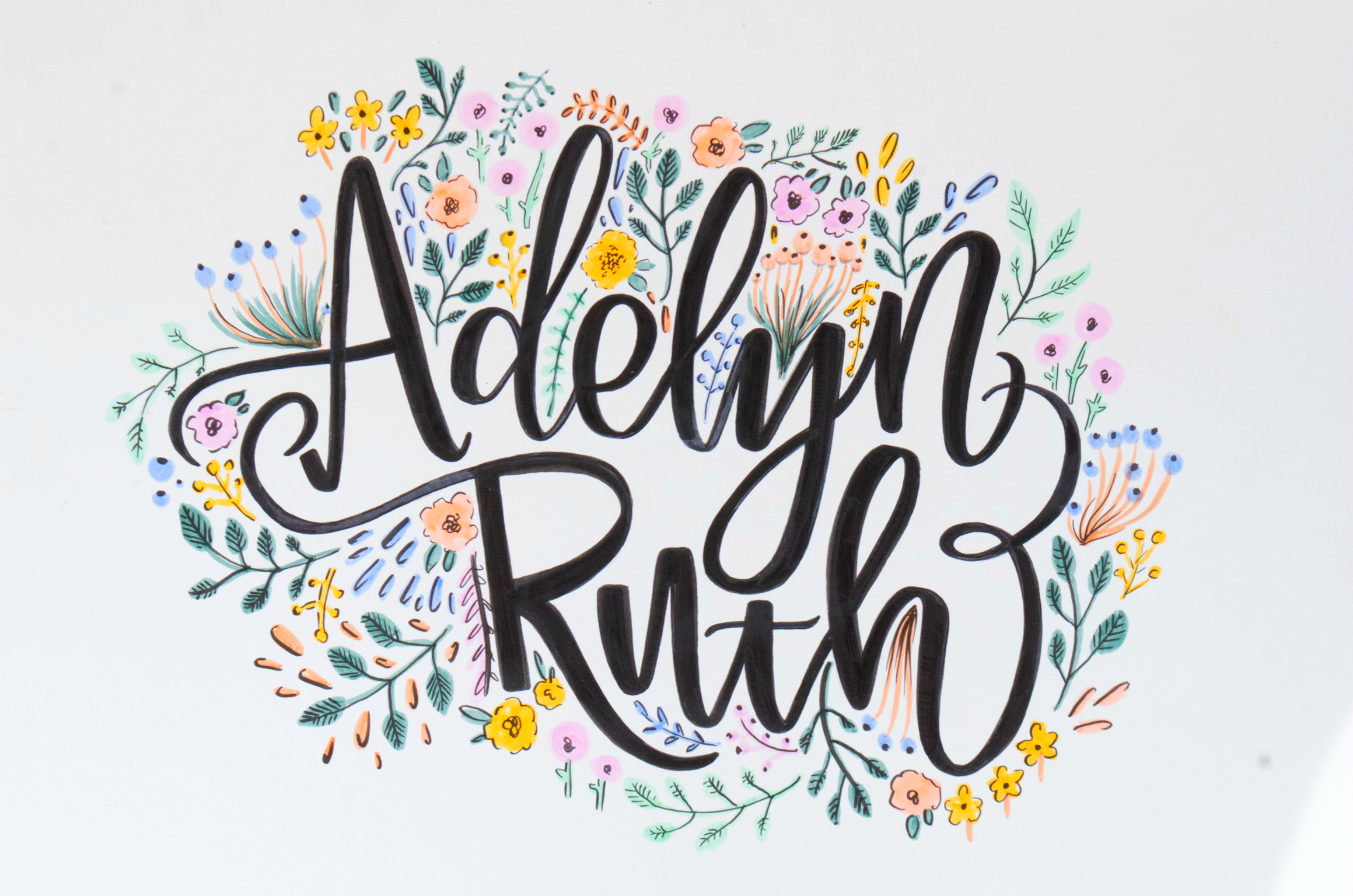 Here is a commission I did for a friend who recently welcomed her first child into the world! Originally, it was going to be a black and white piece showcasing only her name in my calligraphy, but when I began experimenting with floral patterns, I knew I needed to add the bright flower detailing along the edges.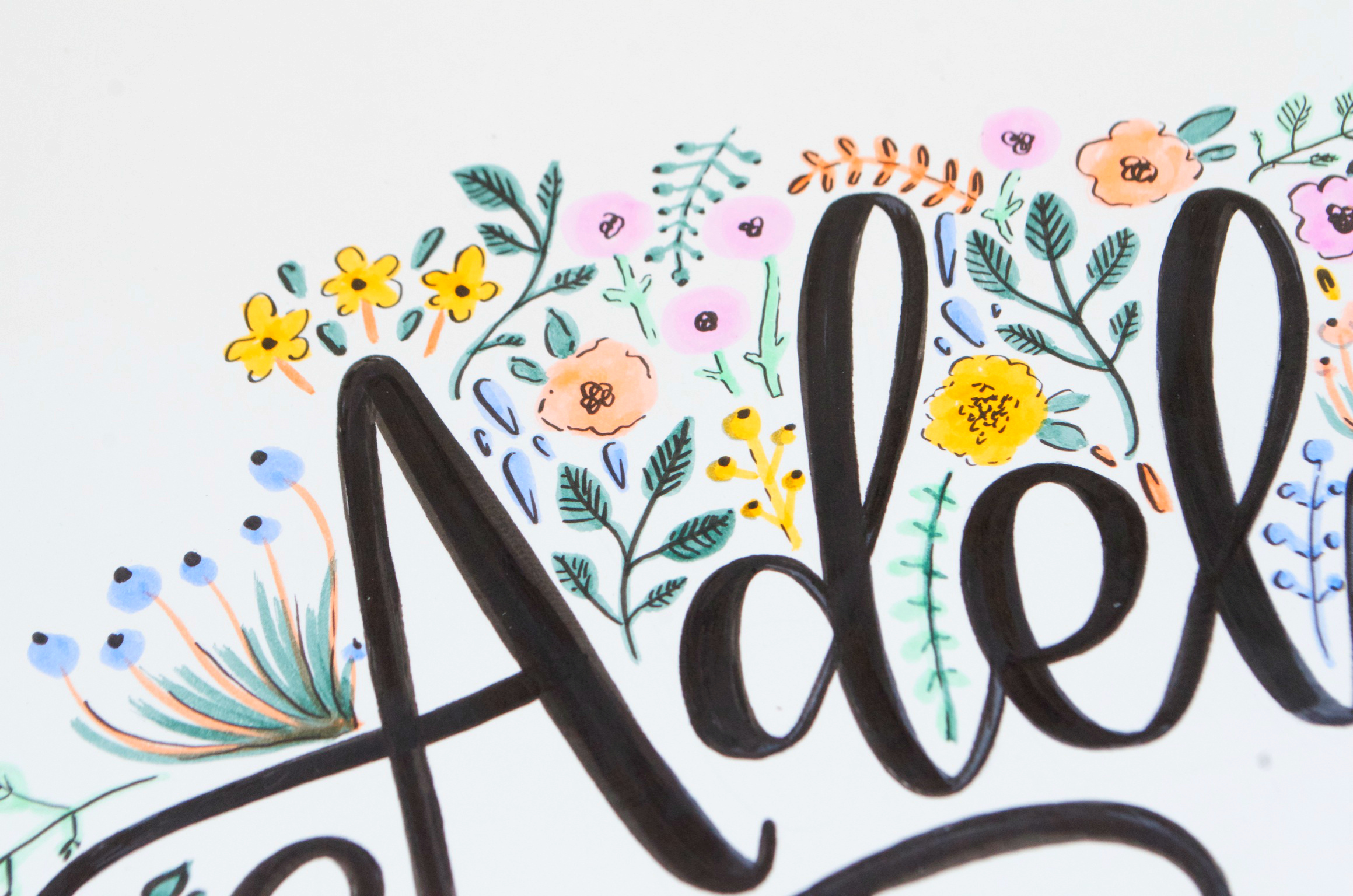 I wanted it to look like an unkempt secret garden with fresh wild flowers sprouting up from the ground. I am so proud of this one because it is the first large piece I've done and one that I can say I am 100% pleased with!
Q: Do you have a favorite color to use in your handlettered pieces?
My favorite color is a buttery, yet vibrant yellow. There's just something about it that lifts me up and puts me in a good mood! Unfortunately, I've yet to find my perfect shade of yellow in a clothing item. I'm always on the lookout!
Q: Other than handlettering, what do you like to do in your free time?
By day, I work in administration for a top-tier advertising agency in NYC, but I am transitioning to self-employment in the next few months. It is very scary to leave my 9-5 security, but there is truly no better tim than now to take the leap. Aside from lettering, I play piano, am an avid reader, and am Co-Founder and Creative Director for Girl-ish, which keeps me busy day and night!
Q: Anything else we should know about you?
As I mentioned earlier, I am opening an Etsy store this Summer and have been tirelessly working to perfect the products I'll be offering! I never thought I would be an online shop owner, and I have no idea if it will pan out, but I feel confident that this is the right next step in my career, and I'm going at it with everything I have! Look for me in May as KileyinKentucky on Etsy!