Hey Tombow Fans! This is Jennie! Did you know that Tombow means dragonfly in Japanese? This week the Tombow Design Team is using dragonflies as our inspiration to make our projects!
To make this Marie Antoinette Mixed Media Art page I was inspired by old wallpaper pattern, the kind that has nature patterns like leaves and bugs.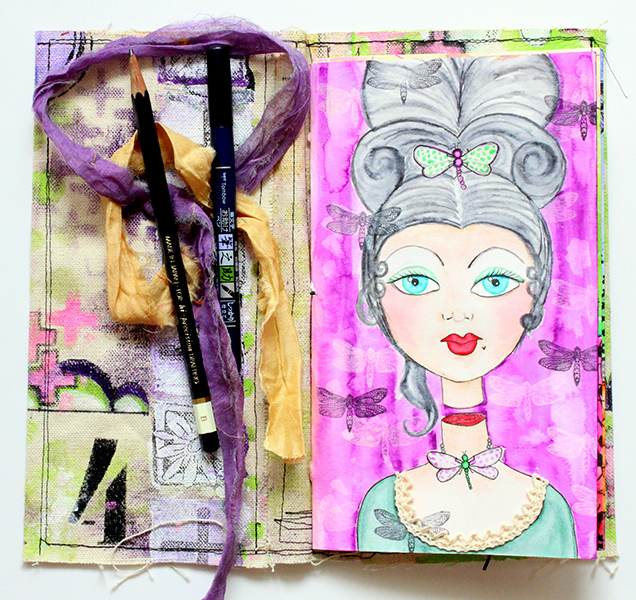 I always start my mixed media pieces with the Tombow MONO Drawing Pencil, the Tombow MONO Zero Eraser and the Tombow MONO Jumbo Eraser. B grade pencils are my favorite to use for drawing and making lettering pieces. I don't use H grade pencils too often because I would have to press harder to see the lines and that would leave an indentation in my paper.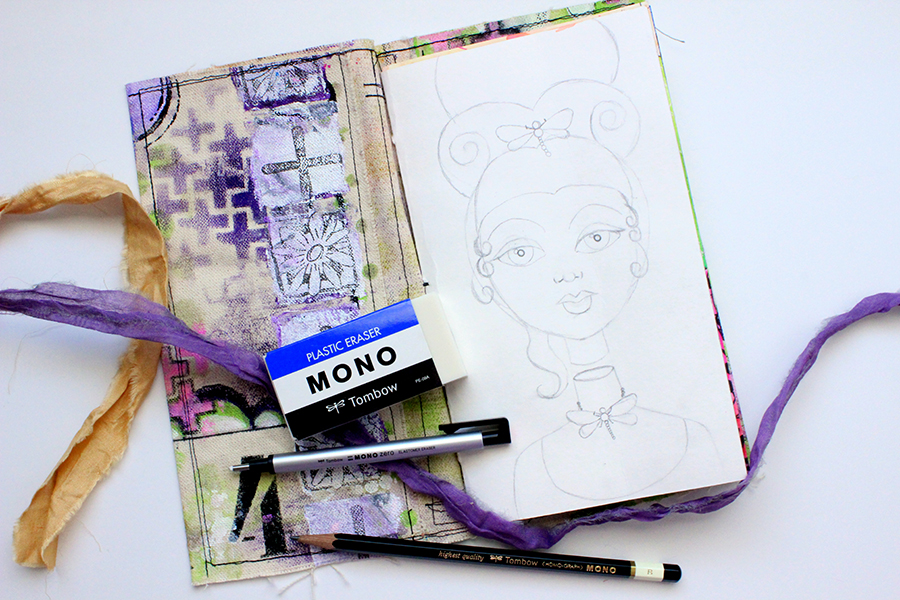 To color her skin I scribbled on the paper with the 850-Flesh and 990-Light Sand Dual Brush Pens. Then I used a watercolor brush and water to blend and move the colors. I scribbled the 723- Pink on the Tombow Blending Palette. I picked up the color with a watercolor brush. By picking it up from the palette the color is lighter and more subtle. I wanted to create a light blush effect instead of a harsh color. Marie Antoinette was quite pale so I did not want to use any heavy color, except on the lips.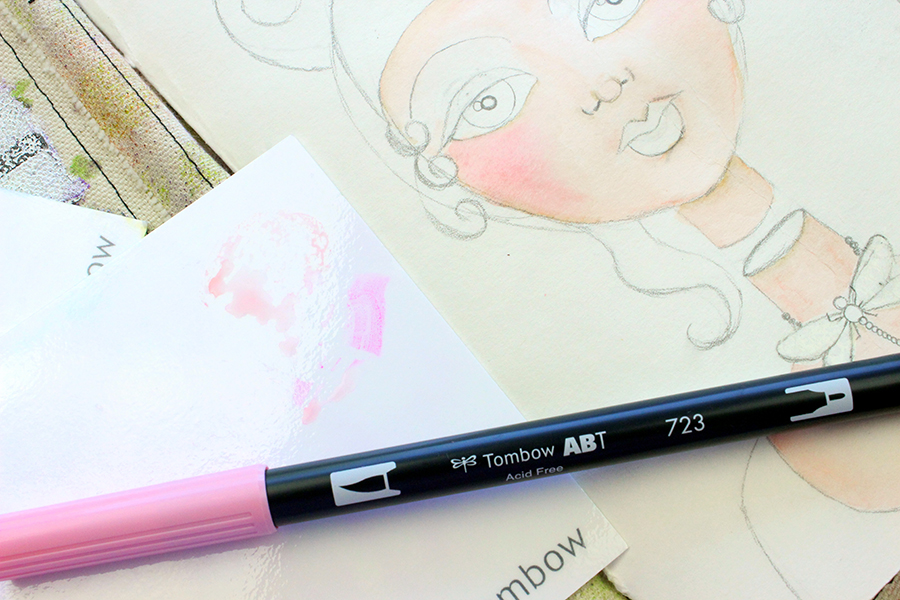 To use the Tombow Dual Brush Pens as watercolors I scribble on the parts where I want a darker shade. The Dual Brush Pens are super pigmented and a little bit goes a long way. You can always apply a little water, let it rest for 30 seconds and pick it up with a paper towel if you want a lighter colors. Also you can add a darker color picking up a darker shade from the Blending Palette.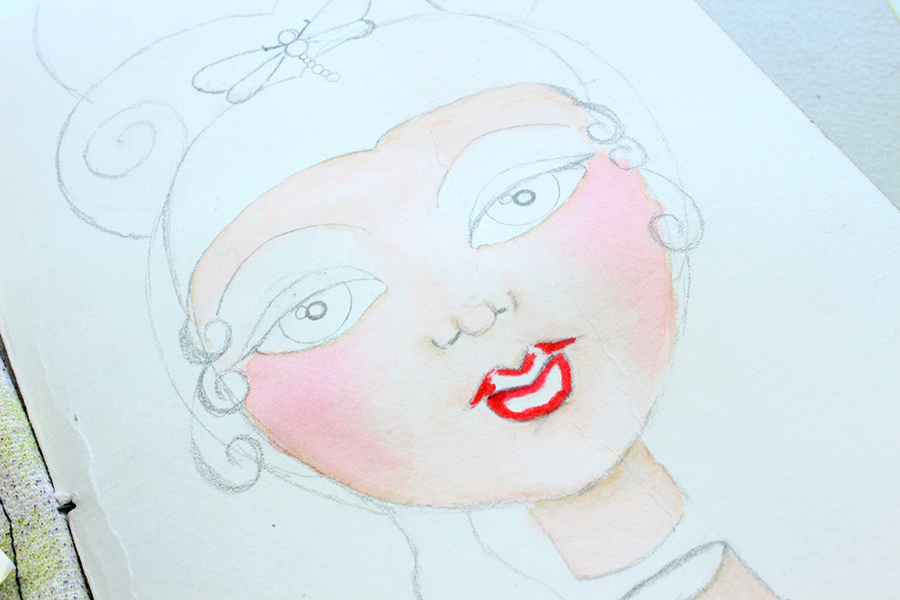 On the background, I only used one color but you can see a few different tones. I randomly added water to the background to move the color and I picked up color with a paper towel after letting big water drops rest on the page. Finally, I stamped these dragonflies in white and then I stamped them in black. That dragonfly background was my wallpaper inspiration. Normally you would see it in green or earth tones but I love bright colors. I outlined some elements of the mixed media art page with the Tombow Fudenosuke Hard Tip Calligraphy Pen.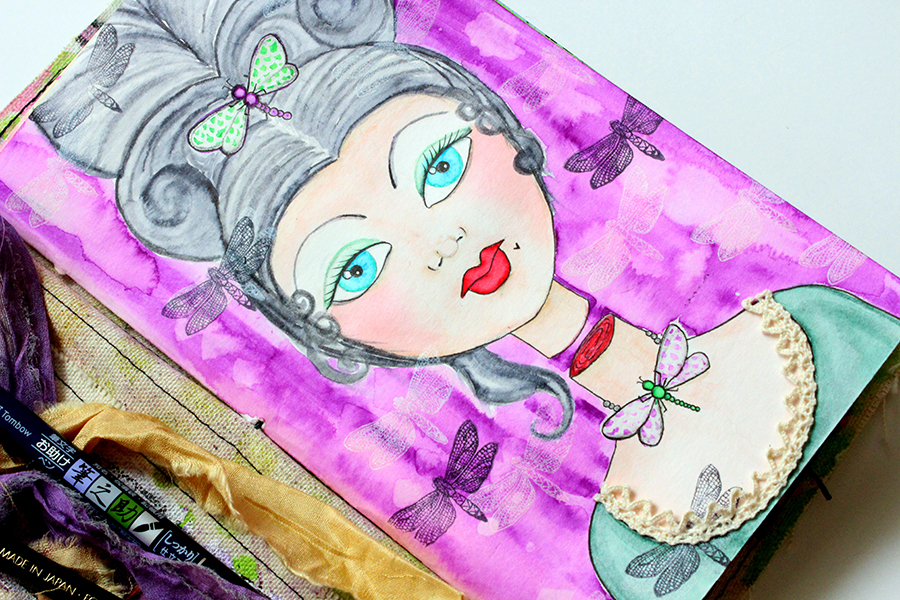 To add details to the wings on the dragonflies I used the Tombow MONO Glue Pen.  I drew it before putting color on the piece, let it dry and it created a resist effect. To glue the trim on the dress I used the Tombow MONO Multi XL Liquid Glue. I love to add a little bit of extra texture to mixed media art with trims or twine.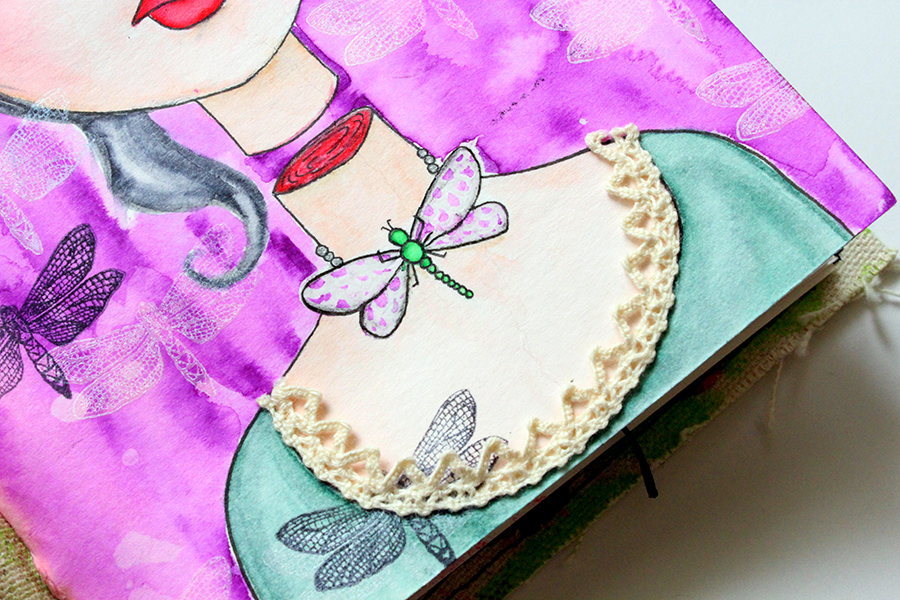 I hope you enjoyed my Marie Antoinette Mixed Media Art Piece!