Where are my fellow mountain/nature lovers at? Hey y'all, I'm Katie from Studio Katie and today I'm going to show you how to create a piece of mountain inspired art!
I really love those vintage national park posters, so that's exactly what I wanted this piece to feel like! I'm using the Landscape Palette 10-pack for a nature color scheme.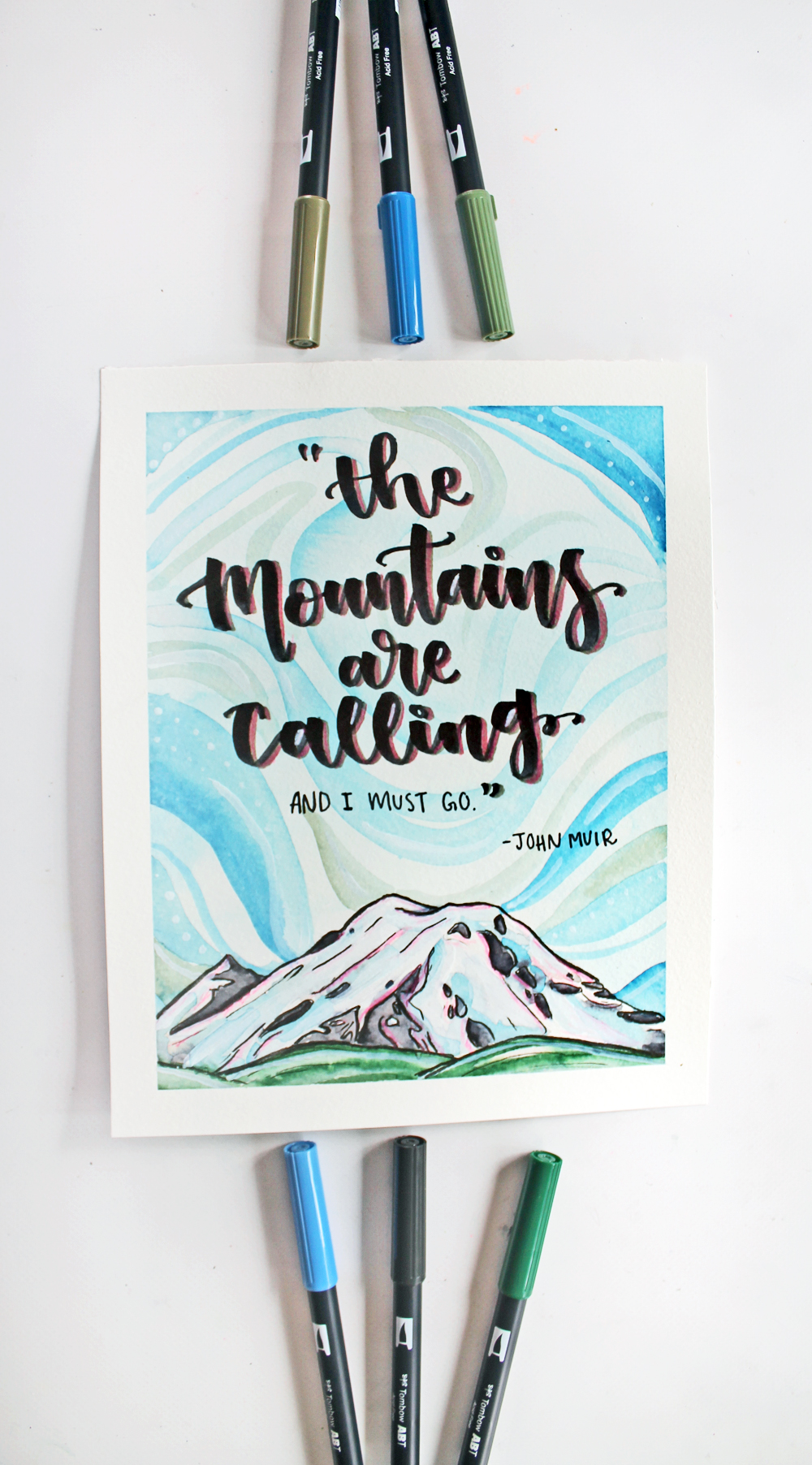 DIY Mountain Inspired Art:
I love working with the Dual Brush Pen Sets! I know all of the colors are already a great combination, and I don't have to think too much about color theory! 😉
If you have the full 108 Set of Dual Brush Pens but still want to use this palette, the colors included in this set are: 990 Light Sand, 947 Burnt Sienna, 899 Redwood, N57 Warm Gray 5, 228 Gray Green, 249 Hunter Green, 526 True Blue, 528 Navy Blue, N25 Lamp Black, and the N00 Colorless Blender.
Supplies: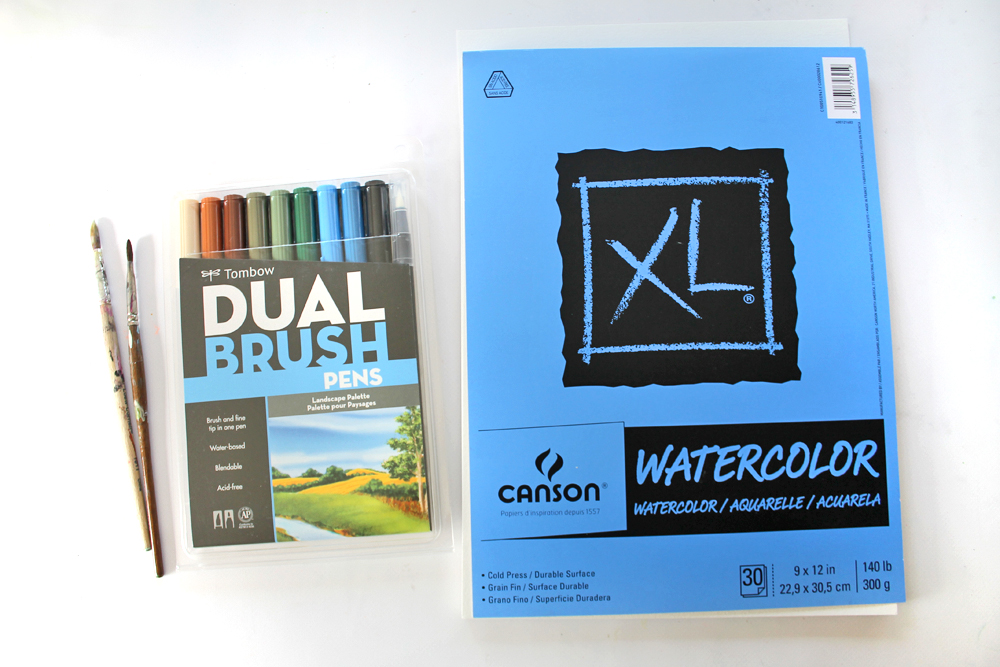 Step one:
Begin by taping off the edges of your paper. This will give you nice clean edges when you're done.
Next use the MONO Graph Mechanical Pencil to sketch a mountain scene onto the bottom half of the page. I live in the pacific northwest, so I chose to do a sketch of Mount Rainier. Once you're happy with you sketch, ink over it with a Fudenosuke Brush Pen.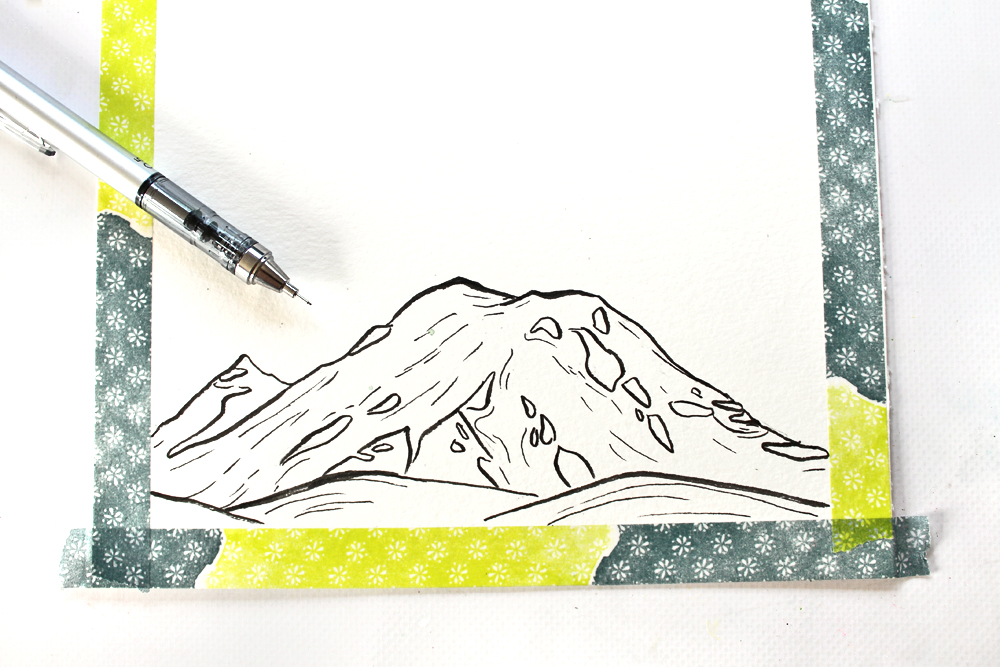 Step two:
Next we're going to use the Dual Brush Pens as watercolors! Use the brush tip to apply each of the ink colors onto the Blending Palette. Pick up the color with a wet paint brush, and paint in your mountain as if you were using watercolors!
For the mountain, I'm using N57 Warm Gray 5 and N25 Lamp Black. For the hills in the foreground, I'm using 228 Gray Green and 249 Hunter Green.
Here are some fantastic tips for watercoloring with your Dual Brush Pens by Smitha.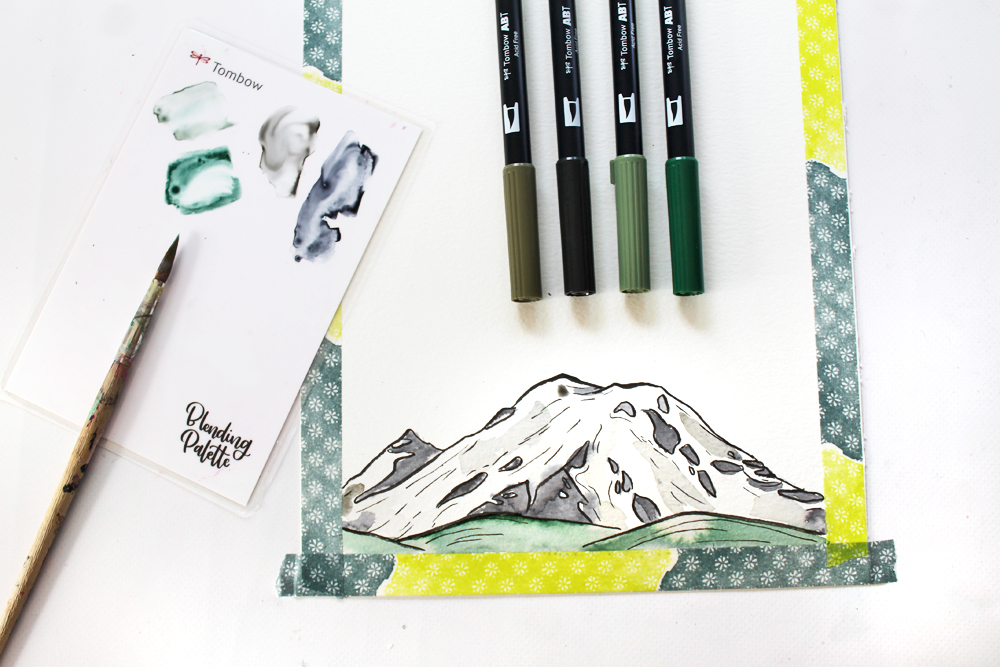 Step three:
For the background, use the blues and greens included in the Dual Brush Pens Landscape Palette to create a whimsical sky with swirls of light colors. Let dry.
526 True Blue, 528 Navy Blue and 228 Gray Green make a beautiful sky.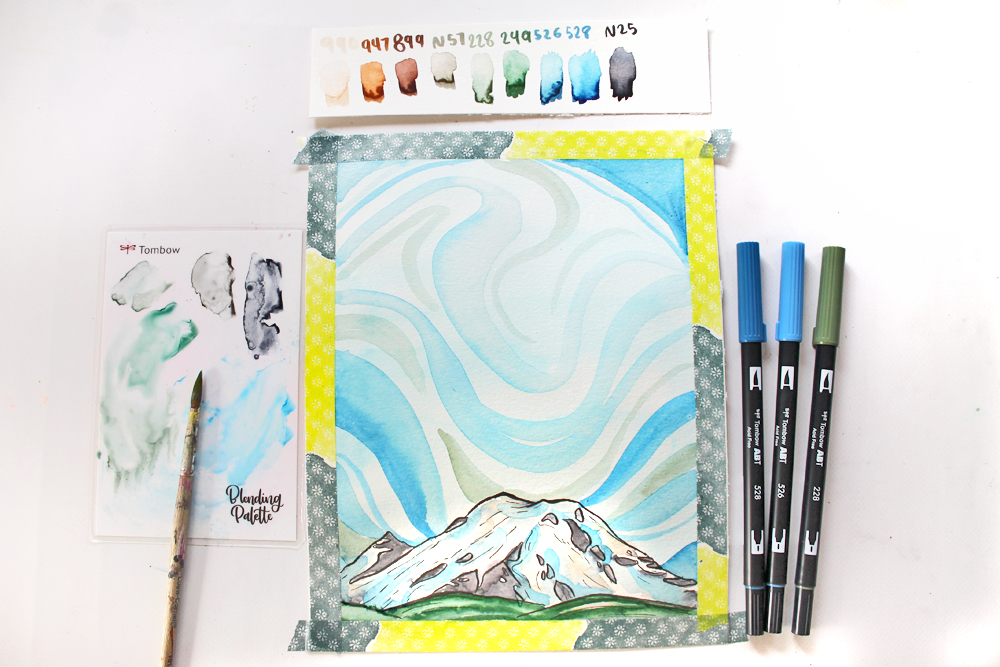 Step four:
Dual Brush Pen ink dries fairly quick, so you won't have to wait too long for your background to dry. Once it dries, use the N25 Dual Brush Pen included in the palette to hand letter on a fun quote.
Want to improve your hand lettering? Learn the 5 P's of Brush Calligraphy here.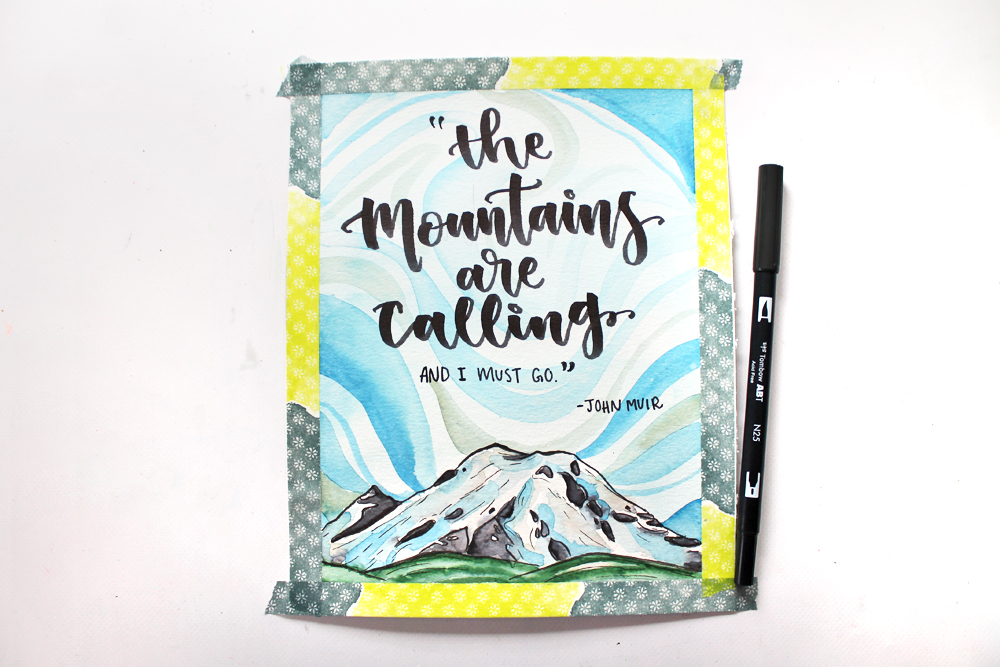 Step five:
Use a small paintbrush and white acrylic paint to add highlights into your mountain and background.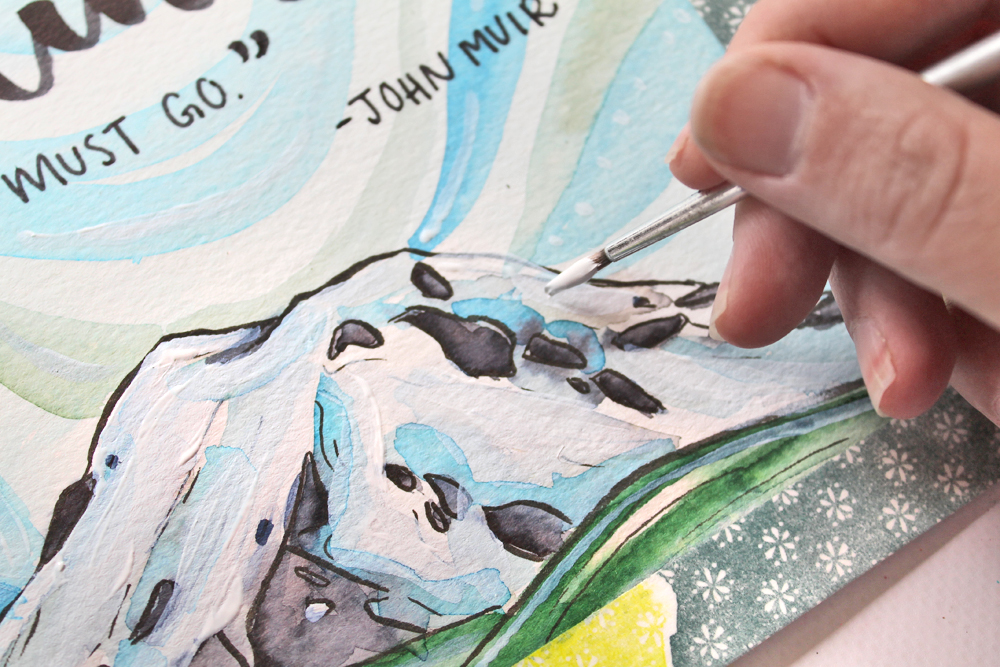 Step six:
I really wanted to make my mountain pop out more, so I added in some neon pink (this is optional).
Take a Plastic Pink Irojiten Colored Pencil from the Fluorescent Set and add in some pink highlights to the mountain. You can also add pink shadows to your quote to make it pop more.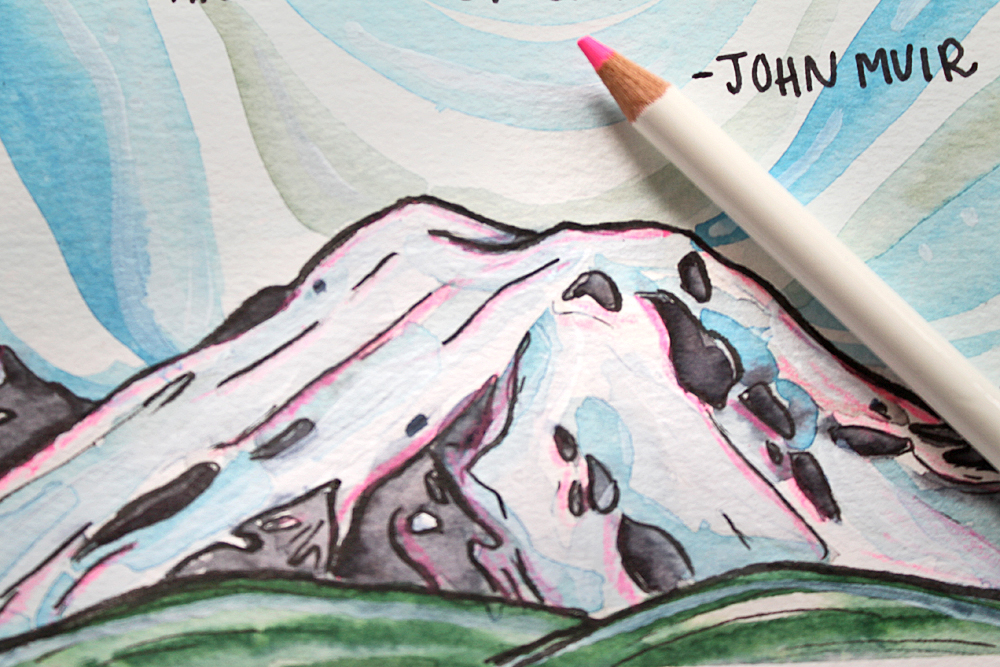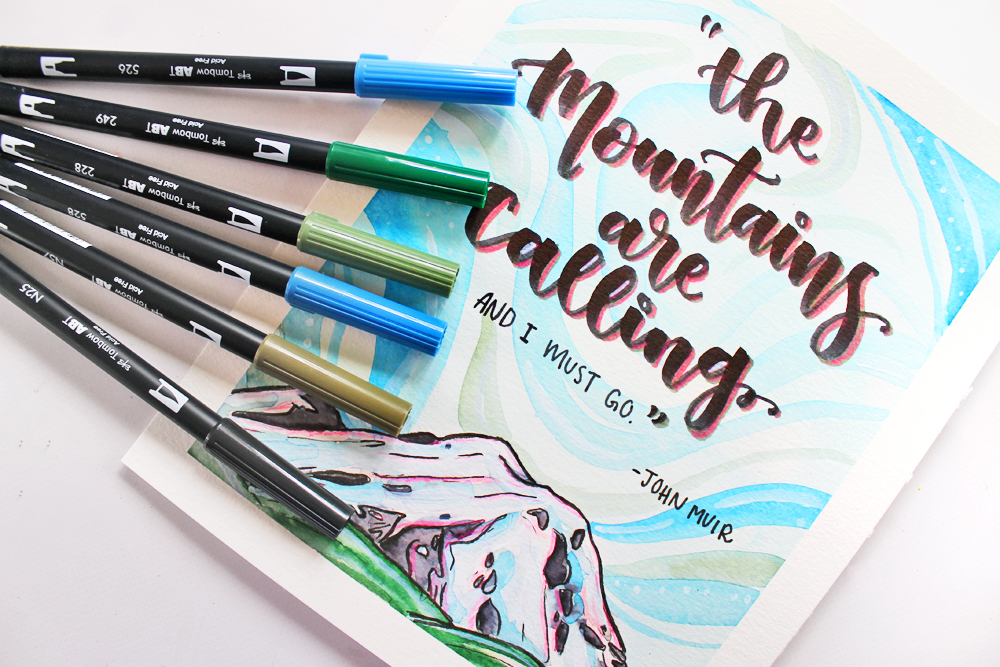 Once you're finished, peel off the tape and hang up your art!
Thanks for hanging out with me today!
Also remember to check out the rest of the Tombow blog for even more fun tutorials and ideas using your favorite Tombow products!